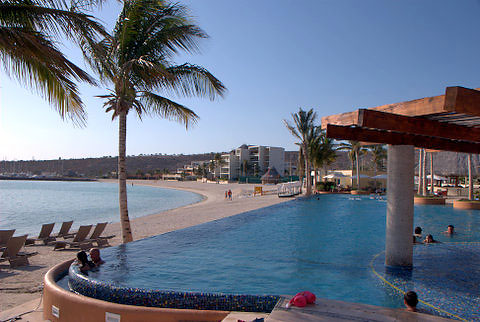 CostaBaja Beach Club and La Paz beach, located 20-minutes south
of downtown La Paz.
Take Pleasure in La Paz
By Richard Carroll
Photography: Halina Kubalski

ake hold of your significant other, expand your horizons beyond the usual predictable holiday hangouts, and head south down the rugged Baja Peninsula to La Paz where the Sea of Cortez offers travelers enough adventure to satisfy the most jaded psyche.
For years, upscale Los Cabos, tucked away at the tip of the peninsula, has over shadowed La Paz, nudging her into the role of the shy, neglected, second cousin. Los Cabos, big, booming, and brash, one of Mexico's most trendy and pricey destinations, is boosted by a continual flow of overfed cruise ship passengers who pop in for a few hours, browse the shops, enjoy a margarita or two, and then tender back to the ships.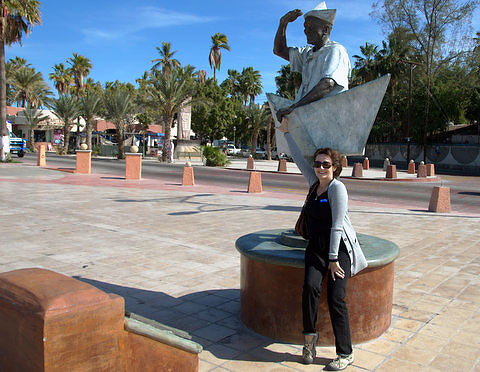 The Old Man and The Sea sculpture on the lengthy La Paz malecon or
seaside walkway. The art refers to Hemingway's story of Santiago,
a fisherman in search of a bit of luck.
Meanwhile, La Paz just up the road a piece has been quietly enjoying a more traditional Baja life, a pleasure that Los Cabos enjoyed some 25-years ago when dogs would sleep the day away along the main drag, and taxi cab drivers smiled. Fortunately, veteran Baja aficionados have long been aware that there is more to Baja than Los Cabos.
Tiring of her Baja status, La Paz, 151 miles north of Los Cabos, with great zest tossed her library glasses into the sea, slipped on a Salinas Bikini, and with a touch of fresh lip glow presented herself with a new demeanor, while passionately enjoying a double shot of Hacienda de Chihuahua Tequila topped off with a spicy fish taco. La Paz finally caught the eye of Aeromexico, who said, "La Paz has been overlooked, like an impatient wallflower. The timing is perfect to launch direct flights to the city."
Direct flights or not, this Southern Baja city, with the welcoming feel of a smaller town, has always had a strong base of crusty fishermen who haul their boats to La Paz, and with their trusty fishing poles, ice chests, and stashes of beer, test the fertile waters, gleefully offering more tall tales than a telenovela, while secretly hoping that La Paz, and the Sea of Cortez, remain forever a best-kept secret.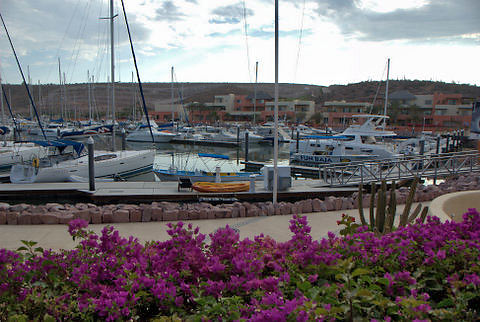 The CostaBaja Resort and Spa, 20 minutes south of downtown La Paz,
hosts sailors from around the world with their 200-slip marina.
Sport fishing remains, but La Paz is also the perfect getaway to experience rural Baja with a camera in hand, and enjoy its great outback of sandy isolated beaches, splendid stretches of gorgeous coastline, and raw nature virtually untouched by development, and showcased by a natural aquarium with more life than a Cabo disco.
One of John Steinbeck's much loved destinations, La Paz and the Sea around her come to brilliant life in his The Log From the Sea of Cortez, published in 1941, describing the day by day expedition and adventures on a sardine boat with his friend, biologist Ed Ricketts. In 1947 Steinbeck's imagination returned to the Sea of Cortez when he published The Pearl, a classic novella inspired by a La Paz folk tale.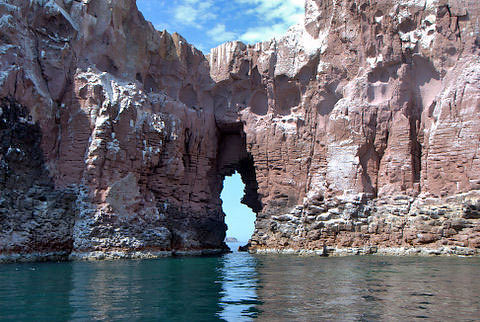 The Sea of Cortez
The Sea of Cortez is lucid and sparkling, brilliant sunsets linger on the horizon, and the scent of wild sage and rare plant life abounds. Most excellent, as Steinbeck noted, the authentic working town of La Paz is the real deal.
Founded by Hernan Cortes in 1535, and once a hangout for pirates and anyone else in search of a peso, La Paz, the capital of the southern half of the peninsula, is "laid-back" Baja with a population of some 300,000 souls, where affectation is unknown. This city on the shores of the Sea of Cortez has long been noted for its fine climate featuring 360-sun filled days a year on which to enjoy the impressive full-service marinas, spectacular kayaking, and world-class diving. The Pacenos, as the residents of La Paz are called, feel as if they are on the brink of being discovered assisted by the addition of a cruise ship port, ideal for smaller ships such as the Azamara's Journey and Quest, both hosting only 680 passengers.
Similar to Mazatlan, La Paz has an impressive three-mile-long Alvaro Obregon Malecon or waterfront promenade where Pacenos walk their dogs, sit and gossip in the evenings, and enjoy the offshore breeze and delicious ice popsicles.
Adorned with artsy sculptures, the malecon extends along the seaside past hotels, shops, seafood restaurants, and the family-style Bismarkcito Taco Restaurant with its small wooden tables, earthy out-of-tune trio, and chilled beer. They proudly claim fish tacos originated here. True or not, their fish tacos are a local treasure.
Plaza Constitucion, the heart and soul of the city, is home to the neoclassic Cathedral de Nuestra Senora de La Paz, constructed by Dominican priests in 1861, featuring twin bell towers that rise above the plaza like sentinels on guard.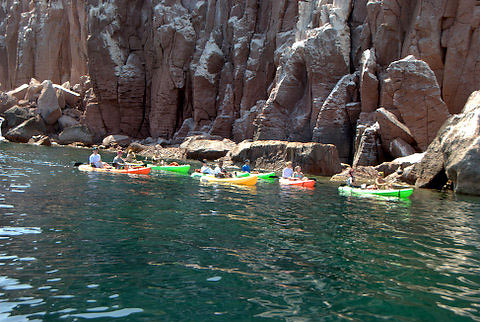 The Sea of Cortez is one of North America's top destinations for
kayaking, diving, snokeling and wildlife.
The sea, a foremost attraction, water tours thrive. The setting of crystal clear water and odd-shaped islands, is ideal for the entire family, offering scuba diving, kayaking, overnight camping, and with a little luck, a glimpse of manta rays, whale sharks, and dolphins.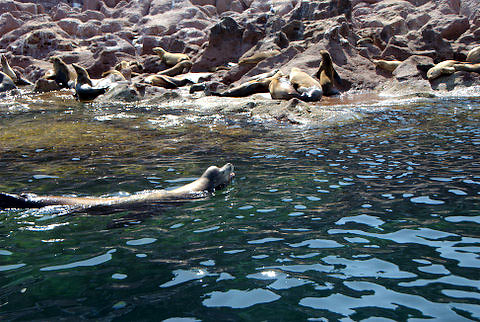 Sea Lions living on one of the La Paz 37 islands and islets.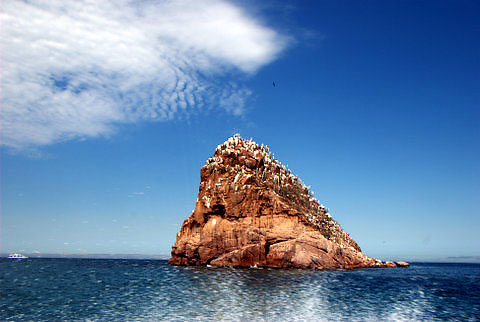 An island in the Sea of Cortez, La Paz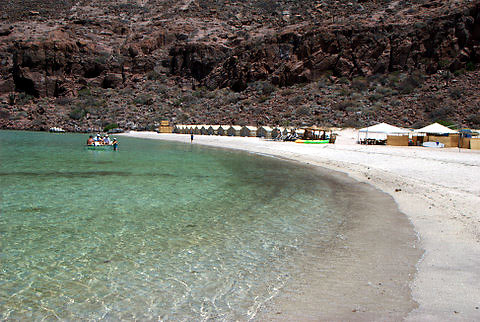 Espiritu Santo Island is designed for overnight stays complete with a chef
and guide.

One local company, Fun Baja, invites visitors to join them for an incredible array of adventures, visiting some of the 37 nearby islands and islets including Espiritu Santo, home to a large sea lion colony where guests can slip into the sea and join them for a swim. They greet the boats and snorkelers with a remarkable clamor that sounds like a foghorn with a sore throat.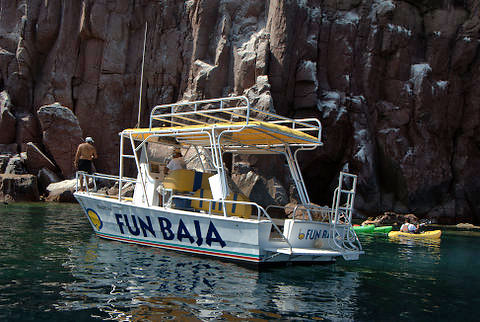 Water play in the Sea of Cortez.
The Fun Baja fleet with fully equipped boats, and seasoned skippers who grew up on the Sea of Cortez and could swim before they could walk, recognize the extraordinary Sea of Cortez nature sanctuaries, contributing informative insights to the area, pointing out sea life with an experienced eye.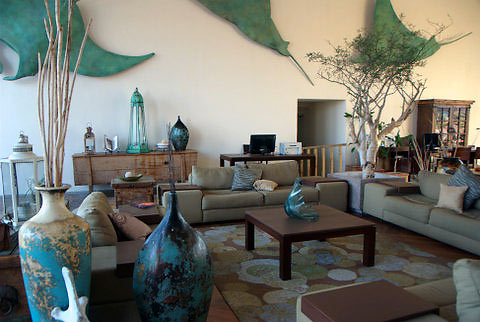 CostaBaja Resort
Fun Baja is based at the double basin, 200-slip, CostaBaja Resort & Spa, 20-minutes south of downtown. The resort, tucked in amongst ancient volcanoes, offers convenient access to the Sea of Cortez, catering to the worldly boat crowd and water sports enthusiasts on the prowl. Yachts and sail boats from all parts of the world relax at anchor, their passengers taking pleasure in a Five-Star stylish property equal to any marina property on the peninsula, bordered by the first Gary Player-designed golf course in Mexico, a full-service spa, Beach Club with a separate swimming pool, and creative dining in their restaurant named (what else?) Steinbeck's.
Another dining prospect is found at Las Tres Virgenes in La Paz, honored by Conde Nast as One of the 100 Best Restaurants in Mexico. Owner and chef, Jesus Chavez Partida, explains, "I serve Southern Baja Cuisine, meaning fresh seafood and local seasonal products making use of herbs, olive oil, a touch of chilies, and Mesquite wood to add a special flavor." Upon entering the restaurant, the ambience is reminiscent of the 1940s, and with a little imagination one can picture Bogart, Steinbeck and Ed Ricketts, sitting at the bar deep in their cups.
North of town, La Paz's newest entree is the upscale 24-room, Spanish-owned, La Posada Hotel and Beach Club, overlooking the Sea of Cortez. Designed for adults, La Posada has brought in Jose Luis Uribe, an award-winning Spanish chef, keen to create a memorable fusion cuisine.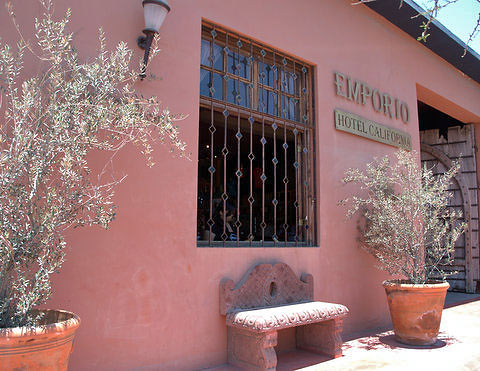 The Hotel California in Todos Santos, 1/12-hour drive south of La Paz.
The hotel was made famous by the Eagles song.
For those eager to explore the area, Todos Santos is a one-hour drive south of La Paz. The Mision de Santa Rosa de Todos Santos founded in 1723, and the Hotel California, dating to 1948, are a centerpiece Sorry to say, the Eagles' never set foot in Todos Santos, but the hotel's name remains magical, and the song, Hotel California, can be heard throughout the day.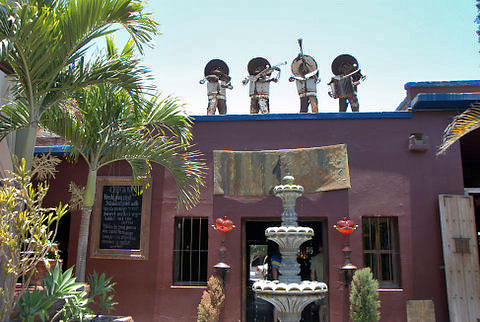 Hotel California dining patio.
Brick to brick along the one main road are art galleries, boutiques, restaurants, and typical tourist shops. Some 20 fine artists have settled in, along with potters and writers. Journalist, Pamela Cobb said, "Todos Santos has everything here I thought I would never have, and it's a great place to gather your thoughts."
When the sun dips low in the sky and the enduring sunset is glowing on the horizon, La Paz, the little city with a big heart, aims to please.
When You Go
For La Paz details, www.golapaz.com; www.purelapaz.com; for flight information and special vacation packages; CostaBaja Resort & Spa; Fun Baja; Las Tres Virgenes; La Posada Hotel & Beach Club.
Related Articles:
Las Alamandas Awaits; Playa del Carmen, Yucatan Peninsula; La Paz, Baja Sur California; La Paz Slideshow; Mayan Ruins; Cozumel, Mexico; Guadalajara; Puerto Vallarta, Mexico; Costa Rica