Appolonia Bakery: Where History Never Tasted So Good
Story by Fyllis Hockman
Photos by Victor Block

hen most people think of Ancient Greece, they conjure up a civilization whose zenith dates back to the 4th Century B.C. when Greek culture and political advancement were pre-eminent in the Mediterranean.
So when during a recent trip to the island of Rhodes I heard about a bakery in a small rural village making breads and cakes mentioned even earlier in The Iliad, Homer's epic poem about the Trojan War, I had to go there. This was an allusion to history even sweeter than any trip to the Acropolis.
And it is just that preservation of history that so appealed to the nine owners of the Appolonia Bakery, winnowed down from the 40 women who originally gathered in 2000 wanting to do something for their community. But the history they wanted to preserve at that moment was of a more recent vintage -- that of the recipes handed down for generations for traditional foods prepared by their grandmothers and other community elders. All the cookies, breadsticks, cakes, muffins, pretzels and other baked goods are made from recipes culled from native villagers -- and long-ago memories.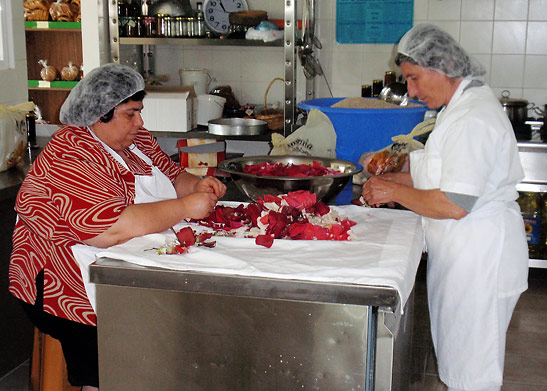 But transcribing recipes, none of which could be found in any cookbook, from those that fed a family into those that served a community, was no easy task and was mainly accomplished through trial and error. Even more of a problem was the issue of accountability: because the ingredients were never written down, accurate measurements weren't available. The recipes did not come with instructions on how to assemble. A handful of flour had to be translated into a cup, a touch of honey became 2 T, a sprinkling of water had to be quantified into something -- anything -- measurable.
And there were other growing pains, as well! Human frailties occur at any age and when two women had recipes for the same baked goods, the co-op was forced to take part of one and part of another to come up with something that appealed to all and superseded the jealousies that might have ensued.
In a few instances, a proprietary attitude prevented some from sharing their recipes. They baked the bread or cake in secret, refusing to disclose all the ingredients. Eventually, the petty jealousies and individual resentments passed and all the recipes are now written down and available to all nine owners -- but they themselves zealously guard them from the general public.
Still, other hurdles arose. By the very nature of old-time recipes, the tasks are very labor-intensive and are not subject to wonders of modern technology.
For instance, the bread requires an overnight process involving the mixing of flour with a hand-made yeast concoction that acts as a natural preservative. The next day the loaves are put under four blankets -- literally heavy wool blankets that clearly once adorned someone's bed -- to create the right amount of heat for them to rise before baking.
Another specialty is melekouni, a sweet pastry made from sesame, honey and spices that is a time-honored part of Greek wedding celebrations and especially revered in Homer's texts -- that probably can't be said of Little Debbie's Tasty Kakes.
But the honey relies on a local bee supply, the sesame is hand-washed and dried on-site, and the pastries hand-rolled, using a secret process handed down from generation to generation to make sure the honey is sufficiently caramelized. Just pressing the mixture into their individual shapes is a manually intense project. There are no mechanized advantages to be found. Cuisinarts had no place in Greek mythology.
The Merry Bakers also concoct a famous Greek dessert called spoon sweet flavored with lemon, strawberries, oranges and other fruits grown in their home gardens. But those are not the only home-grown ingredients -- the bakers add fresh-picked rose petals from bushes around town. They just bring the ingredients from home as needed. Saves on shopping and storage space.

And that's not all. The ladies of Appolonia also make liqueurs from Souma, a grape similar to that used for Ouzo to which they add their own flavors, such as orange, lemon, and pomegranate. They heat it on the porch in the sun for a month before bottling. Adds a whole new dimension to aged wine. Did I mention that the loom in the front of the shop is used to make custom-made rugs?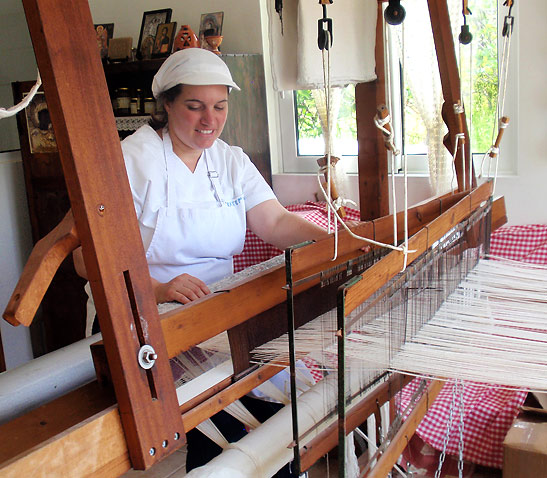 It took three years before the bakery started turning a profit. At that point, sales had expanded as far as Scotland after a tourist came by in 2007 and was so impressed he began importing the products to his own wholesale food business in the Emerald Isle. A little closer to home, demand from people in Rhodes Town inspired them to open a shop in the main town in 2008, which also is doing well.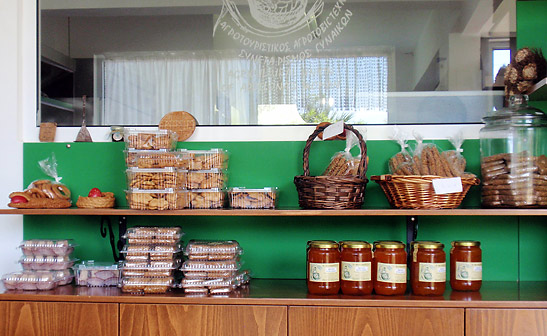 Their notoriety is growing, bakery manager Katerina Palazi wistfully acknowledged. Greek journalists are coming to do stories; they take pictures: "We're not used to such intrusions. We have too much work to do," she complained. I cringed a bit as I tried to hide my note pad and waved away my travel-writing husband wielding his camera.
There are about 120 communities throughout Greece that are promoting local products such as traditional clothes, ceramics, and other handcrafts all representative of their individual villages but the Appolonia Bake Shop is the first and only in the Dodecanese island group, comprised of 12 islands including Rhodes, that is preserving historical recipes.
They make a total of about 25 products -- breads, cakes, cookies, muffins, olive oil, zouma. Most popular are the breads, sesame seed cookies and melekouni. They have standing orders from local churches for breads and cakes, melekouni for weddings, cookies for Christmas and Easter and spoon treats for other special occasions. On the walls pictures of local and national politicians mix with pictures of grandchildren.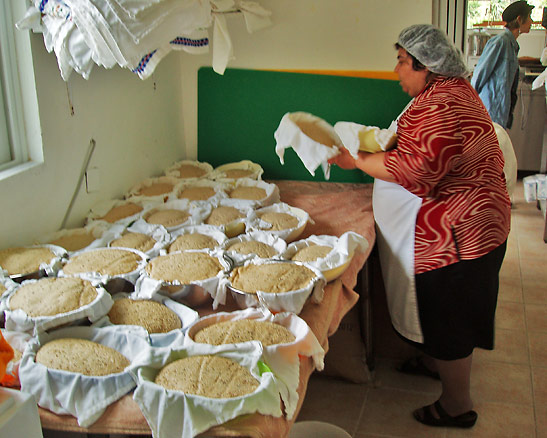 The women are in perpetual motion in and out of the small bakery, covering and uncovering the breads, drying the sesame seeds on the porch, boiling the rose petals, churning the liqueurs, taking cakes in and out of the oven -- and, oh yes, waiting on customers. No wonder they don't have time for journalists.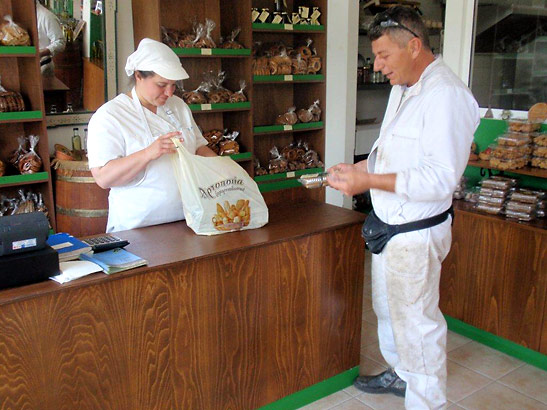 Irini Platsi, proprietor of the Rhodes Town store, points out that most products last for three months without preservatives; and because of the special yeast in the breads, those last for three weeks. "People really like buying home-made products made with all-natural ingredients," she enthuses. The fact that they have an historic back story is just a bonus.
I could feel the pride in her voice. These women have done something many thought would never work, they love the products they produce and are thriving on their success because it reflects upon the village as well, which - like it or not -- is beginning to garner its own 15 minutes of fame.
I don't think, with the possible exception of the nightlife of Amsterdam, that I've ever had so much fun researching a travel story. Sampling a sweet syrupy concoction that tantalizes the taste buds whether flowing over ice cream or indulged in straight from the jar; a crunchy slightly sweet Biscotti-like substance that blossoms especially when dipped in milk or coffee; a thick brown bread that when slathered with butter or honey could potentially serve as a whole meal. You know the old Trojan War-related homage: Beware of Greeks bearing gifts? Well, when laden down with items from the Appolonia bakery, you will instead be welcomed with open arms…and mouths.
And despite the recent journalistic intrusion, the bakery still does not have a website of its own. Homer would be proud!
Related Articles:
Athens; Kos Island, Greece; Crete; La Mancha, Spain
(Posted 7-23-2012)