Rustic Charm At
Drakesbad Guest Ranch
Story and photos by Greg Aragon

assen Volcanic National Park is home to smoking fumaroles, mud pots, boiling pools, meadows and streams, crystal clear lakes, forests and towering volcanoes. It is also home to Drakesbad Guest Ranch, a 110-yr-old mountain hideaway, where a friend and I recently spent the weekend in a rustic bungalow below the stars.
The adventure began near the tiny Northern California town of Chester, where we drove down a winding, 17-mile dirt and gravel road to the entrance of the ranch. Here, we found a small outpost at the base of a hill, surrounded by a giant meadow and a thick forest. We then met Drakesbad managers/hosts Pat and Valerie Flack, who gave us the rundown and showed us to our cabin.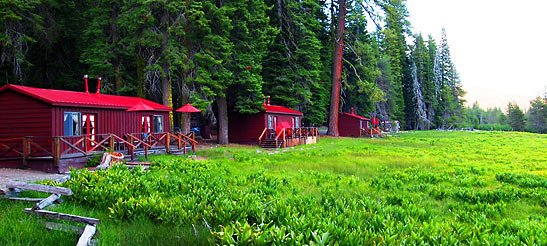 Drakesbad Guest Ranch is a 110-yr-old mountain hideaway
in Lassen Volcanic National Park
Overlooking the meadow, the quarters were rustic and comfortable. Like most of the ranch, it didn't come with electricity, but made up for it in old-time charm. It came with two wooden beds, a heater, a bathroom with shower, and solar and kerosene lamps. It also boasted a wooden patio protruding into the field, with spectacular views of Lassen Volcanic Park, surrounding mountains, the hot springs pool and resident horses.
The porch was also a great spot to watch deer and marmots graze in the tall grass a few feet from the room. Marmots are those large squirrel-like animals that stand on their hind legs in the meadows, eating and looking around.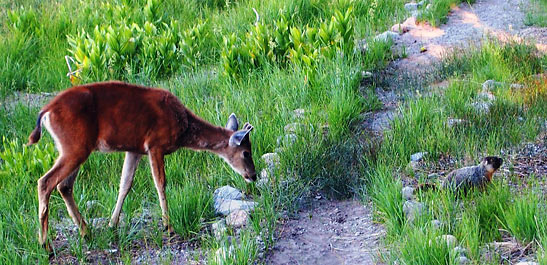 Deer and marmots love to graze in the meadows around Drakesbad
Once settled into our room, we joined 20 or so other Drakesbad guests at the main building for dinner. And this is where things got interesting – and tasty. While the ranch may be primitive in some respects, its cuisine is anything but. The food here is exciting, comforting and definitely gourmet.
Our meal began with a divine BLT salad with lettuce, avocado, bacon strips, basil pesto, tomato vinaigrette and fresh mozzarella. We accompanied this with a glass of chardonnay. For the main course we devoured a memorable Griddled Salmon, with lobster claw meat and giant prawn risotto; English peas, baby carrots and asparagus Vin Blanc. For dessert we split homemade cheese cake with drunken strawberries.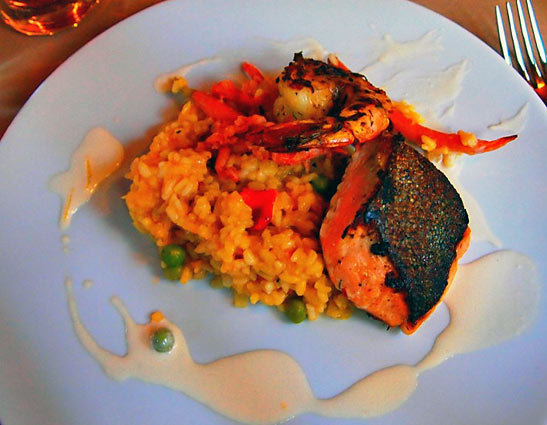 Drakesbad may be rustic, but the food is gourmet
After dinner we soaked in ranch's soothing hot mineral springs-fed pool. Still in the same spot since Drakesbad (German for Drake's bath), opened in 1900, the pool is a great way to unwind after a day in the 5,000-ft elevation of the mountains.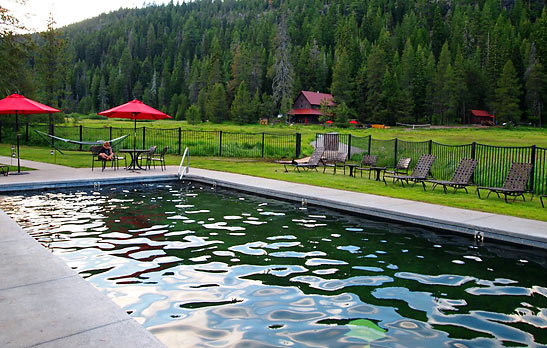 A spring-fed pool soothes guests at Drakesbad Ranch
Back at the room, I lit the kerosene lantern and read about the legendary history of the ranch and all the hydrothermal wonders such as natural steam vents, bubbling mud pots, hot springs and volcanic rock that surround it.
It all started in 1900, when Alexander Sifford, an ailing school teacher traveled three days by horse wagon with his family to experience the healing powers of Hot Springs Valley and to drink the soda waters of "Drake's Spring," which were named for pioneer Edward Drake. Sifford liked the land so much he purchased it from Drake for $6,000 and renamed the property Drakesbad.
For the next 60 years his family owned and operated Drakesbad Guest Ranch, welcoming visitors from all over the world. In 1916 Congress established Lassen Volcanic National Park as the 15th US National Park. In 1958, privately-owned Drakesbad was sold to the government. Since the sale, Drakesbad has been run by California Guest Services. Ed and Billie Fiebiger ran it for the past 19 years and Pat and Valerie recently took over the managing duties.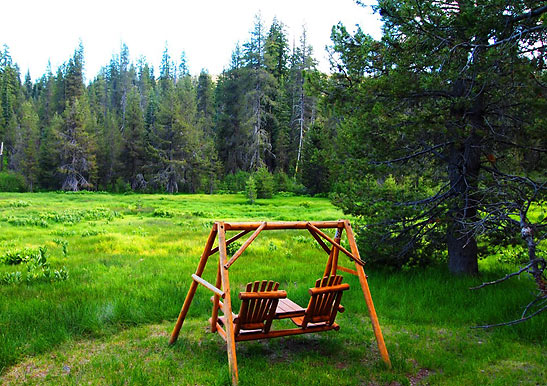 Drakesbad has been welcoming visitors from around the world since the early 1900s
In the morning, we hiked to Devils Kitchen, a steamy mountain patch surrounded by boiling mud pots, hydrothermal vents and natural springs. To get here we hiked an hour through lovely Warner Valley meadows and forests. The journey took us over wooden bridges, past lonely creeks and through marsh and thick woodlands to an eerily beautiful area, encompassed by crackled yellow and red mounds of earth erupting with streams steam. As the steam swirls into the air it hisses and plops and sounds like the earth is cooking.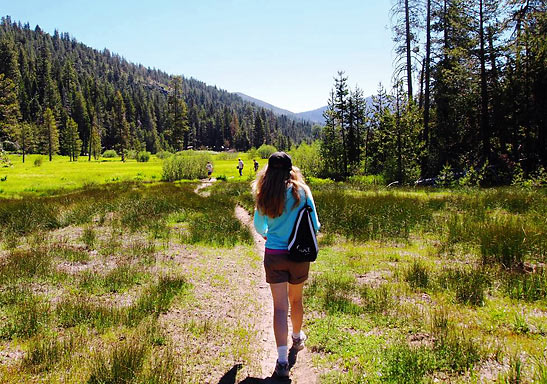 Lassen National Park is full of boiling mud pots, hydrothermal vents, natural springs and beautiful hikes
The volcanic park's unique hydrothermal system is caused when rain and snow water fall and seep deep into the ground and is heated by hot molten rock beneath Lassen Peak. Rising hot water boils to form boiling pools and mud pots. Super-heated steam reaches the surface through fractures in the earth to form fumaroles like those at Devil's Kitchen.
And speaking of kitchens, we headed straight to Drakesbad's galley after the hike for lunch, which like breakfast and dinner, is included with the price of the room. Later that day, we walked to the stables and saddled up for a horseback ride to Terminal Geyser.
Horses have been a part of Drakesbad since the early 1900's. The ranch offers guided trail rides (check their website for pricing) for beginners and experts. Our 3-hour trek through the forest and meadows came with post card views of Lassen Peak, nearby Lake Almanor, and glorious fields of Mule Ears flowers.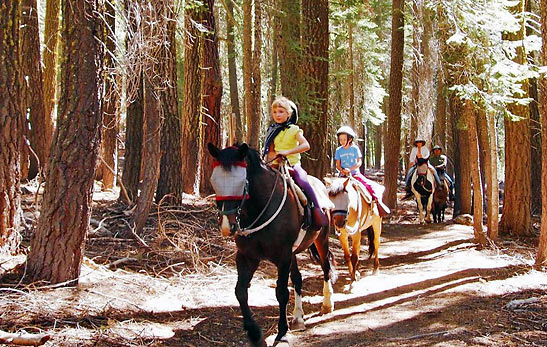 Drakesbad offers guided horseback rides for beginners and experts
After the ride, we enjoyed a memorable prime rib dinner at the lodge. The feast began with a lettuce wedge salad with blue cheese, vinaigrette, avocado and bacon. This was followed by succulent, oven roasted Angus prime rib with fingerling potatoes, broccoli, beef au jus sauce and beaver's horseradish.
Other fun activities and Drakesbad include fishing expeditions, massage treatments, and numerous things for the kids such as archery, treasure hunts, arts and crafts, "ice cream socials," and star gazing nights.
Drakesbad Guest Ranch is located in Lassen Volcanic National Park in Northern California. The ranch is open June 7 – October 14. All meals are included with price of room and kids stay free. For more information on visiting and pricing, call (866) 999-0914 or visit www.drakesbad.com.
Related Articles:
Agua Dulce and the Sierra Pelona Valley; Highway 49 Revisited; Big Bear Lake; Ojai; Morton's Warm Springs; Mohonk Mountain House; Fall Fun in Santa Monica; Warner Springs Ranch, San Diego; Laguna Beach