SWISS Air Celebrates New Jets
From Los Angeles to Zurich
Story and photos by Greg Aragon

went to Los Angeles International Airport (LAX) last week and boarded a brand new Boeing 777-300ER bound for Zurich, Switzerland. Once inside the beautiful jumbo jet I found a 1st class seat and leaned all the way back and dreamed of my upcoming trip to the majestic European country.
I should mention I wasn't actually a passenger on this particular flight. I was there as a media guest to help celebrate the inaugural flight of Swiss International Airline's newest plane that will offer regular flights from LAX to Switzerland.
"This is a milestone in the history of SWISS Air," said Patrick Heymann, SWISS Senior Director for the Americas. "With the new Boeing 777-300ER, we will be setting new benchmarks in terms of our customers' inflight comfort and overall air travel experience."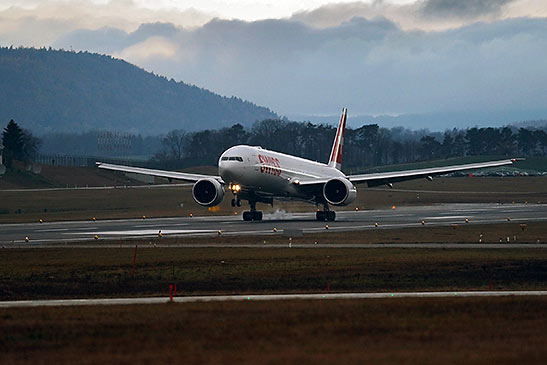 Swiss Air has added 9 new Boeing 777-300ER jets to its fleet (photo courtesy of Swiss Air)
Airline officials say the totally-redesigned cabin interior of the new 777-300ER will offer the highest levels of comfort and aesthetics in all three seating classes. "Our First and Business Classes offer much more privacy, personal space with a modular sitting layout, and discretion. In First Class, guests can also enjoy interactive entertainment on a 32-in screen – the largest in the airline industry. All amenities, exclusive onboard meals, and services contribute to fully personalize the inflight experience," adds Heymann.
The ceremony was held at the SWISS Air gate in LAX's Tom Bradley International Terminal. Here we were greeted by a traditional Swiss Alphorn performance, a large cake and representatives from SWISS Airlines and LAX. The festivities began with a gift exchange honoring Swiss culture in which Heymann presented Los Angeles World Airports Chief Executive Officer Deborah Flint with a B777 image celebrating the First Inaugural Flight from LAX to Zurich Airport.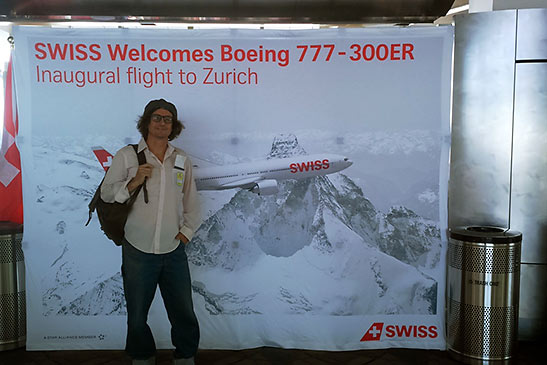 Swiss Air held a party at LAX to celebrate the inaugural flight of its new aircraft
It was then time for me to board the aircraft to have a look around. As one of nine new Boeing 777-300ERs that SWISS Air recently acquired, this jet boasts sophisticated technology, outstanding reliability and high levels of cabin comfort, while accommodating 340 passengers. The plane offers in-flight wireless broadband, with 50MB free Internet access for First Class passengers. And with advanced General Electric GE90-115BL engines – the biggest in the civil aviation sector – the new twinjet 777-300ers will also offer better fuel consumption.
When I take my flight to Switzerland, I hope to be on one of these new planes, sitting somewhere near one of the 8 first class suites. For here, guests will find amenities such as seats that recline a full180 degrees to a length of 80 inches for sleeping; electro-mechanical window shades (servicing all three windows of the seat area at the same time); a push button divider that goes up for more privacy; a 32-inch video screen, the largest in the industry; a dining table; and a second screen with a moving map and a program selection integrated into the handset.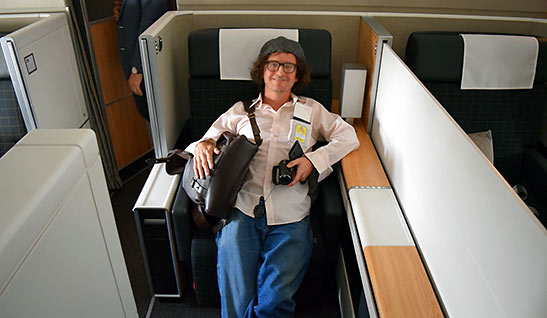 First class cabins in the new 777-300ER offer luxurious amenities and lots of room (photo by John Nguyen)
A little farther down the aisle is SWISS Business class, where 62 passengers can enjoy plenty of privacy and personal space. These fully reclining seats offer a table for eating or working on computer, etc; a 16-inch video screen and a second map screen and lots of stowaway room.
In the economy section there are 270 seats that offer the latest seat-cushion technology, more legroom than previous planes, 11-inch touchscreens with USB and audio port, leather headrest covers, and cup and smartphone holders.
Swiss International Air Lines is Switzerland's national airline, serving 106 destinations in 49 countries from Zurich and Geneva and carrying over 16 million passengers a year with its 95-aircraft fleet. For more information, visit: www.swissair.com
Related Articles:
Flight of Culinary Fancy; Switzerland: Europe's Jewel Box; 3 Things We Didn't Know About Switzerland; Switzerland: A Country of Unsurpassed Beauty and Refinement; Zürich Dada and Business Class