Flying in Luxury Aboard
SWISS International Airline's
New Boeing 777-300er
By Greg Aragon

ometimes getting there is half the fun. And then sometimes it can be its own separate getaway, full of adventure, luxury and relaxation. Such was the case on my recent flight to Switzerland aboard Swiss International (SWISS) Airline's new Boeing 777-300er jet.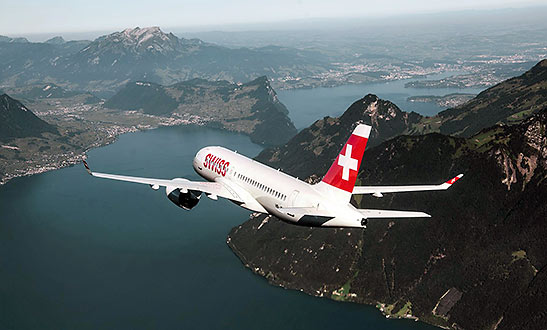 The new SWISS Boeing 777-300er offers luxury and comfort from Los Angeles to Switzerland. Picture courtesy of SWISS International Airlines.
My journey began at Los Angeles International airport, where I checked into SWISS Business Class at a separate, "no waiting" desk for Business passengers, and made my way through TSA security. I then found comfort at the airline's VIP lounge, a plush, private area for business and 1st class passengers, as well as other "honored" travelers and frequent flyers.
At the lounge I filled up at the all inclusive gourmet buffet and full, open bar. I then hooked my laptop on to the free wireless Internet and relaxed in a big leather chair until it was time to board my flight. When flight time came, I strolled passed the line and took advantage of priority boarding.
Once aboard the aircraft, I found my seat / "suite," grabbed a welcoming glass of champagne, and then I leaned back and dreamed of my upcoming trip to the majestic Lake Geneva Region of Switzerland.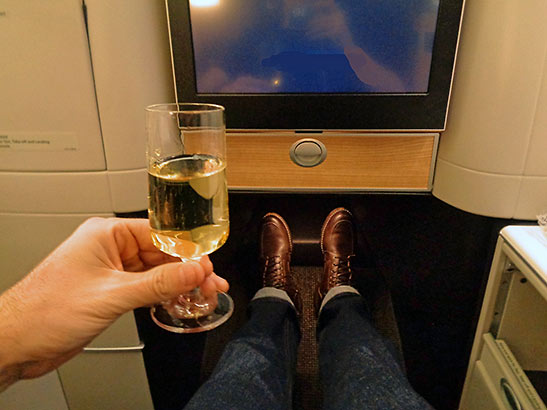 The airline's business and 1st class seats are comfortable and welcoming
As one of nine new Boeing 777-300ERs that SWISS recently ordered, the jet boasts sophisticated technology, outstanding reliability and high levels of cabin comfort, while accommodating 340 passengers. And with advanced General Electric GE90-115BL engines – the biggest in the civil aviation sector – the $339 million-twinjet 777-300ers also offer better fuel consumption.
Patrick Heymann, SWISS senior director for the Americas, says this is a "milestone" in the history of the airline. "With the new Boeing 777-300ER, we will be setting new benchmarks in terms of our customers' inflight comfort and overall air travel experience," he says.
My mini-business class suite aboard the 777-300ER included plenty of privacy and personal space. The experience was highlighted by a seat that reclined a full 180 degrees to a length of 80 inches for sleeping; a fold out table for eating or working on the computer; a 16-inch touch screen with movies, TV shows, music, maps and podcasts; a convenient push button, seat control panel; big soft headphones; and lots of privacy and stowaway space.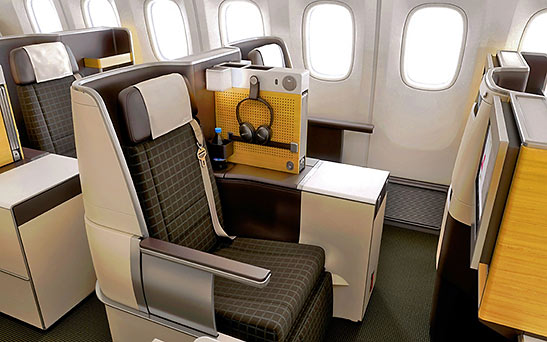 The mini-suites in Business and 1st Class are spacious and relaxing.
Picture courtesy of SWISS International Airlines.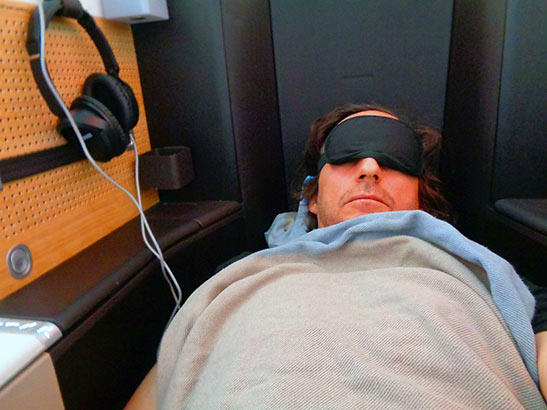 The Business and 1st Class seats also recline into full beds for long flights
And then there is the pampering service and gourmet food that rivals most restaurants.
Created by renowned top chefs, the SWISS menus are made with fresh, regional products. My dinner began with Swiss white wine and a smoked salmon tartare appetizer, with potato salad and horseradish beets. For a main course I devoured sautéed beef tenderloin with Bordelaise sauce Anna potatoes, and pattypan squash. For dessert I had an espresso and toffee cheesecake with chocolate sauce.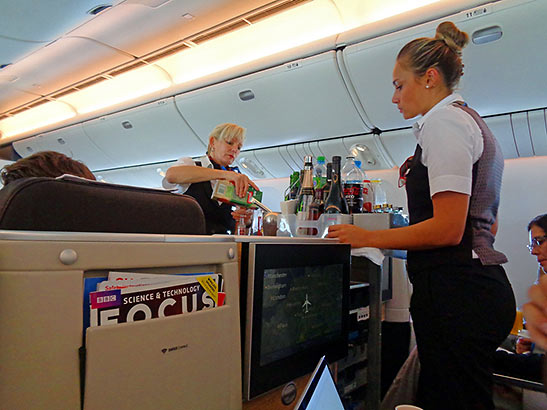 The service aboard the airline is pampering and efficient
After dinner, I leaned the seat into "bed mode" and watched a couple classic Charlie Chaplin movies. I choose Chaplin because my trip included a stop in the charming town of Vevey, Switzerland where the famous comedian retired to a massive estate. The estate is now home to the brand new Chaplin's World museum.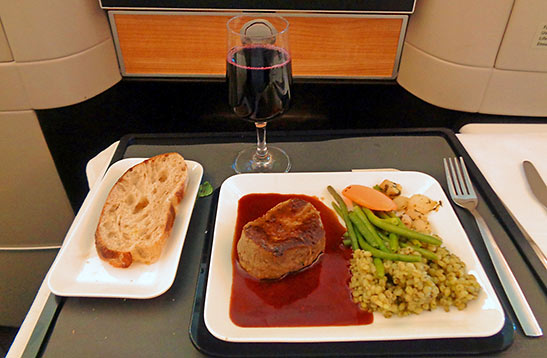 The food aboard SWISS can rival most gourmet restaurants.
Somewhere into my second Chaplin film, "Gold Rush," I fell asleep on the comfy bed, as the jet made its way to Zurich. In a few hours I awoke to the aroma of fresh coffee and the soothing voice of the flight attendant asking me what I would like for breakfast. The 11-hour flight was coming to an end and I was well rested, well fed and ready to explore Switzerland.
Besides business and first class, the SWISS economy class aboard the 777-300er is also a comfortable experience. In this section there are 270 seats that offer the latest seat-cushion technology, more legroom than previous planes, 11-inch touch screens with USB and audio port, leather headrest covers, and cup and smartphone holders. The service here also features delicious food choices and friendly Swiss service.
Swiss International Air Lines is Switzerland's national airline, serving 102 destinations in 46 countries from Zurich and Geneva and carrying more than 16 million passengers a year with a 94-aircraft fleet. The airline currently offers daily non-stop flights from Los Angeles to Zurich. For more information, visit: www.swiss.com. For more information on visiting Switzerland, go to: www.myswitzerland.com/
Related Articles:
SWISS Celebrates New Jets From Los Angeles to Zurich; Flying in Mint Class Style with JetBlue; Flight of Culinary Fancy; 3 Things We Didn't Know About Switzerland;