The Corinthia Lisbon:
A Sybarite's Dream
Ruth J. Katz

fter hopscotching around Europe for a while, I arrived at my final continental destination, Lisbon, and the stunning, welcoming Corinthia Lisbon.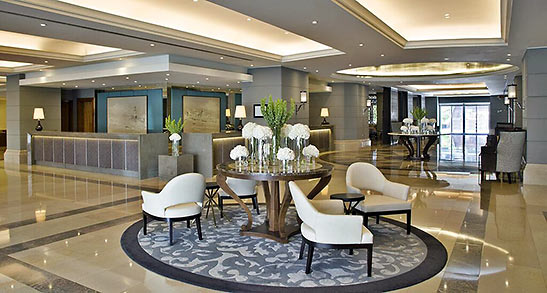 I was kind of bedraggled and despite the fact that it was just before noon, I was ready for a nap. However, when I heard how fabulous the hotel's spa was, I opted for a long and leisurely deep-tissue massage and knew that afterwards I could collapse on a lounger. What I had not anticipated was that the spa is a veritable water park, with an extraordinary (and quite sizable, by my lights) hydrotherapy circuit pool and seductive sensory showers. Located on the second floor, this hydro amusement facility occupies nearly 40,000 square feet and comprises over a dozen treatment rooms, including one for a Vichy shower treatment, and several couple's suites.
As I settled into my stunning hotel suite – elegantly contemporary and tasteful, without being so cutting-edge that you could not figure out how to turn on the spigots in the loo – I noticed that it had the same comfy feel as the Corinthia Budapest, where I had been two months before. Indeed, the interior design and décor of both hotels had been masterminded by the British design firm Goddard Littlefair Design, and the results in both are worthy of a magazine spread. (The five-star Lisbon property, opened in 2004, had been refurbished in 2014.)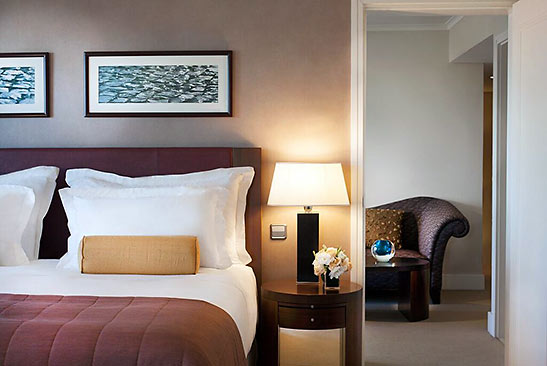 Worth noting, when staying on the Club floor, there is an Executive Level lounge, with, as is typical, an outstanding breakfast buffet that will keep you sated all day. In addition, there is a breathtaking view of the 18th-century Aqueduto das Águas Livres (The Aqueduct of the Free Waters) and a panorama of the city.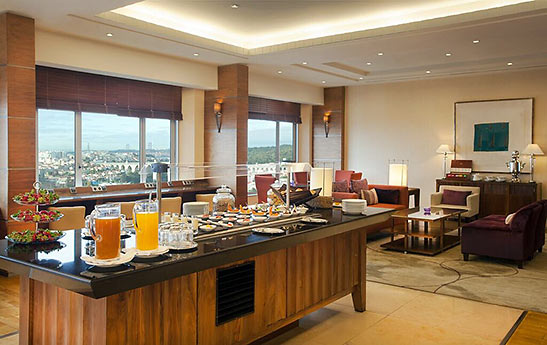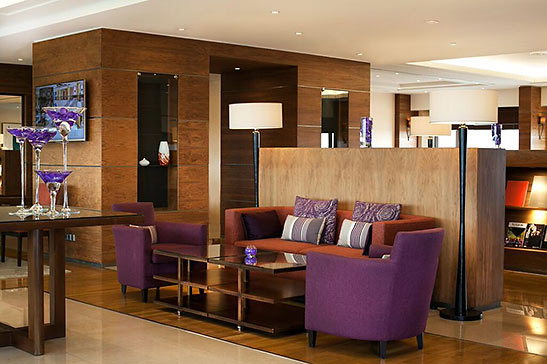 I made a beeline for the spa and allowed myself to be pummeled and coaxed into relaxation. But, the high point of the afternoon was the hydrotherapy pool: There were more water spouts in the pool than I could count, as well as pulsating and firm shower jets that could be targeted on an individual sore muscle. (There is also an indoor heated pool, if laps are your idea of relaxation.)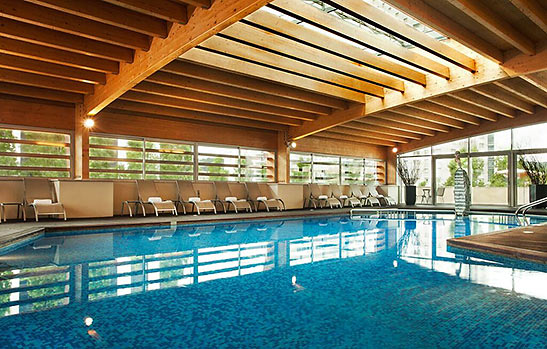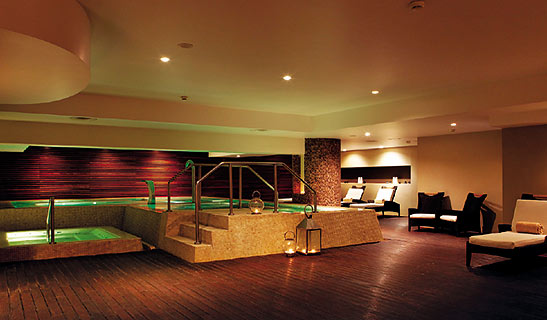 But for me, the miraculous aqua circuit, followed by a frosty dunk in the cold-plunge pool, then capped off with one of the novelty, sensory showers spelled perfection; the coda was the long-awaited rest on a cushiony chaise. When I awoke refreshed from this snooze, it was time for a sauna, then steam. And since I could not tear myself away from this aqua theme park, I did the hydro circuit a second time. Even now, I cannot find a way to improve upon this journey to Nirvana. Perhaps next time I am there, I can indulge in some of the spa's popular treatments – salt and oil scrubs, an age-defying facial, or the ESPA body treatment or holistic ritual, all among the tempting spa menu; but that day, my choice had been spot-on. (Treatments were designed by ESPA and the spa uses ESPA products, although the spa is technically not an ESPA, as is the one at the London Corinthia.)
I had thought I would get out that day to explore the neighborhood (the celebrated Gulbenkian Museum is nearby as is the Lisbon Zoo, or the Jardim Zoológico), but I did not migrate past the spa's front door until I was completely water-logged at day's end; sightseeing would have to wait for another dawn. When I emerged from my pampered cocoon, it was cocktail time and what better place to savor something bubbly than out in the garden terrace of the hotel?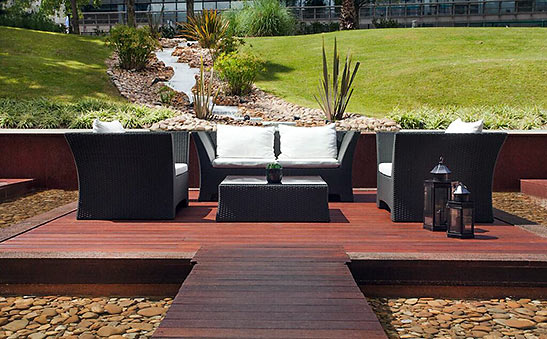 Surrounded by meticulously manicured flora, the Terrace Garden is the perfect space to be further coddled by the Corinthia, whether it's for morning joe, an alfresco luncheon, or pre-dinner drinks. In the picture-perfect setting at dusk, the garden seating offers enveloping, cozy sofas and settees. Light fare is offered in addition to tempting cocktails. Your auditory sense will also be delighted by the lilting whoosh of the landscaped waterfalls and the soothing strains of melodious live music. It was the fillip of a flawless day, which was then capped off with a toothsome dinner at the hotel's Típico restaurant.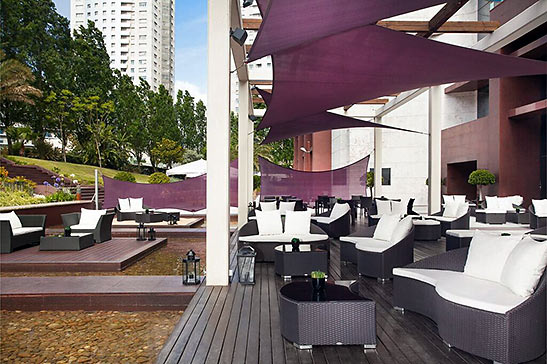 The restaurant is known for its slow-cooked specialties as well as its wide selection of cold offerings, and, of course, its Portuguese tapas, an enormous salad bar, Portuguese main courses, and other entrees that blend Mediterranean and international flavors. Portuguese cuisine is rich with emotion and adventure, a unique combination of transatlantic flavors resulting from an ancient, flourishing spice trade with Portugal's former, far-flung colonies. From salty succulent sardines and bacalhau (cod) straight from the Atlantic, to sweet pastel de natas (the national, seductively sweet custard dessert), Portugal offers a heady, rich cuisine. Additionally, there is a fine Portuguese wine menu, and don't forget to order white port, not often found in the States; production is limited, so very little of it is exported.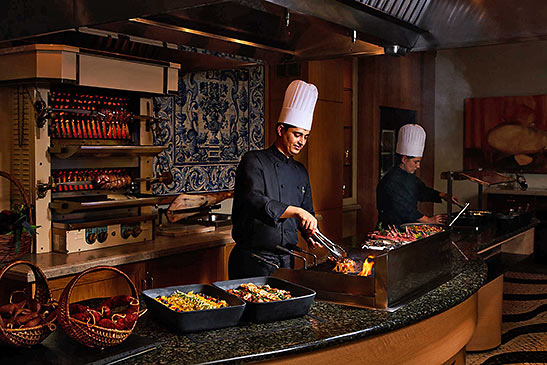 The Corinthia is further acclaimed by several recent awards: In 2015, the hotel was recognized by the World Travel Awards as Europe's Leading Green Hotel for its outstanding energy-efficiency and was further recognized as Portugal's Leading Conference Hotel. If you are fortunate enough to attend a conference here, then book a few extra days for self-indulgent exploration and enjoyment. You will not regret it.
©Ruth J. Katz, 2017, All Rights Reserved
_________________________________________
Corinthia is a global collection of luxury five-star hotels founded by the Maltese Pisani family in 1962. Guided by personal values, the family management focuses on luxury, exquisitely designed properties, with architectural grandeur and cultural traditions. All offer discreet, five-star service. Each of the Corinthia's hotels and resorts – in some of the most exhilarating cities in the world – is a hand-selected jewel. The crown jewel in the collection is the flagship Corinthia Hotel & Residences in London, located on the South Bank. Corinthia recently announced the acquisition and redevelopment of the landmark Grand Hotel Astoria in Brussels, to be relaunched as a Corinthia Hotel, due to open in 2019.
Related Articles:
The Nira Caledonia; Spa-La-La; Bem-vindo a Lisboa!; Framing Lisbon's Mosteiro dos Jerónimos; I've Died and Gone to Heaven With Egg Custard on My Face