Playa del Carmen Blossoms
Text: Richard Carroll
Photos: Halina Kubalski

or scores of far-flung years Playa del Carmen was a sleepy little village tucked away in the southeastern Mexican state of Quintana Roo, 35 miles south of Cancun in the virtually undiscovered Yucatan Peninsula.
A half century ago, barefoot Bohemians blackened by the relentless sun, ponytails flopping, plucking at guitars with missing strings, singing off-key, and with a big smile mispronouncing Spanish, tabbed Playa del Carmen their secret enclave, where life could be about nothing more than freedom, irresistible love, and walking in the footsteps of the Maya. For them Playa del Carmen was an astonishing paradise where one could sit on the beach all day reading Kerouac's On the Road, while counting sea birds.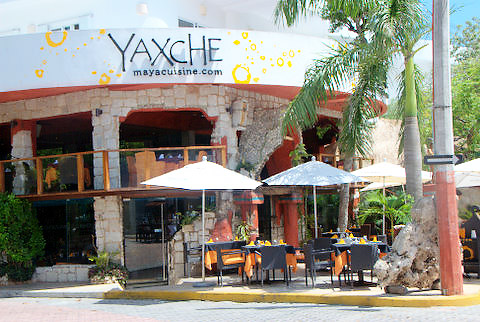 Fifth Avenue, the new Playa del Carmen.
The cast of village characters from Europe and the United States would have made tremendous novel material; though imagining themselves to be writers and poets, they were more adept at sipping head-pounding tequila than holding a pen. Some were on the road running from bad deeds and broken relationships, while a gaggle of high school and college dropouts were cleverly pretending to be hip, but silently aching for a blast of cold air, clean sheets, and a can of mosquito repellent.
In the cool of the evenings Mexican musicians performed under a beach palapa while fresh fish sizzled on a grill, and the nearby pier greeted Cozumel ferryboats, and the hard working residents, a few of whom spoke only Maya.
Up the road, Cancun, a sandy L-shaped, 24-mile-long, one-quarter mile wide island was a simple place, where Canadians pitched their tents, the Maple Leaf Flag flying high. An older sunburned American man with a long speckled beard, piercing eyes, and missing toenails, who claimed to be the only permanent Cancun Island resident, lived in a handcrafted tree house encircled by noisy parrots and songbirds, overlooking a large coconut plantation.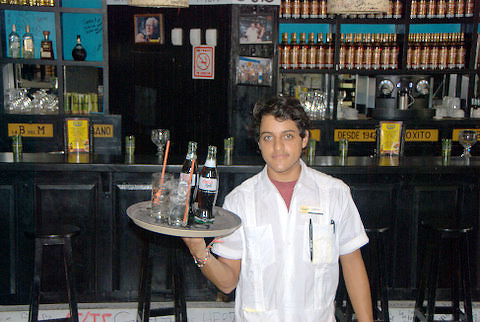 The popular Cuban La Bodequito Del Medio on Fifth Avenue
In a distinctly southern accent he quietly threatened this journalist, "Please do not ever write about my little bit of Yucatan heaven or repulsive karma will follow your shadow."
Sadly a short time later in the early 1970s his dreamy paradise was shattered forever, and my shadow was saved when Mexican developers moved in tearing down his tree house, bull-dozing the coconut plantation and slowly covering the stretch of island sand with hotels, restaurants, and shopping malls.
For the next decade or two, Playa del Carmen was a poor second cousin to Cancun, but then the developers waved their wand once more and the town slowly grew into a passionate teenager bursting with vigor and gusto. The vibrant area along coastal Hwy 307, now called the Riviera Maya, anchored by Playa del Carmen, is home to a string of resort and boutique hotels that rival anything found in Hawaii.
This distinctive and diverse destination is booming with an array of humanity that includes everything from backpackers on a budget to Wall Street bankers concealing their identity and hopeful that no one will recognize them.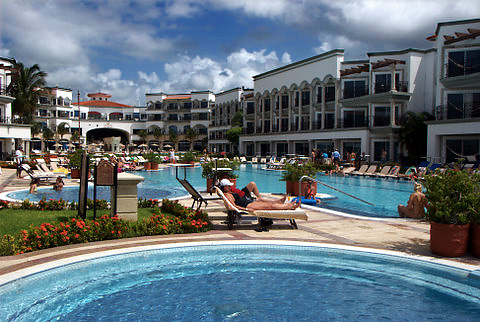 The all-inclusive Royal Hotel located in the heart of Playa del Carmen
The Royal, a spacious, all-inclusive, all-suites Real Resorts property ensconced in the heart of Playa del Carmen (open to those age 16 and over) with a sister property across the street hosting families and children, are designed with a blend of Italian and classic Mexican touches.
The Royal features a selection of splendid award-winning restaurants, live show-style entertainment, and a large spa with a Maya Temazcal sweat lodge where a Shaman directs guests though a traditional Maya physical and mental cleansing ritual. Busy Beach Butlers offer all guests fresh fruit, cold drinks, towels, and a hefty selection of suntan lotions.
A Scuba Diving School with a separate 18-foot deep plunge, a quiet swimming pool for lovers, and a glorious beach for water play, are emblematic of the new and innovative Playa del Carmen, which is the gathering place for those with love and affection in mind.
The Royal's focus is on romance and honeymoon; services include a Royal Romance Concierge, Private Romance Check-in, and a Civil Judge who yearly performs a whopping 250 legal weddings. Between the four Real Resorts properties (two in Cancun), some one thousand wedding are celebrated each year with extra champagne for insufferable mothers in-law.
Just steps from The Royal is Fifth Avenue, a pedestrian-only street lined with the ubiquitous t-shirt shops, as well as upscale boutiques, sidewalk cafes, and La Bodequito Del Medio, an earthy Cuban room where one can drop back to the ambience of the early 1940s, and with a little imagination picture Hemingway and wife Mary sitting at the bar deep into their cups sipping Cuba Libres. Hot Latino music swings on weekends with free salsa lessons, Monday and Tuesday.
A huge bonus for those who begin to flourish after sunset is the Coco Bongo Nightclub, a large crowded venue with the atmosphere of Las Vegas, Monte Carlo and West Hollywood California combined. The room is flooded with non-stop entertainment in the form of large videos of everyone from Gene Kelly, Madonna, Michael Jackson, Jennifer Lopez, Elvis, to Edward Maya and Mia Martina, all intermingled with live performers and trapeze acts. Even the Playa del Carmen Bohemians of yesteryear would love Coco Bongo.
After a night out on the town Xcaret is a delightful change of pace. A 45-minute drive south of Playa del Carmen, Xcaret is a jungle Eco-archeological Park where guests can float along an underground Maya river, snorkel in gorgeous inlets swarming with fish, and experience an island where jaguars and pumas roam.
Kids can cross inlets on ropes, search for wild Howling Monkeys, swim with dolphins, and feel like island castaways for a day.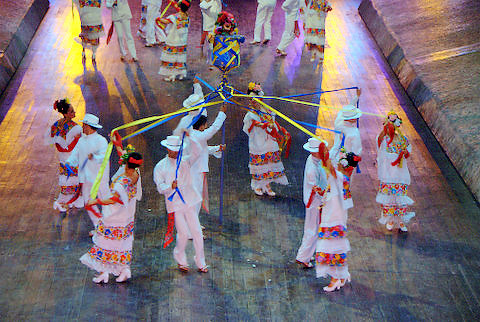 Xcaret, a popular Maya site featuring a dinner show and numerous attactions
Once an important ceremonial center and Maya port, Xcaret presents dance and music shows throughout the day, and a highly rated two-hour dinner theater in the evening, which includes Pre-Hispanic performances, scenes of the Spanish conquest, and best of all, Mexican dance and music showcasing the heart and pride of a vibrant people, illustrating that Mexico remains among the most music-oriented countries in the world.
History buffs can walk in the footsteps of the Maya to stony temples standing for some 3,000 years. Flights of fantasy and puzzlement swirl about, fulfilling a longing for adventure and discovery. The Maya flourished between AD 250 and 900 and, like jungle vines, spread across the Yucatan and Middle America.
While Europe languished in the Dark Ages, the haunting ceremonial centers of the Maya, loosely called cities by some, were being carefully designed to be inhabited by rulers, nobles, and priests, and used for religious festivals, courts of justice, and lively marketplaces.

Tulum Maya Site, near Playa del Carmen
The Maya splendor is experienced in Tulum located near Xcaret. The only Maya site constructed on the coast. Built high on a rocky bluff with commanding vistas from the temples, iguanas sunbathe on weatherworn stones, and where trading vessels once arrived from Central America. The Maya of today, guides and archeologist who work at Tulum, claim that at times, there is an unexplained presence of spirits and sighting of ancients around the ruins at dusk and early mornings. Sightings or not, only the iguanas know for sure.
When You Go
For information or reservations call your travel professional or Real Resorts, 800 –760-0944; www.realresorts.com; www.rivieramaya.com; Passport required
Related Articles:
Inside Cozumel, Mayan Outtakes; La Paz, Baja California Sur