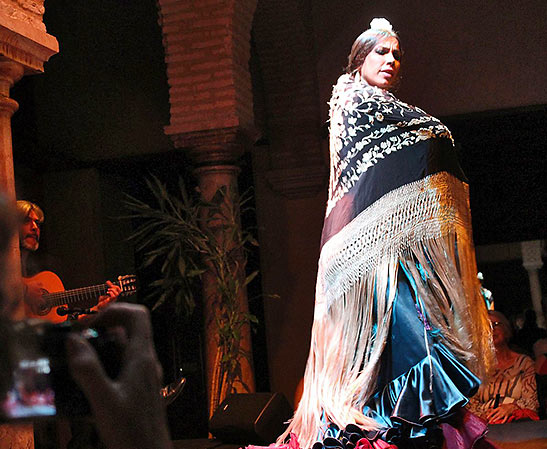 Dancer at Flamenco Dance Museum in Seville
Flamenco in Seville, Spain
Story and photographs by Richard Frisbie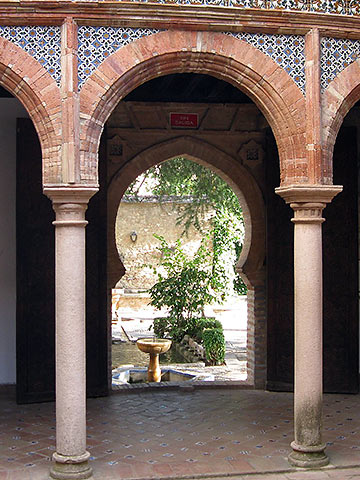 Traditional mix of Moorish and Spanish design in
garden courtyard

hat began with a rural Spanish singer making up songs to express hope and longing and love, sung to the strumming of a guitar, has morphed over 400 years into the national music of Spain. The singer is still foremost, but shares most of the limelight now with the guitarist and the dancers. The percussive guitar is augmented with the performer's hands, the singers snapping their fingers and creating intricate rhythms with their palmettos (hand claps) as the dancers play castanets, their accompanying foot-tapping as intricate as the claps. All this is performed with style and grace, the song and music and dance coming together as an emotive whole – the heart and soul of Spain.
Blame it on the gypsies. They migrated into Southern Spain to work in the Andalusia region's sherry industry as field workers and manual laborers, and stayed. Whether they brought their version of Flamenco with them, or simply augmented the local style with their own flamboyant dance, it is the gypsy influence that today is credited with traditional Flamenco.
What I knew of Flamenco was the traditional gypsy style – the ruffled flowing costumes of the female dancers and the tightly fitted pants and short-waisted jackets of the men bringing passion to the stage in a fluidity of stylized movement. But that's the American import I was familiar with from movies and TV variety shows. A recent visit to Spain, to the Andalusia region – Seville and specifically Lebrija, where flamenco was "born" – opened my eyes to the wide world of Flamenco, the many forms and variations it has taken over the centuries.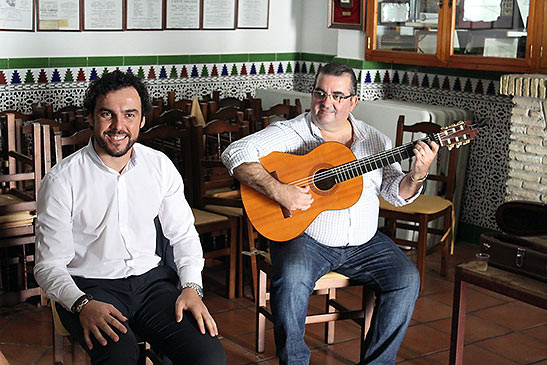 The Flamenco Association performance
I didn't know that the singers were the most important component of Flamenco, at least, not until I was invited to a flamenco association – an informal club of flamenco aficionados and performers who got together to enjoy flamenco. There was no flamenco dancer this day. During a performance of just a singer known as "El Popo" and a guitarist, the singer stopped singing traditional songs and free-styled a few verses to a pretty young woman from the audience dancing in the aisle. It was during his passionate, bared-soul yearning lyrics that I "got" why the singer is most important in flamenco. It's not all sexy, stylized dancing. The music and the percussion of the dancer set the stage, but the singer grabs your heart.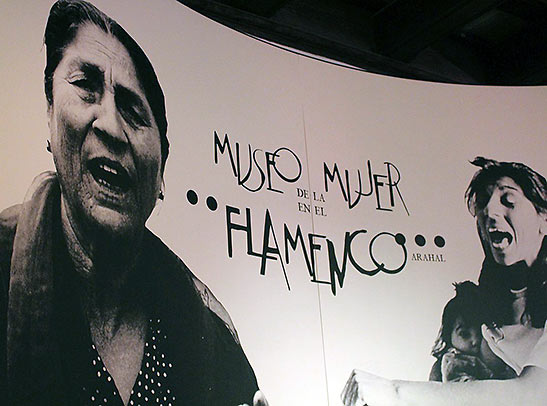 Museum of Women in Flamenco includes both singers and dancers
Since 1980 the Flamenco Bienal has been held in Seville on every even-numbered year. Over the month of September a series of concerts of different styles of flamenco by various top performers and groups takes place in large and small venues all over the city. This year I enjoyed flamenco performances in restaurants, private homes and museums throughout the region.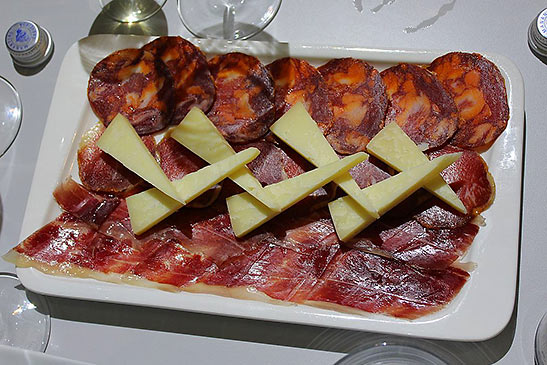 One of the incredible charcuterie plates of tapas you'll live on in Seville
For an immersion into flamenco I recommend you start with the Flamenco Dance Museum in Seville. It is an interactive tool to understand flamenco through lessons, video footsteps, classic videos of famous dancers and a collection of costumes and props used. The tour ends at a stage where an intimate performance by one guitarist, two singers and a male and female dancer illustrate how their individual components come together during a formal stage show. It was fantastic and truly enlightening.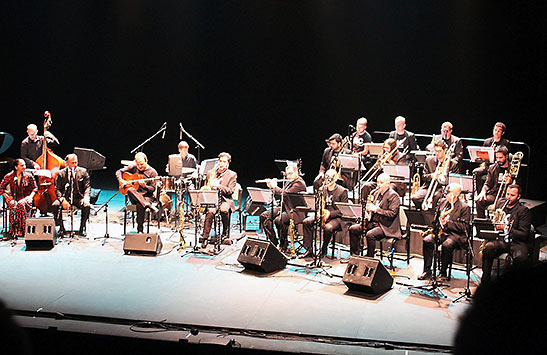 Big Band flamenco
Then, at Teatro Central, I attended two wildly different, large-stage flamenco performances. One was the most unorthodox "Gerardo Nunez Flamenco Big Band" which was a jazzy big band sound layered over guitars that was great as spectacle and concert, but nothing like the flamenco I thought I knew. The audience response was tepid.
The next night I saw "Antonio Molinas 'El Choro' and Company". This was old-style flamenco at its best, and pure theater. The show opened with a single male seated at a table drumming the beat. Bearded and handsome, he glistened under a single spot – alone – but gradually the guitars (two of them) joined his rhythm, and lights revealed a percussionist. Then he was on his feet, dancing, and for an hour and a half the stage was a wild mix of male and female dancers, together and separate, with singers and stirring drums and great flamenco. He even danced barefoot! Something I'd never seen before which really showed-off his skilled footwork.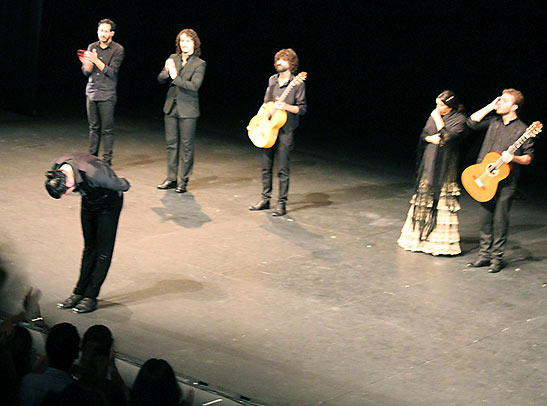 Traditional Flamenco
That show ended as it began, only in reverse. Slowly winding down until he was alone again at the table, keeping the rhythm as the whole performance had kept traditional Flamenco alive – passionately and from his heart. Then, silence – stage dark. What a dramatic performance! What great singing and dancing and music! That is Flamenco!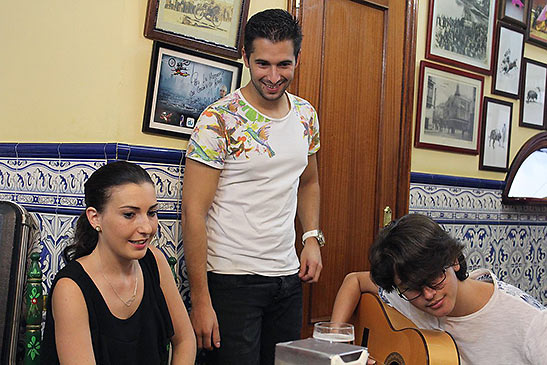 Informal flamenco at Bodega Mazaroca where the Pena Cultural Flamenca group meets weekly
Flamenco is always available in Seville, so don't wait until 2018 to find out what the fuss is about. When you're there, stay at the Hotel Inglaterra (and be sure to see the panoramic city view from their roof bar), eat at Dmercao and the lushly ornate Taberna del Alabardero for some of the finest dining, and enjoy the cathedral and museums (especially Alcazar where the Game of Thrones is being filmed) and tapas bars the rest of the time.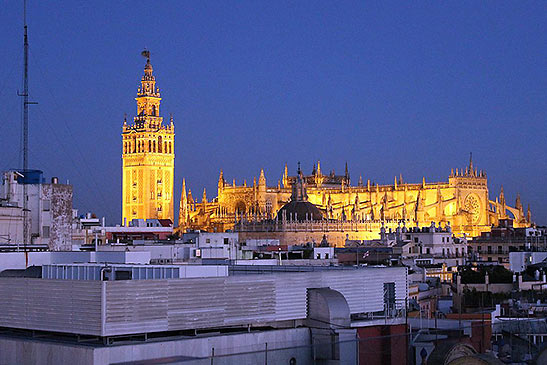 Seville Cathedral seen from the roof bar at Hotel Inglaterre
In surrounding towns eat at a favorite "locals" restaurant in Aharal at Bodega Mazaroca (be sure to see the Women in Flamenco Museum there), in Ronda at Pedro Romero and in Lebrija at Lechuga. Lebrija is a friendly little town where people say hello to you in the street. While you're there, try to visit Doñana National Park, a UNESCO site and the largest national park in Europe. You'll have a blast!
Related Articles:
I'm Not a Barber, But I Am in Seville; TAPAS: Opposite Sides of Madrid's Culinary Coin; A Food & Wine Tour of Alcala; Savoring Seville As We Wave Adiós; Consuegra's Rose of Saffron Festival