Moroccan Martinis and Historic Pueblos in Desert Hot Springs
Story and photographs by Greg Aragon

esert Hot Springs is yet another oasis in the Palm Springs area. Set atop ancient hot and cold aquifers, the town is known for abundant resorts and mineral spas, world-class drinking water, secret celebrity visitors, and a few other hidden gems.
My recent getaway to Desert Hot Springs began at the El Morocco Inn and Spa, an enchanting boutique hotel with an alluring, Arabian theme. Set against a backdrop of Joshua trees and jagged mountain ranges, the inn offers 12 unique guestrooms, full-service spa, pool and Jacuzzi, lush gardens, a Sultan's tent, gourmet breakfast room, poolside bar, and lots of colorful Moroccan-styled architecture – all tucked into an unassuming residential neighborhood in the middle of the Palm Springs Desert.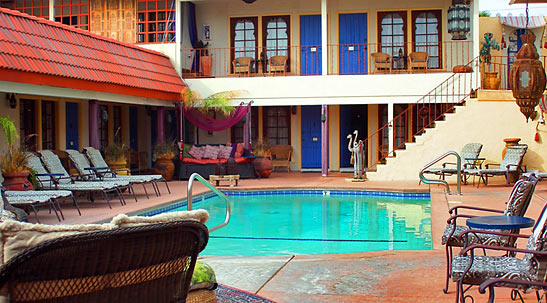 The El Morocco Inn and Spa is an enchanting boutique hotel with an alluring,
Arabian theme
Ever since watching "Casablanca" with Humphrey Bogart I have dreamed of a trip to exotic and mysterious Morocco. I haven't made it there yet, but until I do, I am thankful for this small and luxurious slice of North Africa.
The fun started when a friend and I checked into room 103, dubbed "The Arabian Alcove." True to its name, this enchanting den features an alcove living room complete with a curved sofa, bistro style dining setup and a Moroccan Martini Bar with microwave and mini-fridge. The bedroom, separated from the living room by a beaded Moroccan archway, features a cloud-like, four-post king bed, draped with a romantic canopy net.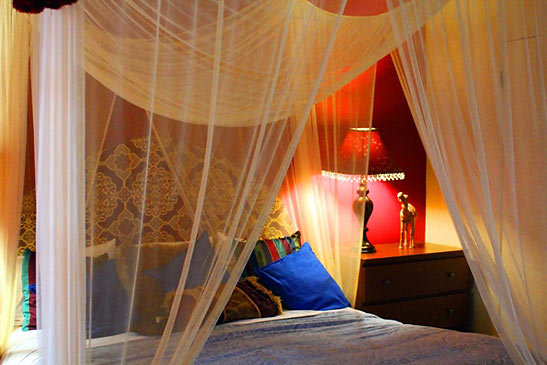 Hotel rooms feature Moroccan archways and beds, draped with romantic canopy nets
And like all guestrooms, The Arabian Alcove is a few steps away from the property's natural, hot mineral water swimming pool and Jacuzzi spa. The water comes from ancient hot and cold aquifers that the city of Desert Hot Springs sits atop. For thousands of years, Native Americans in the region used the waters for survival.
Today, the city's cold water is rated among the world's best for drinking, and its hot mineral water has propelled the town into a spa resort haven attracting celebrities and visitors from around the country – and world.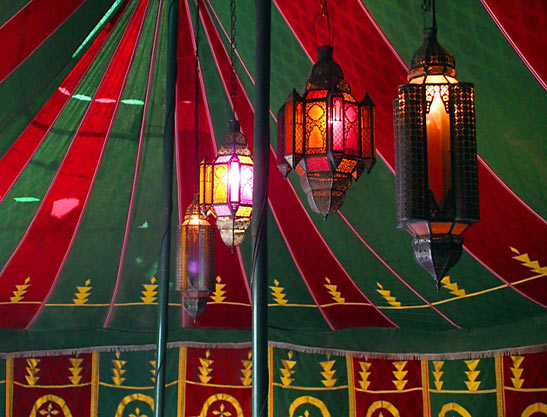 The inn offers a full-service spa, pool and Jacuzzi, lush gardens, gourmet breakfast room, and an authentic Sultan's tent
Once nestled into our room, we explored the city and found another desert jewel; we discovered Cabot's Pueblo Museum, a 75-yr-old, hand-built, hideaway with 35 rooms,150 windows and 65 doors. Set in Desert Hot Springs' scenic hills , the design of the pueblo looks like an old-west movie set and was inspired by the Hopi Indians.
The builder behind the rustic mansion is Cabot Yerxa, a renaissance man, "who followed his heart, traveled the world and accomplished countless things." And one of his biggest legacies is this home, which is now listed on the National Register of Historic Places. Cabot began building it in 1941 at the tender age of 57. While taking a guided tour of the property, I learned all about the man and how he helped found Desert Hot Springs.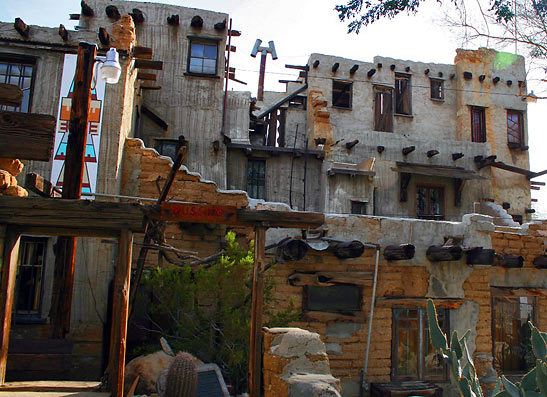 Cabot's Pueblo Museum is an historic, hand-built desert masterpiece
(courtesy photo)
It all began in 1913, when 30-yr-old Cabot homesteaded 160 acres in what is now Desert Hot Springs. At the time it was a dry, unforgiving land, where few English-speaking people lived. According to articles Cabot wrote for a local paper, he would walk 14 miles to get water from a trickling clay bank at a place called Two Bunch.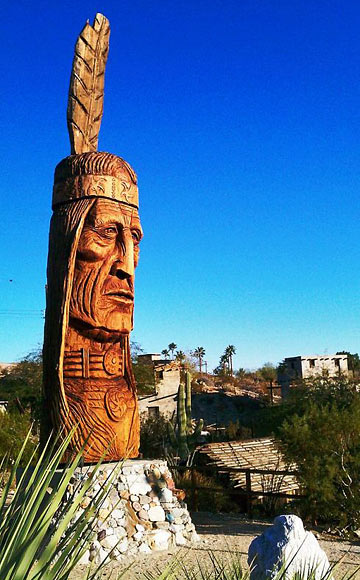 The pueblo is also a tribute to Native Americans
(courtesy photo)
At one hillside location he found remnants of Native American Indians and decided that if they could survive there, so could he. It was also here that an Indian friend encouraged him to dig a well, where he discovered hot mineral waters deep below his property. And when he dug a second well nearby, he found cold water coming from the Mission Springs Aquifer.
With water available, Cabot began building his dream house – a 5,000-sq-ft villa, inspired by a Southwest Indian pueblo. The adobe-style structure is made of anything he could find laying around the desert, including abandoned cabin pieces, used tires, tin cans, old telephone poles, buck board wagon, and more. He worked on the pueblo until his death in 1965 at the age of 81.
Today, the pueblo is still in great shape, with most of the furnishings and artwork in place, including Cabot family artifacts collected from their adventures dating back more than 100 years. During my tour, the guide told of Cabot's journeys to Dakota Territory, Mexico, Cuba, Alaska, France and throughout California and the Southwest, before he helped to create the town of Desert Hot Springs. Besides an accomplished architect and writer, he was also a painter and was the first Post Master of the town of Sierra Madre, CA.
Back at El Morocco Inn and Spa, I enjoyed a "Morocco-tini" at the hotel's nightly happy hour, which was hosted by hotel owner Bruce Abney. Held at the hip, poolside bar, the event is a chance to meet fellow guests and talk with Abney, who designed the inn after visits to Morocco and his love for its architecture and culture.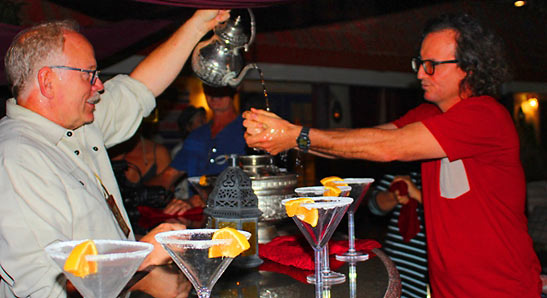 El Morocco's happy hour is a chance to mingle and enjoy "Morocco-tini" drinks
"I wanted to create something totally different for folks," says Abney. "It needed to be an experience rather than just an overnight stay. It's fun because this is a very different and unexpected arrival experience for guests throughout their stay. It's not only the mineral water; it's all of the exotic lamps and fabrics and furnishings throughout the building."
He says guests also love the authentic Sultan's tent he imported from Morocco, where people can do yoga and workout. The tent sits in a tranquil Spa Garden, with desert plants and a giant chess set.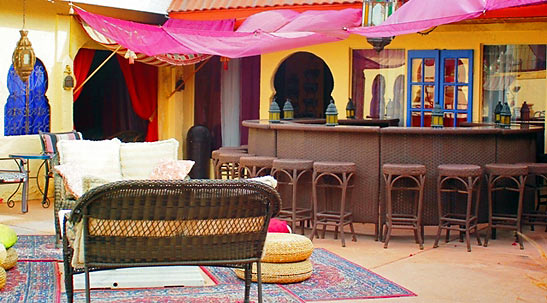 The hotel is "an experience rather than just an overnight stay"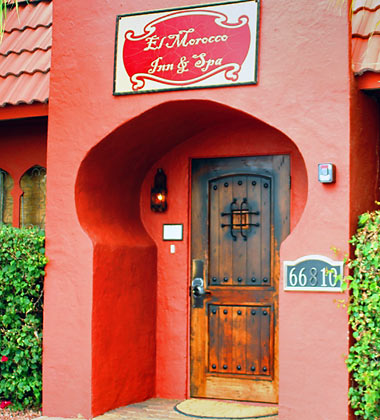 The El Morocco Inn is a slice of North Africa in Palm Springs desert
After traditional Moroccan hand-washing and a couple potent Morocco-tini's, I relaxed on a sofa in the hotel's "Casablanca Room," where a TV plays an endless loop of the classic Bogart film, which is set in Morocco during WWII.
In the morning I hit the inn's daily complimentary continental breakfast buffet. Featuring an array of fresh juices, avocados, pastry, crème cheese, tomatoes, bagels, cereals, yogurts coffee and teas, the feast is a perfect way to start a Moroccan morning in Desert Hot Springs.
The El Morocco Inn and Spa is located at 66810 4th Street, Desert Hot Springs, CA 92240. For more information, call 888.288.9905.
Related Articles:
Rancho Mirage: Palm Springs Desert Oasis; Palm Springs Aerial Tram; Fantasy Springs Resort Casino; La Quinta Resort & Spa; Desert Oasis at Morongo Casino Resort & Spa; Palm Springs Aviation Museum