Biggest Losers Win Big at JW Marriott in Palm Desert
Story and photographs by Greg Aragon

good getaway is more than a great location, with first-class amenities and gourmet food. It is also about people. And on my recent visit to the JW Marriott Desert Springs Resort & Spa, I met some very inspiring souls – while also basking in the sun and luxury of a four-star hotel.
My adventure began when I heard that the Marriott had partnered with The Biggest Loser Resort, to become the new West Coast location for the weight loss and wellness program, inspired by the hit television show, which returns in 2016 for a 17th season.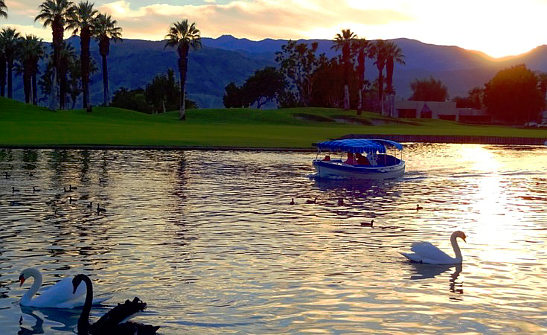 JW Marriott Desert Spring Resort & Spa is an oasis of relaxation and well being
As the newest addition to The Biggest Loser Resort portfolio, JW Marriott Desert Spring Resort & Spa offers guests access to its state-of-the-art amenities, including four spacious pools, two championship golf courses, an award-winning tennis program, and one of the largest full-service spa and fitness facilities in Southern California.
"The JW Marriott brand's commitment to health and well-being aligns perfectly with The Biggest Loser Resort program goals," said Lesley Carey, president of The Biggest Loser Resort. "We are thrilled to partner with this luxury destination and work together to provide our guests with the necessary tools and inspiration to embark on this life changing experience."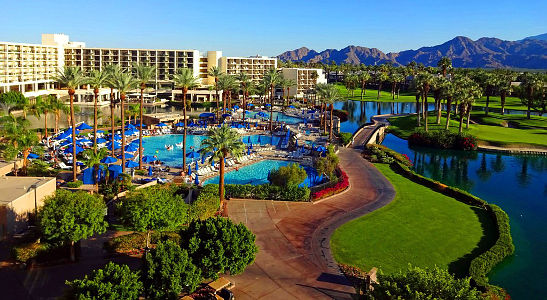 The Biggest Loser Resort has partnered with Marriott to bring healthy living to the Palm Springs area
I stayed at the JW Marriott during the opening weekend of The Biggest Loser Resort and I not only got treated to the beauty of the resort, but I also met some of the past and present participants of The Biggest Loser program. One of the people I met was chef and nutritionist Cheryl Forberg, who for the past 15 seasons has created healthy and delicious menus for both the TV show and the resort.
During my visit, Cheryl gave advice on eating healthy and smart and showed us how easy it can be to make good choices when going to the market and when waking up in the middle of the night with those dreaded hunger pains.
I also sampled some of the food that The Biggest Loser enrollees eat while at the resort and it was fantastic. I had a pulled pork sandwich with jicama and apple slaw on gluten-free bread, with hints of Mandarin orange, jalapenos and lime juice; and a California turkey wrap with turkey breast, turkey bacon, arugula and avocado, on a whole grain tortilla.

Exercise is a big part of The Biggest Loser Resort program
When not eating healthy, members of The Biggest Loser program exercise in their own fitness area, or on one of the many resort lawns. And like other Marriott guests, they also soak up all the luxury the resort has to offer.
Located in Palm Desert, a few miles east of Palm Springs, the JW Marriott Desert Springs Resort & Spa resembles an island paradise. The place is highlighted by a massive, towering lobby with waterfalls and ponds and boats coming in and out of giant glass doors. The vessels take guests sightseeing around the resort's lake or to dinner at one of the restaurants.
Other property highlights include six restaurants, two championship golf courses, four swimming pools, a full-service spa, fitness center, tennis and volleyball courts, and a scenic jogging path. There are also lots ducks, black and white swans, flamingos, and even Kookaburras floating about the waterways.
Throughout a stay at The Biggest Loser Resort Palm Desert, guests will work with a team of counselors and coaches who help provide the knowledge, tools and confidence to achieve results and sustain a commitment to healthy eating, regular exercise and overall well-being. Matt Hagler, CEO of Biggest Loser Resort, says The Biggest Loser program is ideal for guests at any stage of life.
The program includes stress management through life coaching workshops, dietary direction and a strong focus on physical activity, beginning with training through activities such as cardio, water aerobics, and outdoor hikes, among others.
The Biggest Loser Resort Palm Desert is located at 74-855 Country Club Drive in Palm Desert, CA 92260. For more information on participating in the program, visit: www.biggestloserresort.com or call 760.341.2211. For more information on just staying at the JW Marriott Desert Springs Resort & Spa, visit: Visit www.desertspringsresort.com
Related Articles:
Moroccan Martinis and Historic Pueblos in Desert Hot Springs; Rancho Mirage: Palm Springs Desert Oasis; Palm Springs Aerial Tram; Fantasy Springs Resort Casino; La Quinta Resort & Spa; Desert Oasis at Morongo Casino Resort & Spa