Paradise Found at Four Seasons Hotel Westlake Village
Story and photographs by Greg Aragon

ho says you have to travel far to get away from it all. Sometimes a memorable journey is just a short drive up the 101 Freeway in Los Angeles. Such was the case last Saturday when a friend and I checked into a gorgeous suite at the Four Seasons Hotel, Westlake Village.
Located in the city of Westlake Village, about 35 minutes from Los Angeles, the 270-room resort is a secluded paradise, surrounded by gardens and lawns, ponds and footbridges, a rocky waterfall, giant sequoia trees, and a myriad of luxurious amenities and accommodations.


The Four Seasons Hotel, Westlake Village is a secluded paradise
35 minutesfrom Los Angeles
Our 5th floor room overlooked the cascading waterfall and lush main lawn, and a row of looming trees - a view which reminded me of being in the mountains. The room featured two queen beds, large TV, office/desk area, mini-bar, and a beautiful, marble-rich bathroom, with a walk-in shower, huge tub and a second TV for those who like to soak and watch.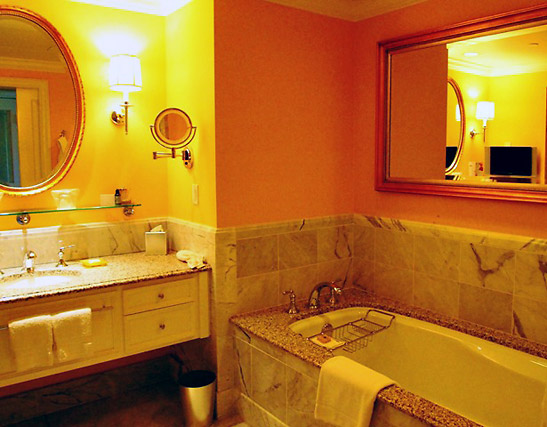 Our rooms overlooked a cascading waterfall and featured a beautiful, marble-rich bathroom, with a walk-in shower, huge tub and a second TV
Once acquainted with our quarters, we strolled through the elegant lobby and explored the 450,000-sq-ft property. Our first stop was the Pagoda Lawn, where an authentic Chinese pagoda towers above a reflecting pond and a serene, two-acre private garden featuring sequoia trees, 2,000-year-old boulders from the River Kwai in Thailand, and lots of colorful flowers. It is easy to see why this is a favorite spot for weddings and other special gatherings.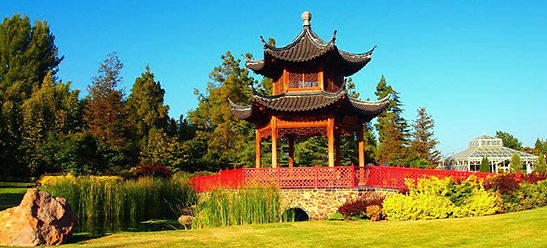 The Pagoda Lawn features an authentic pagoda, a serene garden and pond, and 2,000-year-old boulders from Thailand's River Kwai
From here, we walked down winding pathways, lined with thousands of plants, flowers and shrubs, to the Waterfall and main lawn, where the hotel was setting up for a royal British celebration in honor of the Queen's Jubilee.
After relaxing by the waterfall, I visited the state-of-the-art fitness center for a workout and a spell in the steam room and Jacuzzi. I then hit the showers and had an invigorating, deep-tissue massage at the hotel's spa.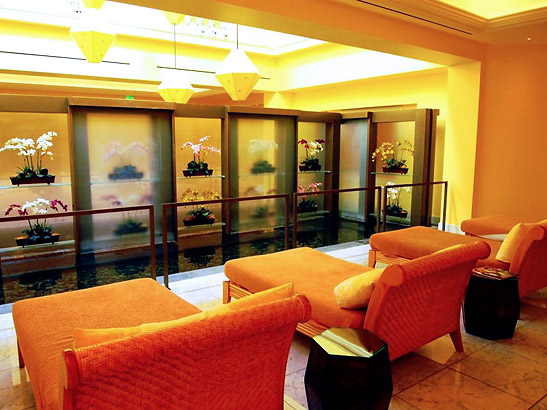 The Four Seasons Spa was voted one of America's best by Conde Nast Magazine
Voted one of America's best by Conde Nast Magazine, the 41,000-sq-ft Four Seasons Spa boasts 28 treatment rooms and numerous body and face treatments and massages, including a lavender milk and honey cocoon; detoxifying sea kelp thermal body contour; a bamboo body polish and many more.
After the rub down, I walked through the gardens back to my room and prepared for dinner at Marcato Italiano, a magical restaurant/marketplace that rises like fresh-baked bread in the hotel's Lobby Lounge each Saturday night.
Here, in a lively buffet setting, we devoured fresh pastas, salads, cheeses and meats. Dinner highlights included a divine Cioppino soup, with mussels, clams, fish, and shrimp; mushroom ravioli; octopus appetizers; local wine and olive oil; fresh gelato; and much more. There were also strolling servers, carrying various fresh-baked pizzas on carts.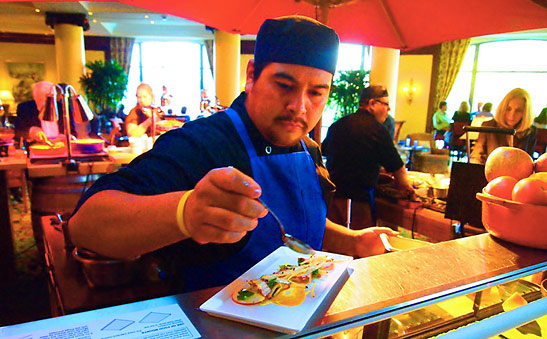 Marcato Italiano is a magical restaurant/marketplace that comes to life in the hotel's Lobby Lounge each Saturday night
From dinner, we stopped by the Lobby Bar for a couple Bloody Marys and a few games of billiards. We then reclined in leather chairs by the fireplace, while a skilled pianist played jazz and American standards. In the morning I went swimming in the pool and relaxed near the Pagoda Lawn.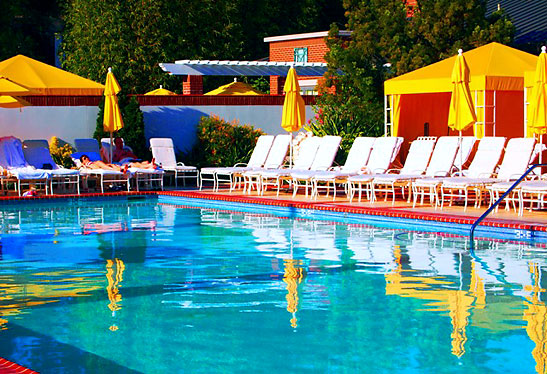 The Four Seasons boasts two luxury pools for swimming and relaxing
I then met my friend for Sunday champagne brunch on the Waterfall Lawn, where each week the hotel puts on an incredible display of food, mood, and music. Here, beneath an umbrella on the lawn, we enjoyed a feast of fresh seafood, gourmet breakfast favorites, fruits and veggies, and live jazz music, all against the backdrop of crashing waterfall and swaying sequoias. This was a great way to wrap-up a memorable getaway.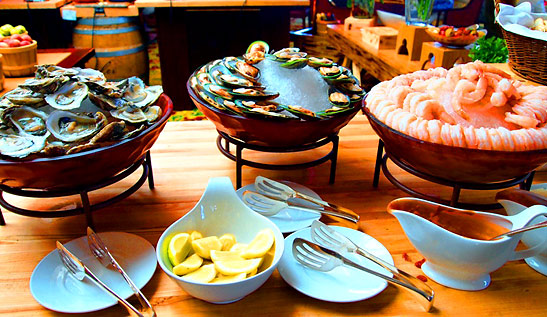 Sunday brunch on the Waterfall Lawn is an incredible display of
food, mood and music
After brunch we stopped by the California Health & Longevity Institute, which is located next to the hotel. This pioneering, world-class facility is a leader in science-based lifestyle rejuvenation. Guests are immersed in customized healthy living experiences designed to create real and lasting life changes. The centre features advice, education and inspiration from an integrated team of experts including physicians, registered dieticians, exercise physiologists and lifestyle consultants.
Besides all these exciting amenities, the Four Seasons is currently offering a "summer Room and Board" special. This fun-in-the-sun package includes surf lessons in nearby Malibu and the option to add a Jeep Wrangler rental. The hotel will also working on a package special with the Ronald Reagan Library as the library hosts a new exhibit called "Treasures of the Walt Disney Archives" between July and April.
For more information on these and other packages and deals, and for directions, visit the Four Seasons Hotel Westlake Village website.
Related Articles:
The Grand del Mar; Ojai, California; Catalina Island Escape; Laguna Beach, Orange County Oceanfront, San Luis Obispo, Hotel del Coronado, San Diego