Traveling Boy Bloggers on the Move:
Vicenza Walks – Monte Berico
Story, photographs and video by Tom Weber

Covered archway shows the way up Monte Berico – Vicenza, Italy

ike British film star Hugh Grant, I, too, went up a hill; but, unlike Grant, as Reginald Anson, the English cartographer, I didn't come down a mountain. It's still a hill, but what a hill it is!
I've got the perfect destination for a leisurely walk that I undertook just the other day. If you'll simply put one foot in front of the other, you can join me as I lead the way up Monte Berico (Mount Berico). Feel free to point-and-shoot along the way.
Monte Berico, a small hill that overlooks and dominates the City of Vicenza, is part of the undulating and vast Colli Berici (Berici Hills) that spreads out south of the city.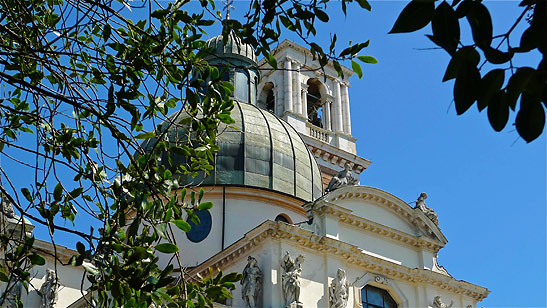 Cupola of the Santuario della Madonna di Monte Berico – Vicenza, Italy
Located just a short distance from the Centro Storico (Old Town), religious pilgrims, tourists and local residents alike take the steep hike up this hill to visit the Santuario della Madonna di Monte Berico (the Sanctuary of the Madonna of Monte Berico), the city's patron saint.
This is a jewel of a walk, with architectural and religious significance. Those up for the climb to the summit arrive on foot via an impressive 700-meter-long, two-sectioned archway.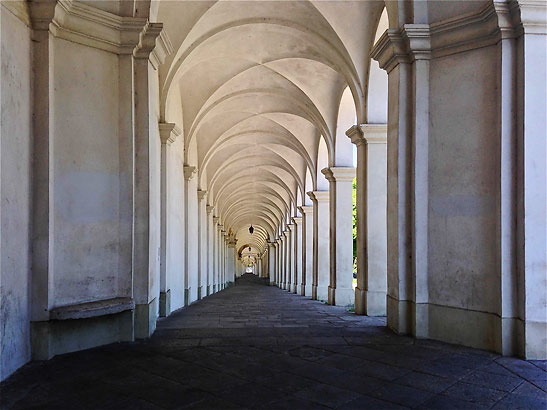 Under the covered archway leading to the summit of Monte Berico – Vicenza, Italy
Constructed to honor the Blessed Virgin Mary, the archway was designed by architect Francesco Muttoni and unveiled in 1746.
The procession-like design, consisting of 150 arches in groups of 10, symbolizes the 15 Mysteries and 150 Hail Mary's of the Rosary which are recited during the Stations of the Cross and other religious traditions observed by members of the Roman Catholic Church.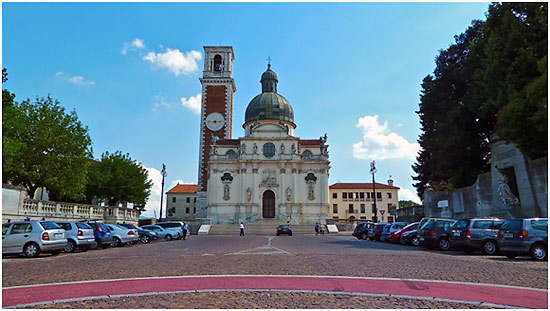 Piazzalle della Vittoria fronts the Santuario atop Monte Berico – Vicenza, Italy
Fronting the Santuario is the Piazzale della Vittoria (Victory Square), a national monument dedicated in 1924 to honor Italy's fallen heroes from numerous battles fought against Austria during World War I.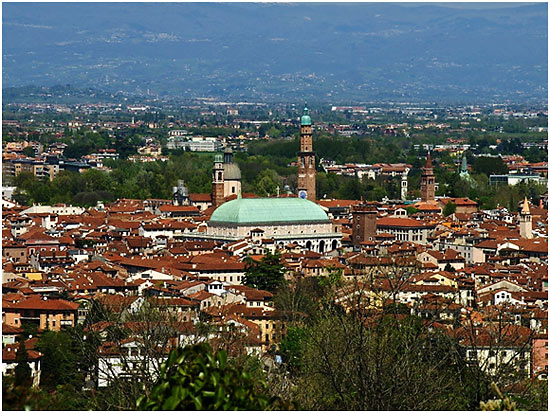 Panoramic view of Vicenza's Centro Storico as seen from the overlook atop
Monte Berico
From Piazzale della Vittoria – on a clear day – you can see just about forever from its large oval balcony: the panorama of Vicenza down below, the pre-Alps in the background to the north, and the Venetian Lagoon to the east.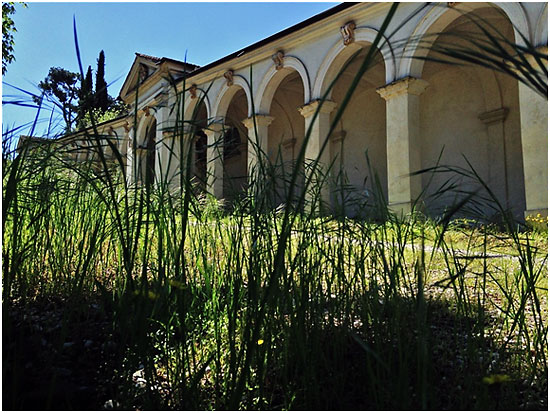 Part of the two-section archway showing the way up Monte Berico – Vicenza, Italy
I live here and never tire of the trek up to Monte Berico under the shade of the beautifully crafted covered archway. It's a "must see" stop for anyone visiting Vicenza.
Related Articles:
Vicenza: The City of Palladio; Basilica Palladiana; Riviera di Ulisse; The Little Village Atop the Hill (Castelluccio di Norcia); Norcia, Umbria; Cape of Circeo, Italy; Piovene Rocchette, Italy; Northern Italy