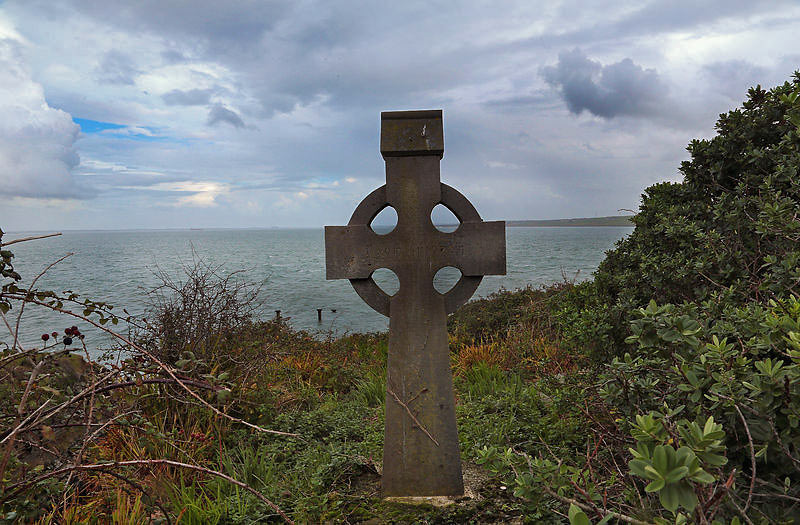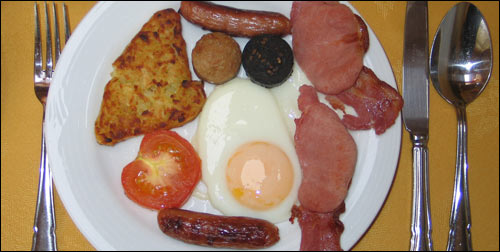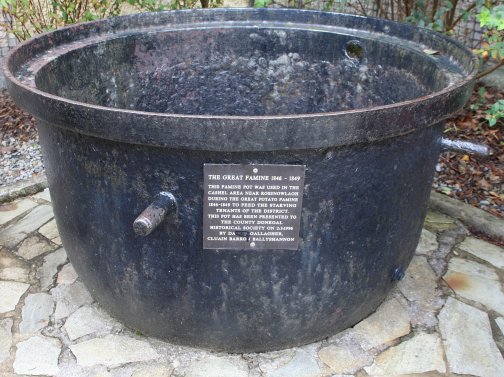 My wife and I woke up to the smell of rich morning coffee. It was to be part of our breakfast on our first day in Ireland, always a dream in itself. It has been said that all Irish homes become a bed and breakfast during the summer, and this Donegal County cottage with one spare room was no exception.
The owners fussed over us at the table as we enjoyed a full Irish breakfast: eggs, bacon, sausages, black and white pudding, fried potatoes and homemade rolls with marmalade. They told us of the area's attractions and educated us on the Irish Potato Famine, that began in 1845 and lasted for six years, killing over a million men, women and children and caused another million to flee the country. The owner explained, the Irish in the countryside began to live off wild blackberries, ate nettles, turnips, old cabbage leaves, edible seaweed, shellfish, roots, roadside weeds and, towards the end of the Famine, even green grass. The owner added you could always identify a Famine victim by the green grass stains around their mouth. He suggested that we read his favorite book about the Famine, The Silent People by Walter Macken.
We followed his instructions and found a Famine pot in the middle of a forest, where locals placed food for the displaced victims. It felt like we were walking through history.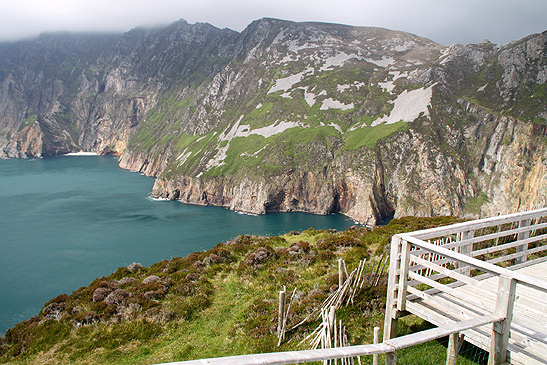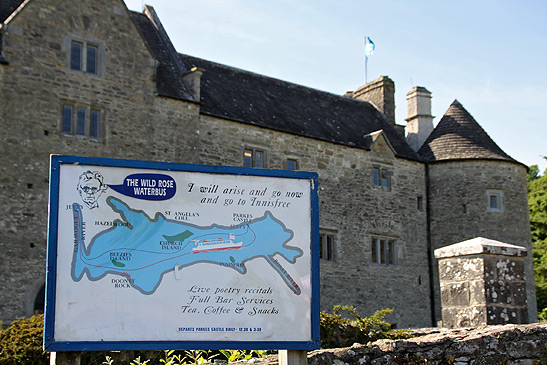 We had already anticipated a trip to Slieve League Cliffs on the west coast of Donegal, and were not disappointed once we arrived. Towering over 2,000 feet from the Atlantic Ocean, it is one of the highest sea cliffs in Europe. Its visual splendor gets my vote for the most striking site in Ireland.
We headed down the road to County Sligo for a pilgrimage to the gravesite of our favorite poet, WB Yeats (1865-1939), and soon found ourselves stuck in the car, avoiding a heavy downpour. We didn't mind, we read Yeats and listened to an Altan CD, our favorite traditional Irish music group, while basking in awe at the stunning green countryside. We read where the lyrical name Emerald Isle arrived from William Drennan,  Irish physician, poet and political radical, in his poem "When Erin First Rose" in 1795.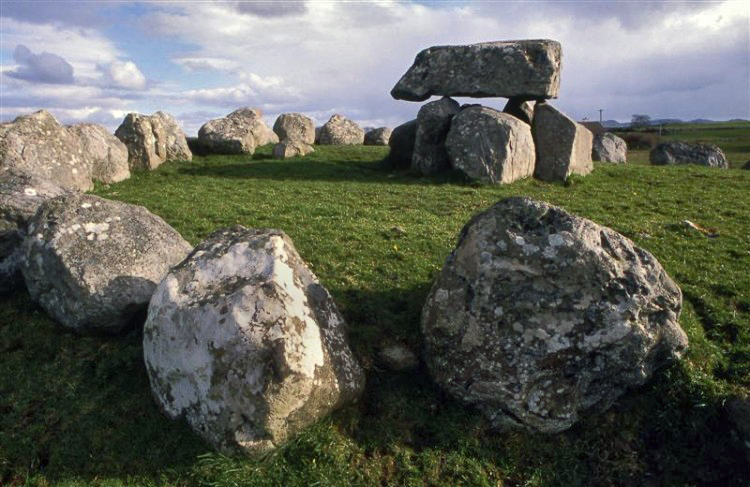 Once the weather cleared, we stumbled upon Carrowmore Megalithic Cemetery, the largest burial site of Megalithic tombs in Ireland. Built around 4600-3900 BC, the site is characterized by massive polished stones.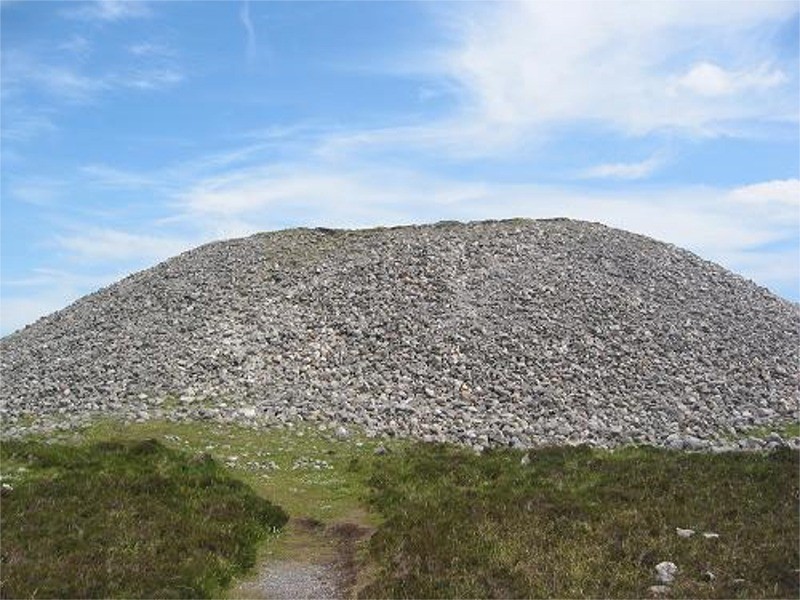 To this day no one knows who these people were and how they were able to move such mammoth rocks. We both could feel the power of the setting and something came over us; before we knew it we were renewing our wedding vows. After a Sunday pub meal of lamb, potatoes and Guinness we found another B&B, where (once again) we were the only guests. We wanted to take the owner home with us, and to this day remain in contact.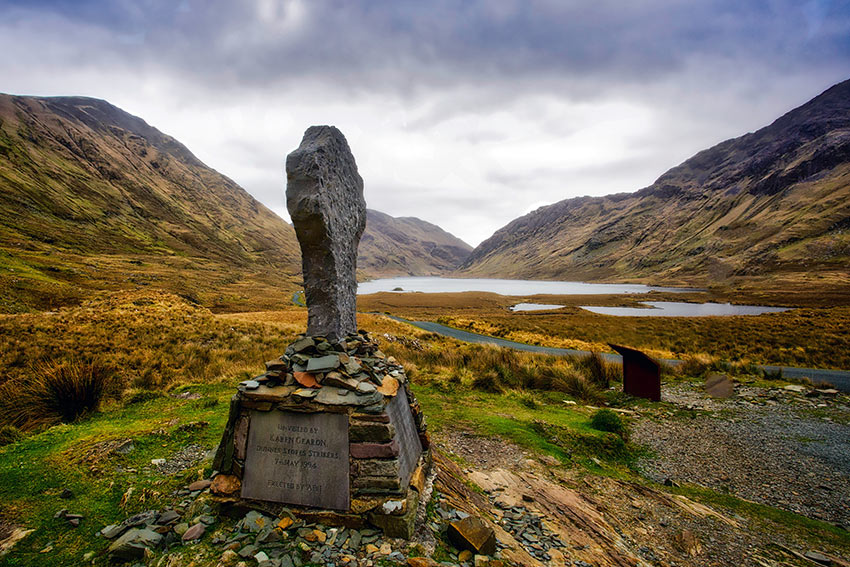 The next day, it was a drive through the sweeping Connemara in County Galway, a place that author Charles Dickens (1812 – 1870) once described as a place of 'terrible beauty.' We pulled off the road to study a Famine Trail known as the Doolough Tragedy of 1849.
Hundreds of destitute and starving people staggered through horrendous weather for 15 miles to a manor's house in the hope of food, only to be turned away. Later, people found corpses by the side of the road with grass in their mouth.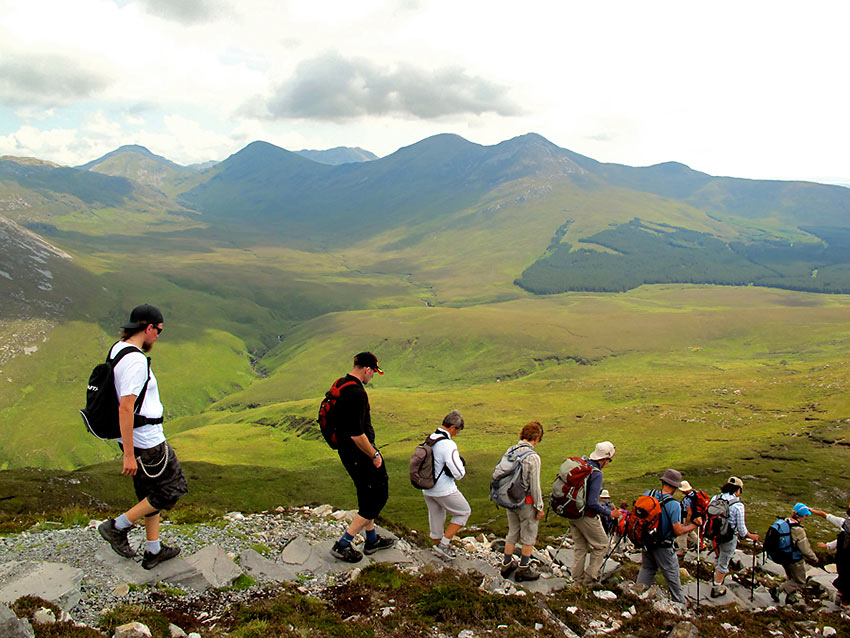 Once a year a Famine walk takes place on the trail to commemorate the victims.
As we departed down the road, we both commented that we had not seen a single car for over half an hour. A second later there was a rumbling on the road. We had a flat, not unusual on these rock-strewn Irish roads. Faced with having to unpack our little rental just to find the spare tire and equipment was a daunting thought. Before we knew it, two cars, each arriving from the opposite direction, appeared out of nowhere. The drivers both hopped out and quickly changed our tire. They barely stuck around for a handshake. Such is the hospitality of the Irish. It was pitch black when we arrived at our next bed and breakfast accommodations. But where were we? In the morning, with the blazing sun illuminating this piece of paradise, we realized our B&B was nestled on the banks of a breathtaking fjord. We were in the town of Liane, where the film 'The Field' was made. In one of the local pubs a huge painting of the film's star, Richard Harris, hangs above the fireplace.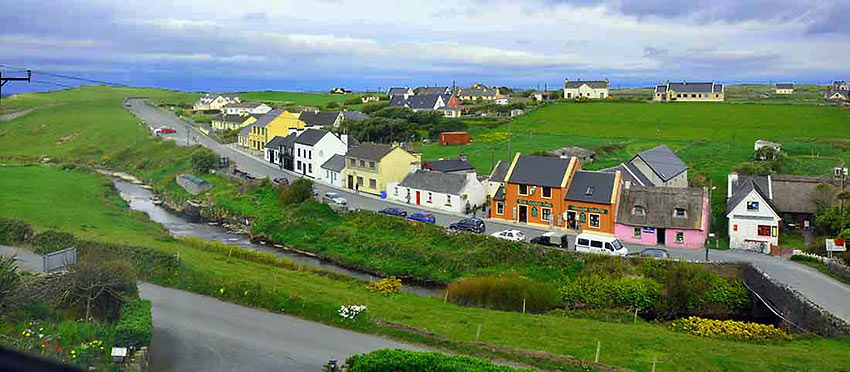 Eventually we made it down to the musical town of Doolin, a coastal fishing village in County Clare  on the Atlantic coast. Coined the traditional music capital of Ireland, this was for us an adult Disneyland. Three pubs specialized in Irish session music each night. We joined in with locals and like-minded tourists, had big pub meals of lamb and potatoes or bacon and cabbage, then nursed pints of Guinness as we listened to reels, jigs and haunting ballads, many about the Famine and emigration.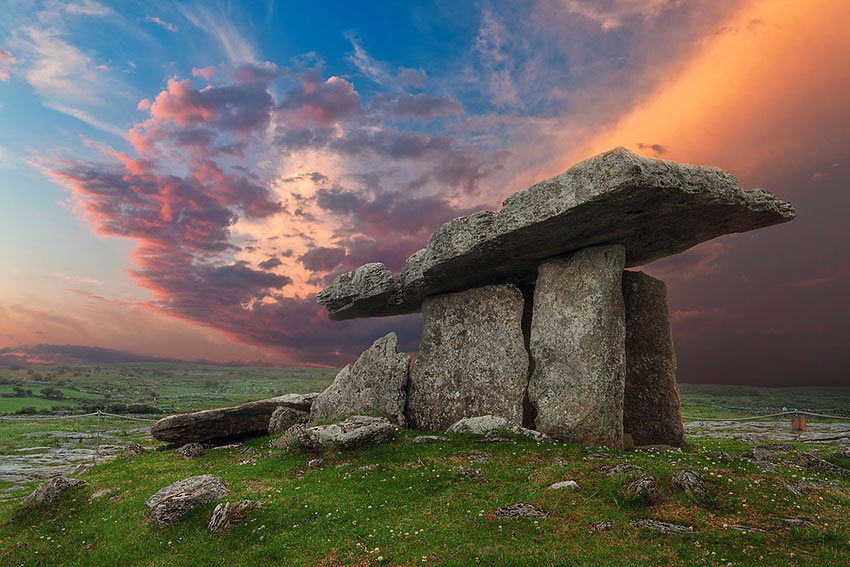 Our daytimes were spent on trips to the Aran Islands, a landscape that once consisted of solid limestone rock with locals having to make their own soil; the windy, yet tranquil Cliffs of Moher , standing 702 feet with a stretch of five miles, featuring panoramic views as far as the eye can see; a massive Dolomite burial site located on a farm; exploring the archaeological sites in the Burren as well as local castles. We carry the memories with us wherever we go. Erin Go Bragh!
For further information, click-on Republic of Ireland.