Just when we thought breakfast couldn't get any better, we heard a gentle puffing sound in the sky. Looking up we saw a giant, colorful hot air balloon slowly rising above our bungalow like a red, blue and yellow planet. It was an awesome sight and it made our breakfast in the middle of a lush vineyard even more memorable.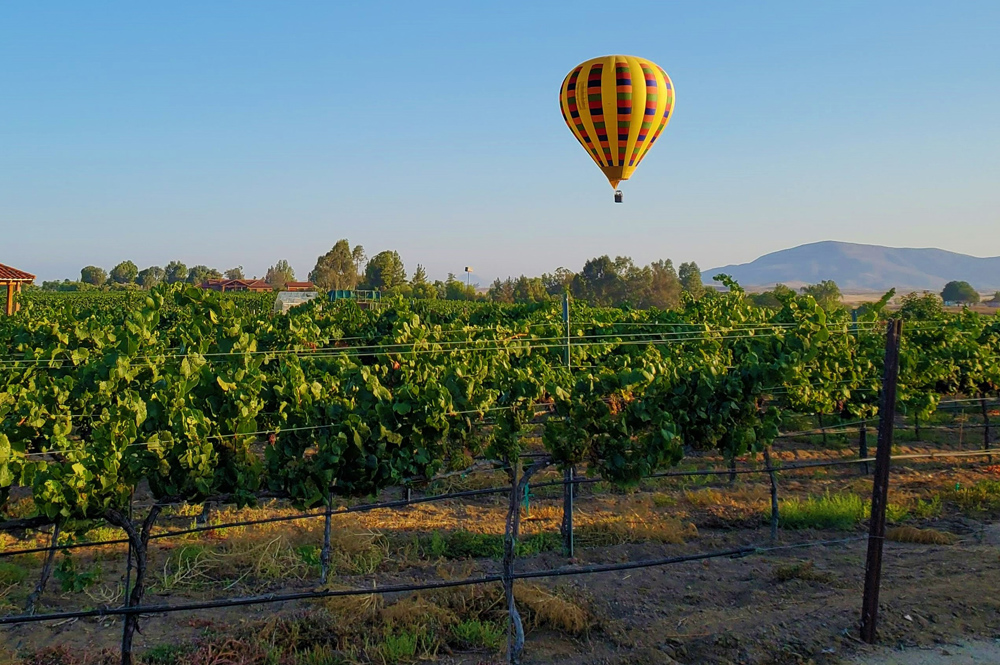 Our recent getaway to 109-acre Carter Estate Winery and Resort began when we checked into a luxurious bungalow overlooking rows of beautiful vineyards and rolling hills. Designed to complement the natural surroundings, all 60 of the spacious rooms at the resort are open and airy, with classy furnishings and a colorful decor.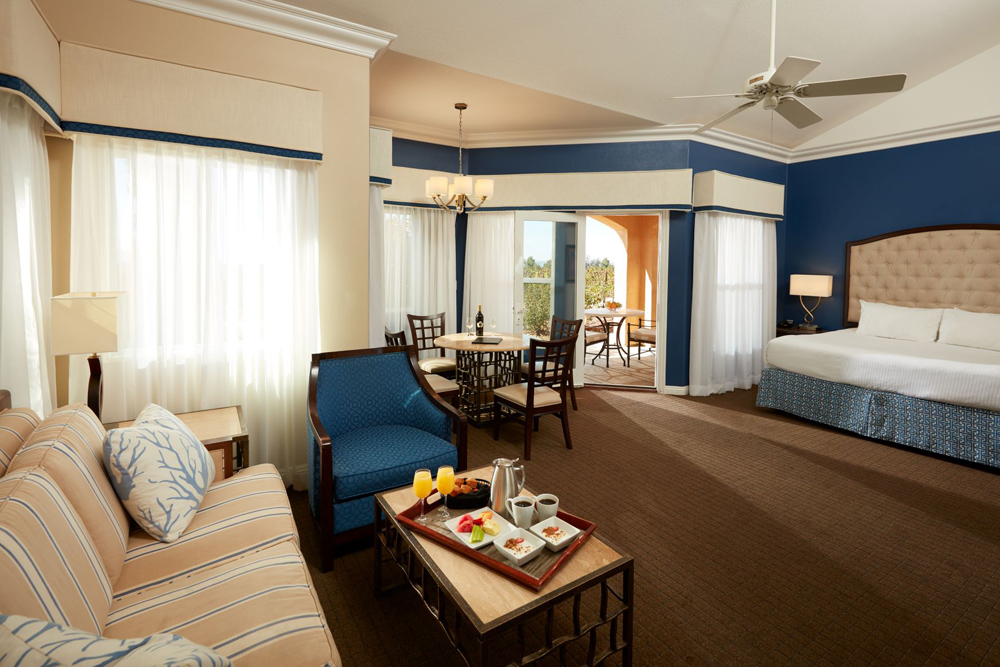 Our vineyard bungalow featured a marble and granite bathroom with soaking tub and separate shower, an electric fireplace, large TV, comfy king bed, sofa bed, and a kitchenette area with mini-fridge, microwave, sink and Keurig coffee maker. There was also an elegant dining table with chairs.
My favorite aspect of the room was the private patio, looking out to the Temescal Mountains and the Santa Ana Mountains in the distance, and vineyards teeming with grapes of Chardonnay, Pinot Gris, and Gewürztraminer a few feet away. From the patio we could have breakfast or dinner with an incredible view or we could stroll through the vineyards and immerse ourselves in the serene beauty of the estate and the Temescal Valley.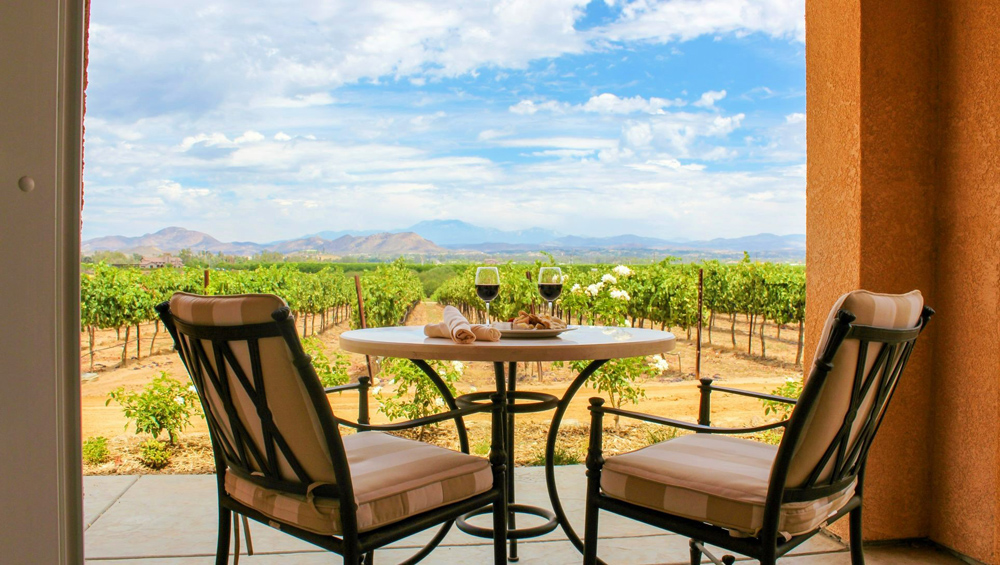 Known for its year-round temperate climate, Temecula Valley has become Southern California's premier wine capitol. Winemaking in this region dates back more than 50 years, and today you can find nearly every varietal – from chardonnay to syrah. And when it comes to making great local wine, Carter Estate is one of the best. In fact, the winery has become one of California's preeminent méthode champenoise sparkling wine producers, and is also known for acclaimed still wines and other varietals including viognier, malbec, chardonnay, sangiovese, cabernet sauvignon, syrah and merlot.
We got a great sampling of some of the estate's grapes with a wine tasting of reds and whites featuring Brut, Viognier, Penrose, Malbec, and Daybreak. Each wine is produced from the best varietals and aged to perfection in European oak barrels to ensure enjoyment.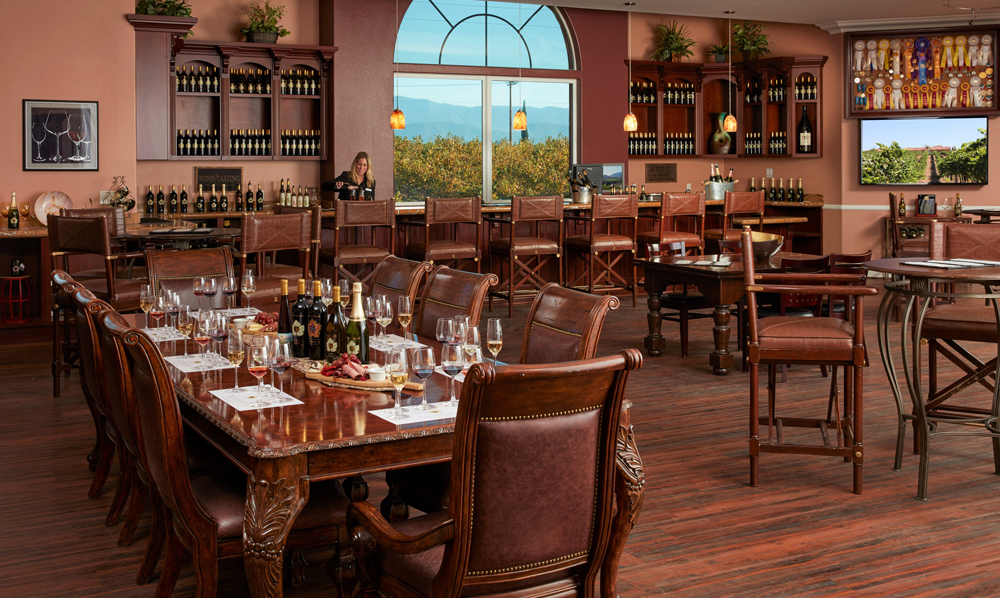 After the wine tasting, I took a free shuttle from the winery across the street to its sister property, South Coast Winery, where I worked out at a state-of-the-art fitness center at the property's elegant spa. Back at Carter Estate, we had dinner on our private patio and watched a horse and carriage roll past us. It was a stunning sight as giant clydesdales – a powerful breed of carthorse, originally from Scotland – clip-clopped along pulling a white buggy through the vineyards, as the sun fell behind the mountains.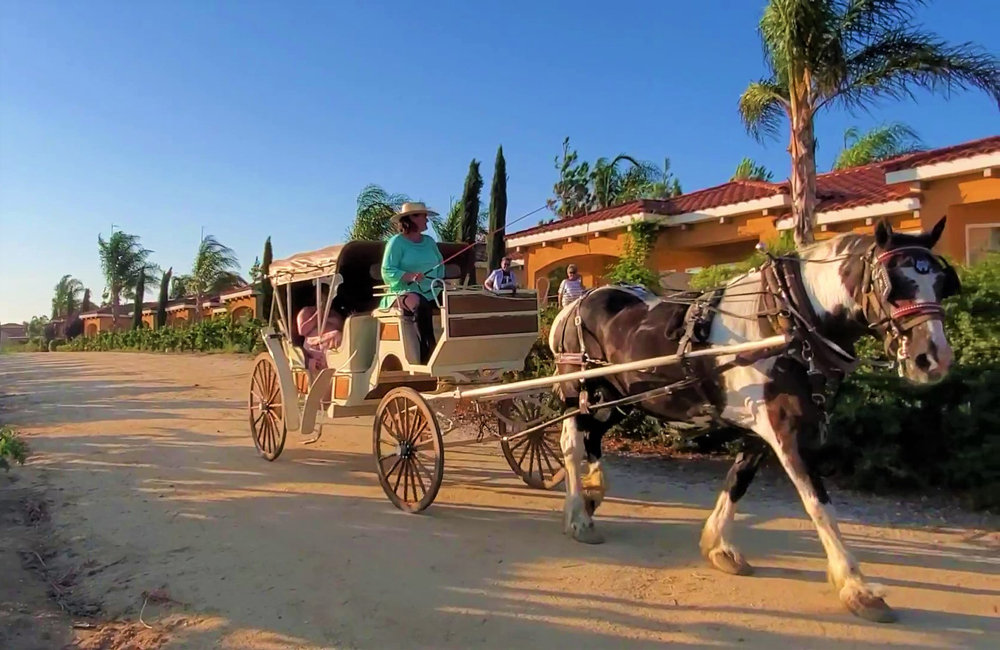 The next morning the sights and sounds continued to amaze. While enjoying a delicious complimentary continental breakfast on our patio, we heard what sounded like a fire-breathing dragon in the sky. Looking up from my breakfast burrito, I saw a giant hot air balloon hovering over the vineyards with a basketful of sightseers. A few minutes later, a couple more appeared above the vineyards. It was a memorable sight and a wonderful way to begin a day.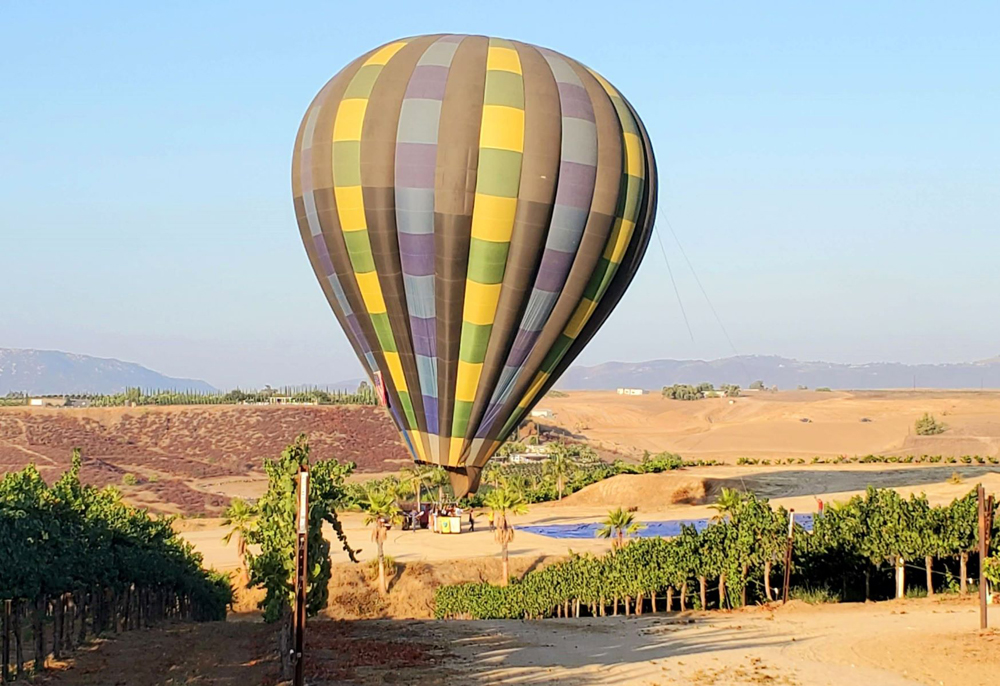 After breakfast we lounged by the resort's gorgeous pool, overlooking vineyards and the Temecula valley. While here we relaxed in a big cabana, swam in the crystal-clear water, and had lunch at the Vineyard Grill.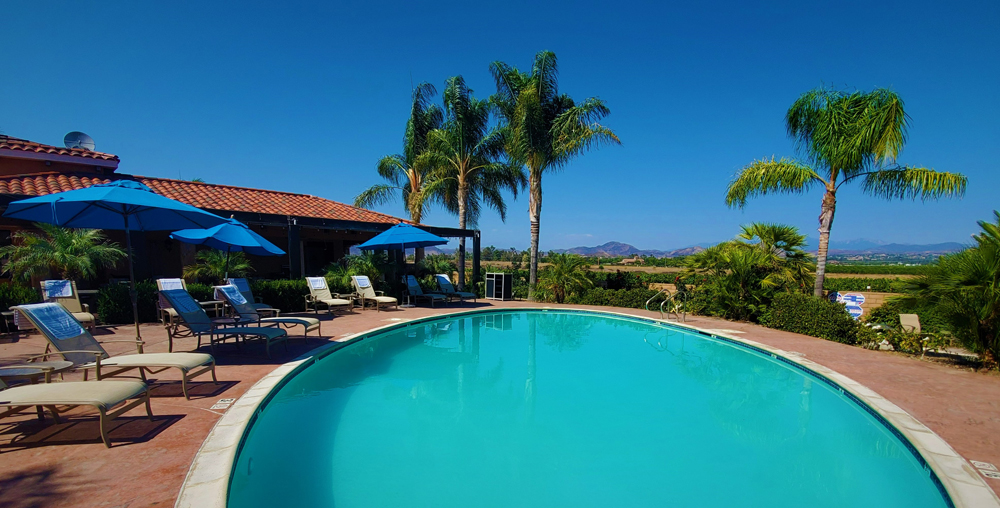 For those interested in taking a hot air balloon ride over wine country, while staying at the Carter Estate, the resort is offering the Hot Air Balloon Package. This special offer, which starts at $489, includes one night stay for two, complimentary continental breakfast, shared hot air balloon ride for two with (California Dreamin' Balloon Adventures with #1 Temecula Hot Air Balloon Ride – California Dreamin'), and a bottle of Carter Estate Wine.
Carter Estate Winery and Resort and its sister winery, South Coast Winery Resort & Spa, are the recipients of over 3,000 awards and medals for outstanding wines over the years, and The Vineyard Rose Restaurant at South Coast Winery Resort has been cited as a Best by USA Today 10 Best Readers' Choice awards.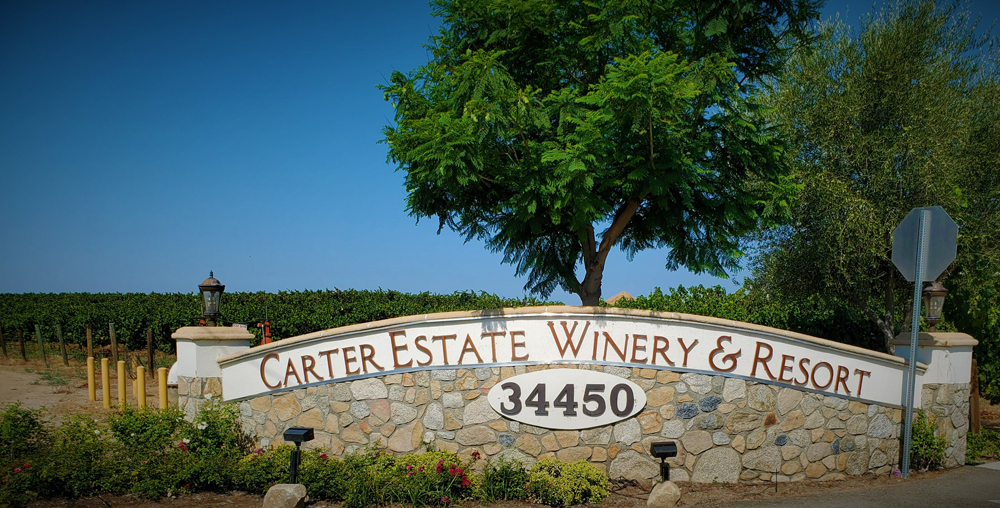 Carter Estate Winery and Resort boasts 60 beautifully designed private bungalows and suites, a luxurious swimming pool with cabanas, a poolside restaurant, a working winery, a private tasting room and in-room spa services. Additionally, guests at Carter Estate have access to all spa services and other amenities at South Coast Winery Resort & Spa, located across the street.
Carter Estate Winery and Resort is located at 34450 Rancho California Road, Temecula, California. For more information, call (844) 851-2138 or visit: www.carterestatewinery.com