Raoul's Two Cents: December 31, 2021
Roundup of 2021
Congratulations! You're here at the end of 2021.
These are the highlights of the news that I remember:
The Capitol Building was attacked. Many of the perpetrators are still locked up.
Gas prices went up and Biden started to import even from Russia.
Texas lost power in a winter storm. Hurricane Ida devastated Kentucky.
Tesla stocks went up. Crypto currency went way up but is now spiraling down.
Evergrande and the Chinese economy continue to sink. Many international companies are abandoning ship and moving out of China.
Real Estate prices soared but it exacerbated the homeless problem.
Gamestop and AMC defied Wall street.
California Governor Newsom survived a recall.
A new California law forced truckers out of their jobs. Many goods awaiting delivery.
Car sales plummeted because parts were missing in factories.
Facebook is dying. Changed its name but does it matter?
A $1.9 trillion Covid relief bill was passed and many are vaccinated. Covid 19 infections went down but the Delta variant replaced it. Fortunately, it too subsided and now Omicron has taken center stage. It's more infectious but not as deadly. Some say this is good news because it means we are building immunity.
War developed between the vaxxed and the unvaxxed in the US and internationally.
A $1 trillion infrastructure bill is passed but trillions more are being contested. Senator Manchin defies his own party.
Texas abortion remains in place.
After tasting free stimulus money, many laborers refuse to return to work. Ironically, some news agencies say unemployment dropped 4.2 percent.
Over 1.5 Million illegals from the south entered the U.S. Many were flown out and disbursed into different cities but many are still in cages.
Texas decided to build their own border wall.
Hunter Biden became an instant painting success.
Crime went up in the cities that defunded the police. "Smash and grab" has entered our lexicon along with "Let's go Brandon."
Kyle Rittenhouse was acquited. Not so for Jesse Smollett and Ghislaine Maxwell.
Mayor Cuomo and his brother Chris lost their jobs. Chris Wallace jumps to CNN.
Afghanistan collapsed and many Americans are still trapped there.
There are still a couple of events I left out because it was getting too long. Suffice it to say 2021 has had its good and bad moments. Depending on who you listen to, your list may look different than mine. What event am I missing? Is God in control? What do you think?
Have a safe and happy New Year celebration. I'm not even wishing for a "prosperous new year." I'll settle for a "normal year." TGIF people!
Raoul
---
Joke of the Week
Thanks to Peter Paul of S Pasadena, CA. for this joke.

You've Come a Long Way Baby
In 2019 things were so bad that we couldn't wait for 2020. And then things got even worse with Covid 19 that we wanted to blot out 2020 from history. As we prepare for 2022, let's compare how things were in years past. See how far we've come.
Thanks to Hannah of South Dakota for these 25 archival photos. The people then were hoping for the future that we now "enjoy."
1 The 'Iter Avto', the 1930's version of a GPS. Developed by Touring Club Italiano, this device was more like a "map guidance tool" and came with a set of paper maps. It was tethered to the car's speedometer that kept the scrolling of the map in proportion to the speed of the car.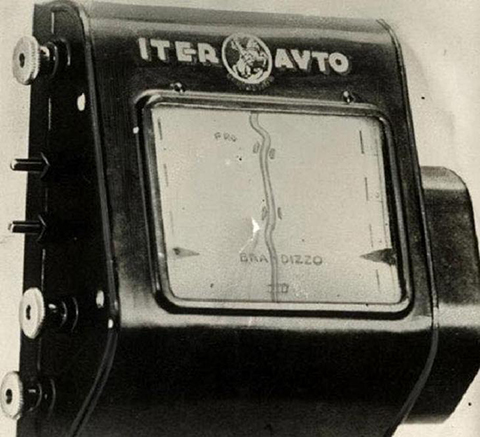 2 A 'Tasmanian tiger' in captivity circa 1930. Also known as the thylacine, this carnivorous marsupial was native to the Australian mainland and went extinct in 1936. This must have started an awareness to preserve our ecology.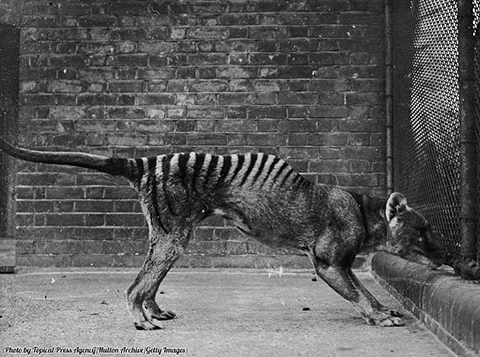 3 Airline reservations before computers, 1945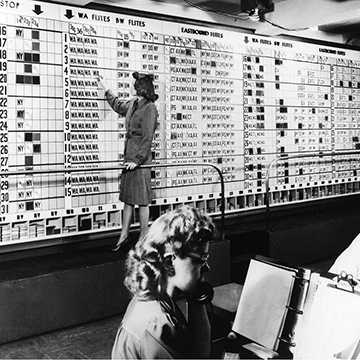 4 The 1950s '3-in-1 Kitchen Combination.' It came with a stove, a sink, and a fridge – all in one!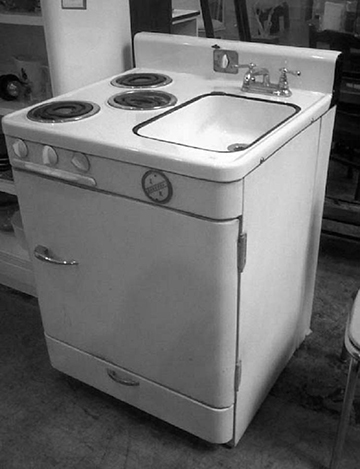 5 American photographer James Ricalton posing with two extra tall men, fondly remembered as the 'Giants of Kashmir,' in 1903. The photograph was taken in Delhi during 'The Durbar,' a celebration of the British monarch Edward VII's (the great-grandfather of the current British monarch, Queen Elizabeth II) succession as the Emperor of India.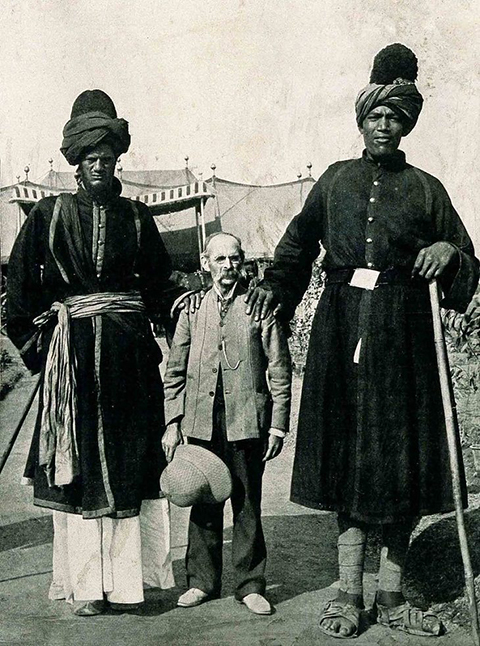 6 Television shopping in 1974.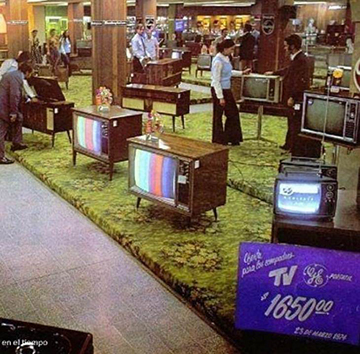 7 A gas station on Brovarsky Prospect in Kyiv, Ukraine, 1979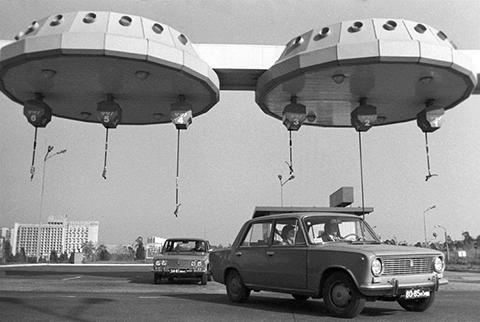 8 A woman standing in the doorway of an RV Camper at an exhibition in London, 1927. It was also called the "Road Yacht."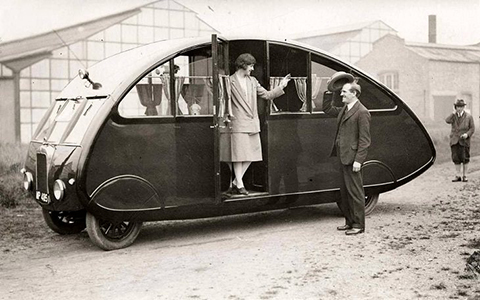 9 Draft beer being served during a Lufthansa flight in the 1960s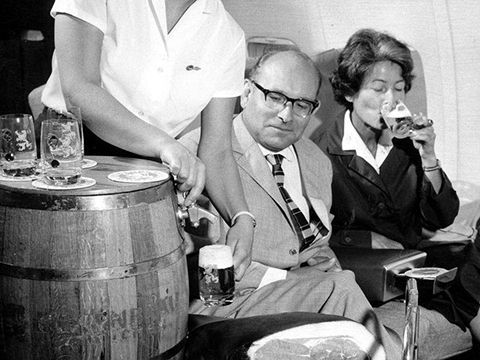 1 The Esso Hibernia tanker under construction, Wallsend, UK, 1970.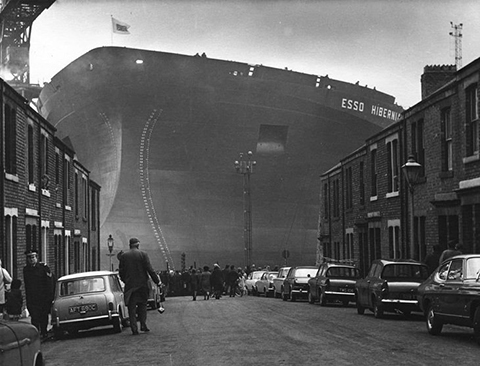 2 Niagara Falls without water, 1969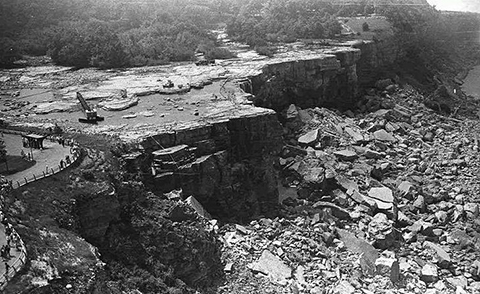 3 An Empire State builder hanging on a crane above New York City, 1930
4 An elementary piano class in progress in 1947 (photo by Yale Joel)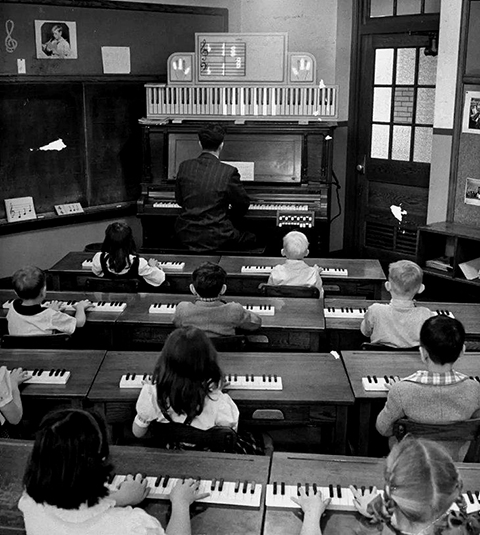 5 Military bomber planes fly past Mount Vesuvius in Italy as lava and ash spurts from the top of the volcano. The devastating eruption ravaged the village of San Sebastiano and San Giorg in March 1944 and killed 57 people. Meanwhile, the Allied forces were battling for supremacy in the skies.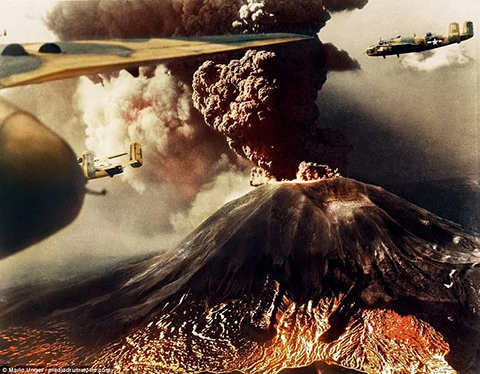 6 The original Moulin Rouge, Paris, 1914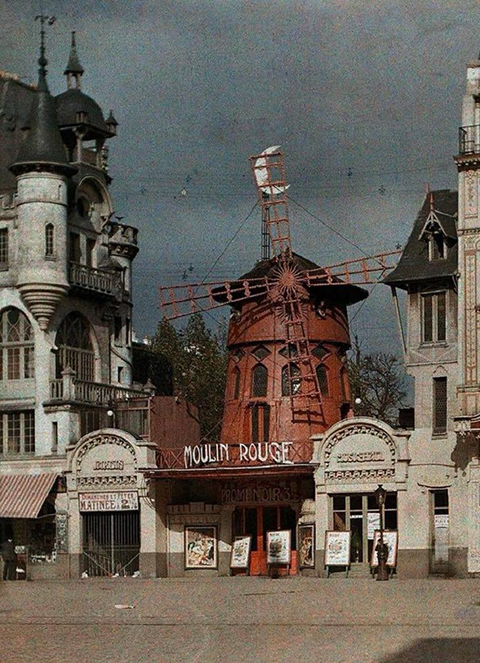 7 A Phillips fridge from 1956 with a built-in radio!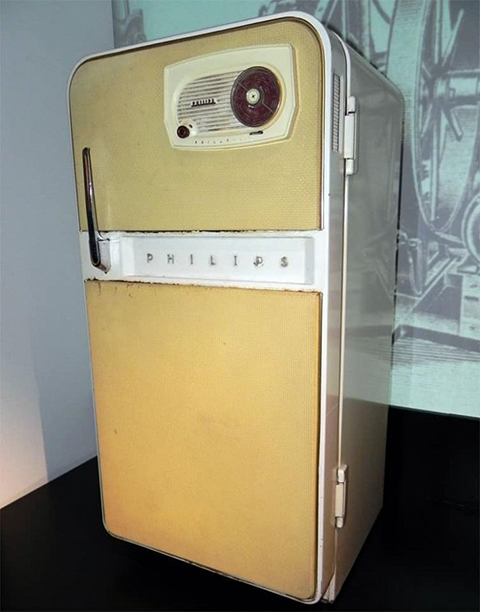 8 A horse being rescued from a canal that it fell in – Amsterdam, 1929.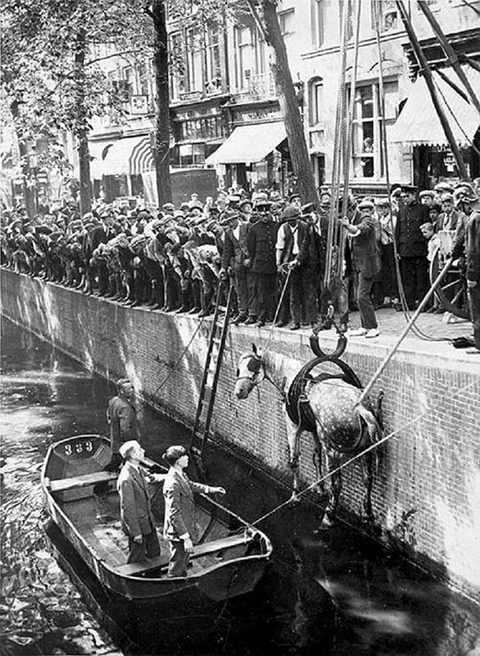 9 Control Room of the German UB-11 Submarine (First World War)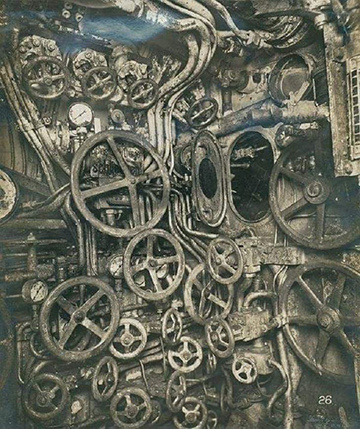 1 Swedish Warship 'Vasa' being recovered from the seafloor in Stockholm, Sweden, on the 24th of April, 1961. It stayed underwater for 333 years and was still astonishingly well-preserved.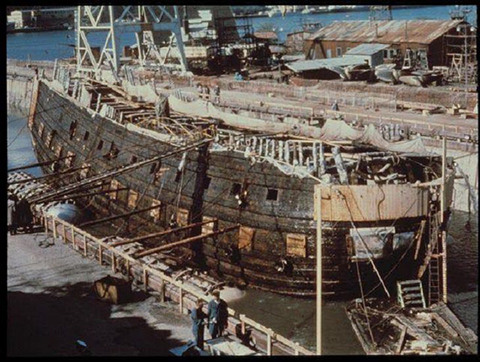 2 A young woman of the Ouled Nail tribe, Algeria, circa 1905 (photo by Lehnert & Landrock)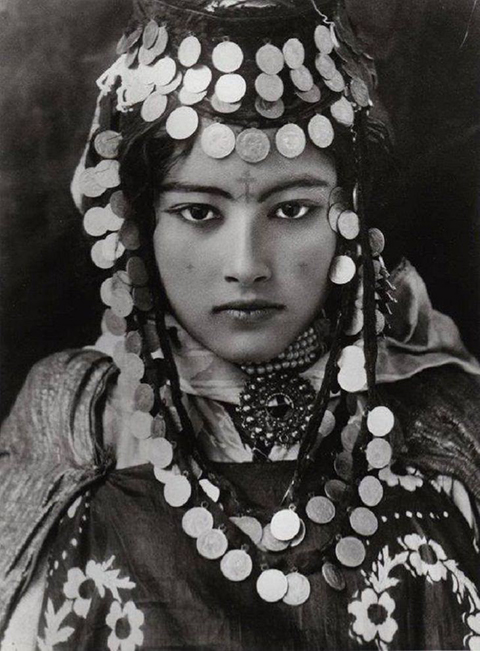 3 Philadelphia Electric Co. street light maintenance vehicle, 1910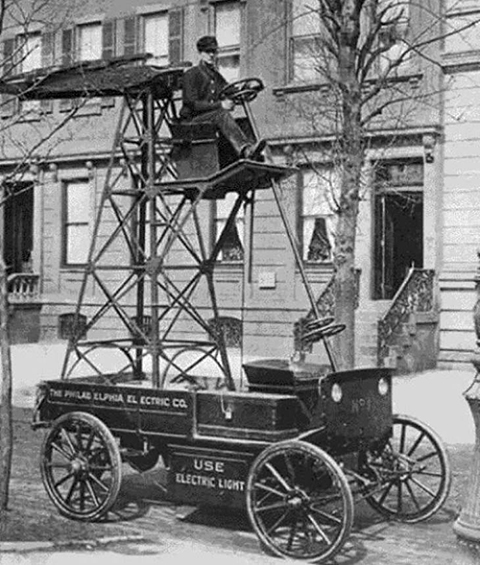 4 A tree house of the Koiari people, east of Port Moresby, Papua New Guinea, 1886.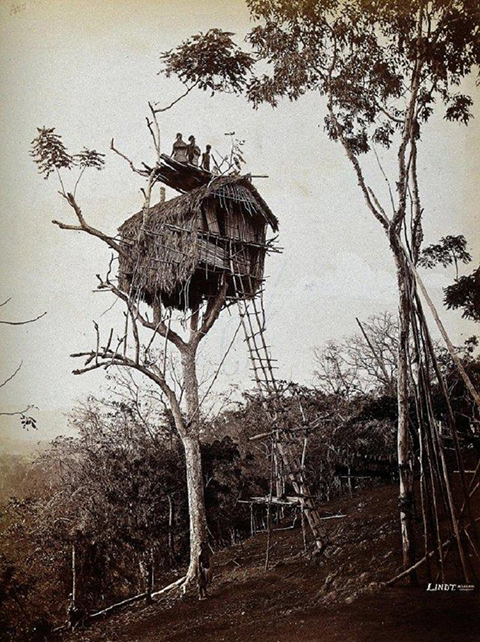 5 A woman using a vacuum cleaner in 1906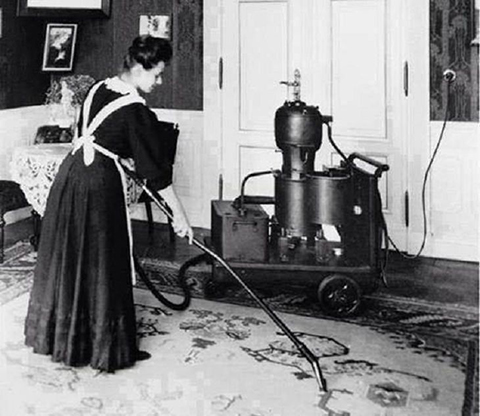 6 The 1958 'Sir Vival.' Designed by Walter C. Jerome of Worcester, this unique two-section vehicle was made to protect its driver and three passengers from death or injury on the highway.
The designer believed that, in case of a collision, the engine compartment would take most of the brunt and leave the passengers safe. Its standout features included a two-piece engine and cab, along with a driver turret. Unfortunately, only one Sir Vival was ever made, and it remains in the care of Bellingham Auto Sales in Bellingham, Massachusetts, even today!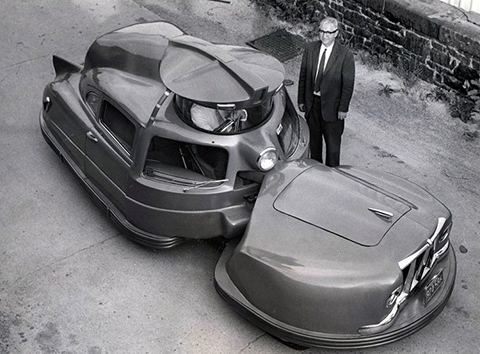 7 A Native American chief at the Canadian Rockies, 1938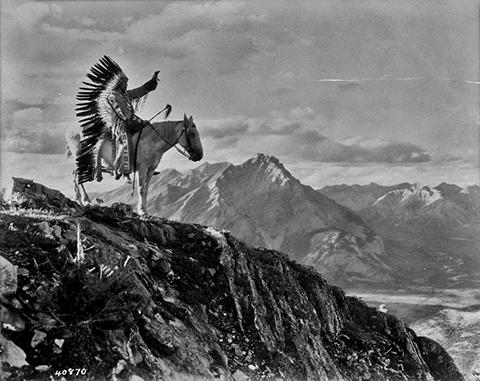 HAPPY NEW YEAR!!!