Fall is a perfect time for Southern California camping. Colors are changing, leaves are falling and the weather is great. With this in mind, me and the family recently escaped to the exciting and scenic Ventura Ranch KOA campsite.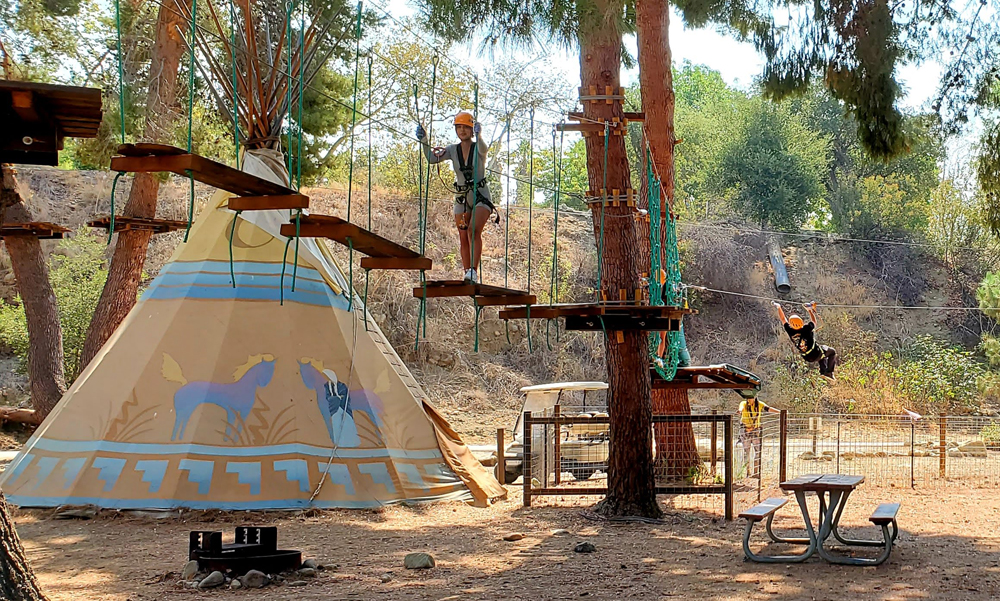 Located at the base of the Topatopa mountains in Santa Paula, California, the campground is clean, well maintained, and offers nature, wildlife, gorgeous views, and clear, star-lit nights. It also boasts camping accommodations for all outdoors types. There are plenty of sites for RVs, tents, teepees, covered wagons, safari tents and cabins. For our recent visit, we opted for a rustic cabin overlooking the mountains.
When we got to the KOA campground, the first thing we wanted was to get to our room, rest and freshen-up. But the plan quickly changed when we saw a giant, yellow jumping pillow in the middle of the camp beckoning us.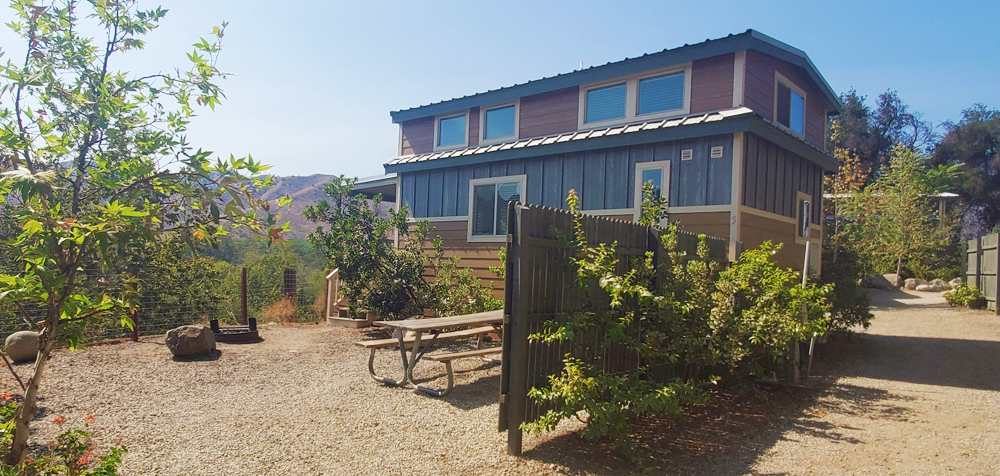 After getting our thrills on the bouncy pillow, we checked into a charming Camping Cabin, overlooking the nearby mountains. The cabin was covered in pine wood and featured everything we needed for two days of fun and adventure. There was a queen bed, a large loft for sleeping up to four people, bathroom with shower, microwave, fridge, kitchen sink, coffee maker.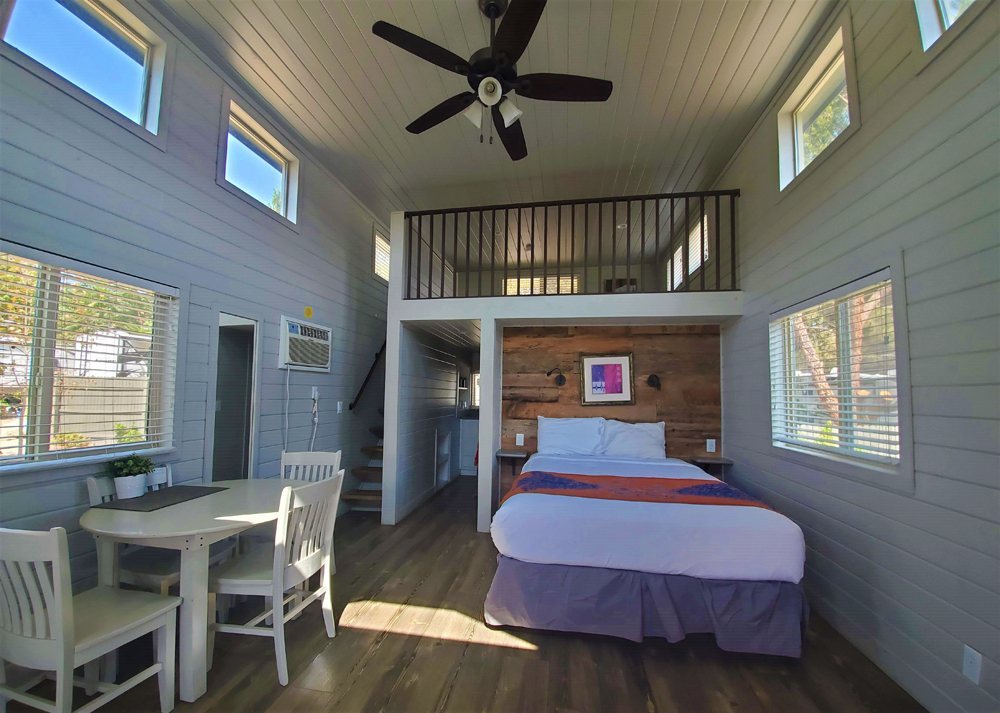 The cabin also featured wireless Internet, a dining table and chairs, a porch overlooking the mountains, and a private yard with a fire pit.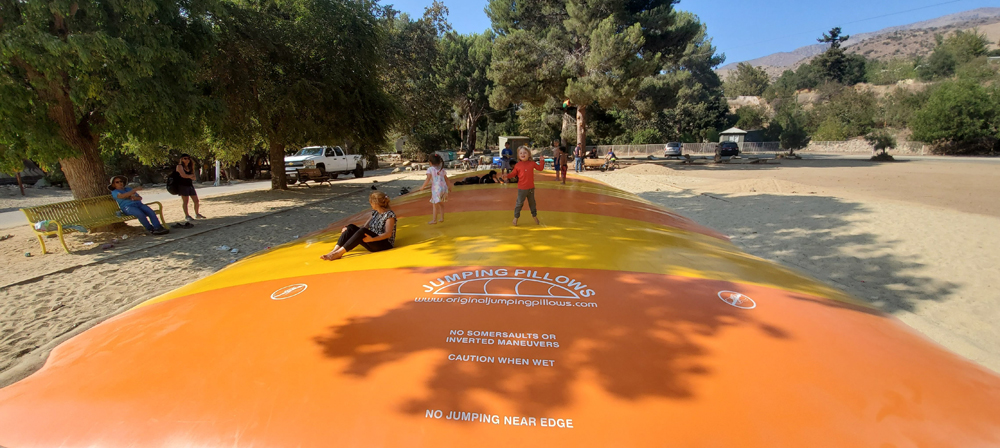 When not in the cabin we explored the 76-acre, adventure-filled campground. A short walk from our cabin was the bouncy pillow, a large pool area, a zip line rope course, and a creek where kids and their families can pan for gemstones and ancient artifacts.
To search for the gems, we started at the camp's general store, where we checked out panning equipment and purchased a bag of gems. We then walked to the camp's gold mining station, where there is an old wooden flume and a sign detailing the kinds of gems we might find. We then walked to the stream and hid the gems in the mud, so our toddler could sift them out like a real gold miner.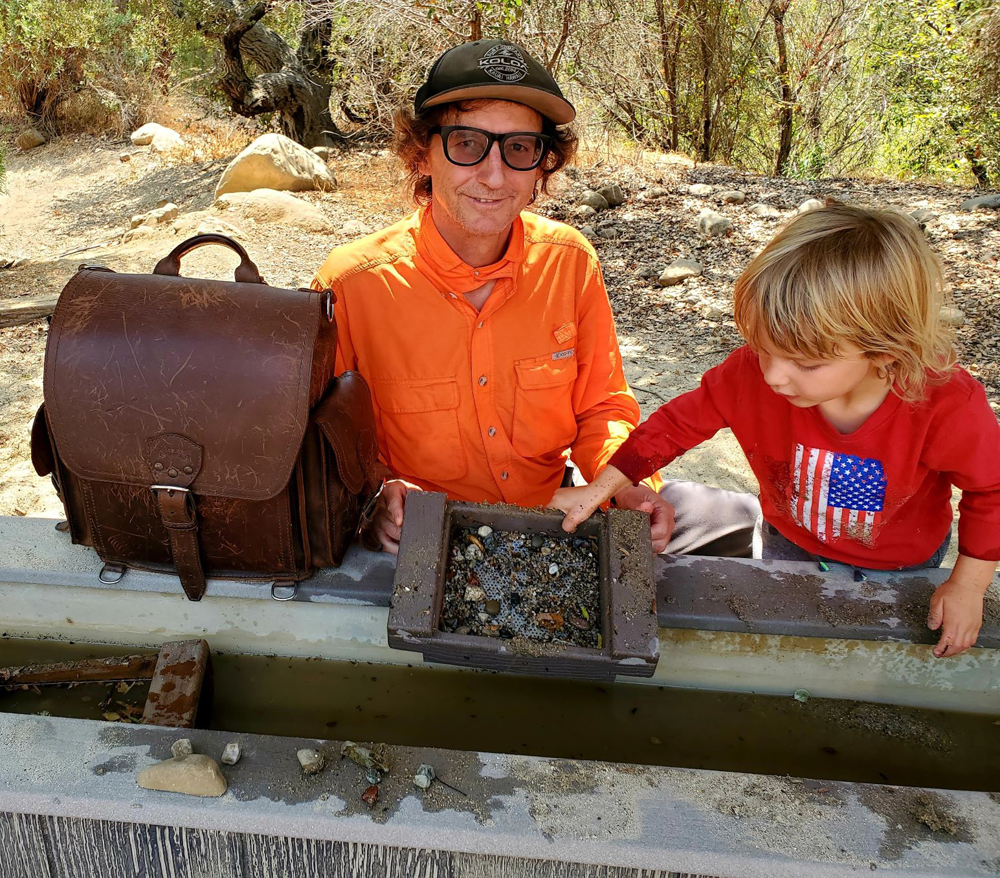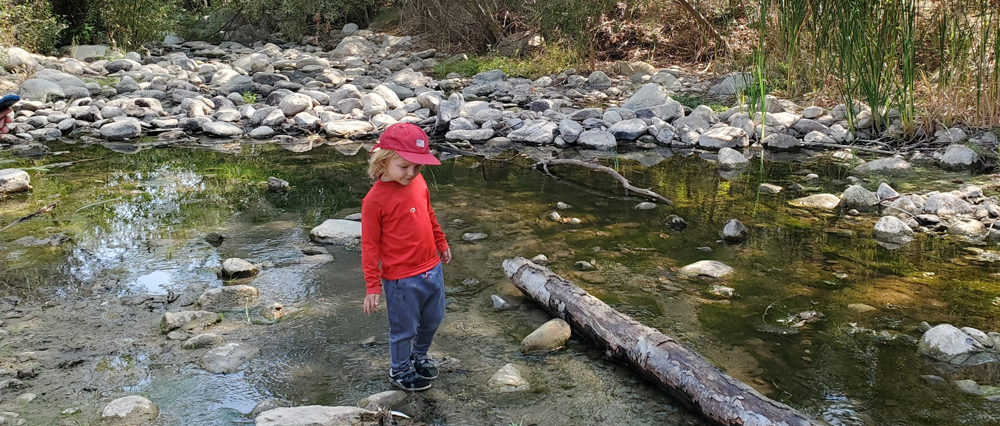 Near the stream are the park's teepees and covered wagons, which make for memorable family accommodations. The teepees are recreations of Sioux Indian dwellings. They are about 20 ft-tall and feature a queen and twin bed and a couple tables. They don't come with electricity, but offer lots of natural light.
The covered wagons are also authentic and fun and provide the feeling of what it was like for the earlier settlers – but with a little bit more comfort. Sleeping up to six people, they come with two sets of bunk beds and a king or queen bed. There is no horse team to pull them through the prairie, and they don't come with a bathroom or electricity, but they do have a battery-powered light inside.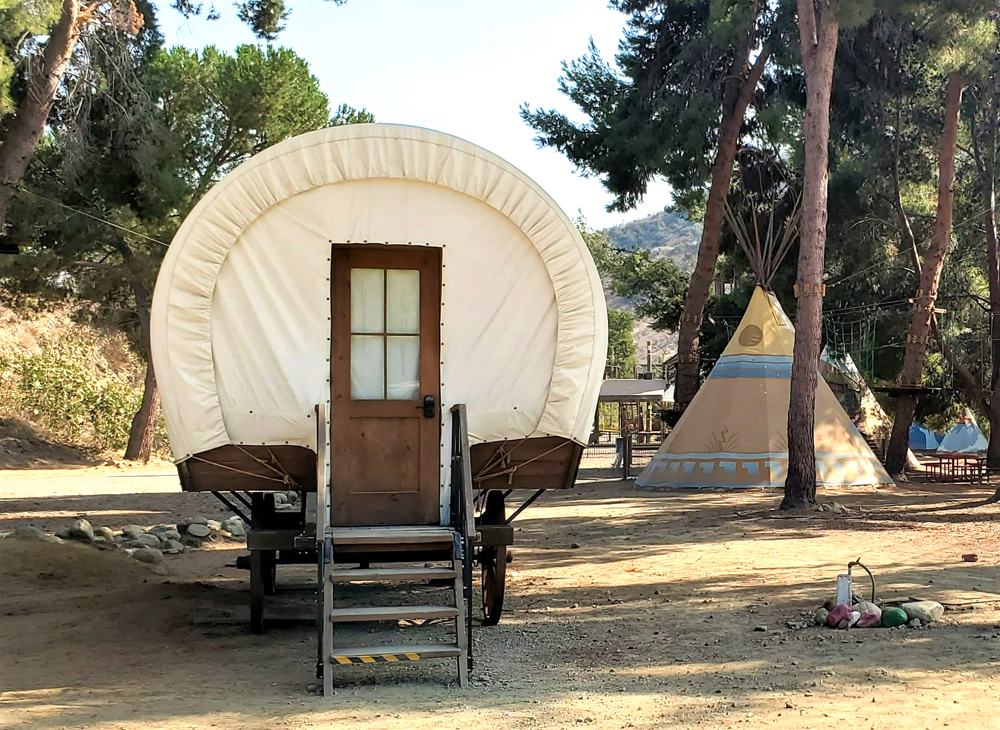 The campground also features RV sites with full and partial hook-ups, tent sites with no electricity, and safari tents with no electricity.
After checking out some beautiful RVs, we met a few colorful KOA campsite locals. Standing about 3 feet tall, they were covered in feathers of bright iridescent blue, copper and brown and shades of green and yellow. They were friendly peacocks and they seem to coexist nicely with campers.
Back at the cabin, I played guitar on the porch, against a backdrop reminiscent of North Carolina's Blue Ridge Mountains. I then took a nap and began preparing for a barbecue salmon dinner.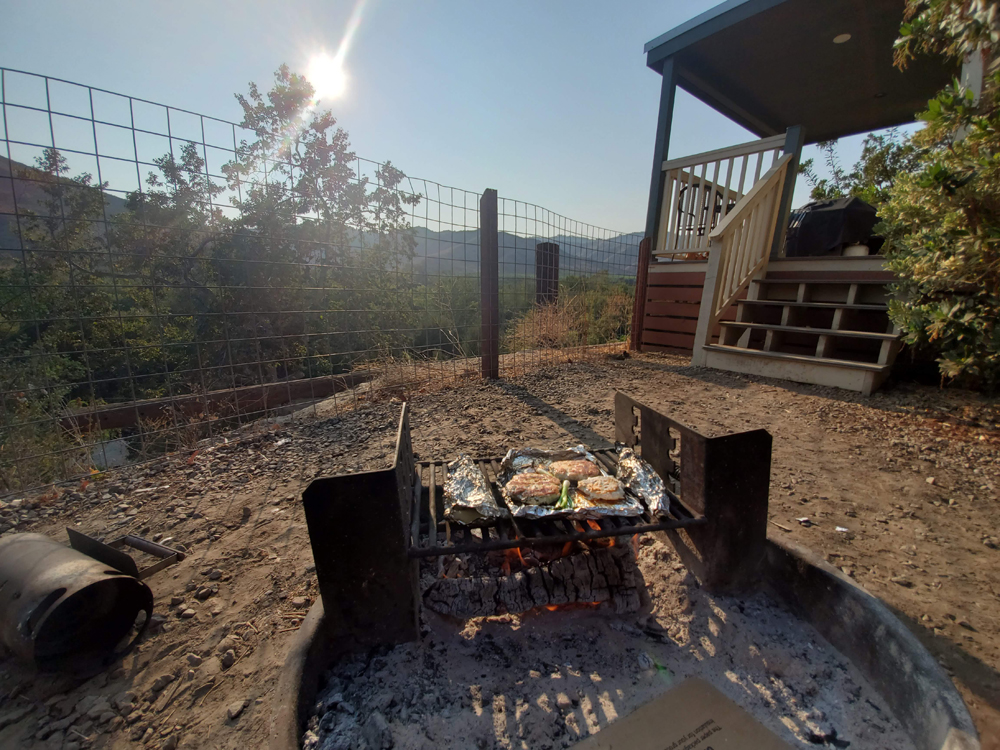 Our cabin came with a propane grill on the porch and a fire pit / bbq in the small yard. Since we brought our own charcoal, we used the firepit to cook up the fish, along with potatoes, jalapeños, garlic and some tortillas.
With dinner we sipped sparkling water and watched the sun fall behind the Topatopa Mountains. We also discussed fall and what a wonderful season it is for camping. In fact, a recent report by KOA projects that this fall, 25 million camping households plan to go "leaf peeping."
Across the United States, KOA says that 54% of campers indicate that they are planning a camping trip to explore the changing colors of fall foliage.
"Over the last few years we've seen a marked increase in the number of fall campers," says Toby O'Rourke, president and CEO of Kampgrounds of America. "Between the scenery and the weather, it's a wonderful time to get out and explore. Last year, as COVID restrictions loosened in many areas, we saw a dramatic increase in campers "between early September and the end of the year registration revenues were up more than 25%."
The next morning we made oatmeal and coffee in the cabin and walked to the campsite's World Rock Labyrinth. This Stonehenge-type feature looks like it was made thousands of years ago. It is made up of hundreds of giant rocks placed in circles to create a one-of-a-kind maze for KOA campers.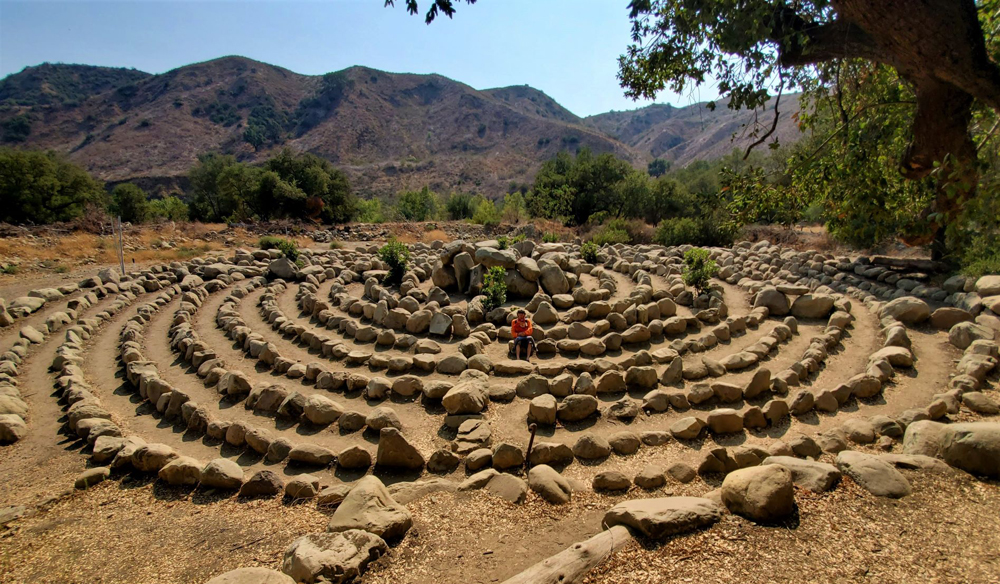 Ventura Ranch KOA is located at 7400 Pine Grove Road, Santa Paula, CA 93060. For reservations, call 877-779-8080. For more information, call 805-933-3200 or visit: Ventura Ranch KOA