Story and Photos by Raoul Pascual
I'm going to share a very personal and practical account of my travel from Los Angeles, California, USA to Dalipuga, Lanao del Norte: Mindanao, Philippines. I hope this will help many post pandemic travelers as they access the globe. You will find more tips at the end of the article.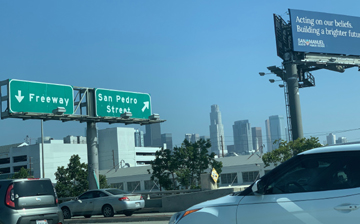 David Z was my Lyft driver to LAX (Uber drivers were available but they were about $5 more expensive). If you're in Los Angeles, I highly recommend David Z. He drove a 4-door sedan, but it reminded me of a mini-limousine. Because of the pandemic, we still had to be cautious and roll down the windows (no AC) and David had a wide transparent plastic sheet separating passenger from driver. He even fashioned black curtains on the passenger windows in case his customers want to be protected from the sun. He had a small video player to project my choice of Spotify music. The one thing that amused me the most was a small passenger table made of a glass bowl on a carpet with a complimentary bottled water in the center and candies around it. I found out that he graduated from Alabama and came to LA to produce video shows. Fate brought us together because I patched him up with one of my clients who was looking for people like him. We hugged when he dropped me off at the airport.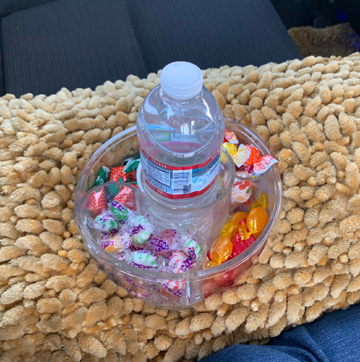 CHECK IN AT LAX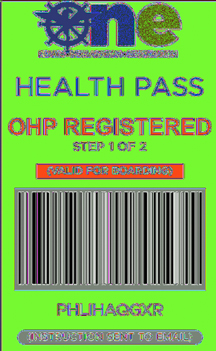 I had to show my passport, proof of vaccination and a 2-day old negative Covid Test result. I was surprised that I needed a Philippine Health pass. My online research didn't mention any need for that. Fortunately, I was directed to a website that allowed me to fill it up online (www.onehealthpass.com.ph). This hassle reminded me of a few days earlier when I dropped by the AAA (Automotive Association of America) in Alhambra, CA to inquire about the necessary documents for Philippine travel and the sales agent tried to sell me Travel Insurance claiming it was still required by the Philippine government because of COVID. I was suspicious so I asked him to show me where it said it was required and (surprise! surprise!) he couldn't find evidence to his claim. I saved myself a couple hundred dollars. I don't trust AAA anymore.
WHAT TO WEAR
For the long flight, wear something lose and comfortable. Tight clothes will only make you squirm even more. Many travelers wear shorts and T-shirts. Be prepared for back and butt sores. Unless you're traveling in First Class, the regular seats do not have thick cushions. After a few hours it will feel like sitting on a wooden chair without any pillows.
SLEEP
There's plenty of entertainment on each seat but you will tire and want to sleep during long flights like this. I don't find those neck pillows helpful at all. So I got myself a gartered eye mask that loops around the back of the airline headrest. This is perfect. It prevented my head from bobbing up and down. And I wore my N5 Face mask which kept my mouth shut.
BAGGAGE
Most flights (especially international flights) allow one hand carry and two baggage with a max of 70 lbs each (check the website of your own airline). But if you will be transferring planes, you should really consider the rules of the local flights where they tend to have smaller weight allowances to avoid paying hefty overweight fees. In my case, Singapore airlines allowed two baggage while Cebu Pacific Air (a Philippine airline) only allowed one baggage and a lighter maximum weight. I had to pay for the extra bag and extra weight. Plan around the least common denominator (i.e., base your baggage allowance on the more restrictive airline) and avoid unexpected fees.
For your hand carry, use as big a bag as allowed. An expandable knapsack will do just fine. If your baggage tips the scale over the limit, you can transfer your extra weight into your knapsack. Fortunately, I found that the people at the check-in counter aren't that particular about weighing your bags. They don't charge you for going ten pounds over. It seems to be an unwritten rule to be lax about the weight.
I was planning to bring a guitar but my sister said that would be considered an extra carry on. That wasn't true. You could bring your guitar and the flight attendant would park it somewhere in front with no extra charge. They do it for baby carriages and wheelchairs too.
AT THE SCANNING MACHINE
Belts, shoes, wallets, cell phones, shoes and coins need to be placed in a basket to be scanned. Laptops also need to be placed in a separate basket. iPads can remain inside your carry on. It's best to wear comfortable slip-on shoes or you will be tying your shoes in the middle of the frenzy.
SINGAPORE LAYOVER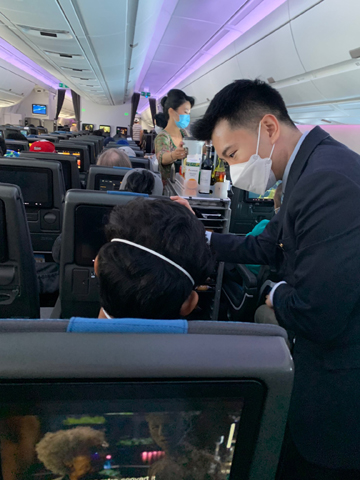 I passed the international date line and was on my second day of travel from Los Angeles to Cagayan de Oro in the Philippines. If your cell phone is set to point out your geographic location your clock automatically adjusts to local time. To save your sanity don't worry about how much time you've lost or gained… the only time that really matters is the local time because that's what everybody else around you is functioning by. This is very important to know especially if you have a connecting flight. You don't want to miss your flight.
After 11 grueling hours I arrived at the Singapore airport at 3 a.m. It was a ten-hour layover before my connecting flight to Manila. I was excited to land in this airport because of the videos I saw about how cool this airport was. But to my horror, the waterfall and eateries were closed until just about the time I had to depart.
TWILIGHT ZONE
I stepped into the Twilight Zone where and time needs to reset. The airport at the wee hours of the morning is when pilots, stewardesses, ground crew, and other airplane personnel go to dreamland. I imagine this is where passengers who opt for the bargain flights are dumped, where toys wake up and where dogs and cats start walking with their hind legs and engage in intelligent conversation. The whole complex airport building was eerie and empty. There were other stragglers like me sleeping in different corners of the airport. It's first-come-first-serve at the sleeping lounge where there were comfortable lounge chairs. Most sleepy heads created make-shift beds by pulling chairs together. The lazy ones simply slept on the carpet floor using their bags as pillows. Security guards and cameras follow you wherever you go. It was safe to sleep in any little corner of the empty airport and not worry about theft.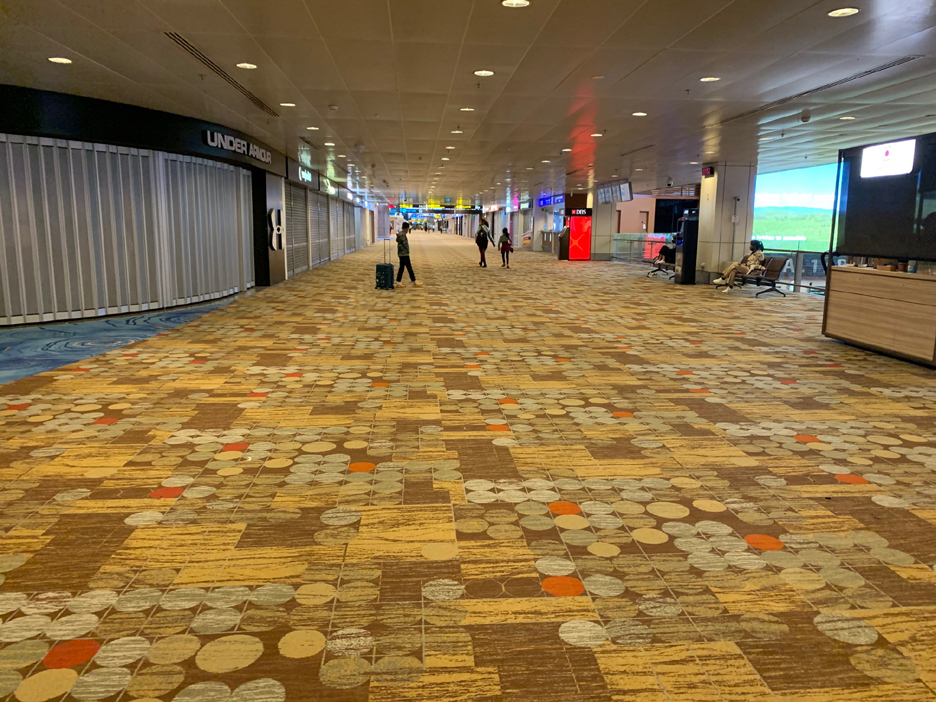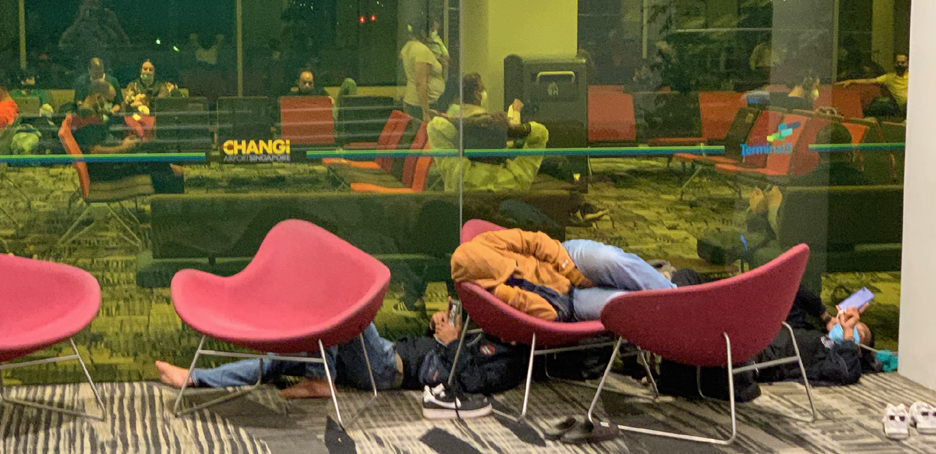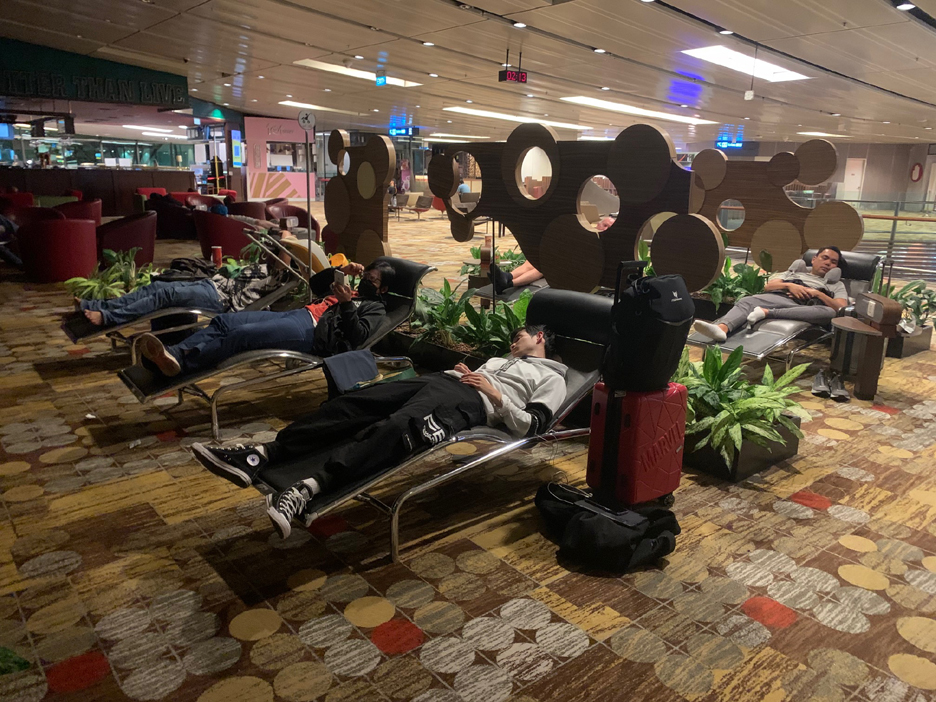 Inviting though the aroma of warm Ramen was, I resisted the temptation because I didn't want the hassle of exchanging currency I would never use again. Besides, I'm used to fasting and skipping meals, so this was not a problem for me. Starbucks Coffee, 7-Eleven and a few local establishments were open but one would need to exchange one's currency to Singapore dollars to purchase anything. Surprisingly there was one Foreign Exchange booth (with a real person working) near the D section claiming to convert currency with zero commission. If you ever do need to exchange currency in the Singapore airport, this is the only one of its kind.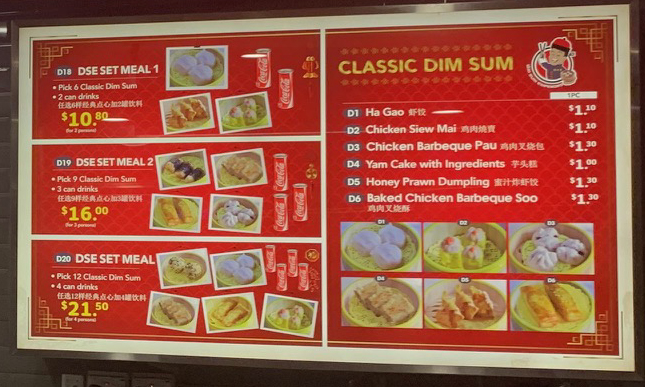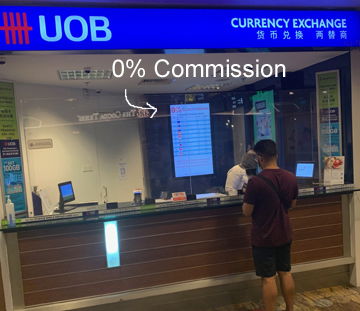 Singapore is a very cosmopolitan country with many ethnicities (I did notice a very strong presence of Asian-Indians traveling, but not sure why). In fact, my plane ride there was a microcosm of the United Nations. I sat in the middle seat. On my left was an older Vietnamese. On my right was a Cambodian. In front were Koreans. Behind was a Panamanian headed for Indonesia. Of course, some old wounds never heal; the Vietnamese didn't want to talk to the Cambodian because he said their countries hated each other.
NINE HOURS LATER
Five hours into my Twilight Torture Chamber, my legs began to hurt from all the walking. I found a cozy cushiony chair near the Information Center and managed to grab a few winks.
I woke in a panic because the Schedule Board listed that my flight was leaving in 30 minutes. I made a dash for the departure gate and I saw the plane taxiing away from the retractable tunnel. The people from that section were walking out and I begged them to call the plane back. Well, it turned out that it was another flight after all. Although I had mud on my face, it was also a welcome relief.
To avoid confusion with my real flight, I decided to wait beside the designated departure area. There I found a bevy of Filipinos waiting patiently for the gate to open. I befriended two OFWs (Overseas Filipino Workers) who were on their trip home for a much-needed vacation after years working in Milan, Italy. They shared their struggles and blessings working a lifetime away from their homeland. They both spoke fluent Italian; unconsciously saying "Si" instead of "Yes." They said some OFWs are more fortunate than others (the unfortunate ones wound up in Middle Eastern countries where they are abused to this day). They spoke of one famous Italian actor (I think they said "Ronald"?) who adopted the child of one of his servants. They said the Italians (as a whole) were generous and decent employers. They had established a professional working environment where the OFWs paid taxes and fed into their Social Security (their retirement benefits would average about $600 a month by age 65). One of the women was able to bring her husband and her kids to Italy. The other had a son studying to be a doctor. The older woman suffered from cancer but believed it was now in remission. The one with her family in Milan turned out to be a member of the JIL church in the Philippines (Jesus Is Lord church). The older one had no concept of the spiritual bond I shared with the younger one. We were three peas in a pod sharing a yearning for home inside the vast travel bubble of the Singapore "Changi" Airport.
MANILA
Our Boeing jet plane circled the Manila landing strip for 20 minutes before we were allowed to land. Bad weather was to blame. I was getting panicky again because my final plane ride from Manila to Cagayan de Oro was leaving Manila in less than two hours upon landing. That meant I had to go through Immigration, Health Check and secure my baggage within that little window of time. I prayed. The long wait to deplane was excruciating. But to my delight, I breezed through all of the lines with more than an hour to spare. I guess it pays to be a senior citizen with an American passport and a big smile. Outside, domestic planes were lined up for takeoff because the storm delayed the departures as well.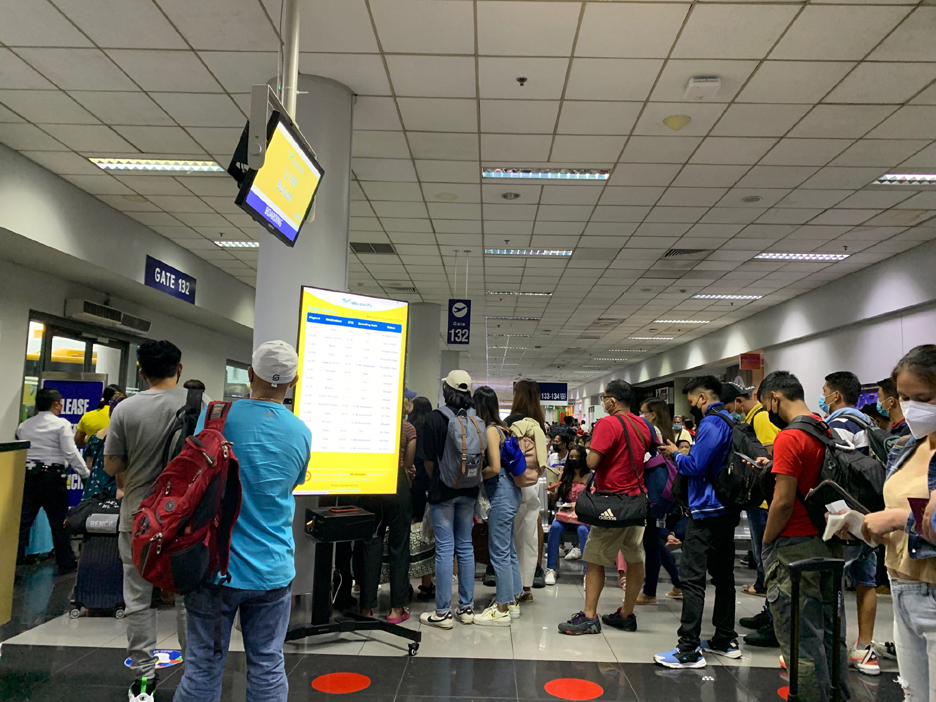 As I settled in my final departure area, a woman was screaming at the top of her lungs with words I could not understand. Airport security and personnel surrounded her. Apparently, she was autistic and (nightmare of all nightmares) her plane left without her. The gentle Filipinos did not complain. All were deeply concerned. I prayed for her too.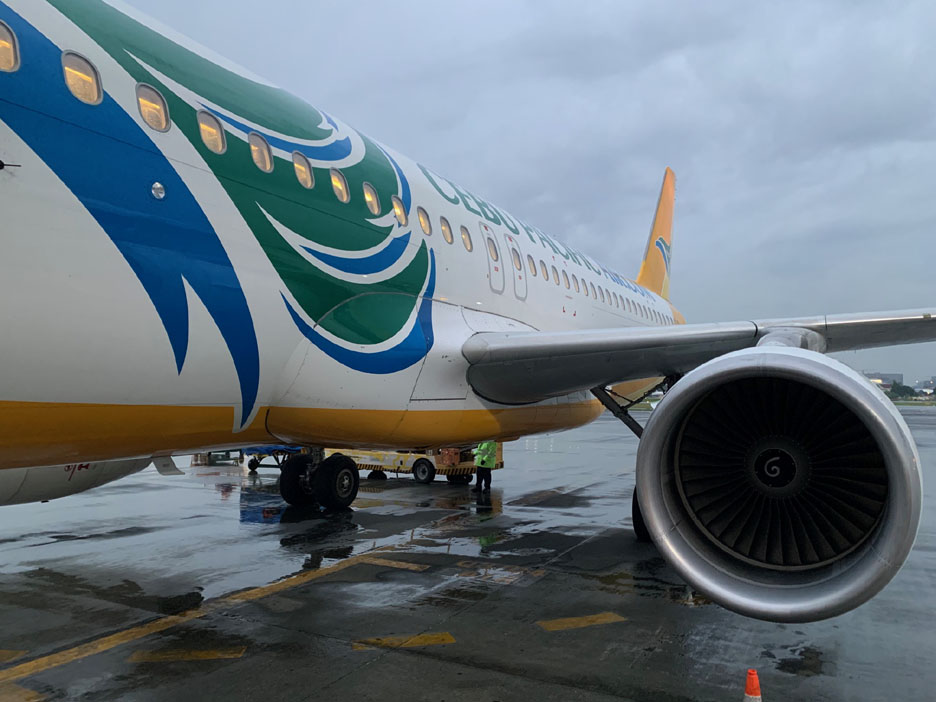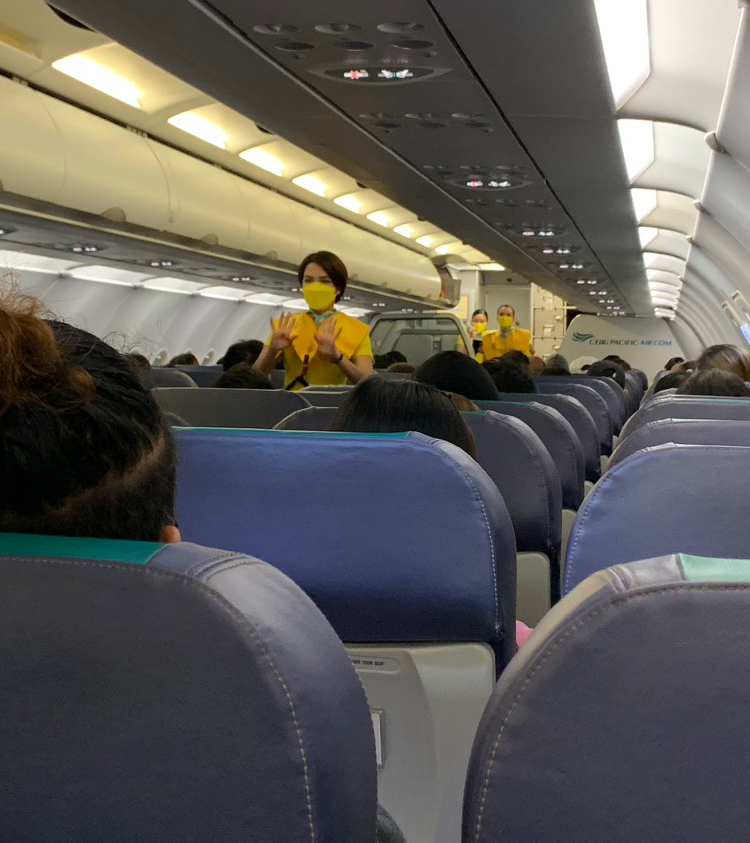 We landed at the Laguindingan Airport in Cagayan de Oro at nine in the evening. A friendly face, Tata, our family's trusted helper, was there to lead me to our family Isuzu Trooper. I was surprised to see my sickly father inside the Trooper waiting with our driver. They'd been waiting for two hours. Tata said my 94-year- old Dad insisted they prepare for the airport ride as early as six o'clock. My sweet Dad was that excited to see me.
It took us a good hour whizzing in and out past the slower vehicles to our ancestral home in Dalipuga, a small beach village on the Western side of Iligan City. I chatted with Tata and the driver along the way: me with my Americanized Tagalog (the Philippine national language) and they with their thick Visayan accent (the language of Southern Philippines). My Mom spoke Visaya so I grew up understanding but not speaking Visaya.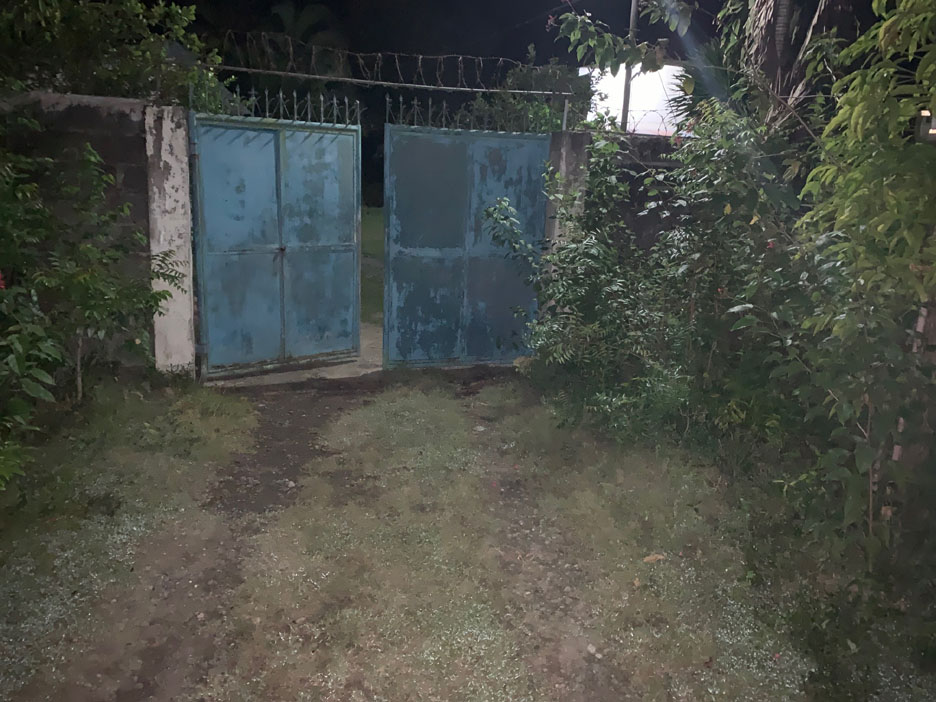 When the large faded blue steel gate opened, I knew I was home. It took about two days from Los Angeles to Dalipuga. And now the real adventure begins: immersing into a culture long forgotten and helping my aging Dad understand the real meaning of the Gospel before it's too late. It's a sad fact that not everyone will get to heaven. And no words of wisdom can change a person's heart towards the Gospel. Real conversion comes from the Holy Spirit. With the short time I have with my Dad I will be sharing and I will be praying — and if he chooses to remain in his disbelief, at least I know it was never meant to be. This is what I believe. It's that important to me. And this is why I traveled this far.
Booking Tips
The closer you are to the date of departure, the more expensive it gets. But then comes a magical period when the airline has empty seats they're just dying to give away and if you list yourself as a chance passenger, you can really get amazing discounts. My round trip ticket in Singapore airlines cost less than $900 (all inclusive) when I booked for a weekday departure four months prior. I checked and within a month off departure, it had already doubled.
Check all your flight options going to and fro. Many airlines like Singapore Air and EVA Air (Taiwan) offer huge discounts if you decide to stopover in their country for several hours. What that means is you land in their country during their last flight and you stay inside the airport when most shops are closed and you walk around in zombie land till the flight crew wakes up. Uninviting though it may be, it forces you to have precious "alone time" for reflection of where you are in life with a backdrop of a different culture in God's great kingdom.  
Local Air Booking
Air travel in the Philippines is really just between three airlines: PAL (Philippine Airlines), Cebu Pacific Airlines and Air Asia. PAL, the flagship carrier of the Philippines, does international as well as domestic flights. Cebu Pacific and Air Asia are strictly local. Air Asia has the fewest routes. Local flights are about $50. Naturally, PAL is more modern and cleaner but I've had nightmares with PAL. The management system (at least five years ago) leaves a lot to be desired. One needs to really plan one's itinerary well. Do that and life is beautiful. Make changes to the itinerary while you are on vacation and you release the dogs of hell. You can read all about it in my article about "The Crooks of Philippine Airlines" in T-Boy. 
Throughout my trip, most of my fellow travelers kept their face masks on.
I like to travel as inexpensively as possible. Doing so not only saves money but I get to mingle with the common crowd. Immersing into the culture is what traveling is all about for me.  Of course if you have money to spend, don't bother with my tips.
Tech Tips
There are things we take for granted while living in America. We forget that technology may not be as advanced elsewhere. And if we aren't careful, we may be unwittingly wasting money. When you get out of the US and Canadian borders here are things to remember:
ROAMING CHARGES: Your US-based internet and cell phone providers will charge you about $2.05/MB, up to $3/min, $0.50/message sent, $130/photo or video message sent. So before you depart away from the US, be sure to disable your text and calls. Turn off your "DATA" in your settings or you will be charged every time you talk or text.
ALTERNATIVE FORMS OF COMMUNICATION: Viber and WhatsApp are two popular apps you should download on your phone. They both allow you to text, talk and enjoy video calls to anyone in the world that has internet access. No extra charge. Of the two, Viber tends to shut down if idle for a minute or so. You do not have that problem with WhatsApp (this is definitely better). Be sure to inform people whom you want to communicate with (family, friends, business relations) while abroad to also download those Apps. Both parties need to use the same program. Viber and WhatsApp run on different technologies so they do not communicate with each other.
No need to worry about email. As long as you turn your "DATA" off (to ensure you aren't being charged for ROAMING), your cell phone will pick up your emails using available Wi-Fi (just like your laptop). This is free. Just be aware that any public Wi-Fi is not secure
In developing countries like the Philippines, you can purchase data minutes at increments you choose. Rather than explain the details, it's best you ask the locals. I just want to assure you that you can still use your cell phone if you really want or need to.
Most airports are internet friendly. They have free Wi-Fi and offer several charging stations. You need to go to your SETTINGS and log on to their Wi-Fi. Most of the time you will need to give out your name and email address before you can avail of the free internet access. It's not entirely free; you do get advertisement but that's okay. Let me reiterate that using your phone or pad in public areas is not secure. If you can help it avoid doing any online banking or business.
Be sure to tell your banking institution(s) that you will be traveling. Give them the dates so you won't raise red flags with your purchases abroad.
TWO STEP VERIFICATION. Your access to some of your favorite websites require two-step verification. While that is good when you are in the US, it may cause a problem when you are abroad if the verification code is sent via phone text. It's best to have verification come in the form of email.