Using music as a change agent is nothing new. In the 70s George Harrison and Ravi Shankar drew attention to the millions of victims devastated by flooding, famine and civil war by staging the Concert for Bangladesh. Since then the list has grown exponentially with global efforts like Band Aid, Live Aid, U.S.A. for Africa, the M.U.S.E. (Musicians United for Safe Energy) Concerts and No Nukes initiative, through today's U2 MusiCares concerts and now decades of Farm Aid.
You have an opportunity this October to get involved and make a difference when Music for the Revolution returns for the second annual to Fallbrook, CA. The playbill is outstanding… Billy Galewood, Cardinal Moon, The Casey Hensley Band, Daring Greatly, Dulaney and Company, The Highwayman Show, J7 Productions, Rebecca Jade and the Cold Fact, Shane Hall, and Sister Speak have all been tapped to perform. With such a wide array of musical styles, talent and presentation, the show promises something for everyone.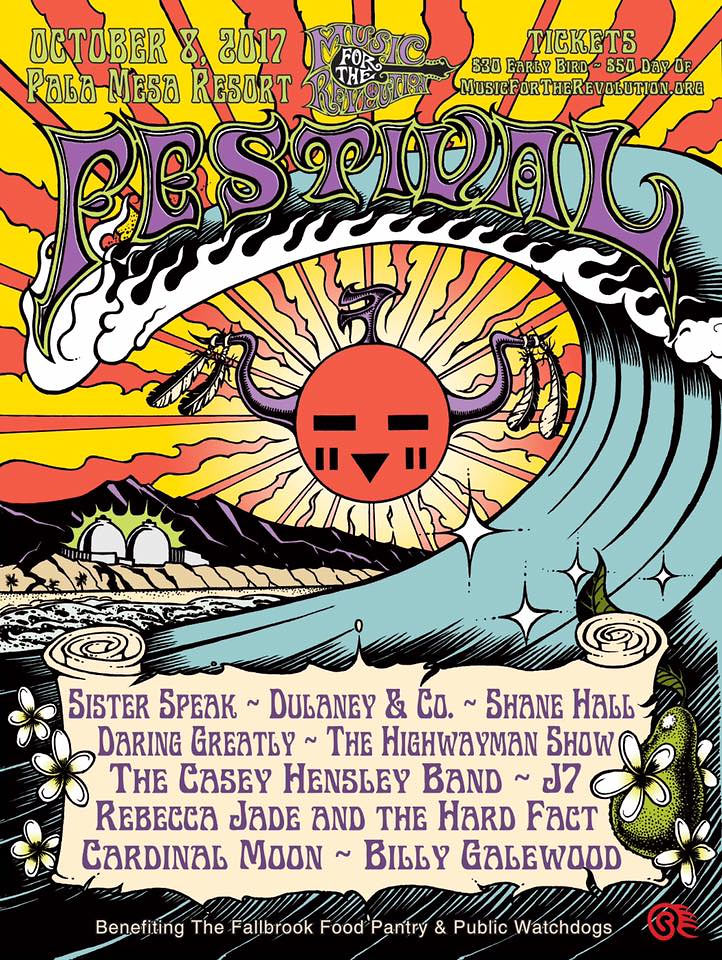 Jim Jones, the Executive Director and Founder of Music for the Revolution said this year's event is focused on "environmental and social justice." He adds, "We want to draw attention to what is happening in our own backyard. I believe that the nuclear waste issue at San Onofre is the biggest, most urgent environmental issue facing Southern California right now, and so few people even know about it. There is no easy solution to the problem, but the current plan is pretty scary."
The current plan Jim is referring to calls for 3.5 million pounds of nuclear waste to be buried just 108 feet from the coast and only 3 feet above the water line. Jones says, "I hope we can get enough people engaged that we can put the brakes on the planned disposal to give us some time to come up with a better solution. The stakes are too high for this to be decided behind closed doors without the public's involvement. The Coastal Commission has moved their public meeting on this issue to San Diego and its scheduled to happen the week after our festival. I hope we can motivate the audience to take their energy and voices to the meeting so they can be heard."
What motivated you to stage this event? "My kids!" Jim says. "I think a lot about the world we are passing on to them, and it scares me. I want to do something to help make this world better for my children, but all the social action I was seeing was so divisive that no one was hearing each other. I want a way to help communication cross divides, and music is a way to do that. Our theme for Music for the Revolution is: Gathering community around important causes through the power of music."
Music for the Revolution takes over the Pala Mesa Resort in Fallbrook, October 8th, 2017. Gates open at noon, so bring your lawn chair or blanket and enjoy a full day of music and learn more about all the organizations that work so tirelessly to make this world a better place. For the latest info or to purchase tickets, check out www.MusicForTheRevolution.org.