Raoul's Two Cents: September 3, 2021
Footprints in the Digital Sand

So I'm in New York visiting my grandson and I get this email from Debbie of Moreno Valley wishing me a grand time. I get a call while strolling in the park with the baby … clean air and sunny skies after the other day's thunderstorm … and I get a call from my aunt in Virginia. She also wishes me a fun time with my grandson.
So I'm wondering, I am in the middle of my secret great escape from the confines of California since the start of the pandemic and here I get calls from people from all over. How did they know my secret get-away? Dang Social media!
I rarely go to Facebook, LinkedIn, Instagram, Google, Bing, Chrome, etc. (you know — the sites that track your every move) but my digital footprint remains because of friends and family that mention me in their posts. Indeed, anything you (or your friends) post will be there forever in the digital sands. I can just imagine a hundred years from now, some nerd with nothing to do will be flipping through a selection of silly lives of people back in 2021 and he will dig my name up. He will laugh at some of the jokes I posted here in my TGIF email blast and then he will read some of my "2 cents" introduction … stop and ponder — just as I am pondering now. And he will say exactly what I am thinking at this very moment; "What the heck am I doing writing this email to thousands of people who I've never met … in the middle of my great escape from the confines of California …. in the middle of the pandemic?"
I guess that's my cue. Sorry for the brevity. I'm in the middle of my vacation. "See you" when I get back. TGIF!
Raoul
---
Joke of the week
Thanks to Tony of Carson City, CA for this joke.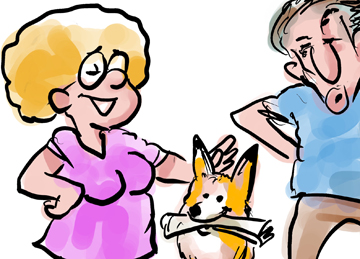 Parting Shots
Thanks to Debbie of Moreno Valley, CA for these jokes.