Relaxing at the Luxurious Hyatt
In Indian Wells
Story and photographs by Greg Aragon

othing puts me in vacation mode like a big, luxurious hotel room overlooking a sparkling pool and a bunch of palm trees. And if the room is part of the Hyatt brand of hotels, and is located in an exclusive resort community in the Palm Springs area, then it's all just icing on the Molten lava chocolate cake.
My getaway to the Hyatt Regency Indian Wells Resort & Spa began recently when a friend and I checked into a magnificent 5th floor penthouse suite overlooking said pool and trees. I should note that the suites here are so nice, that in 2013, President Xi of China stayed in one!
Decorated in soft, desert earth tones, our 945-sq-ft, modern suite featured extra-wide, double entry doors and came with a classy living area with a large sectional couch that can double as a sofa bed, a 47" wall-mounted flat screen TV, a dining room with seating for four, and a kitchen area with a granite wet bar and integrated refrigerator and a half bathroom.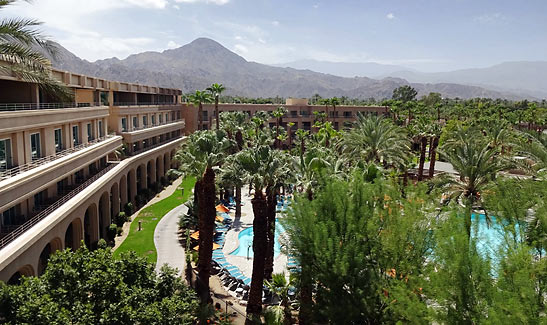 The Hyatt Indian Wells sits on 45 acres of lush garden acres of trees,
ponds and bridges
The penthouse's master bedroom is partitioned by French doors with etched privacy glass and features a comfy king bed, another large flat screen TV, an office desk area with free wireless Internet and a wall of windows looking over the resort. The master bathroom is also a work of art, boasting a huge sunken tub, frameless glass shower and dual vessel sinks.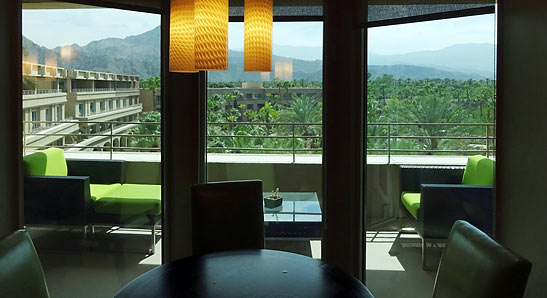 The suites boasts incredible views of the hotel and nearby mountains
The interior of the room is definite luxury, but the highlight for me was the gigantic balcony overlooking the pool area, hotel grounds and the gorgeous Santa Rosa and San Jacinto Mountains in the distance.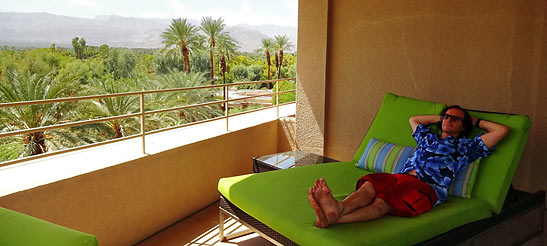 The Penthouse balcony is a place for luxurious relaxation
When not lounging in the hip, jet set room, we were relaxing poolside or enjoying the rest of the hotel property. Nestled on 45 lush acres of garden, trees, ponds and bridges, the 530-room Hyatt resort is a quintessential Palm Springs experience. Hotel highlights include seven swimming pools, including a water slide and adult pool with cabanas; tennis, biking, badminton, bocce ball & table tennis facilities; four restaurants and bars; an 88,000 sq-ft of indoor and outdoor function space; two world-class golf courses; a Camp Hyatt kid's club; and the full-service Agua Serena Spa.
Spanish for tranquil waters, Agua Serena is an oasis at the Hyatt. Replete with private garden patios, trickling fountains, and incredible views of the onsite lake and nearby mountains, the spa offers numerous treatments to rejuvenate the body and mind. My visit was highlighted by an hour-long deep tissue, athletic restoration muscle rub that invigorated my whole body and relieved discomfort from lactic acid build-up with cross fiber muscular technique and stretching.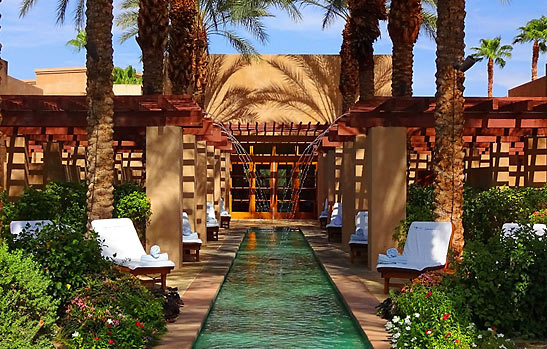 The Agua Serena Spa is an oasis with private garden patios, trickling fountains and a myraid of body and soul treatments
After the massage, I met my friend for dinner at Lantana Restaurant, the hotel's signature dining spot. While sitting on the terrace, overlooking the golf course, we began our meal with fried calamari, with tempura breading, jalapeños and cilantro citrus aiol, along with a couple glasses of merlot from Napa Valley.
For our main courses we devoured wild caught seared sea scallops with herb polenta, pickled carrot and tomato jam; and a succulent,12oz, grilled Tomahawk Pork Chop with cherry chutney and sautéed green beans. For dessert we split a memorable molten chocolate cake with liquid bittersweet chocolate truffle center, and vanilla ice cream.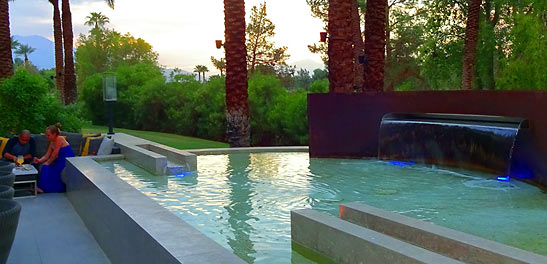 Lantana Restaurant serves eclectic modern fare along with gorgeous views
After dinner, we grabbed a drink at Agave Sunset, the resort's signature tequila bar and lounge. Located next to the hotel lobby, the lounge features desert-inspired cocktails, an impressive wine collection, and the resort's private-label Agave Sunset tequila. This premium double barrel tequila was created by Herradura especially for Hyatt Regency Indian Wells Resort & Spa. In addition to signature drinks, Agave Sunset bar and lounge offers Southwest bar fare.
When we left Agave Sunset, the desert night was so warm and comforting that we put on our swimsuits and took a dip in the sparkling, lighted pool. In the morning, we were back at Lantana's for breakfast. This time, I experienced a tasty salmon frittata with egg whites, cream cheese and capers, and my friend had chorizo and eggs.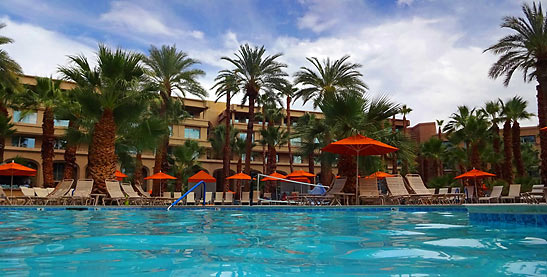 Nothing says vacation like a big sparkling pool at a luxurious resort
For more information on staying at the Hyatt Regency Indian Wells Resort & Spa, visit: http://www.indianwells.hyatt.com/en/hotel/home.html. For more information on visiting Indian Wells, go to: www.visitgreaterpalmsprings.com/
Related Articles:
Fantasy Springs Resort Casino, Palm Springs; Palm Springs Aerial Tram; La Quinta Resort & Spa; Desert Oasis at Morongo Casino Resort & Spa; Palm Springs Aviation Museum; Glen Ivy Hot Springs