Treasures of Ireland:
Piped Inside Ashford Castle
(Dispatch #16)
Story and photos by Tom Weber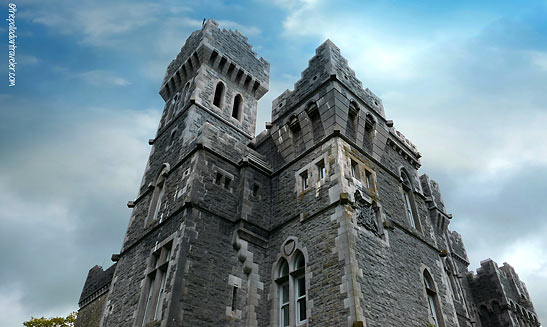 id you know that there are 522 medieval castles that dot the Republic of Ireland's landscape? It's true. Many of them are just brooding ruins atop windswept hills, but a select few have been painstakingly and beautifully restored. And, one such renaissance stands "keep and ramparts" above all others: Ashford Castle, the oldest fortress in the country and a true treasure of the Emerald Isle.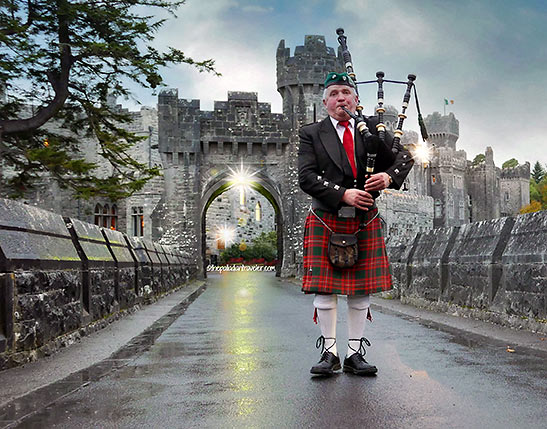 Grouped together like a pack of paparazzi, the intrepid "band of merry media" – 18 travel writers and photographers invited by Insight Vacations (Insight) on a week-long sponsored press junket – jostle for position, under a fine mist, to frame a piper in full regalia, then fall in step behind him as he pipes us across the stone bridge straddling the River Cong in Co. Mayo.
"Céad míle fáilte! (One-hundred-thousand welcomes)," announces Niall Rochford, General Manager of the property, as staff, in proper livery, offers us refreshments.
"Welcome to Ashford Castle," he adds as we walk up the entry stairs, flanked by a pair of Irish wolfhound statues – four-legged guests are always welcome – step onto the bespoke carpeting and enter into a world of regal elegance wrapped in Irish charm.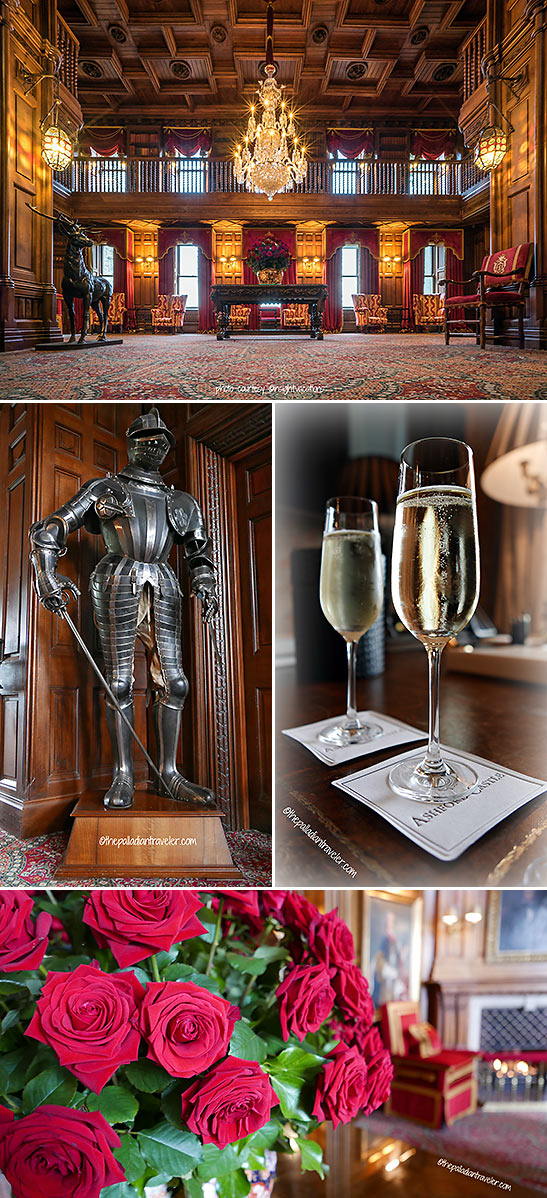 Recognized by Virtuoso, the international luxury travel network, as Hotel of the Year for 2015, Ashford Castle, Ireland's signature, five-star, country estate, is set amid 350 acres of well-manicured greenery, gardens and rustic paths and trails, that overlook the Lough Corrib, Ireland's second largest lake.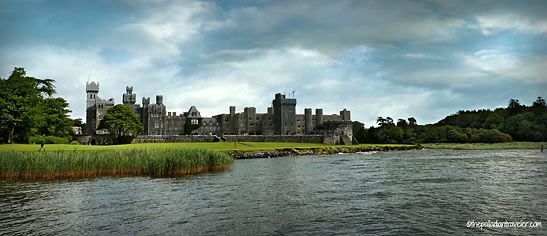 With a heritage dating all the way back to 1228, Ashford Castle recently turned the page on its history when it was purchased by Red Carnation Hotels and immediately underwent a top-to-bottom, multi-million dollar renovation and refurbishment that was unveiled to much fanfare in April of last year.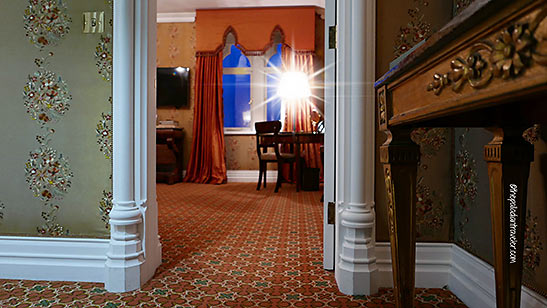 I'm handed a green leather key card to a lovely, renovated deluxe view-room on the top floor of the castle. As I swipe the card over the security pad and push back the door, my jaw drops in OMG fashion.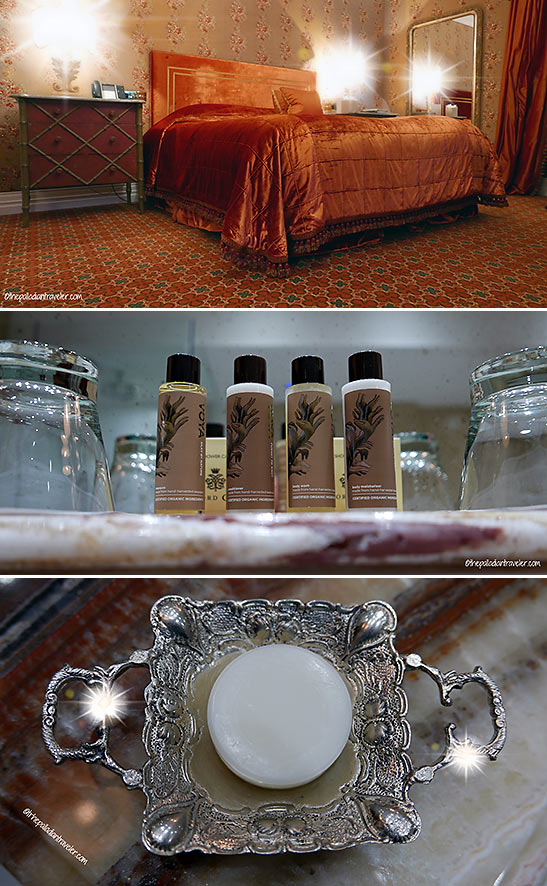 My suite, like the other 82 guest rooms, is richly appointed as the meticulous attention to detail is found in the unique works of art, carefully sourced antique furniture with sumptuous fabrics and custom-designed carpet, king-sized bed, feature lighting, exquisite toweling and VOYA seaweed-based organic bath and beauty products.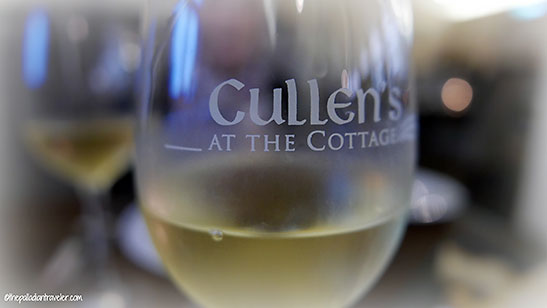 On every Insight Vacations' journey a Bon Voyage dinner party breaks out, recognizing guests who have traveled previously with them. I happen to be one of those so honored at Ashford's Cullen's at the Cottage (Cullen's), for documenting Insight's "art of traveling in style" on its Country Roads of Italy, Bohemian Rhapsody, Iberian Adventure and Destination Dalmatian Riviera journeys.
A summer-only bistro restaurant occupying a traditional thatched-roof cottage, Cullen's serves up international and local dishes inspired by Beatrice Tollman, owner of Ashford Castle, in a casual atmosphere accented by friendly Irish hospitality.
Greeted warmly by Sinéad, the restaurant manager, she and her young and eager wait staff go above and beyond the call of duty to ensure our dining experience at Cullen's is memorable. And, it is.
A nightcap is in order, both to celebrate our first day here and to help digest dinner, so we retire to The Prince of Wales Cocktail Bar where Tom, the on-duty mixologist, preps a Rémy Martin, neat, for me.
Seated at a glass-covered table showcasing a few antique flintlock pistols, I sip slowly wondering all the while if these weapons were ever used in a duel at 15 paces.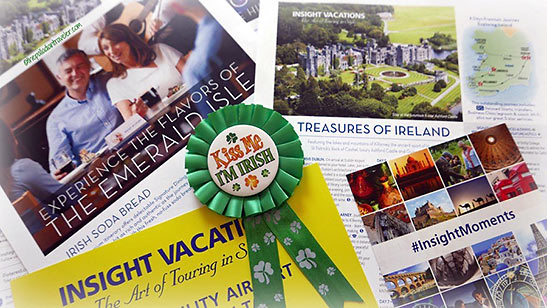 For complete information on Insight's 100+ premium and luxury-escorted journeys around Europe, including the Treasures of Ireland itinerary, including a five-star luxury stay at Ashford, just click HERE, or call toll free 1-888-680-1241, or contact your travel agent.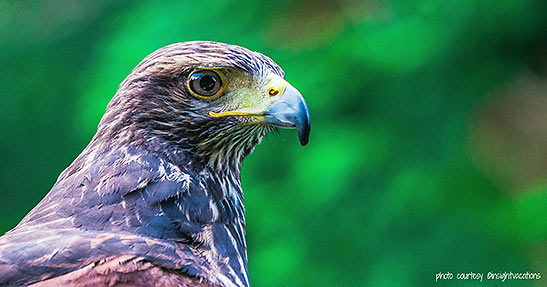 Join me tomorrow when I go in search of The Quiet Man film locales, and also head back to school, FALCONRY school that is, with a gal named Lima. Until then, oíche mhaith (good night).
Related Articles:
Galway Bay; The Burren; The Cliffs of Moher; Remembering the Great Famine; Along the Banks of the River Shannon; The Dingle Peninsula