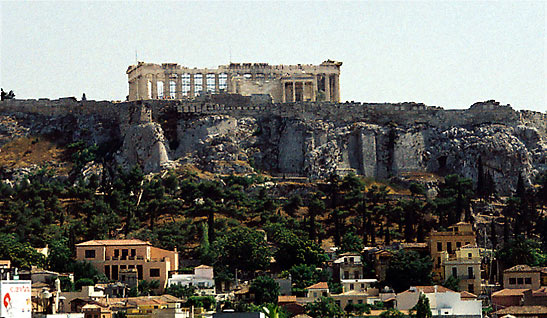 On a scorching overcast afternoon in the summer of 2000 the Parthenon
looks down on Athens
Athens in the Summer
Story and Photographs by Gary Singh


have Greece on my mind these days. I am revisiting both Zorba the Greek and Henry Miller's Colossus of Maroussi. A few recent conversations with a few different friends, brought those books back into my consciousness and how they should be required reading for the herds of tourists who invade the country on a regular basis. Hence, the conversations also brought back a scene from July of 2000 – the last time I traveled to that country.
At that time, I had no job except for a few cobbled-together freelance writing assignments. I held two degrees from the university down the street, but I had drank away any possible academic career and was living on a friend's floor above a supermarket.
My solution to this predicament: go to Greece.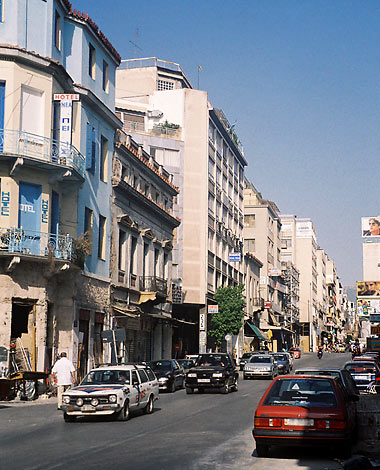 Somewhere in Athens, on a hot summer day in July of 2000
So there I was, a pre-smartphone summer, and it was way over 100 degrees in the Plaka neighbhorhood of Athens. A squawking battery of American tourist families surrounded me. In a roped-off taverna courtyard with potted plants and dust, hazed with pollution, I occupied one of a hundred tiny square formica-looking tables. A bouzouki player, older than dirt and wearing a sequined vest, plopped himself on a chair by the counter and jammed like there was no tomorrow. With a plastic fork I powered through a dirt-cheap meal on a white paper plate: a slab of tourist Moussaka, plus a native salad and something else buried with an avalanche of garlic. I found it hysterical that the Greeks would bastardize their shtick to the point of force-cramming a "Greek Salad" on throngs of tourists.
I had studied enough to order a litre of beer – megalo meant large – but since I had finished it, along with the next one, a bountiful carafe of retsina now sat in front of me on the faded orange table. While I ingested concrete fumes from nearby sewer construction and god knows what other flavors of pollution, the bone-cold retsina provided a sandy, resin-flavored counterpoint. It is the Greek chilled wine, intended to accompany native food, lift the spirits and ease the pain of a grotesquely hot summer.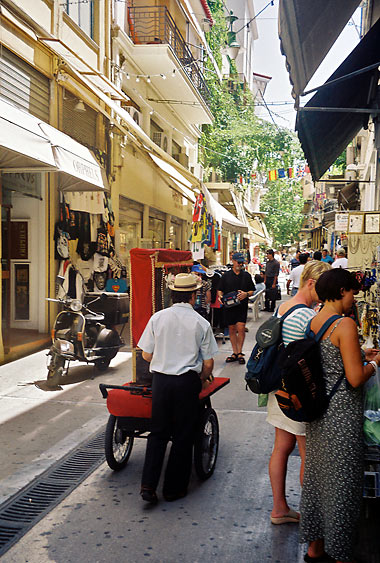 A street vendor near the Plaka neighborhood of Athens
None of that pain, however, was even remotely as miserable as one particular American tourist family that paraded right in front of me. The husband wore a t-shirt and shorts, plus glaring white socks and athletic shoes that would have come out oversaturated in Photoshop. The wife's outfit included a faded paisley mumuu and a flimsy sunhat almost as big as a sombrero. Under her arm she carried a three-inch-thick Lonely Planet book, a pompous tome dedicated to the entire country of Greece. Already engrossed in a clamorous argument and drenched in sweat, the couple dragged their two distracted kids between and around the folks eating at the tables. The husband complained over and over that it was too hot, way too hot. The kids didn't seem to mind. Their faces were filled with introverted curiosity, like they were continuously trying to figure out something in their heads.
I was somewhat drunk, the conventional pace of time was lost, and I could not stop staring at the American family, as the husband and wife complained about the unbearable Athens heat. "It's too hot," they kept saying. "Let's find a place that isn't so hot. Why is it so hot here?" And strained variations thereof.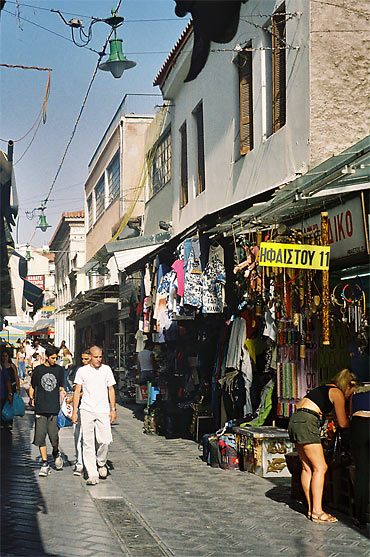 Taking in the heat near the Plaka neighborhood of Athens
I wanted to howl and break plates, throw a tantrum, and wring them out like soaked bar rags, all while barking: Well, you're in Athens in July. Of course it's freakin' hot. What the hell's the matter with you? You paid thousands of dollars to bring your whole family across oceans and continents to be here. In Athens. In the summer. Sheesh. Take that nine-hundred-page travel guide you've been lugging around the whole country, and flip it open to page three, where it probably mentions the weather and where it probably indicates that July in Athens is hot.
But I felt indecisive, distant and cowardly, so I said nothing. I just watched them leave the courtyard and disappear into a labyrinth of cobblestone walkways, the children still trying to figure out something in their heads. Meanwhile, the dust lingered and the retsina was a glory to behold. The bouzouki player broke out a chromatic gypsy ballad. I closed my eyes and continued sweating. I don't think I ever wore white socks to Europe after that.
Henry Miller would have been proud. And now I must go back to Greece, tourists be damned.
Related Articles:
Crete: Working Off the Farmer's Tan; Athens, Corinth, Mycenae & Delphi; In the Footsetps of Hippocrates; Appolonia Bakery, Rhodes; An Eastern Mediterranean Odyssey