Glen Ivy Hot Springs
Story and photographs by Greg Aragon

ometimes when the stresses of life or the hectic work week get to me and I need a mini-vacation to rejuvenate my body, mind and soul, I retreat to the soothing sanctuary known as Glen Ivy Hot Springs.
Located about 50 miles southeast of Los Angeles, in the majestic rolling hills of Corona, the luxurious spa features natural spring mineral baths, a large therapeutic mud pit, pools and Jacuzzi's and a host of traditional and exotic massages and body treatments. There is also a restaurant, gift shop and acres of beautiful gardens that inspire relaxation and inner peace.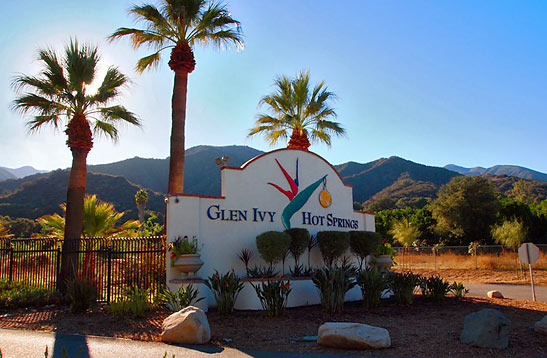 Glen Ivy – a soothing sanctuary with mineral springs, mud pits,
spa treatments and more
My getaway to Glen Ivy began with a soak in the historic mineral baths. First used by local Native Americans, the naturally flowing waters from Coldwater Canyon in the Temescal Valley, have been a source of relaxation for hundreds of years. Rich with minerals, the sulfurous hot water comes up from the ground into a series of tubs, where guests soak in 104-degree pleasure. The minerals in the water are absorbed through the skin, while the heat soothes the muscles.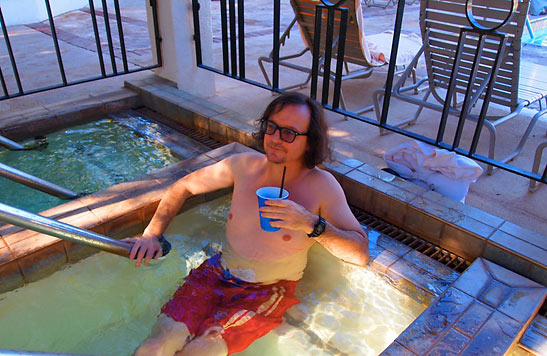 The natural, sulfurous mineral baths at the spa are rich in minerals
After 20 rejuvenating minutes in the mineral baths I headed to Club Mud, a unique outdoor mud pit where a mountain of red clay rises in the middle of a large warm pool. Here I meticulously covered my body and face in mud and then sat in a cave-like drying chamber with other guests as the mud dried and caked on my skin. Once the mud dried, I stepped into an outdoor shower and washed it all off with Glen Ivy's lavender-scented body cleansing gel.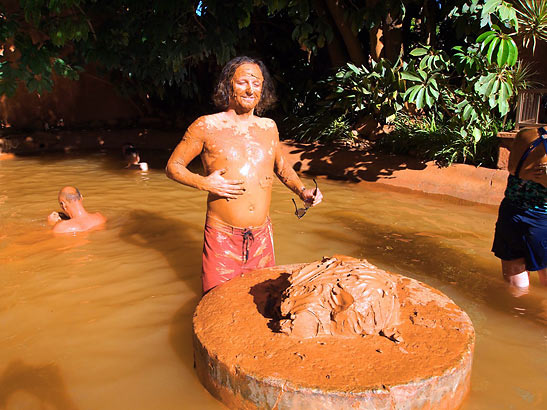 Club Mud is a unique outdoor mud pit where a mountain of red clay rises in the middle of a large warm pool
Since ancient times, red clay has been used as a purifying agent for the skin. Glen Ivy says the mud draws impurities from the pores, while releasing waste and dead skin cells and tightening and revitalizing the skin. All I know is that when I left Club Mud, my skin felt clean and very soft.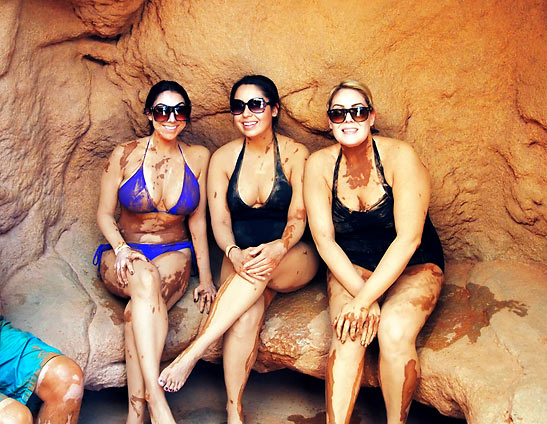 After soaking in the Mud Pit, guests sit in a cave-like drying chamber
My next stop was the Grotto, where I took an elevator down to a cave, where a spa specialist carefully painted my arms, legs and body with a rich and warm, light green masque of aloe vera, coconut oil, and shea butter. Once covered I ventured deeper into the Flintstones-type cave, to a warm Hydrating Chamber, where I relaxed on a comfortable stone, sipped cold water, and let the cave moisturize my entire body.
After resting in the chamber, I rinsed the green masque off my body in a rain forest shower granite shower. I completed this treatment in a cool mist chamber with a cup of Glen Ivy tea.
From here I strolled in my big, fluffy robe to lunch at Café Solé, the spa's Mediterranean-inspired kitchen. While dining outside on a serene patio surrounded by trees and the sound of trickling water, I enjoyed a delicious Glen Ivy House-Smoked Salmon Salad with walnuts, applewood-smoked wild salmon, celery, tomatoes and oranges, tossed with organic garden greens and house-made dill miso vinaigrette.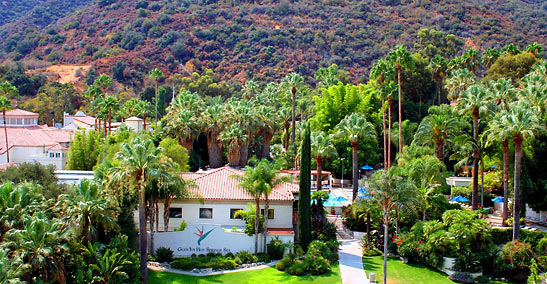 The grounds of Glen Ivy are lush and inspire relaxation, meditation and healing
For general admission to the grounds and the "Taking of the Water" experience the cost is $46 Monday – Thursday; and $64 Friday – Sunday. This includes access to Glen Ivy's gardens, lounge areas, and numerous pools and natural thermal mineral baths, a hot and cold plunge, saline pool, and lap pool, in addition to Club Mud, saunas, steam rooms, showers, and fitness and wellness classes. Individual body treatments and massages or extra.
Glen Ivy Hot Springs Spa is located at 25000 Glen Ivy Rd. Corona, Ca. 92883. Hours: daily 9am - 4 pm. For more information on treatments, current specials and appointments, call 888.453.6489 or visit: www.glenivy.com.
Related Articles:
Agua Dulce; Morton's Warm Springs Ranch; A Trek to La Quinta; Warner Springs Ranch, San Diego County; Palm Springs Aerial Tram; Take the Cure in Paso Robles