Story and photos by Greg Aragon
I've been going to Griffith Park in Los Angeles my whole life. From its world famous Zoo and Observatory, to hiking trails, parks and picnic areas, and the legendary Greek Theater, the place is a wonderland of outdoor activities. The family and I recently visited Griffith Park to experience a couple more of its attractions: the historic Merry-Go-Round and the miniature train ride.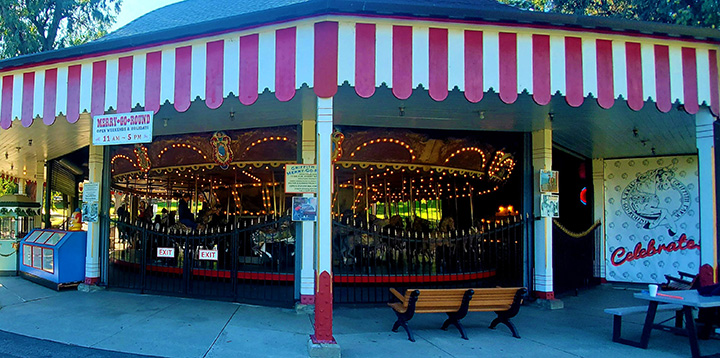 Our getaway began when we exited the 5 Freeway near Glendale and entered the 4,200-acre park. Once inside we meandered through winding, hilly roads looking for our destination. A couple miles in, we found our parking lot and followed the sounds of old waltz music to the captivating carousel, spinning beneath a large blue and white roof reminiscent of an old circus tent.
Built in 1926 by the Spillman Engineering Company and brought to Griffith Park in 1937, the merry-go-round boasts 68 horses. Each horse is finely carved with jewel-encrusted bridles, detailed draped blankets and decorated with sunflowers and lion heads. A Stinson 165 Military Band Organ, reputed to be the largest band organ accompanying a carousel on the West Coast, plays over 1500 selections of marches and waltz music.
The roughly 4-minute merry-go-round ride is a fun and memorable ride back in time to the days before modern theme parks and roller coasters. Rumor has it that the carousel gave Walt Disney inspiration to create Disneyland, after frequenting it with his kids in the early 1950s.
To ride, we bought a couple of $2 tickets at the old ticket booth and then stepped onto the historic platform to search for a horse to saddle-up. We quickly found one – a beautiful brown, wooden stallion, with intricate carvings and blue, yellow and red jewels inlaid. Like all 68 of the spinning horses, ours bobbed up and down while the carousel spun around and blasted carnival music.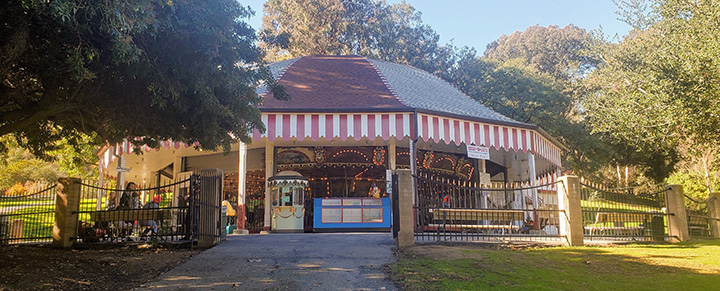 Besides the horses, the merry-go-round also offers bench seats for people who want to sit and watch their kids ride. But for smaller kids it is better for parents to stand next to them and help them hold on because the ride does spin fast and things could get scary.
After riding wooden horses we drove to the Griffith Park & Southern Railroad, a miniature train that has served the public in Griffith Park since 1948. Youngsters of all ages enjoy the experience of riding the Freedom Train or the Colonel Griffith. The railroad was also featured in the classic Steve Martin movie, "The Jerk," where Martin briefly worked as the train conductor.
The Griffith Park Southern Railroad meanders more than a mile, taking riders past pony rides, a lush green meadow, an old Western town, and a Native American village. The choo choo also goes under several bridges, including a 60-ft-long wood and steel box girder bridge through thick vegetation, through an 80-foot-long tunnel, and past several attractions, and at times offers views of the 5 Freeway and other sections of Griffith Park. On our ride we even saw a large coyote walking through the brush.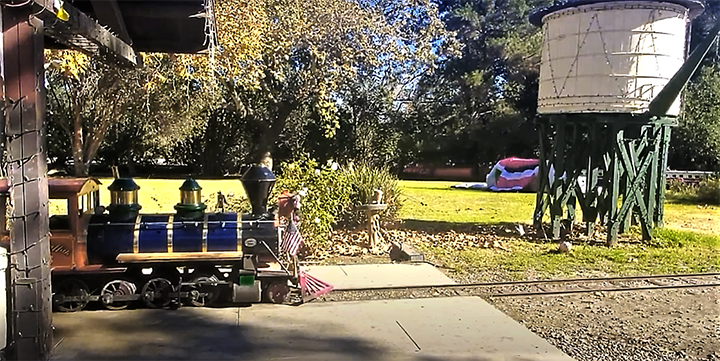 The miniature railroad trains are 1/4th and 1/3rd scale models of actual locomotives and the passenger cars carry nearly 500,000 passengers each year. Weather permitting, it operates 364 days a year, closing on Christmas Day only. The Griffith Park & Southern track is about one mile long.
During the Christmas season, the track is lined with snow-covered decorations featuring Santa Claus and his village, Christmas trees, elves, reindeer and more. The ride starts and begins next to the Griffith Park Pony rides, which I plan to experience on my next visit. After riding the train, we bought snow cones at a concession stand next to the railroad.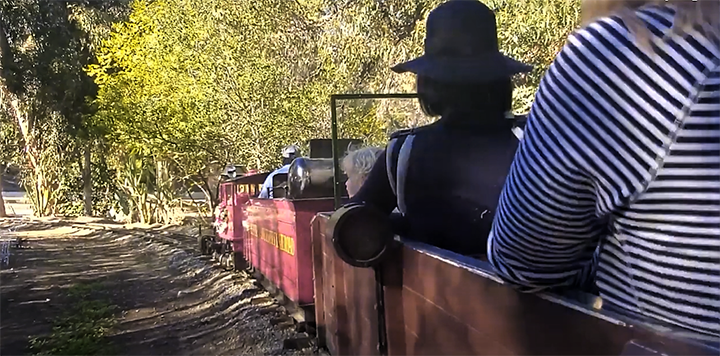 After riding the rails, we explored some more of Griffith Park. With over 4,210 acres of both natural chaparral-covered terrain and landscaped parkland and picnic areas, Griffith Park is one of the largest municipal parks with urban wilderness areas in the United States. Situated in the eastern Santa Monica Mountain range, the Park's elevations range from 384 to 1,625 feet above sea level.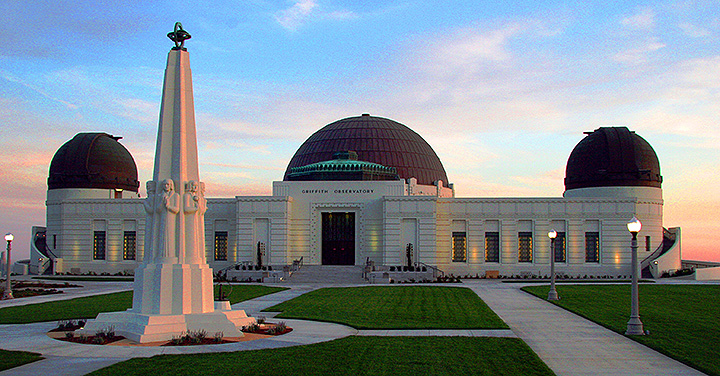 With an arid climate, the park's plant communities vary from coastal sage scrub, oak and walnut woodlands to riparian vegetation with trees in the Park's deep canyons. The California native plants represented in Griffith Park include California species of oak, walnut, lilac, mountain mahogany, sages, toyon, and sumac. There are also small quantities of threatened species of manzanita and berberis.
The Griffith Park & Southern Railroad is located at 4400 Crystal Springs Drive (Near Los Feliz & Riverside) Los Angeles, CA 90027. For more information on current hours and prices, call 323 664-6903. The Griffith Park Merry-Go-Round is located at 4730 Crystal Springs Dr, Los Angeles, CA 90027. For more information on the Merry-Go-Round, the railroad and Griffith Park in general, visit: www.laparks.org/griffithpark/