I love top ten lists. Whether asked or not, I am always more than willing to submit my pretentious list of everything from favorite French New Wave films and Beatle songs to regional Italian dishes. Curiously enough, when asked to list favorite travel destinations I am always reluctant to answer. When pressed, I'm known to say annoying things like my favorite travel destination is the one just around the corner. Recently my nephew demanded in his own special way that I at least name what I thought was the most beautiful place on earth. I finally succumbed to his wish, but explained that everyone's concept of beauty is subjective. He in turn explained that I never refrained from saying the obvious.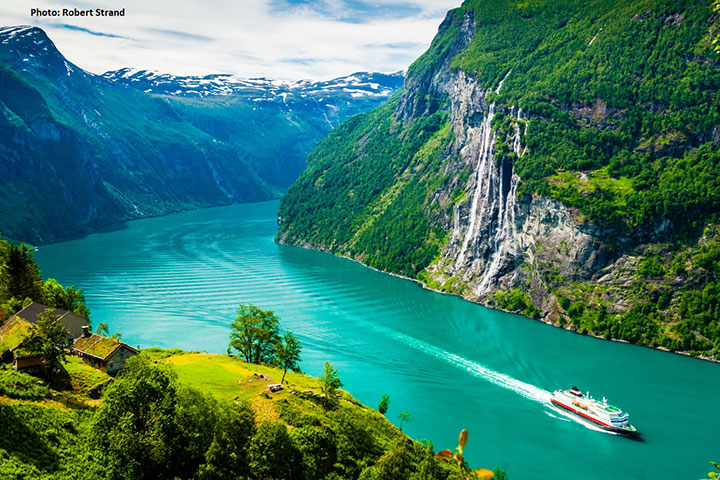 With its jagged mountain peaks that jolt vertically from the sea, stunning waterways, cascading waterfalls, tiny fishing villages and mountain farmhouses, the fjords of Norway would be my pick for the most visually striking place on the planet. I'm not exactly going out on a limb when I say this. Two of Norway's most famous fjords, the Geirangerfjord and Nærøyfjord, have already joined the Great Wall of China, Egypt's great pyramids of Giza, and the Grand Canyon as a UNESCO World Heritage Site. And National Geographic Traveler Magazine also rated Norway's fjords as the top travel destination in the world in their first "Index of Destination Stewardship" – an elite list of the least spoiled, great places on earth.
Carved by the Hands of God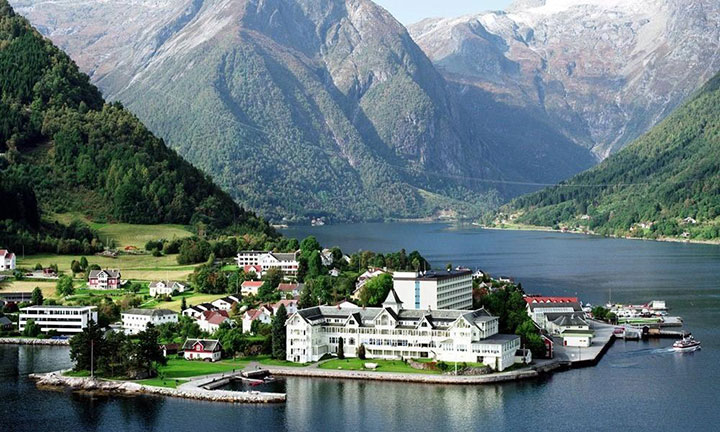 Gallivanting north on Norway's western coast, the fjords were carved out in a succession of ice ages. When glaciers retreated approximately 12,000 years ago, plants soon appeared, animals thrived and humans eventually made their way into this spectacular, but remote, heaven on earth. Small fishing villages were established along with tiny sod roofed farmhouses which quietly dotted the landscape, some situated on mountains so steep that they required a ladder to ascend the terrain. Once tax collectors realized there were people living in this isolated region, they made an annual trek to the farms, only to find that many of the ladders had mysteriously disappeared. When the first tourists arrived – primarily the European aristocracy – who came to fish in this untouched paradise of crystal-clear waters, they were guaranteed all the fish they could carry. Word spread, and the fjords became the sportsperson's paradise. Soon the rest of the world had heard about them.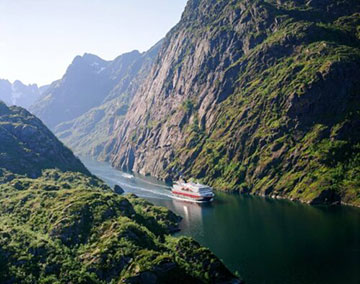 HURTIGRUTEN:
"The World's Most Beautiful Voyage."
In 1891 Norwegian Coastal Voyage (now Hurtigruten) established a daily, year-round boat service along the western coast of Norway, with Bergen at the southern terminus and the Russian border at the north. With 34 ports of call, the coastal trek became a lifeline along the west coast of Norway, carrying cargo to isolated villages and farming communities. Tourism quickly became an important component of the voyages, giving people the opportunity to experience the fjord-filled coastline, Midnight Sun and the Northern Lights.
Travelers soon came in the thousands, making Norwegian Coastal Voyage one of Europe's biggest attractions. On my four-day journey, I found that more than 60 percent of the tourists on the voyage were Norwegian. It was wonderful to travel with locals and see the county through their eyes, and the fact that it was a real working cargo vessel made the experience even more authentic. The vessel serves as an interesting hybrid of a working ship and tour boat, with all the comforts of spacious cabins, lounges and dining rooms overflowing with Scandinavian breakfast buffets, and regional Nordic meals for lunch and dinner. Dare I say I ate and learned with every bite. The journey also includes land tours by bus, which meet back with the vessel at future ports.
To understand the fjords is to understand the Norwegian character, whose national identity has been formed by its passionate bond with nature. When a Norwegian goes on vacation – an average of six-weeks a year – the destination of choice is usually the Norwegian countryside. Later, while sitting on the deck of my vessel under a Midnight Sun that refused to set, I asked a gentlemanly 70-something Norwegian passenger about his family's vacation. He replied that his multi-generational family of fifteen congregates at their cabin further north for four-weeks, sans electricity and running water. He smiled when I inquired how they managed to fill the time. Fill the time! Why… we go hiking and fishing… and have grand family meals by a roaring bonfire… what can be better than that! The more I thought about it, the more I wished I too could disconnect in a similar setting in the countryside. Our conversation ended with a skål (toast) of aquavit – a potato-based snaps, considered Norway and the rest of Scandinavia's national alcoholic beverage – in celebration of our good fortune on the voyage.
Bergen – Gateway to the Fjords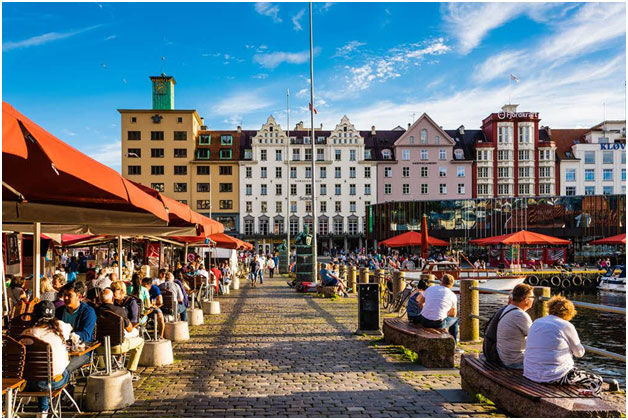 Bergen is the second-largest city in Norway, founded in 1070 by King Olav Kyrre. Initially a small trading village, it was named Bjørgvin, 'the green meadow among the mountains.'
At end of the 13th century Bergen's status as a village of trade exploded when it became part of the Hanseatic League, a restrictive guild made-up of almost exclusively Germans. Bergen enjoyed protective rights to mediate trade between Northern Norway, receiving fish products and sending back oats in return. During the Hanseatic League's peak of power, the guild had a monopoly over trade in the North and Baltic seas. Though "designed" for mutual commercial interests, such as protection against piracy and non-guild members, the German traders were endowed with almost unsurpassed treatment with duty-free trade and diplomatic privileges, complete with their own armies for mutual defense and aid.
Bergen's Norwegian locals, though, were considered second-class citizens by the Hanseatic Germans, and were reduced to menial laborers, maids and servants, modest shopkeepers and backbreaking longshoremen. Some of the city's female population became "comfort women" for the amusement of the German traders.
Bergen served as Norway's capital in the 13th century, until it was overtaken by Christiania (now known as Oslo). But the city today still continues as Norway's busiest port, a remarkable destination for tourism, and with moniker, "gateway to the majestic fjords."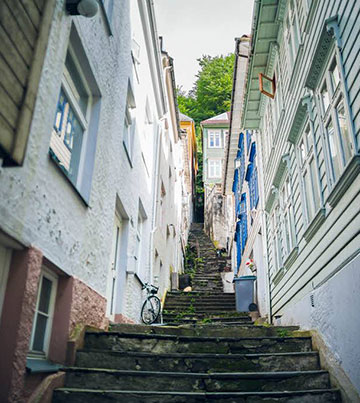 And this is where your Hurtigrutenfjord experience will begin; but before you hop aboard the boat, it is essential that you spend at least two days in this World Heritage City. Bergen boasts endless tourist attractions, and the Bergen Tourist Card is an important component to your tour of this historic harbor town. The price allows you free or reduced-price admittance to the Bergen Art Museum, Fantoft Stave Church, harbor boat tour, Bergen Castle, and St Mary's Church.
Time will allow a wandering through the harbor fish market and down the wooden streets of the former Hanseatic warehouse district. A fish buffet should be on everyone's list for a sampling of Bergen's world-famous fish soup, gravlaks (cured Atlantic salmon), fish cakes and hearty breads, all washed down with the city's Hansa beer.
A Bergen Must: Edvard Grieg's Troldhaugen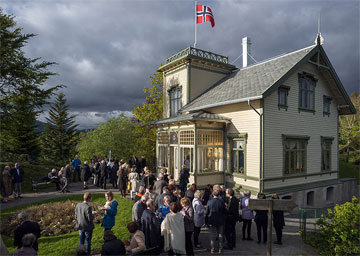 Despite his diminutive 5 ft frame, Norwegian composer Edvard Hagerup Grieg was a towering rock star long before the expression existed. Born into a successful Bergen merchant family in 1843, his life dramatically changed when violin virtuoso Ole Bull recognized his talent and introduced him to the treasures of Norwegian folk music. Grieg studied the masters abroad but dreamed of reprieves to his beloved Norwegian countryside – a pattern which continued after he became a world-renowned composer.
Grieg and his wife built a home on Lake Nordås on the edge of Bergen, which he called his best opus so far. Christened Troldhaugen, the Victorian villa became a centerpiece for Bergen's artistic community and visiting dignitaries. But Grieg also required periods of peace and quiet to work and built a composer's hut by the lake. Grieg died in 1907 of chronic exhaustion. But today his legacy lives on at Troldhaugen – nothing less than a living museum which consists of the Edvard Grieg Museum, the Villa, the Composer's Hut, Recital Hall and Edvard Grieg´s tomb. My highpoint was a concert at the hall, which is discreetly built partially underground with a sod roof. The floor-to-ceiling windows behind the stage overlooks the composer's hut where Grieg would work, superstitiously sitting on a stack of sheet music by Beethoven so that he could reach the piano. At the end of each day, he would leave a note: If anyone should break in here, please leave the musical scores, since they have no value to anyone except Edvard Grieg.
DESTINATIONS ON YOUR VOYAGE
Trondheim – City of the Viking King

Trondheim is Norway's third largest city and once served as the country's first capital. Two millenniums ago, Viking King Olav Tryggvason sailed up the Trondheimsfjorden in his five longships and gave birth to the inlet's name, and, most importantly, led the conversion of the Viking Norse to Christianity. The centerpiece of Trondheim's greatest tourist attraction is St. Olav Catholic Church, built on the site of his own grave. Numerous kings of the middle-ages have found their final resting place in Trondheim, and the city continues to gain popularity as one of Europe's most important medieval pilgrimage centers.
With time permitting make a stop at the Trøndelag Folk Museum, an open-air museum dating back to 1909. The museum showcases the various building traditions, with 80 vintage structures on display, ranging from wooden huts to city mansions, including the reconstructed Haltdalen Stave Church.
LOFOTEN ISLANDS – And Lutefisk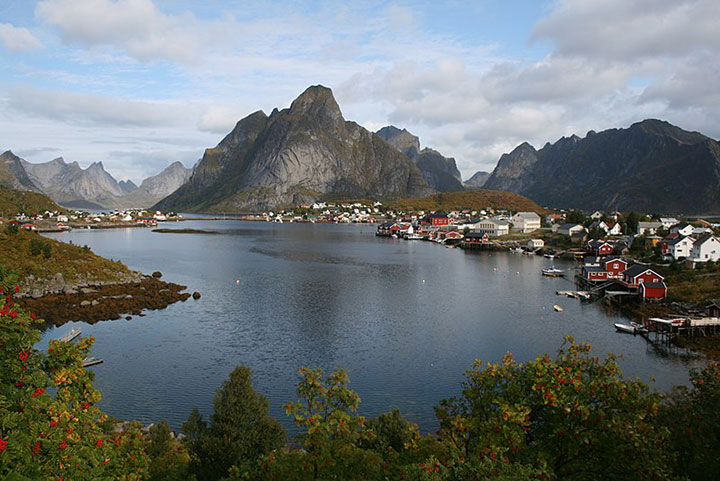 Located within the Arctic Circle, no words can do justice to the Lofoten Islands' breathtaking archipelago, a life-reaffirming array of mountainous villages and white sand, often connected by ornate bridges. With Its inlets of little villages, sheltered by mountain peaks pirouetting out of the sea, you'll witness why fishing has long been the very foundation of life in the islands.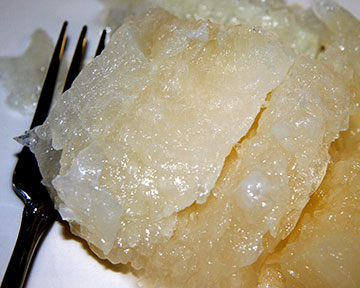 While on the deck of a Hurtigruten vessel, overlooking a Lofoten fishing village, I overheard an American passenger ask a Lofoten local what those things were hanging on stilts. The Norwegian replied that it was air-dried cod for making Lutefisk. The American exclaimed, And the birds don't eat it? The Norwegian man shrugged, No, for some reason they don't seem to like it.
Everyone of Scandinavian heritage knows of Lutefisk (pronounced lou-tah-fisk), but, outside the Norse world and its emigrants, few have actually eaten it. Lutefisk is a traditional Nordic food of dried cod or stockfish, prepared in lye. It is soaked in cold water for five to six days (changed daily). It is then soaked in an unchanged solution of cold water and lye for an additional two days. When this treatment is finished, a final treatment of yet another four to six days of soaking in cold water (also changed daily) is needed. Eventually, the Lutefisk is ready to be baked in the oven for 40-50 minutes. Today the dish is cherished by people of Norwegian ancestry throughout the globe as an essential Christmas season dish. And never forget about lefse, a large thin potato pancake served buttered and folded, which is even better with a slice of geitos, a processed brown goat cheese. But, for the contemporary Norwegian, Lutefisk is regarded as a common everyday dish from the past, and no longer appropriate for the Christmas Eve (Julaften) table – and now pinnekjøtt (lamb ribs) is the most popular Julaften dish in northwestern Norway, while ribbe (roast pork belly) leads the pack in the east.
Tromsø – Paris of the Arctic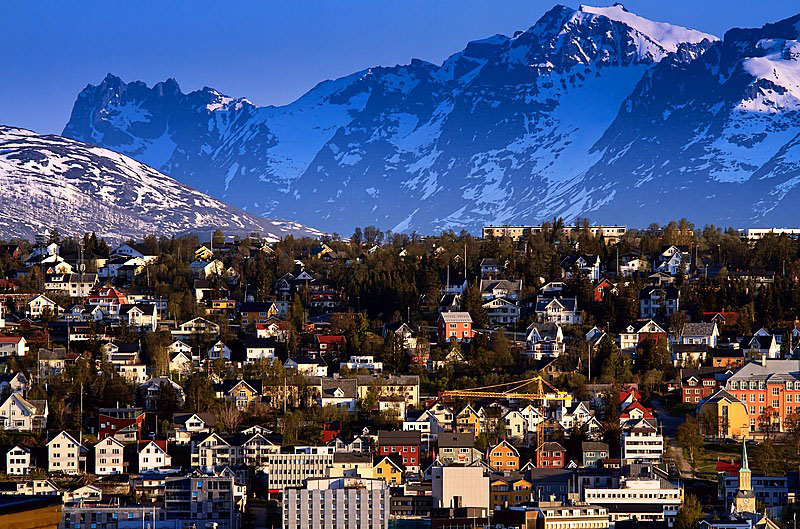 Tromsø is the largest Nordic city north of the Arctic Circle, home to the world's most northern university and cathedral, brewery, botanical garden and planetarium. Less than a century ago, visitors were surprised to find cultural and intellectual activity in a city so far to the north. Of all the destinations on my journey I found the residents of this city of 53,622 to be the most open and friendly in all of Norway. Look closely and you will see locations used in the original film, Insomnia, by Erik Skjoldbjærg (1997), far superior to the Hollywood remake. And you might notice post-WW II homes, built after Hitler attempted to burn the entire city down in fear that an Allied D-Day invasion might commence in the Norwegian north.


The Sámi – Scandinavia's Aborigines
My knowledge of the Sámi People was limited and underfed, with only a vague recollection that they were nomadic reindeer (caribou in North America) herders based somewhere in northern Norway. This changed upon spending four-hours in the Tromsø Museum, which houses more than 2,000 Sámi artifacts, and offers a direct insight into their unique culture and way of life.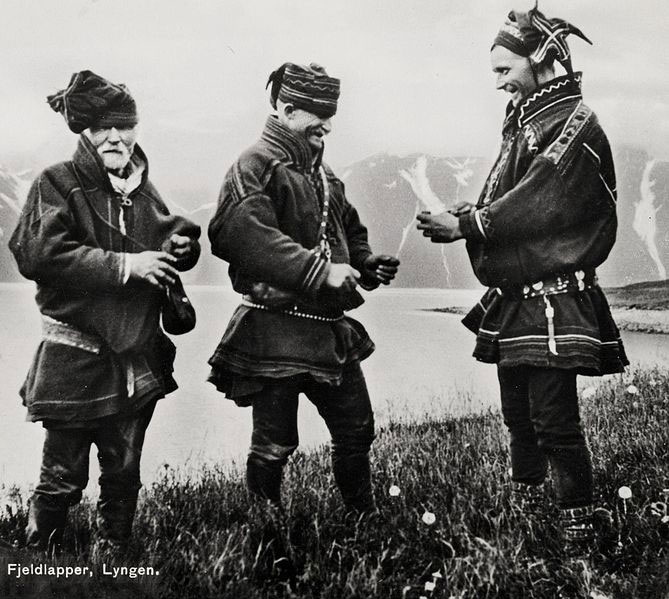 The Sámi have been living in the Northern Arctic and sub-arctic Nordic regions (and Russia) since prehistoric times, long before the name "Viking" existed. Though Norway is considered one of the world's most tolerant societies, this was initially not the case in the treatment of the Sámi – then referred to in the derogatory as "Lapps" – who faced soul-crunching discrimination, forced Norwegian cultural assimilation and found their traditional religion was condemned as witchcraft. Yet, due to forward-thinking Norwegians, the 2011 U.N. Racial Discrimination Committee and Sámi activists themselves, their treatment has dramatically improved where they can now maintain and develop their own language (60 words for snow), culture and way of life. The have their own style of dress, separate national identity, their own radio stations and are represented in the Norwegian parliament.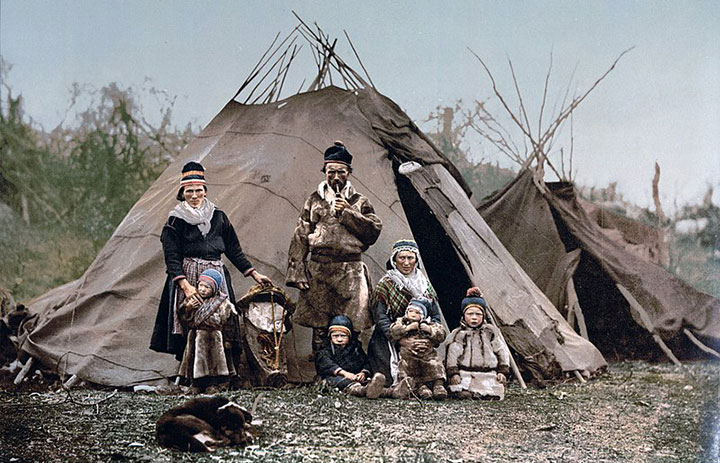 Many Sámi have become urbanites, generally living in the town of Karasjok, considered the Sámi capital. While others continue with the nomadic lifestyle of moving horizontally across the northern vertical borders of Norway, Sweden and Finland in search of new grazing ground for their herds of reindeer. I came out from the other side of the Tromsø Museum with a keen appreciation of the Sámi peoples' unique culture and remarkable way of life.
My guide informed me that you can also camp in a traditional lavvu (tent) in the Sápmi Culture Park in Karasjok and interact with the gentle Sámi. He also noted that you'll walk away with a better understanding of the Sámi's deep relationship with the reindeer; the animal which plays the ultimate role in their way of life, providing milk, transportation, fur and food. Apparently, it's not uncommon hear a traditional Sámi joik (song) at the park, which have passed from one generation to the next.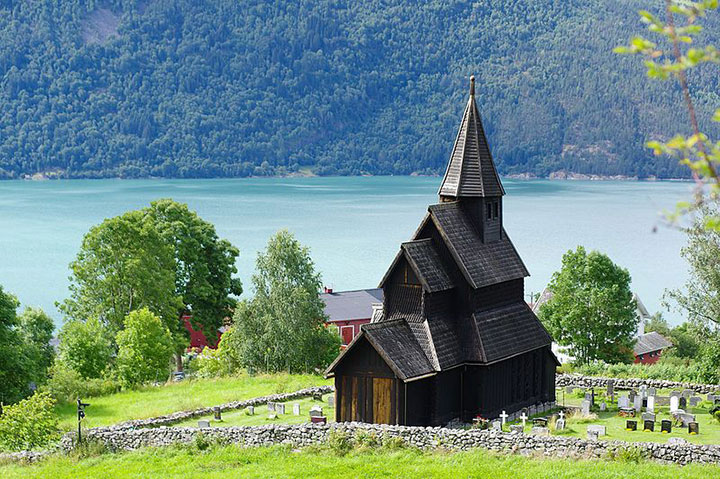 While you're in the fjord's, no doubt you'll discover a few Stave Churches. Take your time and explore them. My personal pick is the church of Urnes (stavkirke), which stands in a natural setting in the Sognefjord. The church proved to be an outstanding example of traditional Scandinavian wooden architecture, a fusion of Viking art and Romanesque spatial structures.
A Bit More on Stave Churches
When Viking King Olav Tryggvason (now Olaf the Holy I) Christianized Norway in the year 1000, he established this new religion by the use of force — but also with Norse mythology as its foundation. Catholic missionaries transitioned the meaning of the pagan winter solstice of Yule as a Christian holiday to celebrate the birth of Jesus. Medieval Norwegians, now tamed Vikings, took their refined boat-building skills and constructed pine wooden churches with little more than an ax and wooden nails. The new Norwegian churches were called Stave Churches, supported by stout pine poles — or "staves" — and slathered with a protective coat of black tar. Pine wood was cheap and plentiful, and the Norseman soon stood solemnly in the Stave Churches' dark rooms, with benches only for the aged and physically handicapped. With masses in Latin, that few could understand, it was critical to show former Viking pagans a similar value system; a fight between good and evil, illustrated with sculpted dragons and snakes standing for evil, which the Vikings used on their longships to fight evil with evil, dragon against dragon.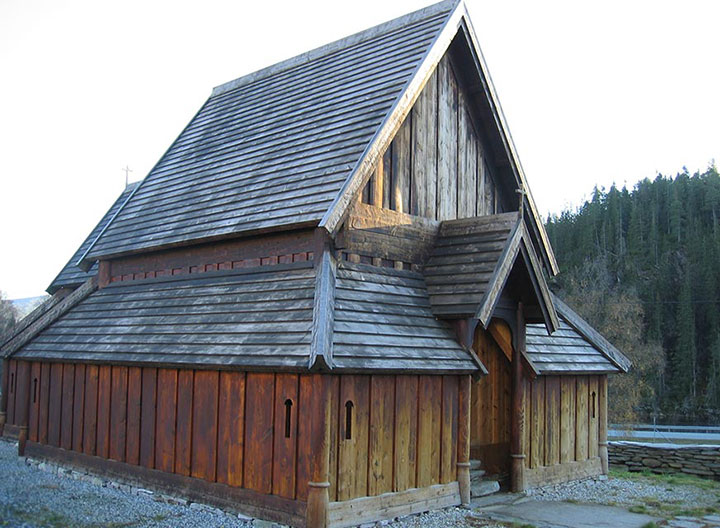 And it worked, with a rough estimate of 1,000 to 2,000 Stave Churches built between 1130 and 1350 throughout the Scandinavian world, which also included Russia.
But then, just when the Norwegian populace were barely Christianized, along came the 1517 Protestant Reformation. Catholic Stave Churches were met with groups of strict Protestant missionaries carrying burning torches. Some were pulled down, others transformed into Protestant parishes, ridding them of their sacred Catholic symbols, riches and mythologizes. It should be noted, though, that some Stave Churches crumbled due to rotting of pine poles built on soggy ground. But anything that reeked of Catholicism was destroyed, including the Roman Catholic Church's celebration of the Mass of Christ. Keep in the mind that Christmas was not even a federal holiday in the U.S. until 1870, with President Ulysses S. Grant's attempt to unite the North and South in the post-Civil War years.
Today, there are only 21 Stave Churches in existence throughout Norway. The few that remain are less of an elaborate construction, due to their former placement in the fjords and other remote outlying areas – areas that required too much time and travel to be destroyed.
On a personal note, color me as a man with a profound appreciation of Stave Churches; for my opinions are biased as my mother's family name is Stave.
EPILOUGE
Norway's quest for independence began in 1814, with the signing of a new constitution, but was forced into a union with Sweden as the dominant nation that lasted until the early 1990s. Prior to that, Denmark had held the reins on Norway for over 400 years. It was not until May 17, 1905, when Norway secured full independence, known as Constitution Day or Independence Day. The new Norway forged ahead, creating a liberal democracy and its own national identity devoid of an any interference from other nations and with a preference not to join the European Union. (a second Independence Day, though, was celebrated on May 8, 1945, when Norway was liberated after five years of occupation by Nazi forces.) Genuine Norwegianness was illustrated in folklore and fairytales (with happy endings), Norse mythology and Viking sagas, a written national language and the use of pine wood, and even voting for Norway's first king. And, above all, Norway's artists were embraced with the music of Grieg and Ole Bull; the plays of dramatist Henrik Ibsen (the world's most popular playwriter after Shakespeare); the novels of Knud Knudsen; and the Expressionist paintings of Edvard Munch. Like the Republic of Ireland, Norway is nation who loves its artists.
In 2018, Norway was the world's 14th biggest producer of oil and eighth biggest producer of natural gas, according to data from the US Energy Information Administration. The black gold is also the reason Norway's 5.4 million inhabitants today have the world's biggest sovereign wealth fund, worth $1.36 trillion (1.13 trillion euros). Despite the nation's affluence, the Norwegian character is one of modesty, where the nation's oil revenue is poured back into the economy allowing a higher standard of living for all citizens.
Yet, keen to present itself as a role model with its efforts to fight deforestation in the tropics and a world leader in electric car sales, the Scandinavian country aims to reduce its greenhouse gas emissions by 55 percent by 2030, and to almost nothing by 2050.
But it is regularly criticized for the CO2 emissions generated abroad by the oil it exports.
While Norway cites the need for a "green transition," it still relies heavily on oil and gas revenues for its public finances, trade balance (accounting for 42 percent of exports of goods), employment (more than 200,000 jobs are either directly or indirectly linked to the sector) and, most importantly, to keep rural Norway populated.  Norway is nothing less than the world's greatest planned nation. 
HOW TO GET THERE