It had been 14 long years since I'd last been to Las Vegas. Much had changed. Of course, Vegas has always been changing. From a dusty Nevada desert town built by the Mormons to a world-famous gambling destination jump-started by the mob, this adult Disneyland never fails to re-define itself. Whenever I travel, I've always found it insightful to chat with cab drivers who have their own keen take on the city. And this was never more true than in Vegas. The cab driver informed me that the Vegas of today is as much about shopping, dining and shows as it is about gambling. The Vegas CVB does a good job with keeping taxi drivers in-the-loop, offering them comps to new shows and attractions, making the cabbie one's own personal ambassador to the city. As we arrived at our destination of choice, ARIA Resort & Casino, our driver opened the cab door for us and graciously wished us a wonderful time in Vegas. Then added,"Make sure you have the osso bucco at Piero's. It's my favorite place to eat in the city."
Dining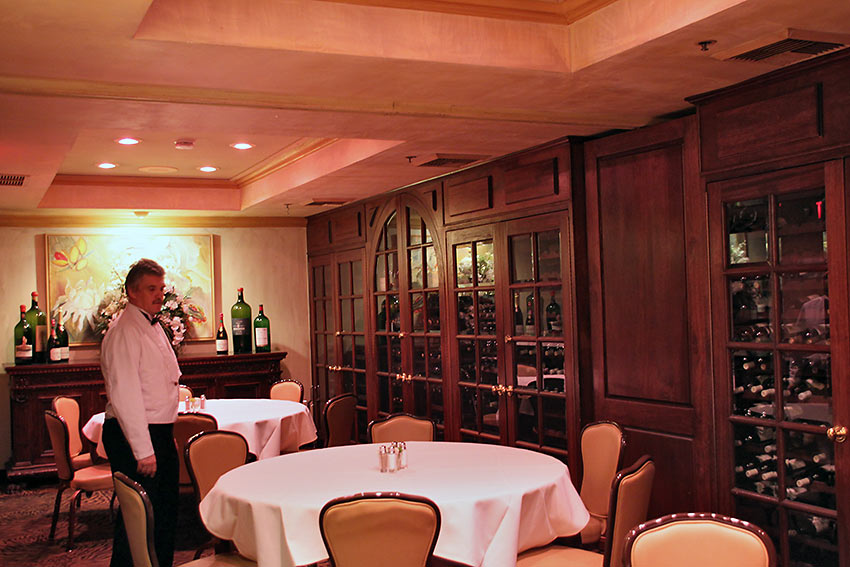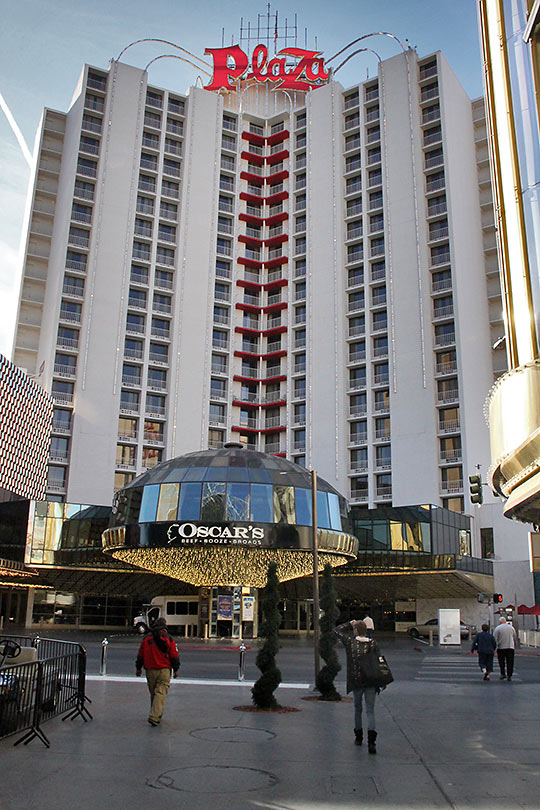 PIERO'S – The cab driver was right: the osso bucco was outstanding, as good as any I'd ever had in Milan. Piero's was located across the street from the Vegas Convention Center in an area that was desolate and a tad eerie in the early evening. Thinking of Vegas' mob history, I almost wondered if this new cab driver was taking me for a ride. But my senses were calmed when we arrived at the 35-year-old iconic Italian-American restaurant. Piero's has been popular from the early days of the Rat Pack to contemporaries like Mick Jagger and Justin Timberlake. As we were handed our menus, I noticed a few shady-looking characters in expensive suits dining there, as well. But this only added to the ambience. It only seemed fitting that the restaurant was used in the Martin Scorsese film, 'Casino.' I added Piero's signature Miami Stone Crab appetizer to my order. It was expensive, but still worth every bite.
OSCAR'S – The theme at Oscar's is "Beef, Booze & Broads," mirroring owner and former Vegas Mayor Oscar Goodman's philosophy on life. Located in the Plaza Hotel's second story, the venue is situated in a glass dome with 360-panoramic views of the exploding downtown Vegas Art District. You can't miss it for there are attractive looking women waving down at you from the glass dome window, beckoning for you to come on up. There's a swagger at Oscar's, and the experience is all about fun. My standards had risen considerably after dining at Piero's, but I wasn't disappointed with the beef and booze, a classic gin martini. And, yes, I did spot another location used in 'Casino.'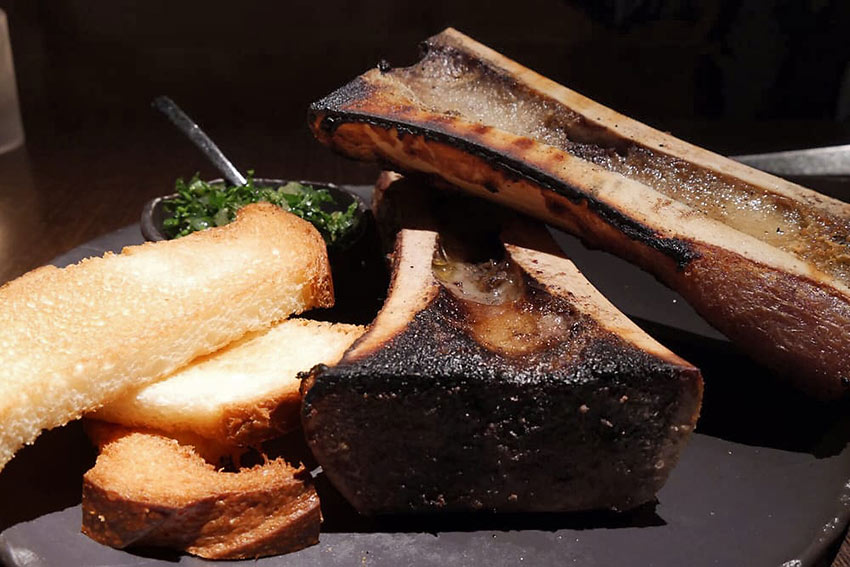 JEAN GEORGES STEAKHOUSE – Anthony Bourdain once said that his death row meal of choice would be bone marrow. If you're like Tony, then the Jean-George Steakhouse is the place for you. It's also a very vibrant and hip restaurant  Was that The Clash playing on the sound system? Award-winning chef and owner, Jean-Georges Vongerichten, personally selects only the music he likes. Located in the Aria Hotel's Food Court, this is indicative to his approach, putting his spin on the traditional American steakhouse by adding a strong dose of energy, along with innovative gastronomic creations.
Attractions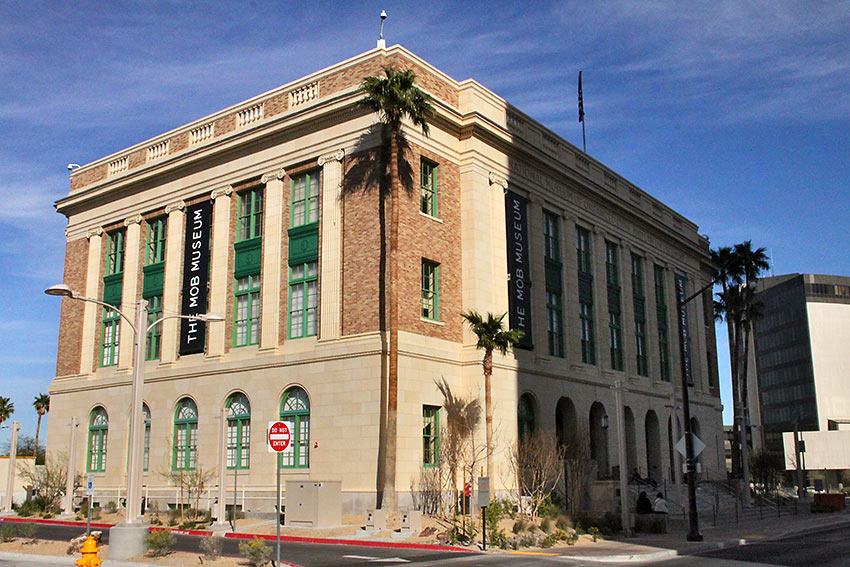 MOB MUSEUM – With my interest in the underworld, I was quite anxious to visit the museum. One of the first things I noticed was large photo of Bugsy Siegel, with the caption: "Don't worry, we only kill each other," which Siegel once said to a nervous, potential non-mob investor in his new Flamingo Hotel. Bugsy's words were self-fulfilling, for he took a bullet in the eye by his own gang when his dream project went hopelessly over-budget. This and more are on-display in the new Mob Museum, housed in the former federal courthouse and U.S. Post Office in the new Art District. Built in 1933, the building is listed on the National Register of Historic Places. The mob was also responsible for bringing in entertainers like Frank, Dino and Sammy to Vegas, but kept their underworld presence low-key due to patrons' fear of gambling in what could be a dangerous venue. Of course, Vegas has always been a wide-open town. When prohibition ended, many citizens expressed surprise that there ever had been a prohibition. One of the museum's iconic artifacts is the brick wall where members of the Bugs Moran gang were lined up and shot and killed by members of Al Capone's gang.
CIRQUE du SOLEIL'S LOVE  – I was one of those kids whose life changed when I saw the Beatles on the Ed Sullivan TV Show. Many friends were surprised that I hadn't seen "Cirque du Soleil's LOVE." Ok, I had the CD by Sir George Martin, the Beatles' long time producer, but hadn't actually seen the show. It's a psychedelic journey through the '60s, told through 30 of the Beatles' original recordings, re-mixed by Martin and his son. The show is a seamless blend of Beatle songs and Cirque du Soleil's acrobatics, dancing and visual effects where performers are dressed in Beatle costumes and characters from their songs. It's the closest thing to attending a Beatles' concert. The ad lib between the Fab Four, recorded at studio session, was so clear that you actually felt that you were in the same room with them.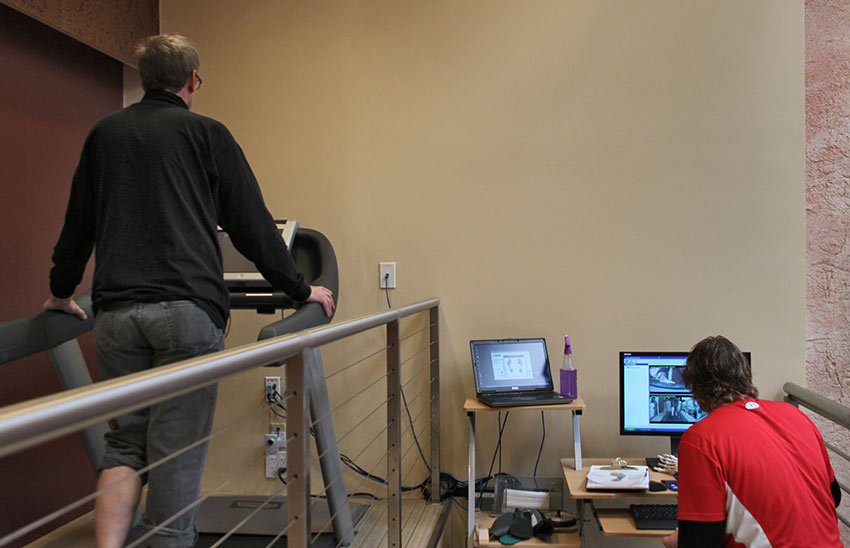 FOOT RESCUE at CANYON RANCH – Let's face it: Much of the Vegas experience is strolling down the strip, basking in the almost Felliniesque excess of architecture and attractions. And your feet do get tired. The Venetian, Canyon Ranch Healthy Feet Center is devoted to advanced foot health and comfort. I opted for a foot/gait analysis, which monitors how one moves, assessing the biomechanics of your gait. This was followed by my first foot massage, then a health food lunch at the Canyon Ranch Spa Club where I ordered "The Healthy Elvis" – a banana, peanut butter on whole wheat grain bread sans the deep frying. I felt better, but still couldn't sing.

BELLAGIO GALLERY OF FINE ART – The last thing I expected to do in Vegas was to attend a genuine art show. But there stood the Bellagio Gallery of Fine Art Exhibition, which offers a welcome reprieve from the hustle bustle of the city. The new Samurai: Armor from the Ann and Gabriel Barbier-Mueller Collection honors the culture, lifestyle and art of the samurai warrior. Spanning hundreds of decades of Japanese history, more than 50 pieces of samurai armor are on display. The exhibition feature objects that were used both for combat and ceremonial purposes, conveying the complete story of the samurai, who not only fought in battle, but also practiced poetry and calligraphy. To honest, I could have used a little protection when negotiating the crowd at the casino tables.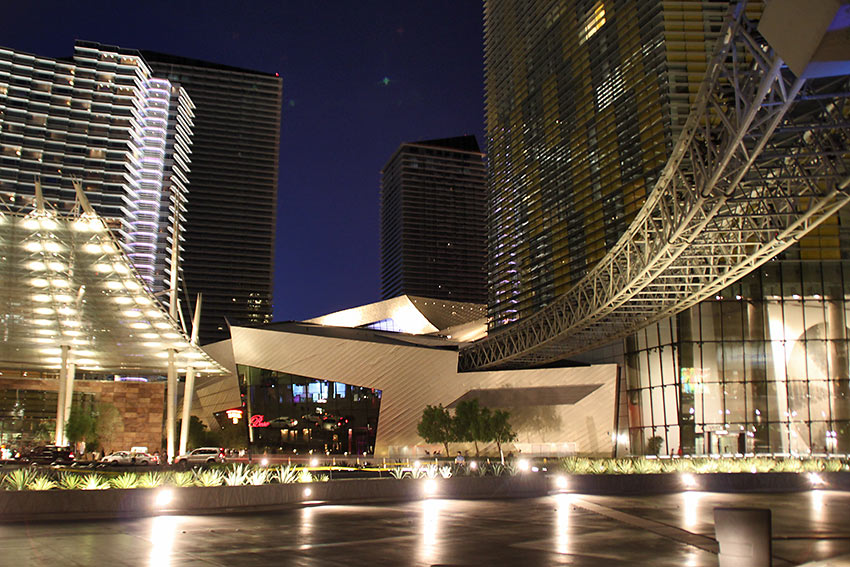 ARIA Resort & Casino – Unlike the carnival-like ambience of many properties, ARIA Resort & Casino, with its contemporary architecture, muted colors and natural light, seemingly stands alone as a relaxing haven, yet still with the attractions of a casino, designer shops, big name shows, cutting-edge restaurants, spa and pool at your fingertips. If I weren't for the fact that I wanted to see more of the city, I could have spent my entire time in Vegas at the property. But I will return, and see once again how Las Vegas has changed.
For a Comprehensive List of the 100 Best Things to do in Las Vegas, visit Jen Reviews.