Photos and text by Richard Frisbie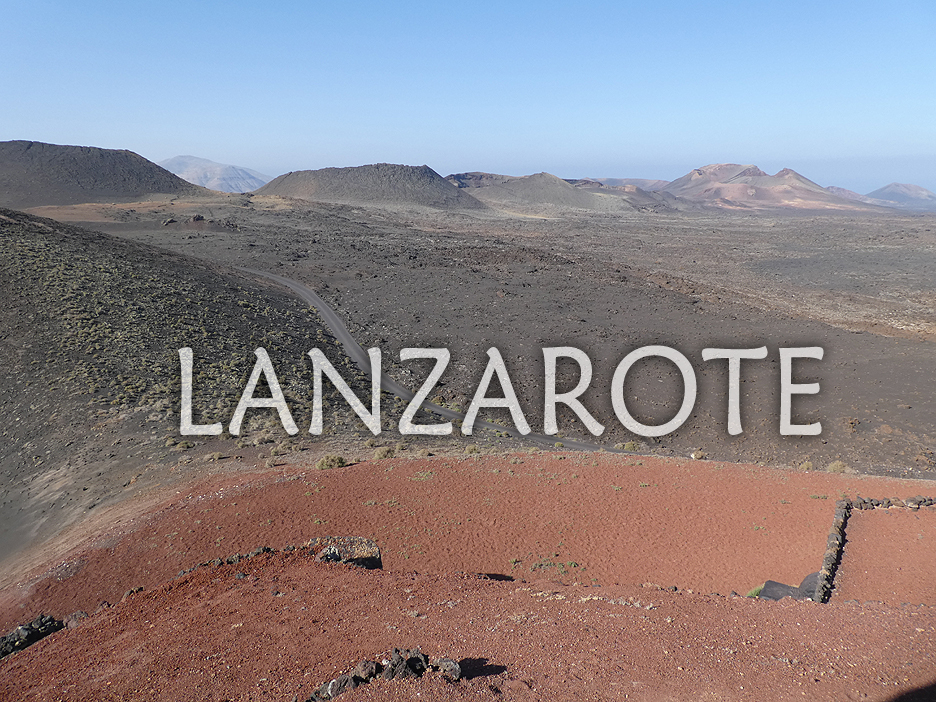 At first glance, the Timanfaya National Park in the interior of Lanzarote, the Eastern-most of Spain's Canary Islands, seems little more than a desolate landscape of lava fields with volcanos rising over them. It is only once you look closer that you can see the austere beauty of the many lava tubes, calderas, and craggy peaks, the lava sea, all wind-worn over the centuries. The arid, rocky plains and the smooth, naturally wind-swept fields of volcanic ash hold an austere beauty all their own. Euphorbia plants and lichens, as well as lizards and insects, call this untouched, protected area home.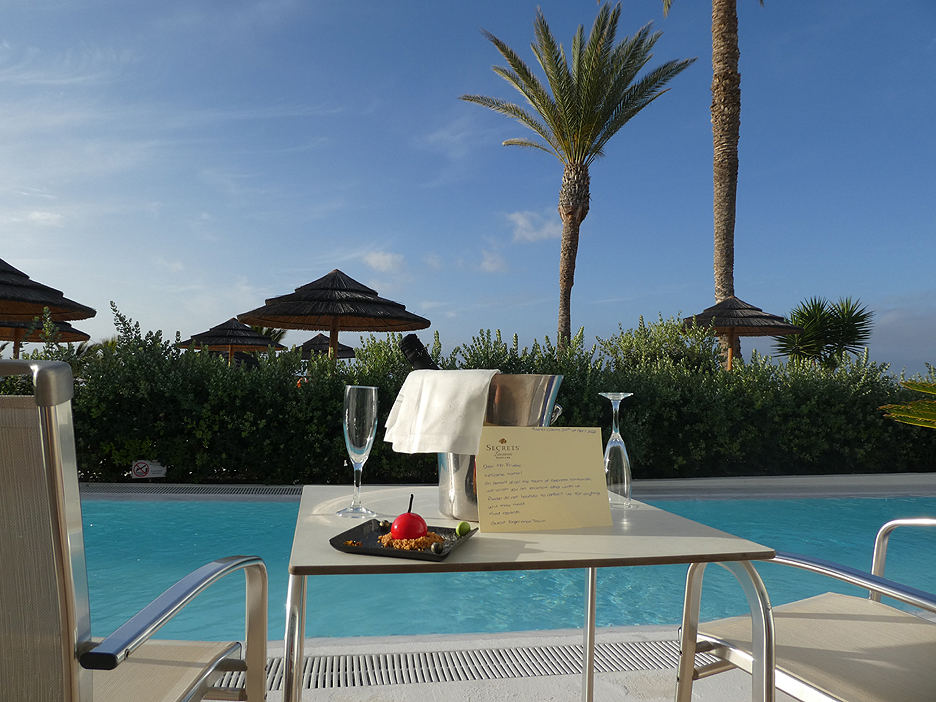 Lanzarote is known by the sobriquet "Volcano Island" because of its volcanic origins and these vast areas covered in lava and volcanic ash, but one can find the occasional oasis of posh resorts with golf courses and palm-studded lawns dotting the rugged shoreline. What were once poor fishing villages are now sailing harbors with destination resorts. One such, the five-star Secrets Lanzarote Resort & Spa in Puerto Calero, is an all-inclusive hotel with more pools and restaurants than can be explored in a week of indulgence, and too many steps to climb to do it. At least that's what I thought climbing to and from my suite with its swim-out pool. Fortunately, there are elevators, and the service is so great I didn't have to leave my room except for an occasional tour of the interior.
As man has turned these oasis' into tourist destinations, it is the hand of man that sculpted much of the rest of the island into pock-marked slopes with semi-circles of lava rock walls on the windward side to protect the fruit trees and especially grape vines growing at the bottom of the depressions. While Lanzarote has little rain and scarce water, there is a sea fog that rolls in condensing, as does the dew, on the porous ash which then seeps down to water the plants. This natural funnel is enough for grape vines to flourish so that wineries can produce some excellent wines. There is no better place to see this environmentally constructed design than at Stratvs Winery.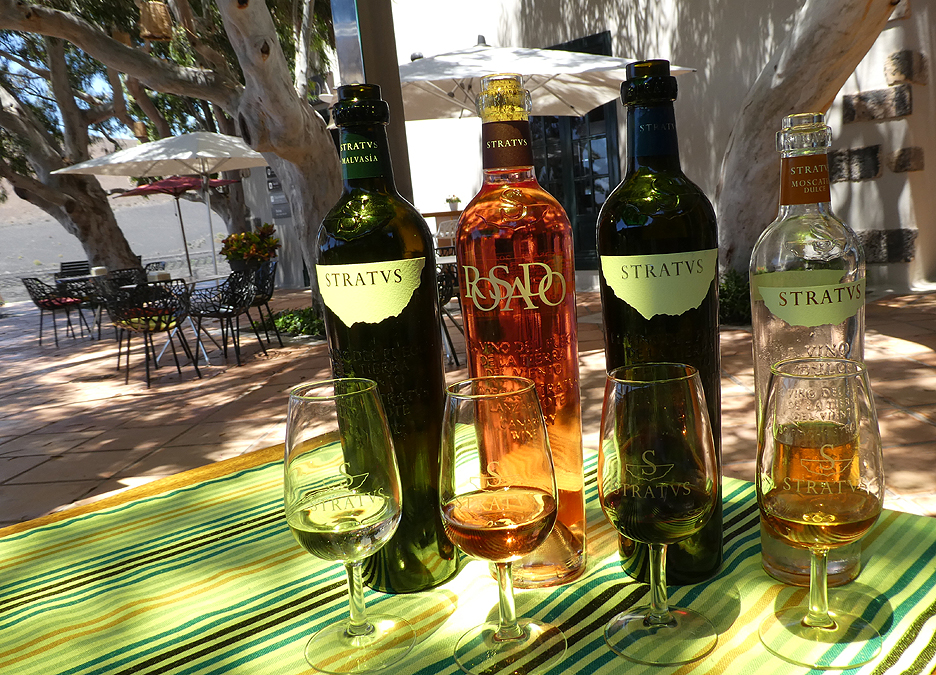 Located in La Geria, the wine growing region of Lanzarote, Stratvs Winery is an architectural gem surrounded by natural beauty. Their uniquely shaped bottles showcase their eminently drinkable, delicious wines. I'm a white wine fan, so their Malvasia white was my favorite, but their Tinto Joven is the rare red I would buy and drink again. You are well-advised to stop in for a tasting. While you are there, the restaurant is exceptional, and their shop is filled with unusual canned foods and gifts. Everything about Stratvs Winery says "quality."
But Stratvs Winery is not the most remarkable "hand-of-man" construction in Lanzarote. For that we must look to César Manrique Cabrera, Lanzarote's renowned artist, sculptor, architect, and designer. César Manrique (as he is known) had as much influence on the "look" of the entire island as Roberto Burle Marx had on Rio de Janeiro. (The white and black tiled sidewalks and squares paired with tropical plantings were Marx's trademark.)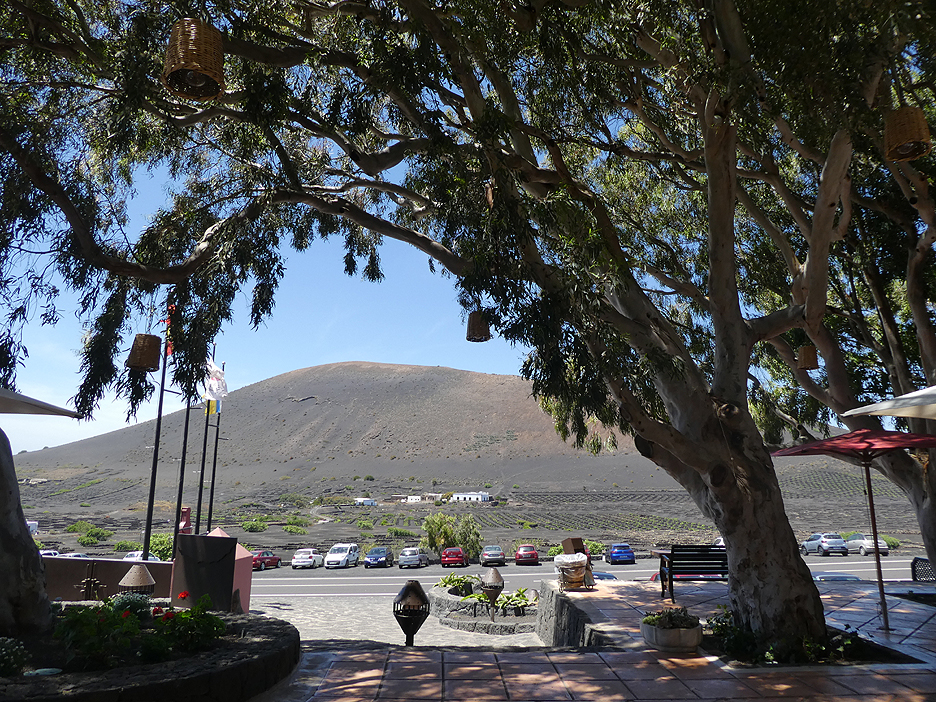 César Manrique is so completely tied to Lanzarote that even the airport is named after him. His concept of white houses, no more than 2 stories high, each with either green or blue trim, depending on location and use, was the model throughout Lanzarote. His commitment to environmentally sound construction and land use set the stage for the island's development. And stage is the right word for many reasons. César Manrique lived his storied life in the spotlight surrounded by glamorous people engaged in hedonism and debauchery, influence and intrigue. His two most dramatically visible accomplishments utilize lava tubes both large and small to mix art and nature, creating unique structures where his sculpture, paintings, and designs are dramatically displayed.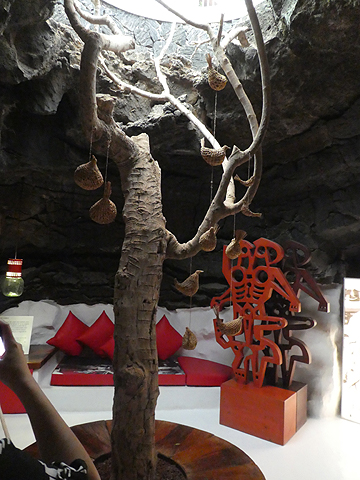 To understand his architecture, you first must know a bit about the geology of the area and the nature of volcanos. Lanzarote is an ancient volcanic island. Three hundred years ago it underwent a violent volcanic period (there are more than 300 volcanoes on the island) that covered large areas in lava and ash, vastly increasing the island's size. Lava flowing down the slopes and across the fertile farmland cooled on the outside, solidifying even as the hot lava still flowed inside. Then, as gases built up inside, some pockets exploded, while others expanded until eventually the roof collapsed, leaving holes in the lava tubes called jameos. What was left were expanses of underground tunnels with random sized jameos open to the sky. It was César Manrique who saw the value and beauty of these formations, turning them into underground living additions and creative spaces.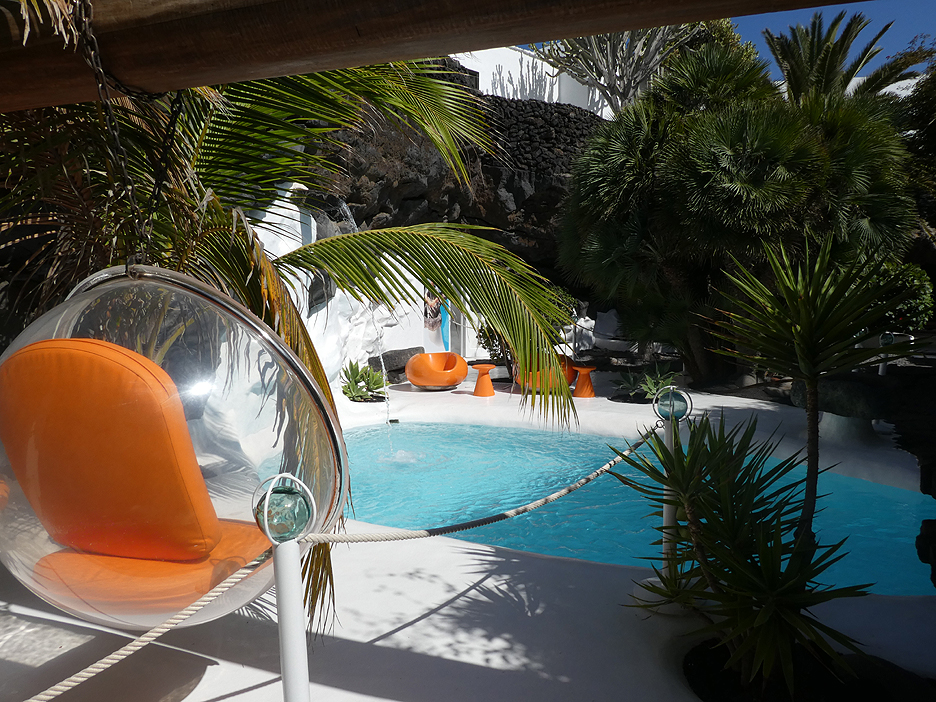 The César Manrique Foundation is where César Manrique lived before his death in a car accident in 1992. It is a more-or-less conventional house built over a lava tube with five jameos which he converted into rooms. Some open into covered living spaces while others into gardens and courtyards, the most dramatic housing an underground pool with waterfall, all connected by narrow passages of exposed lava. The underground rooms have small conversational areas, or trysting niches, if you are to believe the many photos on the walls. It is a hedonist's playhouse, with the framed images of same and opposite sex couplings leaving little to the imagination. It is wondrously beautiful stage for a talented and free-spirited man with a lust for life! (NOTE: the many steps and narrow passages may restrict the infirm, and the imagery may not be suitable for all ages.)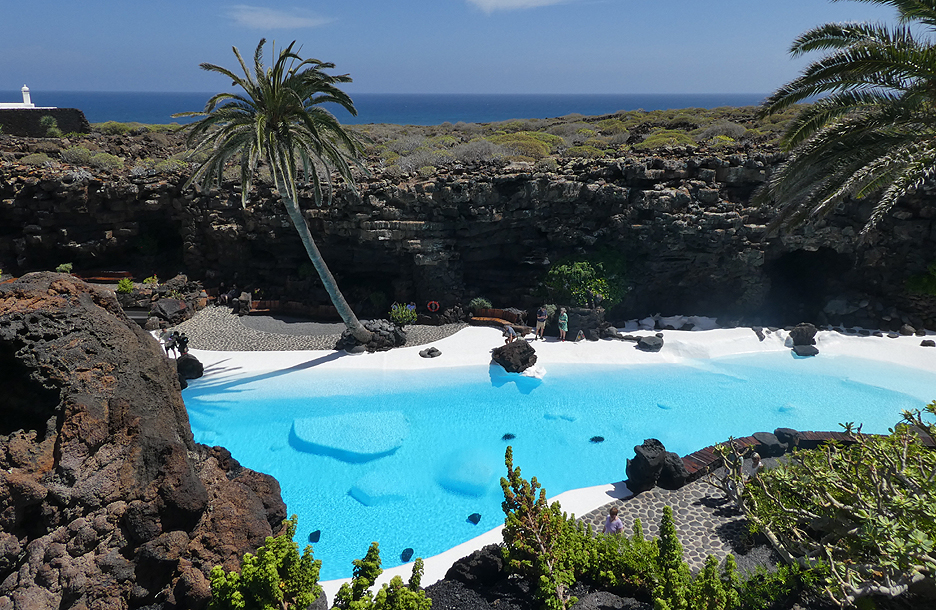 "Jameos del Agua", the first Art, Culture, and Tourist Center César Manrique created, is woven through and above a much larger lava tube. Its design exemplifies his belief that artistic creation should be in harmony with the environment and nature. It was completed in 1977, before the term "handicap accessible" was a consideration. The entrance is via a steep spiral staircase down into Jameo Chico, a rough-hewn levelish area that houses the open-air restaurant. A short tunnel off to the east goes to the sea. To the west are steps down to a subterranean tidal pool where white endangered Blind Crabs are located. Passing through that you'll climb up to the Jameo Grande where the most stunning swimming pool defiantly advertises No Swimming, yet begs to be swam in. It is a natural looking pool defined by the white painted smooth concrete separations César Manrique's designs are known for. Stairs up to ground level lead to a visitor's center of unusual and fun exhibits. The mirror room is not to be missed!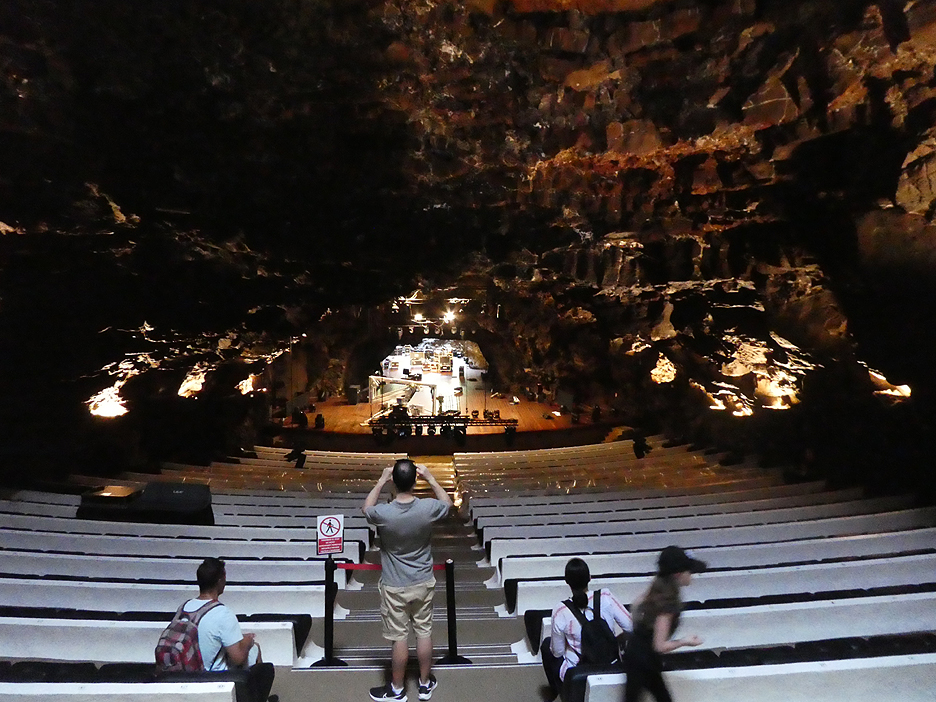 However, the crowning achievement of "Jameos del Agua" is just off the pool level, with steps down to an underground auditorium with excellent acoustics. Here, 550 people can hear classical and contemporary concerts in a natural setting, with seating sloping down to a stage set in a lava tube. The Auditorio Jameos del Agua is one of the many sites for the Canary Islands International Festival of Music held mid-January to mid-March every year. The auditorium is an artistic treasure linking the beauty of music to the beauty of nature in an environmentally sound way – the way all of César Manrique's projects do.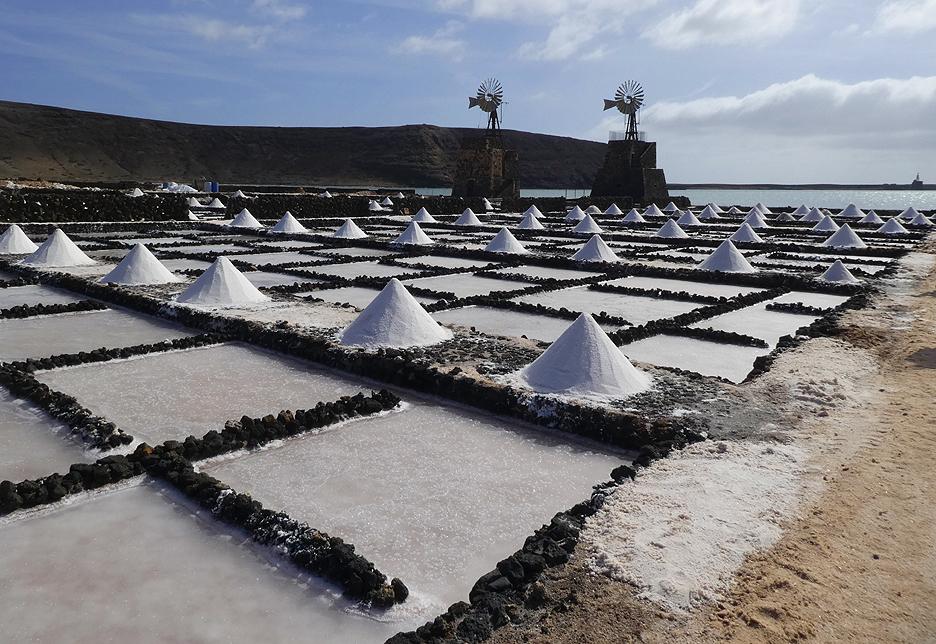 Other things to do in Lanzarote include taking a short ferry ride to the neighboring La Graciosa island to experience a more rustic and isolated retreat, with no paved roads and few residents; visit the extinct volcano caldera on the edge of the sea called the Green Lagoon; visit Janubio Salt Mine (really evaporation pools) the largest in the Canary Islands for a friendly, personal tour; hike into the caldera of Volcan del Cuervo on a mostly level and well maintained path in Timanfaya National Park; also in the Park, Devil's Kitchen should not be missed; and finally, eat and drink with abandon at the many fine wineries and restaurants.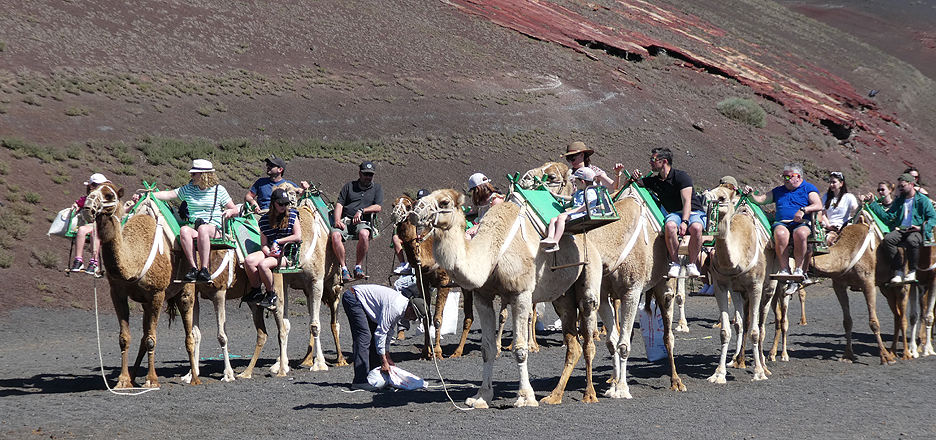 I think the best meal I had was at Bodega del Santiago, but overall, the food everywhere was great, although the beef was often overcooked. I also spent one night at the five-star Hotel Fariones and compiled a video of the hotels and restaurants so you can see them for yourself.
Whatever your passions or pleasures, you'll love visiting Lanzarote!