Story and photographs by Greg Aragon
Some destinations have a way of putting you in vacation mode the second you arrive. San Diego KOA Resort is one of these places. The moment we pulled into the campground, the sight of shimmering pool water, luxury cabins, rustic tent sites, and colorful RVs put me in a state of happy relaxation.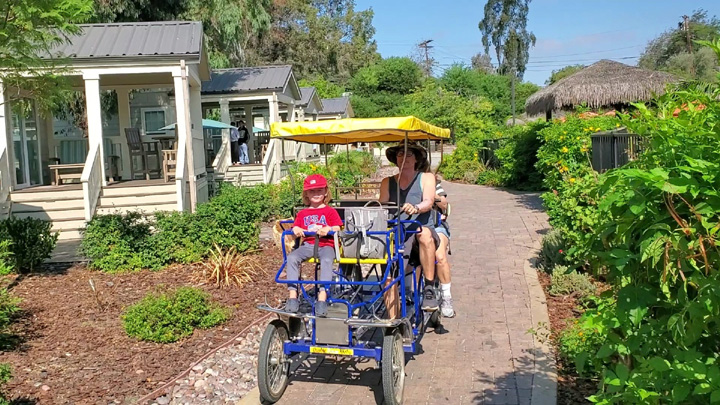 My recent fall getaway to the KOA began when we checked into a spacious Deluxe Cabin overlooking the pool. With enough room to sleep six people, the cabin came with a full bedroom, a small room with bunk beds, a loft with a bed, a bathroom with tub and shower, and full kitchen with fridge, microwave, coffee maker, stove and oven, pots and pans, silverware, and a small bar with chairs.
The cabin, which was more "glamping" than camping, also boasted a large wooden porch with couch and chairs, and a side yard with fire pit and a gas BBQ with a full tank of propane.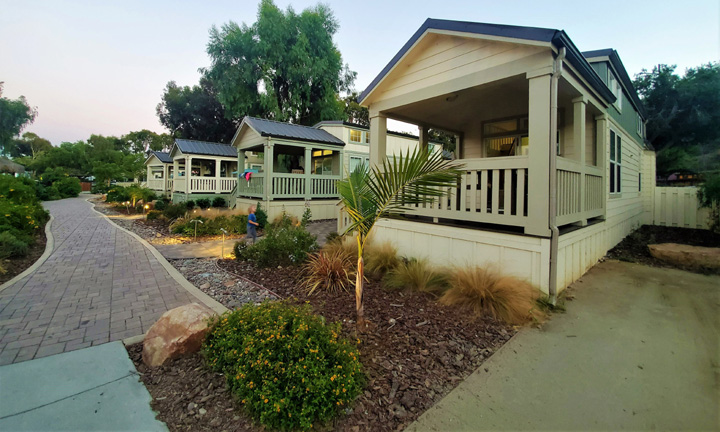 When not relaxing in the cabin, we had fun playing around the 40-acre campground, which offered everything we needed for a mini, three-day glamping adventure. We enjoyed renting a four-wheel bike, jumping on a giant bouncy pillow, mining for treasures, playing in a kiddie playground, sipping local beer, and lounging by the huge swimming pool.
Located a few steps from our cabin porch, the resort swimming pool was an oasis. The area is surrounded by lush trees and features a shallow walk-in ramp into the water that is perfect for little kids. The area also offers private cabanas and two Jacuzzis. Right behind the pool is a playground with sand, slides and a big play structure.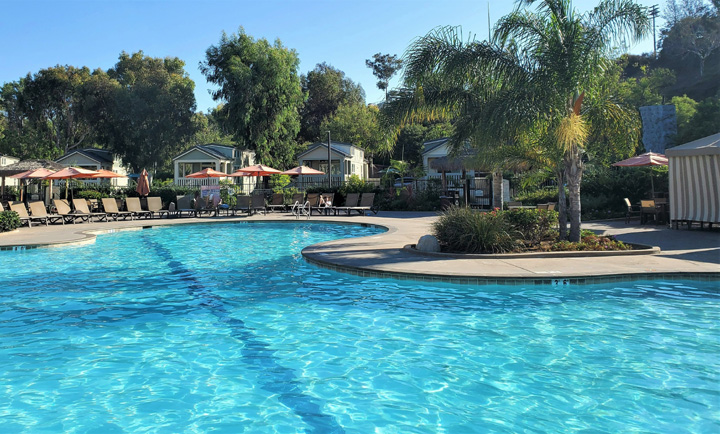 Next to the pool is the Kids Club, where parents can purchase fun arts and crafts for the little ones. This is where we rented a four-wheel surrey bike to thoroughly explore the campsite. For an hour each morning, we pedaled around the property admiring beautiful, new RVs and stopping to chat with friendly fellow campers. The bike has a steering wheel, four sets of pedals and enough seats for four adults and two small kids up front. Not only is the bike fun for the whole family, but it is also a great workout for the legs!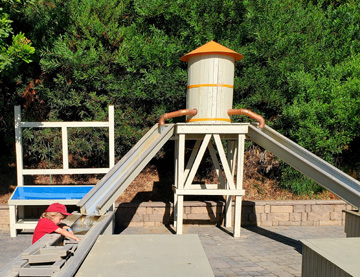 Another exciting adventure at KOA San Diego is the Beach Treasure Dig, a realistic little mining operation where kids can hunt for treasures. As water rushes down two ming flumes into tracks filled with sand, kids use sifters to find precious gems and other valuables. In our case, I hid some coins in the sand that my son was super thrilled to find.
After mining, we walked a few feet to the Sand Castle Cafe for fresh pizza and cold local beer. Featuring al fresco dining with a farm-to-table Southern California flare, the cafe serves warm baked goods, pancake breakfast, breakfast burritos, burgers, gourmet pizza, farm fresh salads and treats.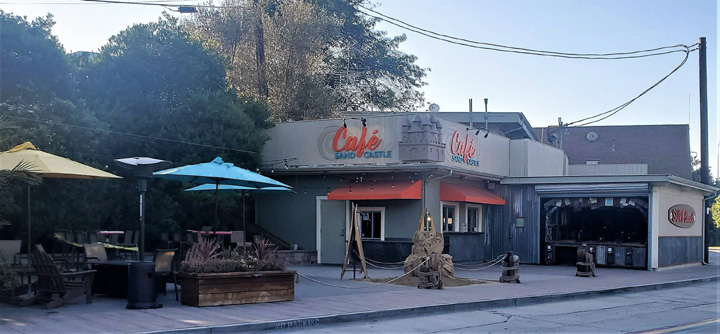 While eating I overheard two gentlemen behind us talking about the campsite and its history. They turned out to be Ted Bell and his son Mike, the owners of the KOA San Diego. Ted, who is 92 now, founded the campsite in 1968, while working as a police officer for the City of Chula Vista. Back then the camp was five acres with only a few dozen sites.
"When we opened up in 1968 we were kind of an outdoor motel for tourists coming to San Diego," says Mike Bell. "But in the late 80s into the 90 we started transitioning into recreation and family resort focused. And a lot of people that come to the campground these days come to stay and spend all of their time in the park. They are not going to Sea World or the zoo or the beaches."
Bell says that his guests now come from literally all over the world to experience San Diego weather and KOA comfort and outdoor charm.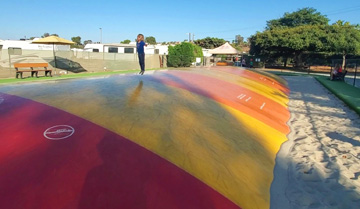 After talking with the Bell's we walked across the campsite to the giant red and yellow bouncy pillow. Measuring about 30 feet long by 15 feet wide, the air-filled pillow is like a big trampoline that makes you feel like you are jumping on mars. Next to here is a basketball court where I played a pick-up game with fellow campers.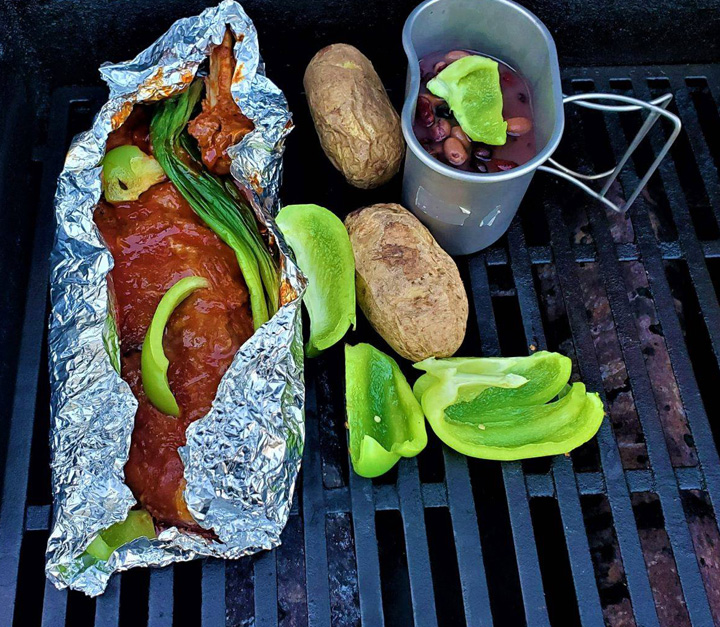 Back at the cabin, we fired up the BBQ that came fully-equipped with a tank of propane. For dinner we grilled baby back ribs, potatoes, beans and veggies. We then had a memorable meal outside on our patio. After dinner, we threw some wood in the firepit, grabbed some extra long skewers, and made smores with marshmallows, graham crackers and chocolate bars.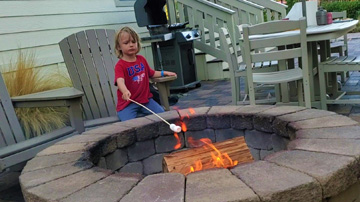 Whether you have an RV, a camper van, or a tent, or want to sleep in a deluxe cabin or a rustic hut, the San Diego KOA Campground is one of San Diego's most popular camping resorts and is a top-rated destination for family fun. The campground is located about 20 minutes from major San Diego attractions such as Sea World, The San Diego ZOO and San Diego Zoo's Safari Park. The campsite is also pet-friendly and boasts a 7000 square-foot dog park.
The San Diego KOA Resort is located at 111 North 2nd Avenue, Chula Vista, CA 91910. For reservations call 888-566-1165 or visit: www.koa.com/campgrounds/san-diego