In Part 3 of our series on Celebrity Hotel Rooms and Suites, we hand off the episodes to Traveling Boy writer extraordinaire, Stephen Brewer. His selections are devoted to screen legend Katherine Hepburn, surrealist and personality Salvador Dali, and current Hollywood A-lister Gwyneth Paltrow.
Celebrity Hotel Rooms and Suites, Part 3
Katharine Hepburn:
Rosellen Suites at Stanley Park, Vancouver, British Columbia – The Katharine Hepburn Penthouse Suite
I never lose sight of the fact that just being is fun. — Katharine Hepburn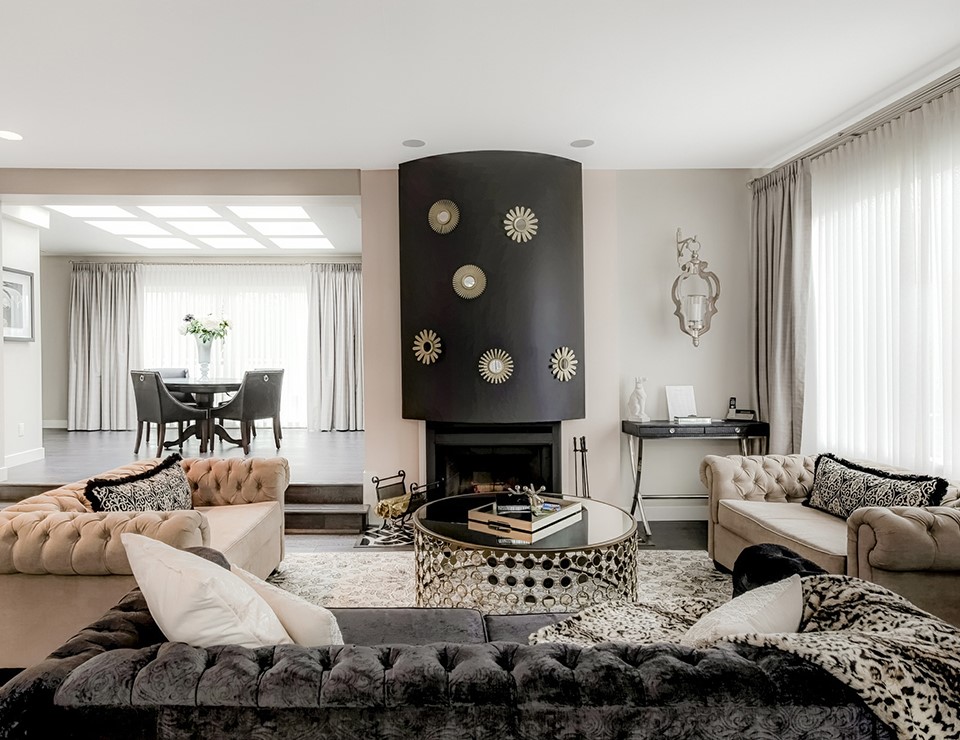 The Katharine Hepburn Penthouse Suite at Rosellen Suites, Stanley Park, Vancouver
Photo courtesy of Rosellen Suites.
Katharine Hepburn was an outdoorsy type. We saw her navigating the rapids in The African Queen and sharpshooting in Rooster Cogburn, and throughout the star's 60-plus-years-long career magazines and newspapers were filled with photos of her sailing, playing tennis, and plunging into the icy waters of the Long Island Sound.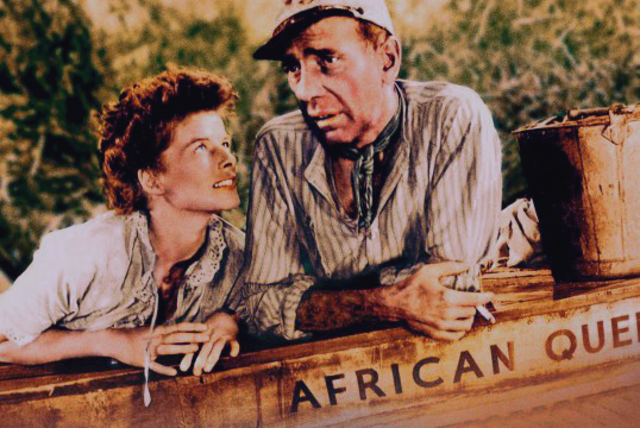 Yet by 1986, when Hepburn was nearing 80, she was content to enjoy the great outdoors from the comfort of a sprawling penthouse at the Rosellen Suites in Vancouver, British Columbia. She came to Vancouver that year to film Mrs. Delafield  Wants to Marry, a made-for-television romance in which she appears opposite the grandfatherly Harold Gould. The comfortably innocuous film was nominated for an Emmy but is fairly forgettable among Hepburn's big hits and Oscar-winning performances. The city, though, and these lodgings in the city's West End, were a smash with Hepburn. She fell in love with the sweeping views across Stanley Park and the harbor to the dramatic backdrop of the North Shore Mountains, and she returned to the suite many times over the years to soak them in.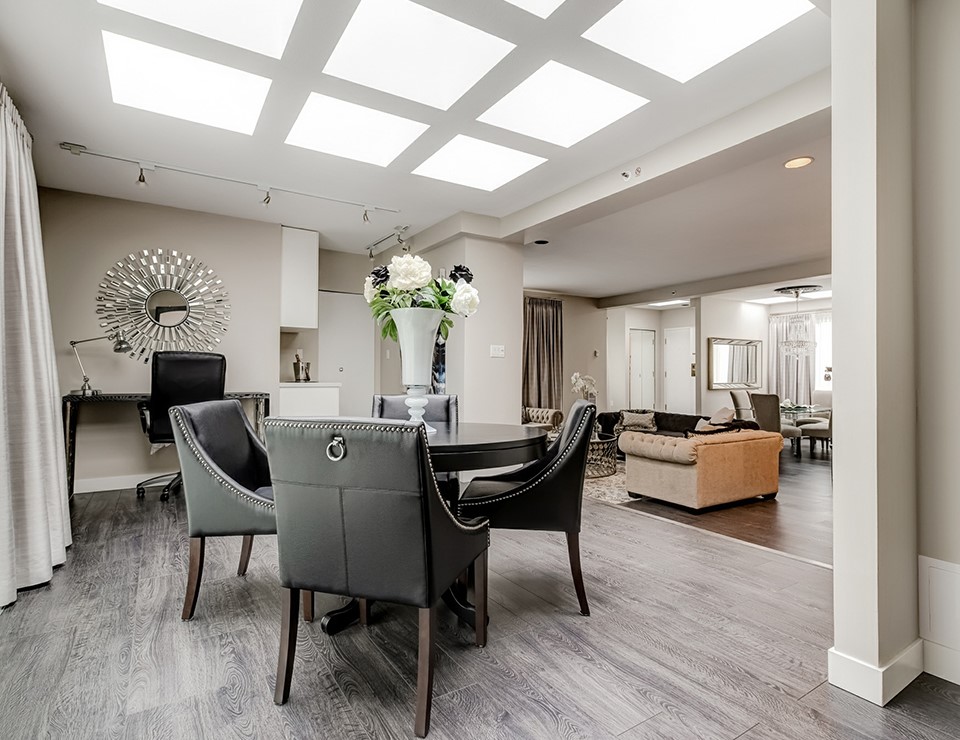 The dining area at the Katharine Hepburn Penthouse Suite at Rosellen Suites.
Photograph courtesy of Rosellen Suites.
Hepburn's two-bedroom, two-bath digs can make any guest feel like a star on a stage set. They spread across almost 2,000 square feet and open to a similarly sized terrace. Decor is pleasantly evocative of the Golden Age of Hollywood and might remind fans of Tess Harding's sleek apartment in Woman of the Year. A wood-burning fireplace fends off the chill when clouds and drizzle roll in across the Strait of Georgia, and a crowd of up to a hundred can comfortably gather around the wet bar in the expansive living room-dining room-study.
By all accounts, Hepburn was a gracious and well-mannered guest, and the hotel has honored her legacy by naming her favorite lodgings the Katherine Hepburn Penthouse Suite. For more information, contact www.rosellensuites.com.
Salvador Dali:
Le Meurice, Paris, France, Presidential Apartment Dali
There are some days when I think I'm going to die from an overdose of satisfaction. — Salvador Dali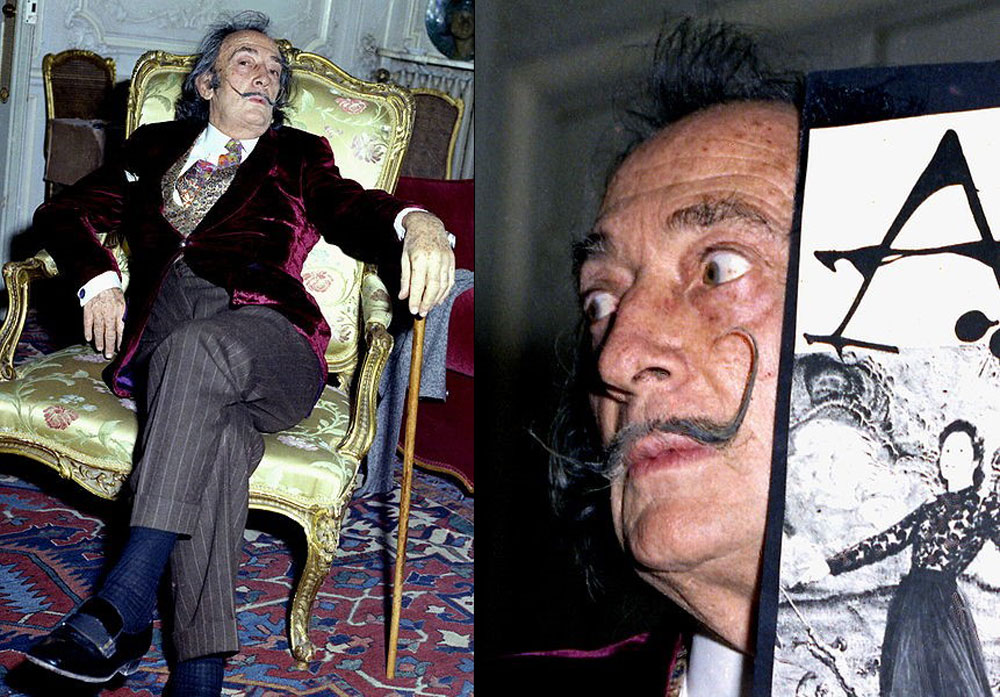 Portraits of Salvador Dali taken in his suite at the Hôtel Maurice in Paris. (1972). Photographs courtesy Hôtel Maurice.
Salvador Dali was a sensation from the time he arrived in Paris, in 1926 at the age of 22. The promising Spanish painter, accompanied by a pet ocelot, was soon consorting with Pablo Picasso, Joan Miró, René Magritte, and other avant-garde artists and thinkers. He showed off his many talents and unique vision in Un Chien Andalou (An Andalusian Dog) a film he directed with Luis Buñel in which a scene of a razor slicing through an eyeball has kept art-house audiences squirming in their seats since it's debut in 1929. The Persistence of Memory, his 1931 painting of melting pocket watches, is one of the most iconic works of surrealism.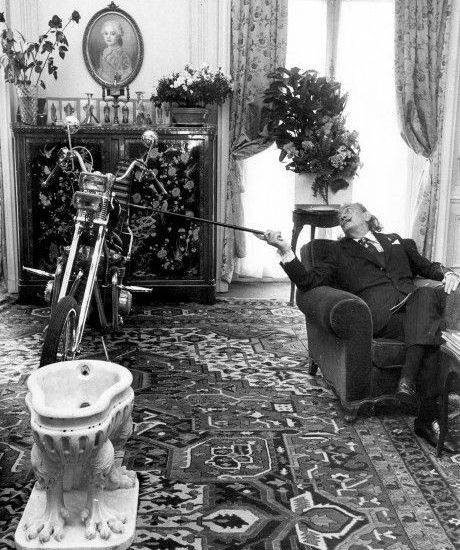 Dali, a famously eccentric figure on the international art scene until his death in 1989, returned from self-imposed exile in New York during World War II and occupied a suite at Le Meurice in Paris for a month or two a year for the next 30 years. His wife and muse, the Russian immigrant Elena Dmitrievna Diakonova, aka Gala, remained in her castle in Spain, where she enjoyed the companionship of much younger men and allowed Dali to visit only upon invitation. The Meurice staff was used to catering to Franklin D. Roosevelt, the duke and duchess of Windsor, a long list of kings and queens and other famous guests but none were as quirky as the artist with the flamboyant mustache.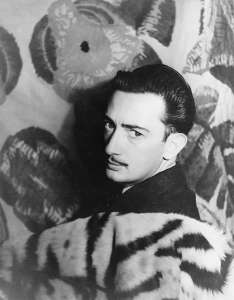 Dali shared his palatial quarters with a pet cheetah and, on one occasion, a flock of sheep, and he sometimes navigated the hallways on a bicycle. The ever-patient management reportedly drew the line and said no when the artist called the concierge and requested a horse be delivered to his quarters, but the staff gladly accepted the challenge when he offered 5 francs (about $1) for every live fly they caught in the adjoining Tuileries Gardens and brought up to the suite. The artist regularly presented autographed works as tips, and the wily bon vivant would write checks to pay for meals then draw doodles on them, knowing that no one would cash what was bound to become a valuable collector's item.
Dali's preferred quarters are now known as the Presidential Apartment Dali, with two reception rooms that, bedecked in 18th-century grandeur and filled with antiques and silk rugs on shining parquet floors, overlook the Tuileries through tall French windows. Rates begin at about $8,500 a night, and it's unlikely the management will accept one of your signed doodles as payment.
Gwyneth Paltrow:
Capri Palace, Jumeirah, Capri -The Presidential Paltrow Suite
What I've learned is I want to enjoy my life. — Gwyneth Paltrow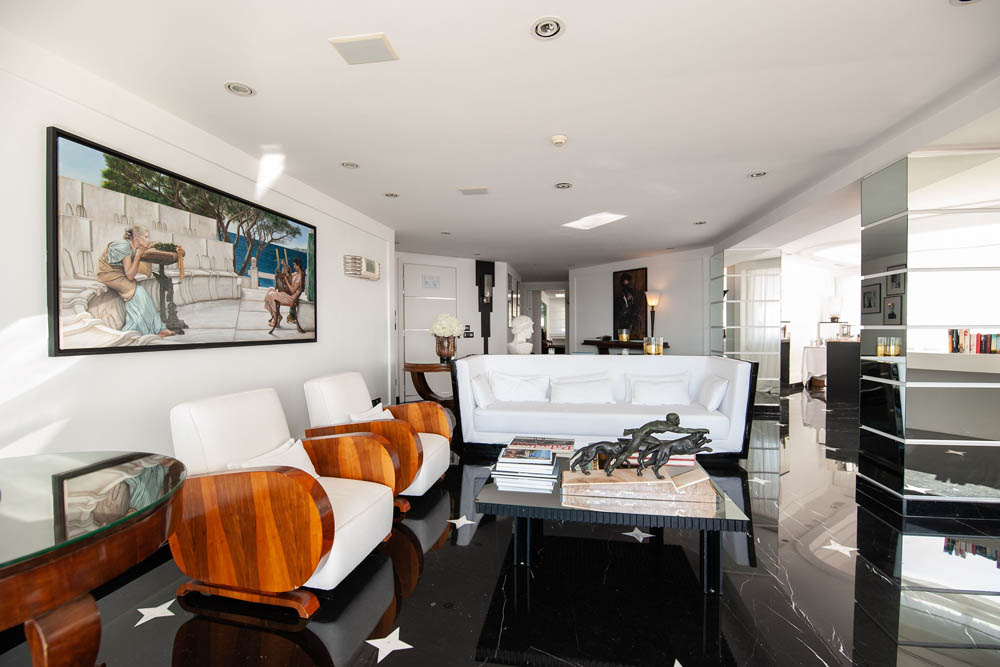 Gwyneth Paltrow smiled at me once, and we've stayed at the same hotel on Capri. The smile and hotel stays were not concurrent.
Gwyneth flashed me a big, friendly grin when we sat at adjoining tables at my favorite restaurant in New York City. This was a while ago, long before Gwyneth started promoting vagina-scented candles on her wellness website Goop and was a fresh young star getting acclaim for her performances in Emma and Shakespeare in Love. The friend with whom I was dining was also enjoying considerable fame as the author of a wildly popular book and he was convinced the smile was a sign of recognition from the actress, a knowing nod from one celeb to another. I took no small pleasure in bursting his balloon to explain that it was clear the actress was apologizing for the boisterous behavior of her companion, Ben Affleck, who in those pre-rehab days was sloppily inebriated.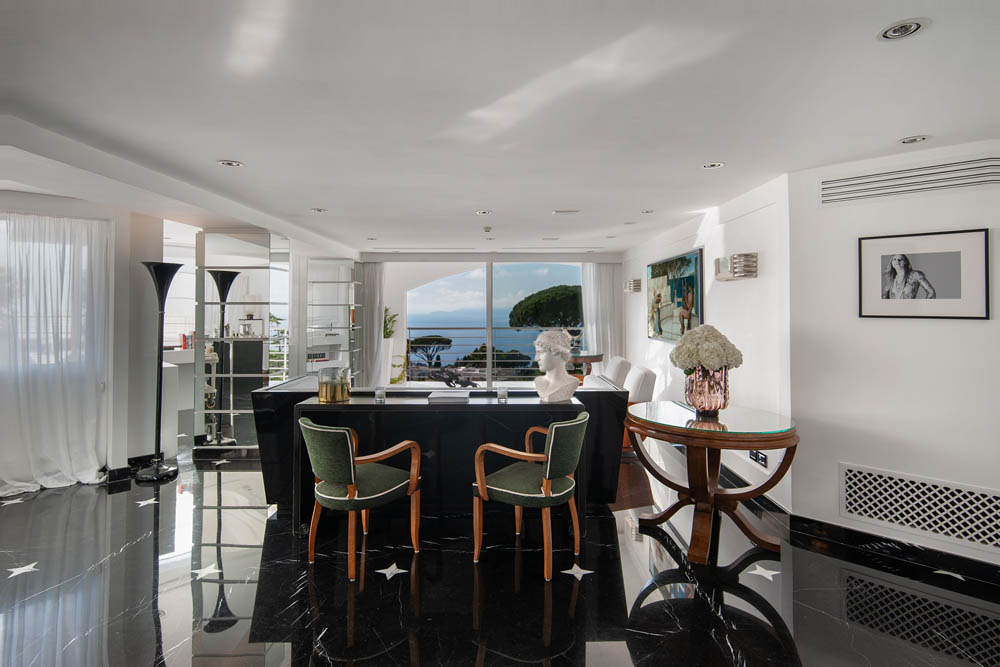 So, I felt a certain bond with Gwyneth when I learned that she has a suite named after her at the Capri Palace Hotel, where I have also stayed. My brief sojourn at the hotel in a garden-view double was delightful, but as far as I know my name does not adorn the door of a celebrity suite. My partner and I made our non-celeb status pretty clear from the moment we staggered into the soothing art-filled lobby, sweating and wrinkled after squeezing onto the compact bus that runs from the port up to Anacapri. It never occurred to me that the hotel would be sending a car to meet us at the boat. Meanwhile, the guest in front of me at the check-in desk was demanding to know the registration number and credentials of the helicopter pilot who was scheduled to whisk him up the coast to Rome. The polished and friendly staff extended the same solicitude to me when I said I would pass on hiring a private motor launch for a cruise around the island but would like to know where to board a rowboat for a ride through the Blue Grotto.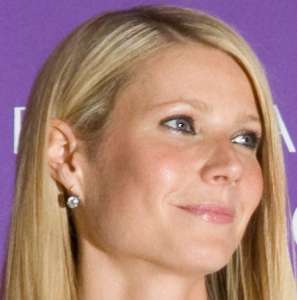 But back to Gwyneth. On Goop she has rather infamously claimed that water has feelings, too, just like us, and that sort-of- kinda makes sense when standing on the vast terrace of the Gwyneth Paltrow Suite looking across the shimmering Mediterranean. The watery love fest continues in the two private pools, and a portrait of Gwyneth stares up from the bottom of the larger of them. Guests, meanwhile, can look up to the heavens through a skylight above the bed in the marble-bedecked master bedroom that, like the rest of the sprawling spread, is designed to reflect "a new classy elegance," according to owner/manager Tonino Cacace. A night of stargazing in such style will set you back about $7,000 in high season. Hey, that's a bargain compared to the $18,000 a night Paltrow and her husband, Brad Falchuk, reportedly forked over for their honeymoon hideaway at the Four Seasons Hotel George V in Paris. For more information, contact www.capripalace.com.