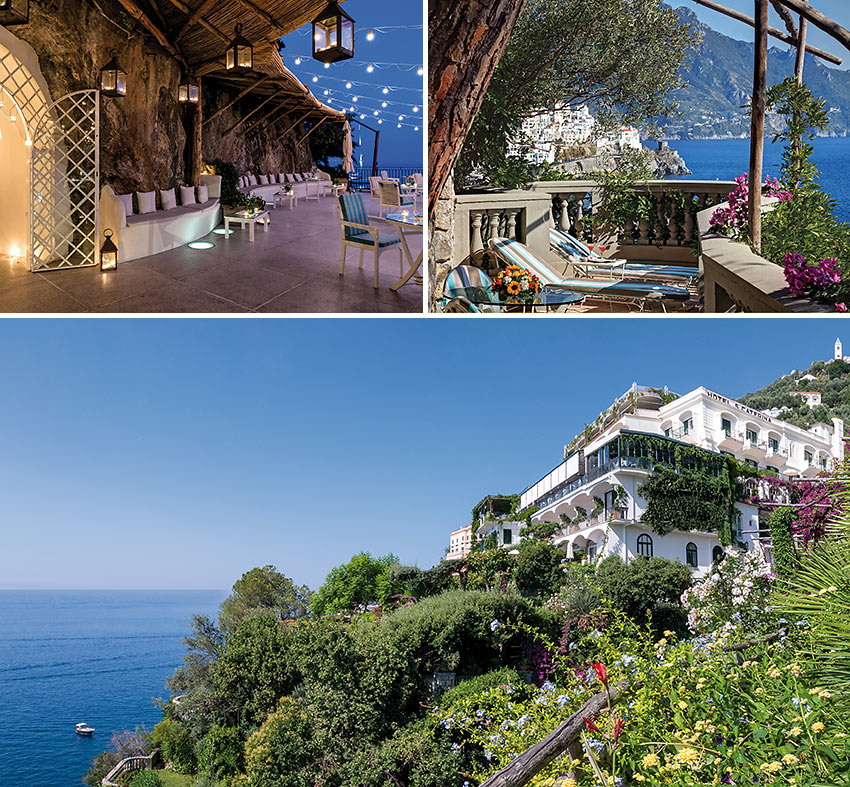 How was your journey? The Gambardella family, several generations of whom are usually on the scene, have been asking this question ever since they began welcoming guests to their villa-like retreat on the edge of a cliff along the legendary Amalfi Coast of southern Italy in 1904. It's understandable if some of their arrivals are at a loss to sum up the hair-raising trip along the famed Amalfi Drive. This narrow ribbon of pavement and hairpins floats hundreds of feet above the churning surf. The writer John Steinbeck described the route as "hooked and corkscrewed on the edge of nothing" and confessed that "in the back seat my wife and I lay clutched in each other's arms, weeping hysterically." Even so, he found the coast, where entire villages cling improbably to green hillsides that plunge into the blue Mediterranean, to be "a dream place that isn't quite real." Another writer, Gore Vidal, lived in a cliffside aerie in nearby Ravello, and he abandoned his typical churlishness to say he was blessed with "the most beautiful view in the world." You'll probably come to some of the same conclusions when you take a seat on one of the many terraces, sip a chilled Prosecco, and surrender to the sensation of being suspended here between sea and sky — or the sense that you've stumbled onto the set of a very stylish movie.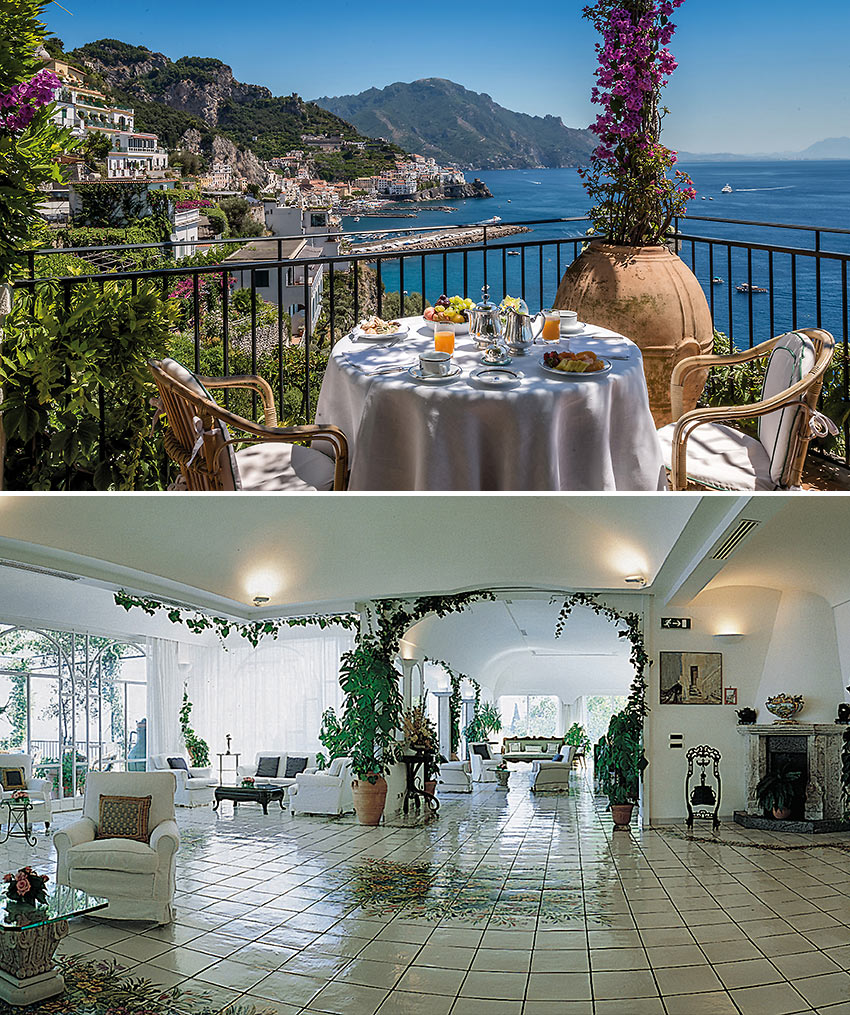 The Amalfi Coast is one of the most beautiful, glamorous, legendary, gossip-soaked strips of land anywhere, the haunt of film stars and poets, the rich and famous, exiled royals and pretenders, bigwigs and flaneurs, lovers and lotharios, and plenty of ordinary folks just looking to relax in style. Everyone feels right at home in these sprawling, tile-floored lounges and vine-laced dining rooms. In these swell surroundings you wouldn't be too surprised if the bejeweled woman at the next table purred, "Gimme a whisky . . . ginger ale on the side . . . and don't be stingy, baby," or if a well-tanned gent ordered a martini, shaken, not stirred. The white-jacketed attendants, who seem to know every guest by name, will be just as solicitous as you wrestle with a decision to have the sea bass salted and baked or simply grilled or if you should indulge in the lemon soufflé for dessert.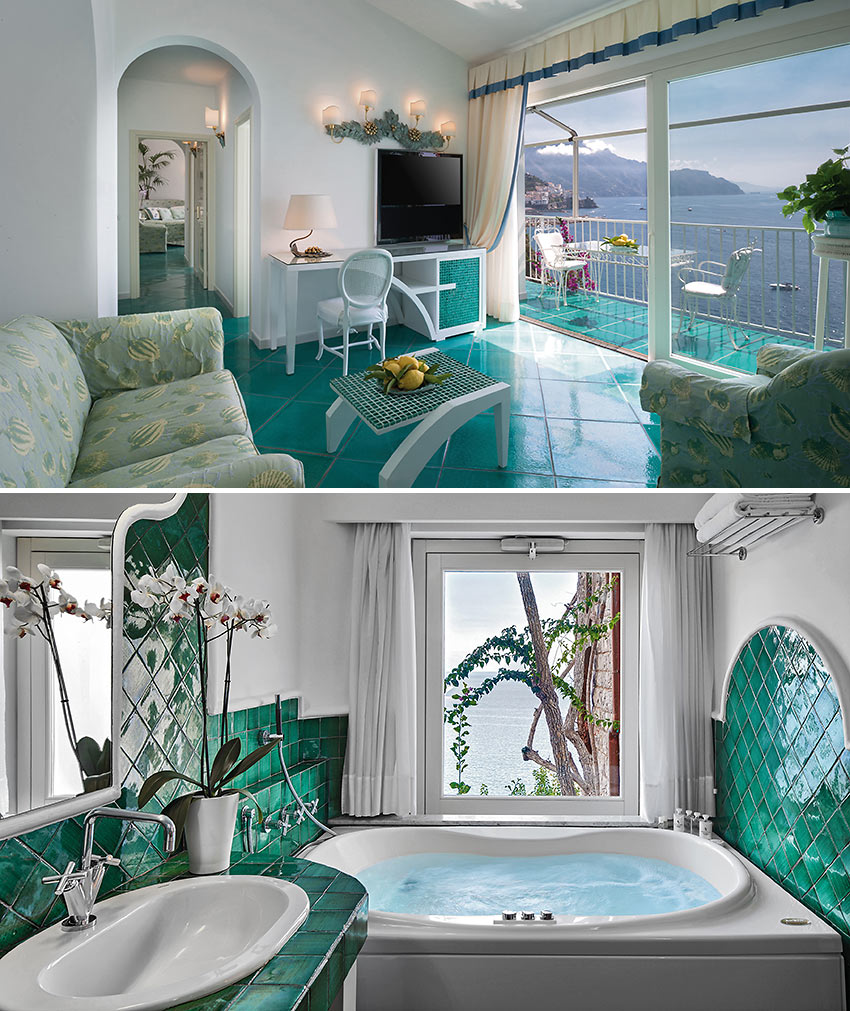 "I need something truly beautiful to look at in hotel rooms," said actress Vivien Leigh, who used to vacation in these parts. She would find plenty to admire in the 66 rooms and suites, each different, that ramble through the main house and are tucked into gardens fragrant with oranges and lemons. Furnishings are homey rather than ostentatious, enlivened with a smattering of family heirlooms, and warm whites are accented with Mediterranean hues that offset glistening hand-painted tile floors. Many of the deep bathtubs have sea views, and you might just be tempted to call room service and order a bottle of Champagne as you settle in for a long soak. These are the sorts of digs to which Greta Garbo yearned to retreat when in the film Grand Hotel she famously said, "I want to be alone." Actually, Garbo and her lover, the conductor Leopold Stokowski, once hid out in a villa up the mountainside in Ravello. They probably would have been just as content in the Giulietta e Romeo Chalet, a hidden garden cottage dripping with bougainvillea and jasmine, or for that matter any other accommodation here.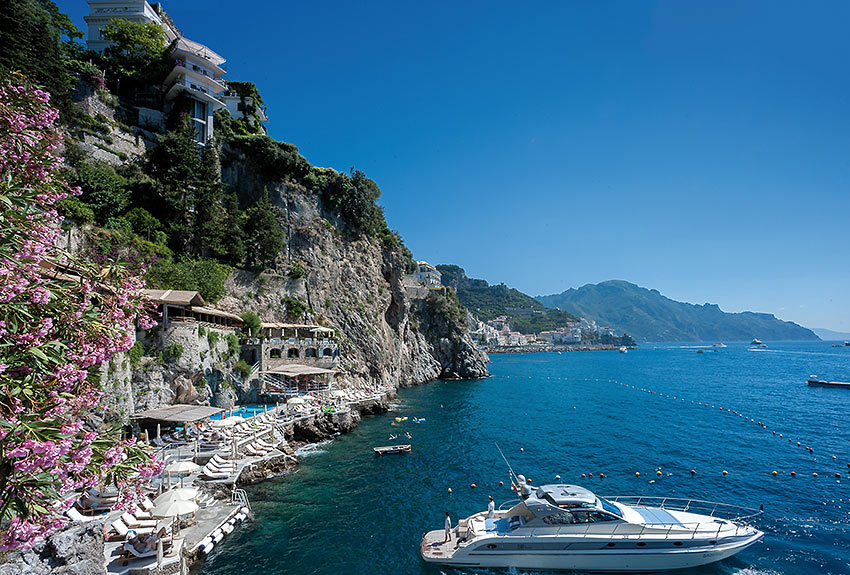 A Bond-worthy glassed-in elevator whooshes 10-stories down a rock face to a cove that shelters the beach club. You expect to run into Cary Grant and Grace Kelly down here, lying around in beach togs as they do in To Catch a Thief.  Adding to the laidback glamor is an army of Polo-attired attendants who appear with a towel and bottle of water the moment you climb out the sea or saltwater pool. Settle in with a house made Limoncello and you can almost see Odysseus sailing by—legend has it that as he plied these waters he had himself bound to the mast to prevent him from answering the lure of Sirens promising "love, sweeter than honey."  It's easy to understand how he might have succumbed to local pleasures. You might also imagine that you've stumbled into a scene from Evil Under the Sun. You know, the lush film of the Agatha Christie thriller in which Maggie Smith is a former actress and royal courtesan who looks after a bunch of spoiled toffs at her seaside villa-turned-guesthouse. Thing is, it's hard to imagine anything evil happening under this sun.
Hotel Santa Caterina is perched on a clifftop less than a mile outside Amalfi, at S.S. Amalfitana 9. The hotel is open from mid-April through early November. Visit their website for more information.