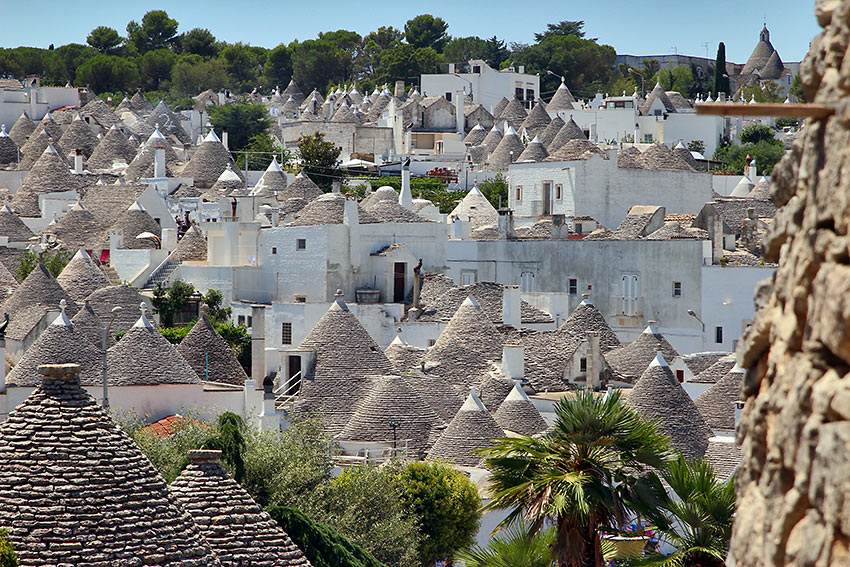 It's almost impossible not to fall under the spell of this dreamscape where round, domed houses known as trulli rise from gentle hillsides. Alberobello will make you feel like you've stepped into the pages of a fairy tale, but this small town in Italy's southeastern Puglia region is decidedly of this world, fashioned from limestone, surrounded by centuries-old vineyards and olive groves, and home to 11,000 residents. You probably won't be able to resist the urge to make a crack or two about hobbit houses and how "truly" extraordinary they are, but the Alberobellese have heard it all and they are proud to show off one of the most unique townscapes on the planet.
Domed Wonders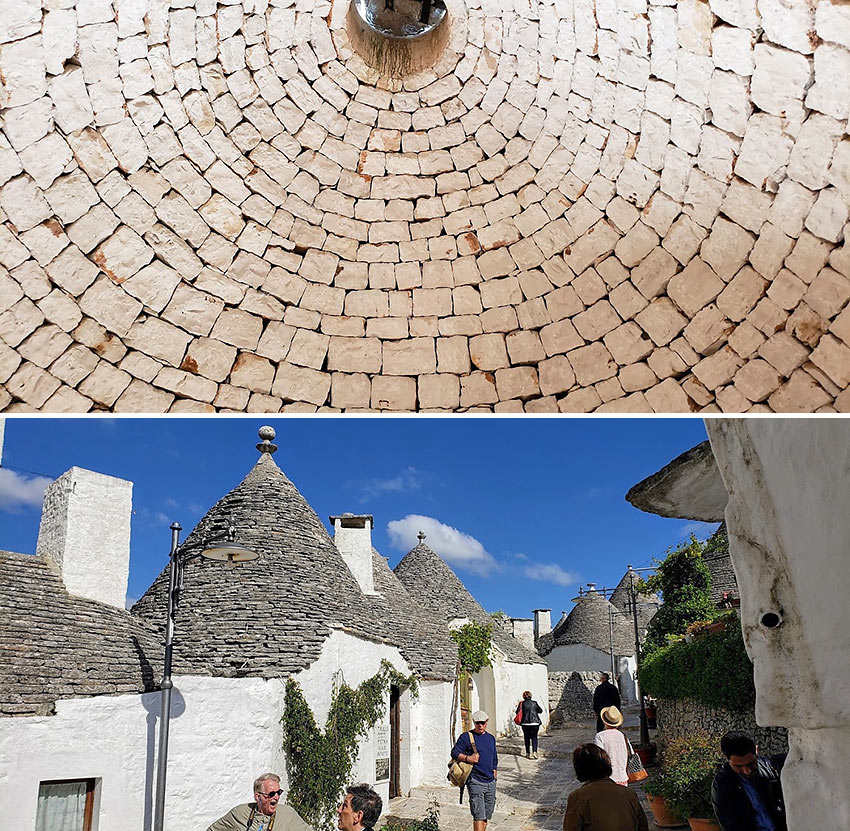 Some 1,600 trulli line the lanes of Alberobello's old quarters, Rione Monte and Aja Piccola, protected these days as a UNESCO World Heritage site. "How?" (as in "how on earth did this otherworldly place come to be?") is the first question that comes to mind as you meander into the maze and get a close up look at so many strange-looking whitewashed houses with domed, conical roofs (trullo is from the Greek word for dome). Whimsical as trulli seem, they are borne out of practicality, built without mortar from rough-cut local limestone. Materials for the stone walls and corbelled-slab domes were readily available, and masons could assemble houses quickly and easily. Just as important, they could disassemble them simply by removing a single stone — as local lore has it, a distinct advantage if the Naples-based royal treasury decided to impose taxes on householders. With news of an approaching tax collector the entire town could be made to disappear in Brigadoon-like fashion.
Look Up!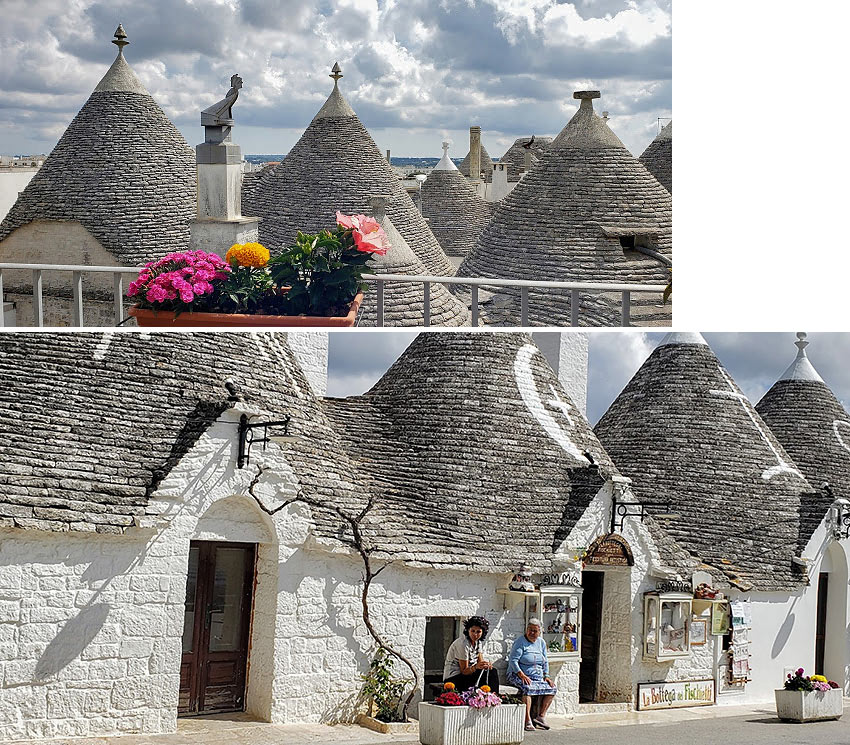 Designs of the pinnacles atop the domed roofs are marks of the masons who built the houses, and slabs are often painted with Christian and magic symbols. Shopkeepers have added modern decorative touches of their own, few more exuberantly than Anna Maria Matarese. She's filled her shop-in-a-trullo on Via Monte Pertica with fischietti, pottery whistles that include a Fiat weighted down with a family and their belongings. These days trulli also provide some cozily memorable dining experiences beneath their domes. Davide Girolamo of Trullo D'oro and other chefs around town serve delicious variations of cucina povera, or poor cooking, that make the most of local ingredients, though octopus served atop a bed of local fava beans and their other creations seem fit for a king.
One Dome, One Room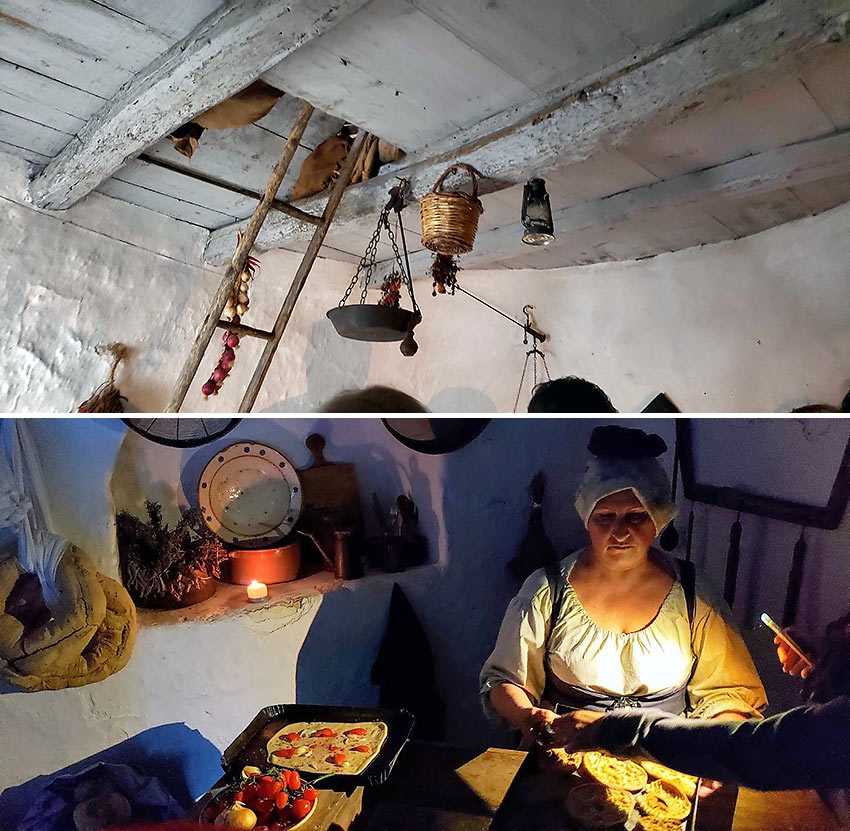 Most trulli consist of a single room beneath the domed roof. A peak inside a trullo, especially rewarding when this stage-set of a town mounts a historical reenactment, reveals the hardscrabble practicalities of trullo life — a large fireplace for heating and cooking, alcoves for sleeping, often a loft for storage above and a rainwater-filled cistern beneath the stone floor. A few break the mold with multiple domes and multiple rooms. Trullo Siamese was created when two brothers fell in love with the same woman and joined two trulli to accommodate their unusual living arrangement. Grandest of all is the Trullo Savrano, a complex of 12 little trulli surrounding a central, double-height trullo.
Into the Valle d'Itria and Beyond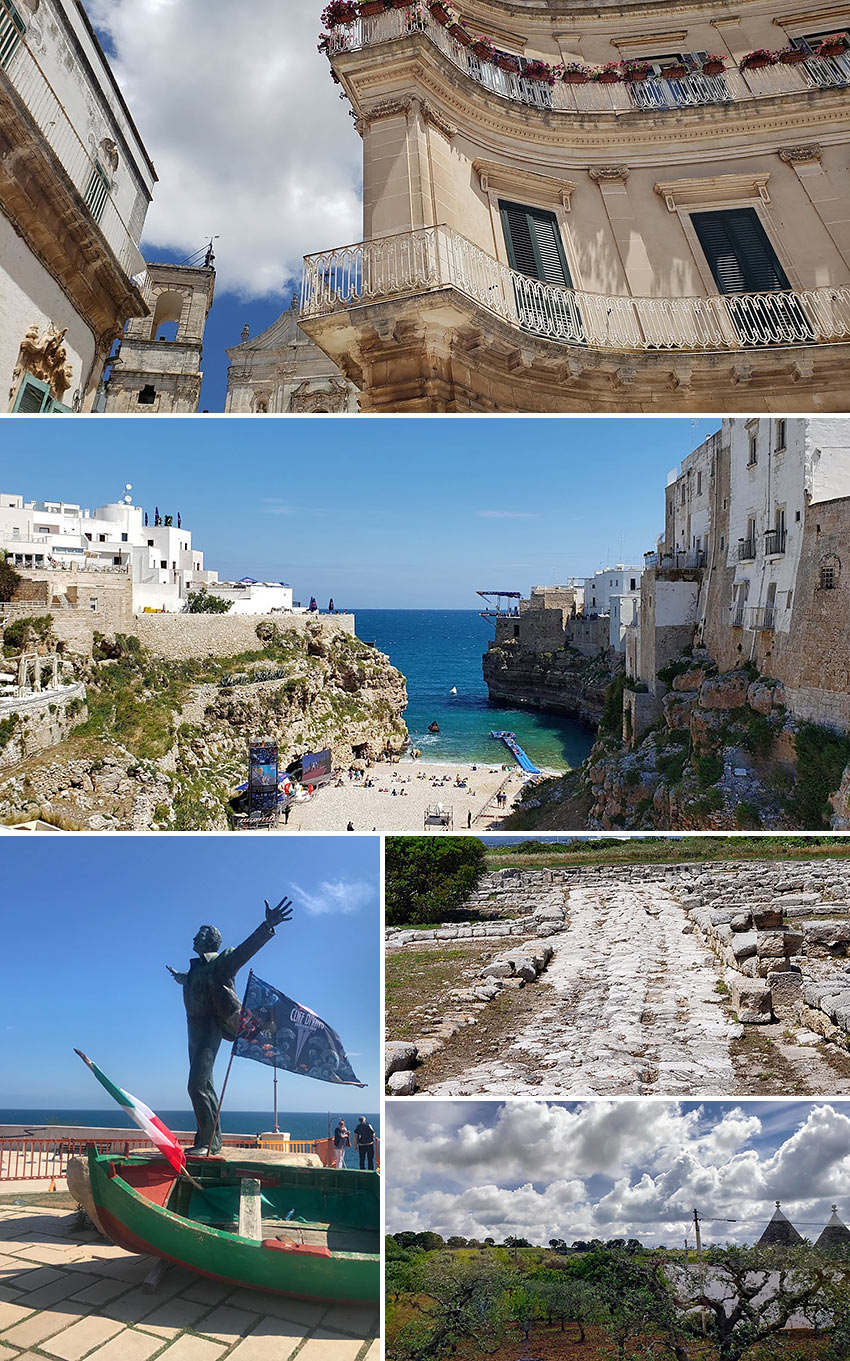 Beyond Alberobello, the Valle d'Itria dips and rises across rolling hills that here and there are topped with irresistibly picturesque città bianche, or white towns: Ceglie Messapica, Cisternino, Locorotondo, Martina Franca, and Ostuni. Each will lure you into a few hours of aimless wandering, as will Polignano a Mare on the coast. Polignano's narrow lanes open to seaside terraces perched above the crashing waves and a pebbly beach hemmed in by cliffs. Don't be surprised if the setting makes you feels as though you're taking flight into another realm — after all, Polignano's famous son is Domenico Mudugno,  honored with a statue, and these vistas of sea and sky inspired his song "Volare." Egnazia, farther down the coast, is an ancient Roman town bisected by the Via Traiana, the road that linked Rome with the port at Brindisi. One of Italy's many transporting archeological experiences is a descent into Egnazia's Tomb of the Pomegranates, from the 4th to 2nd century B.C. and entered through a stone door that still swings on its original hinges.
Among this abundance of sights, trulli steal the show. They stud fields and groves across the countryside, built on the spot from gathered stones to provide shelter and storage. Spotting one of these humble structures never fails to provide a world-class thrill.
For more information check out the Arteca website and the City of Alberobello website.
Stephen Brewer is an author of Frommer's Italy and many other guidebooks.
Elyse Weiner is an Emmy Award-winning network news producer and executive, and the creator of iJOURNEYS audio walking tours of cities across Europe.