In Palermo, Arab craftsmen carpeted the Norman palace with glittering mosaics and 18th-century artisan Giacomo Serpotta fashioned fanciful scenes from stucco in chapels around the city. Few interiors in the exotic, enchanting, and at times exasperating capital of Sicily, though, are as enchanting as the stately dining room of the Palazzo Lanza Tomasi, near the seafront in the old Arab Kalsa quarter. A seat at this well-polished, convivial table comes with A Day Cooking with the Duchess classes, combining literary pilgrimage, the multilayered exoticism of Sicilian cuisine and culture, and the not-soon-to-be-forgotten acquaintance of Gioacchino and Nicoletta Tomasi, the duke and duchess of Palma di Montechiaro. The duke is a musicologist, opera-house manager and author whose adoptive father, Giuseppe Tomasi di Lampedusa, wrote the most highly acclaimed and successful work of 20th-century Italian literature, The Leopard. His Venetian-born duchess is a Russian scholar, multi-linguist, noted authority on Sicilian cooking, and an engaging guide to her adopted city.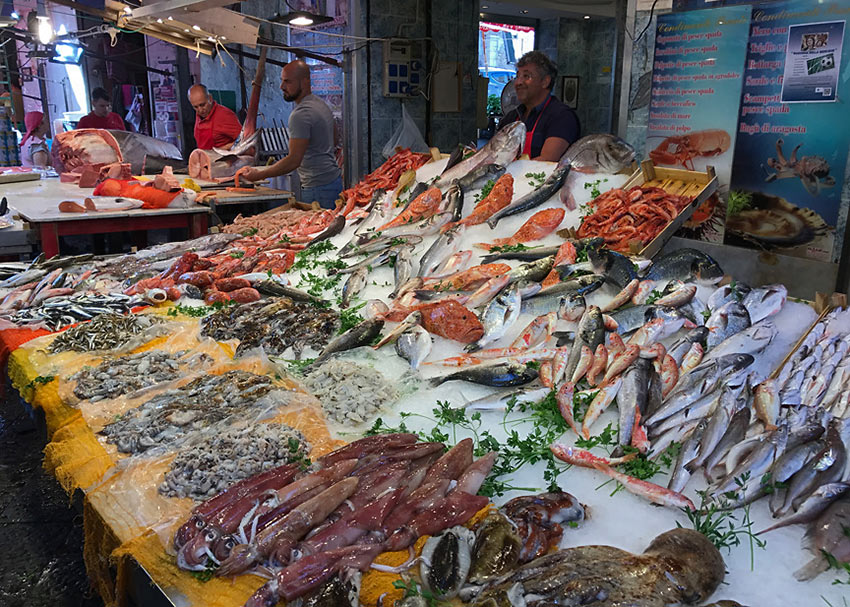 We begin the day following the duchess through the narrow passages of the vibrant, noisy Capo market. Nicoletta navigates the stalls with the assurance of a regular, explaining that in Sicily a market goer only frequents certain vendors with whom a rapport is well established. "In return for my loyalty they take care of me," she explains, as she examines the freshness of an enormous tuna, caught that very morning off the island's west coast. "I know that when I ask them to filet this fish they will not substitute it with an inferior piece." Nicoletta shares insights into these codes of Palermitani behavior as we fill bags with almonds and lemons and inspect mountains of tomatoes and eggplants. She tells us about fairly recent times when pickpocketing was so rife that the police set up bureaus in tourist hotels to help victims replace their lost documents. "The idea of trying to stop the thefts did not even seem to be an option," she says with a smile of resignation. Then she takes an unexpected turn into an alley to show off a brilliant Art Nouveau mosaic, gleaming on a broken facade that stands like a skeleton amid a field of rubble.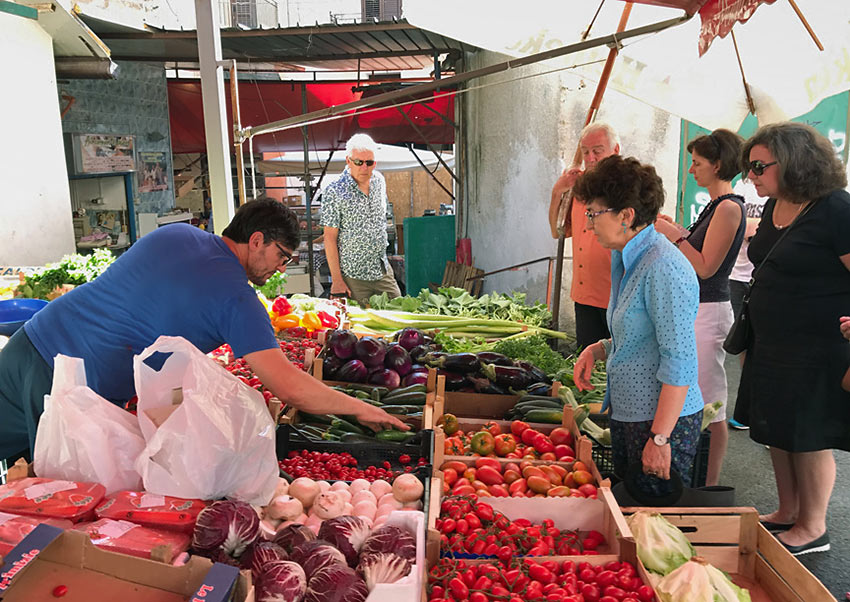 Many ruins like this still litter the old city, where Allied bombs leveled streets of fine old palaces in 1943. Others were damaged but have been splendidly restored, and some have been left to molder, their marble staircases and fine woodwork either lost to the elements or carted off by scavengers. The Palazzo Lanza Tomasi survived the bombings relatively intact if a bit the worse for wear. Gioacchino began restoring the palace in the 1970s, dislodging hens from the courtyard and eventually reclaiming a labyrinth of rooms. Now, above family living quarters and a floor of stately salons are 12 charming apartments that the duke and duchess rent to short-term guests.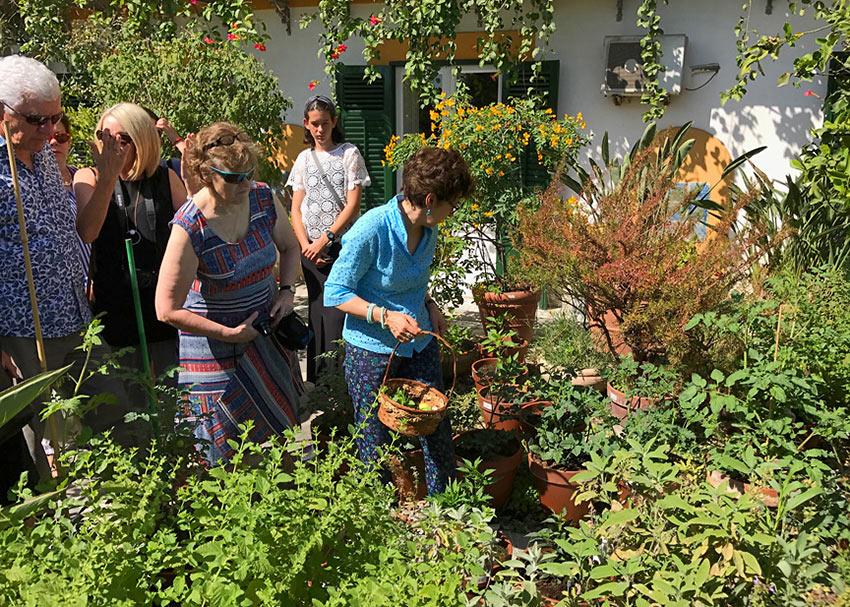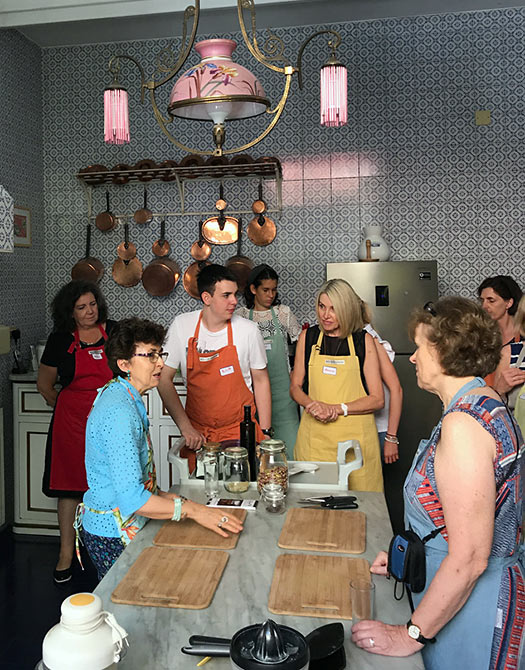 In the palace garden, flourishing beneath lemon and palm trees on an enormous sea-facing terrace built atop Spanish ramparts, we gather herbs and jasmine flowers, ingredients for the lunch we will prepare. Nicoletta walks us through her living room, a casually aristocratic-looking assemblage of comfy, slipcovered couches and armchairs and fine old tables piled high with books, then up a back staircase to the blue-tiled palace kitchen. There, she delegates tasks as we prepare dishes that combine raisins, almonds, currants, cinnamon, and other ingredients of a cuisine that merges the island's Arab, Spanish, and French heritage. Her repertoire consists mostly of local dishes she's encountered around the island. One team chops basil for Pasta col Pesto alla Trapanese, a deliciously simple concoction with almonds, tomatoes, and toasted breadcrumbs that the duchess came across 30 years ago on the terrace of the Albergo Paradiso on the island of Levanzo, off Trapani. Another group prepares a thick chickpea batter for panelle. Nicoletta's special technique for this street-food staple is to scoop the batter into a narrow can from which both ends have been removed and slowly push it through the oiled cylinder and out one end, cutting it into thin slices that are then fried in oil to puffy, golden perfection. We mash anchovies with mint and pistachios and stuff this aromatic paste into slits we pierce in an enormous slab of tuna. No food could be more Sicilian than tuna, Nicoletta explains. Greek colonists were catching these giants 3,000 years ago, though fishermen no longer stage the ages-old mattanza, in which they lured the fish into mazelike labyrinths of nets and butchered them in a bloody frenzy. Dessert is a biancomangiare, a sweet almond-milk pudding garnished with zuccata (candied pumpkin), more pistachios, and jasmine flowers we've gathered in the garden.
Our creations seem impressively lavish as white-jacketed footmen serve us in the elegant dining room, where sunlight gleams off the Mediterranean and bathes creamy walls, oil paintings, Murano chandeliers, and majolica. The duke is an engaging conversationalist who glides easily and assuredly from one topic to another, a staging of the Benjamin Britten opera Peter Grimes to the clumsy restoration of La Zisa, the Norman pleasure palace at the edge of the city where an elderly princely cousin once lived, to the maddening quirks of the little elevator he's installed in one corner of the courtyard. Nicoletta tells the story of the palazzo, where in the mid 19th-century Prince Giulio Fabrizio used to retreat to observe the stars over the sea. He was the great-grandfather of Giuseppi Tomasi di Lampedusa and the model for The Leopard's main character, the nobleman Don Fabrizio Corbera, Prince of Salina, who witnesses his way of life changing with the Risorgimento. The historical and psychological upheaval is summed up in what is perhaps the novel's most famous line, "Everything must change for everything to remain the same." The author moved to this palace in 1943, when bombs leveled his childhood home, the grander Palazzo Lampedusa. He and his wife, Licy, a noblewoman and psychoanalyst who lost her estate in the Baltics to the Nazis then the Soviet army, lived in a few habitable rooms amid dripping ceilings and collapsing walls. They shared a deep longing for the lost homes of their childhoods, and Tomasi di Lampedusa evoked his sprawling ancestral seat in The Leopard with "A house of which one knew every room wasn't worth living in." He spent his days in cafes reading and writing and died of lung cancer in 1957, a year before his novel was published.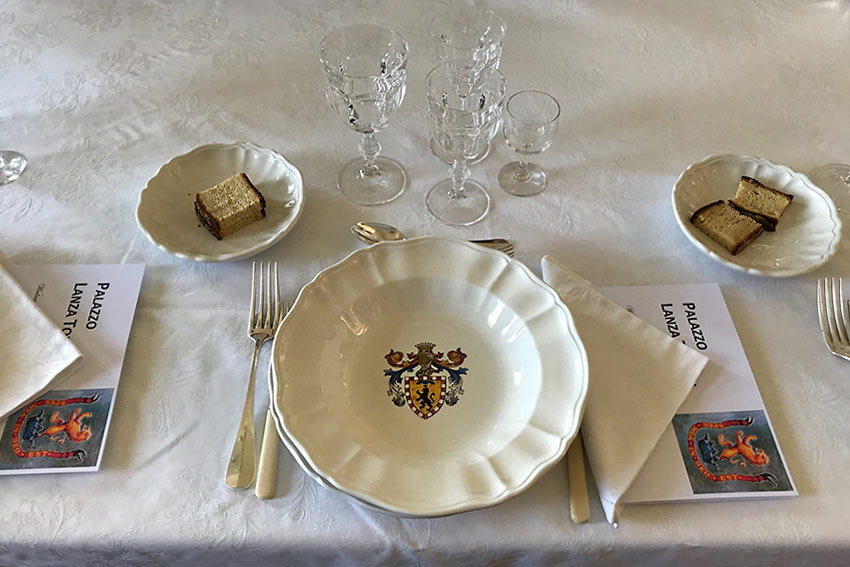 After lunch the duke and duchess walk us through a suite of salons and libraries, showing off furnishings from various family palaces and sharing stories: of the duke's fun-loving mother, daughter of a Spanish diplomat and granddaughter of the governor of Cuba, a grandmother whose pet panther used to jump over the garden walls of her Roman villa, a branch that includes saints and mystics. Pride of place belongs to the typewritten manuscript that made its way around Italy's leading publishing houses before Feltrinelli brought out The Leopard to immediate acclaim in 1958. Luchiano Visconti directed a lavish, color-saturated 1963 film starring Burt Lancaster as the prince, and a ballroom scene was shot in the Palazzo Valguarnera-Gangi, just a few blocks away on the pretty Piazza Croce dei Vespri. The novel and film and their Sicilian settings are lush and transporting, but not more so than a day with this amiable duchess in her palace.
A Day Cooking with the Duchess classes cost about $180 a person, including a market expedition, instruction, lunch, and a tour of the palace. Large, character-filled apartments, all with fully equipped kitchens and some with terraces and sea views, sleep from two to six guests and rent from about $95 a night. Visit this site for more information.