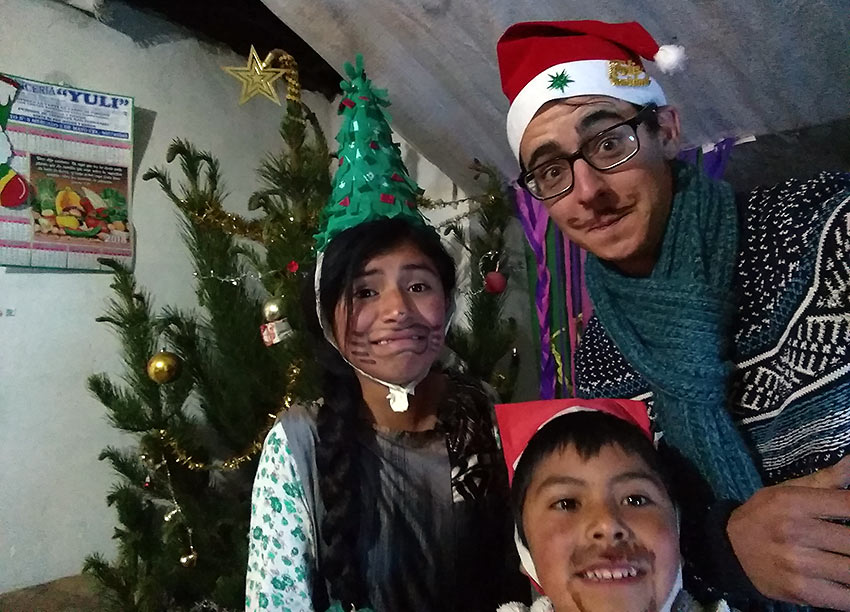 Merry Christmas and Happy New Year from my home in Peru!
For many volunteers, the holidays can be the most difficult time of the year. We miss comfy sofas, lazy mornings with coffee and a book, and most of all — family and friends. Personally, despite studying in a different state and two different countries, I've been privileged to never miss a Christmas at home with my family. Until this year, I was not aware of the comfort and joy that familiar friends, family, and traditions can bring during the holiday season.
Although muy tarde, I want to share a few Peruvian customs and traditions and my Christmas experience with my host family. My perspective is admittedly narrow, but I hope you learn something new about Peru. [Imagine visiting the U.S. from a foreign country, spending Christmas with one family in one town, and reporting on what you learned. Undoubtedly, many customs and nuances would go unnoticed or overlooked.]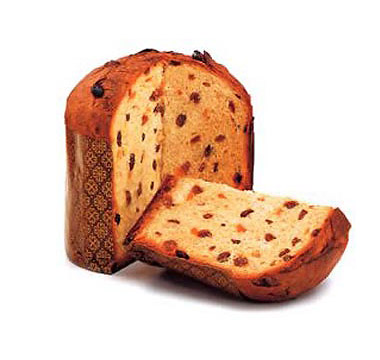 My host grandpa has informed me that Christmas hasn't always been the same here. When he was a kid, the holiday was hardly celebrated, at least not in the fashion it is now. Surely due to influence from the U.S., commercialization, and advertising, new traditions began to arise. Some of these more recent traditions probably include Christmas trees, Papá Noel, and gift exchanges.
In Peru, two words define the holiday season — panetón y chocolate. Panetón, or fruit cake, is given as gifts, distributed at parties, eaten for breakfast (and/or dinner), and altogether loved to the max, especially alongside a cup of chocolate (hot chocolate). I don't think I had ever tried fruit cake before coming to Peru, yet I came to enjoy the citrusy bread and its interesting gummy fruits. While the debate rages on among volunteers over whether panetón is the best part of the day or belongs in the garbage, we all agree it cannot be avoided.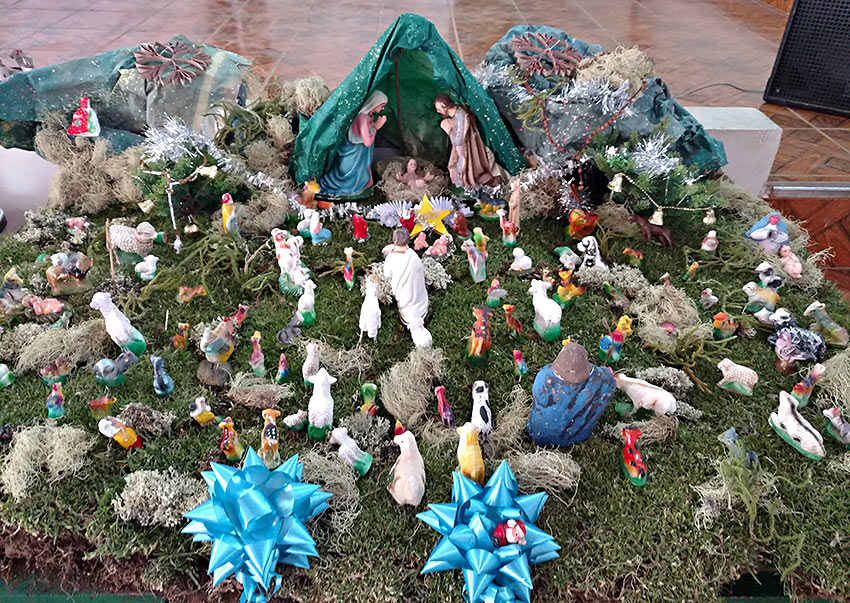 Aside from food, one of the older and most important traditions here in Peru is the nativity scene. In every home, business, and organization you will find a nativity set. Many are placed on a platform of real grass, fill up a whole corner of a room, and include upwards of 50 tiny statues of animals or people. Looking closely, you might be surprised to see that the manger is oddly empty. Then you remember — of course — Jesus isn't born until Christmas! Like a gift in your stocking, you won't find baby Jesus in the manger until Christmas morning.
Overall, the heart of the celebration is Christmas Eve, or Noche Buena. Most Peruvians stay up until midnight, place baby Jesus in the nativity scene, and enjoy a special dinner as Christmas morning arrives. Then, in classic Peruvian style, the party might continue until the sun comes up.
Despite the advertising and chatter surrounding the season, Christmas doesn't dominate other holidays as it seems to in the U.S. While Christmas Eve and Christmas Day come and go rather quietly, many local festivals and national holidays last for weeks or even months.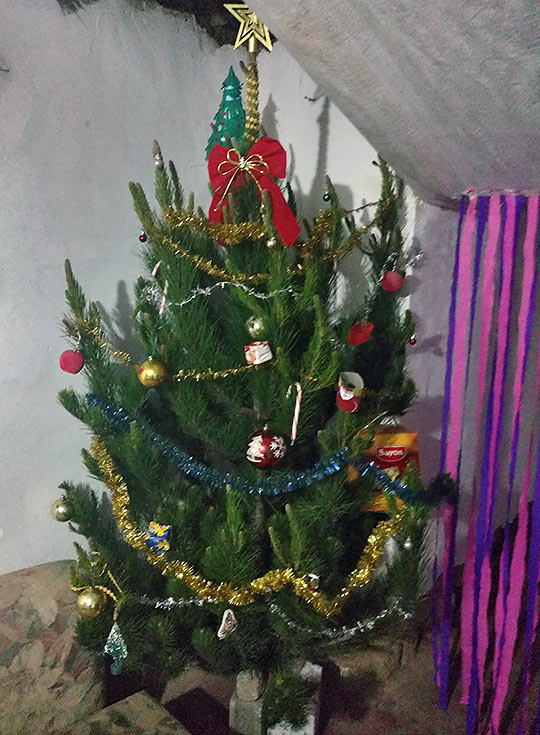 My family's Christmas was similarly tranquilo. As the day approached, I was filled with certain expectations of traditions and meaningful memories — Christmas like I've experienced it in the past. I quickly realized I had to let go of these expectations. With new traditions and without my U.S. family it simply would not be the same — something I had to be okay with.
My family and I spent the holidays in our own relaxed way. We cut off the top of a small pine tree as our arbolito de Navidad and decorated it with ornaments. The fresh evergreen smell gave our kitchen a real Christmas feel. My host sister and I also decorated the ceiling with streamers. We listened to Christmas carols put to both classic tunes and traditional Peruvian music and practiced dances to accompany them.
On Noche Buena, we prepared a tasty pork dinner, and my host dad's prayer for all our absent family members brought tears to our eyes. Accustomed to going to bed and waking up early, we decided not to stay up until midnight. We shot off our fireworks early and headed to bed.
In this moment, I missed home the most, especially the sharing of gifts around the Christmas tree and our traditional candlelit dinner. Rather than feel sorry for myself, I decided to remind myself the reasons why I'm here — reasons beyond myself.
In the morning we were back to our regular Sunday routine, household chores and soccer in the grass stadium. And just like that, Christmas had past. Or so I thought.
Two weeks later, we had Christmas again. Due to the postal service, a package from my parents in the U.S. had just arrived.
What followed might be my favorite memory so far with my host family.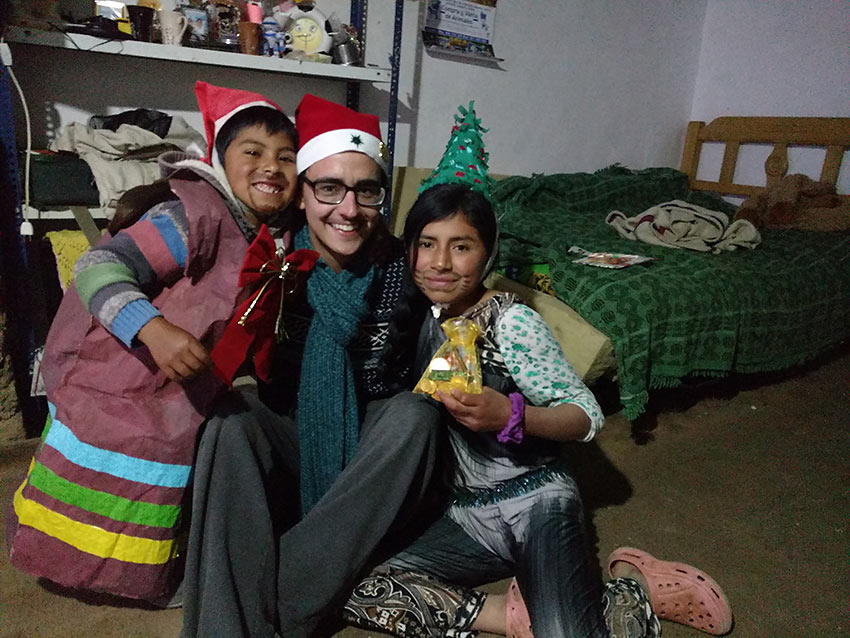 My siblings and I dressed up, prepared snacks and drinks from the U.S., and made a surprise entrance in front of my parents and grandparents. They loved the gold fish, sunflower seeds, apple cider, and roasted peanuts. As I've mentioned before, food holds great significance in Peru, and I was grateful for the reversal of roles and the opportunity to serve them for once.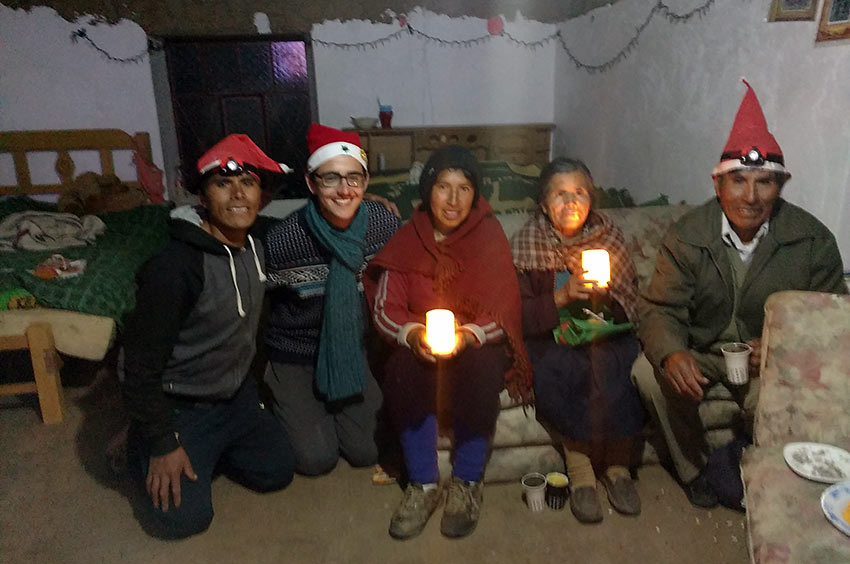 After they opened the gifts (headlamps and electric candles), the custom of palabras (literally "words") began. Many parts of Peruvian culture are very formalized, especially documents and speeches. At almost any event, birthday party, or celebration, people have the opportunity (or are forced) to share their palabras. They take a specific form and always include at least a formal greeting, thank you, and closing.
While volunteers joke about hearing over and over again buenos dias followed by a long list of names and courtesies, I find the tradition meaningful, especially among loved ones. The custom formalizes something we regretfully neglect, verbally sharing our love and appreciation for those we care about.
And that's what we did. With tearful eyes, one by one my host family welcomed me again as part of the family with an appreciation I didn't deserve. They also thanked my family in the U.S. for the gifts and wished them health and success in the future. In turn, I had the opportunity to express my deep gratitude for their hospitality and care — for 3 meals a day, endless patience with my Spanish, and a willingness to share with me their culture and way of life.
I came to realize that perhaps I already had what I was missing most — what we all hope for from Christmas — to feel like we belong and are loved. Despite different traditions, I found both among my family in Peru.

****Disclaimer: "The content of this website is mine alone and does not necessarily reflect the views of the U.S. Government, the Peace Corps, or the Peruvian Government."