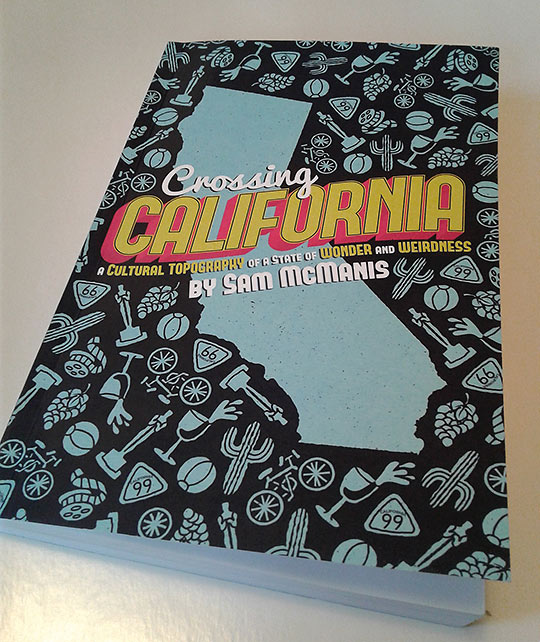 This book is Sam McManis' collection of newspaper columns for the Sacramento Bee, written while he was on the road searching for the "real California". Instead of finding one state of California, he found many, and after reading all 61 entries I concluded that they all echo the subtitle as being weird and wonderful.
This book is the result of the luxury of a salary, an editor's carte blanche directive to "cover the state", and a company automobile with a credit card! Sam McManis put that good fortune to good use, and the result is a thoroughly readable collection of craziness.
To paraphrase Frank Lloyd Wright: If you tip the world on its side all the loose things will end up in California. Sam McManis seeks out the "loose things" in the deserts and hills and streets of California, and explores them with a facile intelligence and general good humor. I liked this book!
OK, some things annoyed me: References to Frank Norris, shiny ink, the conceit of writing the LA noir piece in a noir voice, and a few points of even lesser consequence. Who cares? This is not a book to be read in one sitting, as I did. It was written to be read weekly – each 1200-1500 word epistle savored like the memory of your first kiss, or lingered over like your first glass of wine in the evening. They are that good.
Some entries will give you a Jack Webb "Just the facts, ma'am" take on a subject, while others will draw on a richly filigreed history to tell the tale. Some are couched in whimsy while others are more ironic. And through them all runs a thread of nostalgia, sometimes so thick as to be a rope, connecting the lurid, tawdry, brilliant, sublime, and fading memories of the past.
From Ronald Reagan and the show "Twenty Mule Team Borax", to the tacky "Hollywood Stars" celebrity tour; and from an unrepentant fact-checking of Scientology, to a man's 40 year obsession with building an underground garden.  It's all here – every "shit-house crazy" idea, brilliant composition, and lofty dream are chronicled in the wry voice of a skilled observer who drops pop culture references like beads of sweat in a hot California summer.
From the irreverence of his comments about a visit to "PSYCHIATRY An Industry of Death Museum", McManis first said that the title was "poorly punctuated", then went on to add: "A museum dedicated to maligning, possibly slandering, an entire healing profession? Count me in."
He also knows how to turn a phrase. Referencing the Mechanic's Institute Library, one of the most venerable of San Francisco's cultural centers, he says "(its) a solid and stolid presence in a city that purports to cherish its history but too often dismisses it as blithely as a techie's finger swipe on a smartphone."
I especially liked the selections on food. One piece was a paean to Pan Am Airlines' Golden Age. In March of 2015 Sam McManis had the incredible good fortune to partake of a typical meal in First Class in a refurbished and perfectly recreated 1970s era 747 airplane, replete with all the Mad-men-esque accoutrements and politically incorrect language. Champagne, shrimp, chateaubriand, and brandy; period uniforms, including hairdos, even the music and the in-flight magazines stuck to the theme of the last elegant era of flight. It read like an incredibly nostalgic and delicious experience.
The book is littered with frequent references and quotes by authors and famous people. It is a reminder of how many literary greats and not so greats wrote screenplays for the film studios at some point in their careers, and how many famous people lived in California. It's a veritable who's-who of notable people of the 20th century: Mark Twain, Nathaniel West, Gertrude Stein, Jack London, William Saroyan, L. Ron Hubbard, Hopalong Cassidy, Charlton Heston, Orson Welles, Charlie Chaplin, Arnold Schwarzenegger . . . whew! It's an already seemingly endless list, and I'm just getting started!
All of them and more are found between the covers of Sam McManis' "On the Road" tour of the "Golden State". You'll need to read this book to see how these legendary people and so many others fit into the history of wonderful craziness that is our left coast – California.
"Crossing California – A Cultural Topography of a State of Wonder and Weirdness" by Sam McManis.
Published by Craven Street Books, an imprint of Linden Publishing, Inc.
6" x 9"  295 pages with index and b&w photos Paperback $14.95
DISCLAIMER: While Richard Frisbie sometimes receives products and/or services for review, every effort is made to present an unbiased, objective and fair assessment of their capabilities and value.  Please rate this review in the comment section below.