Article by Sarah Wyatt
Photographs by Darrell Scattergood
Gaylord Palms in Florida honored its ice artisans last month with a standing ovation and Chinese-themed lobby celebration. The workers, who began work in August, are carving away in sub-freezing temperatures after a two-year pandemic break.
Guests will soon be invited to "freeze the day" this Christmas as the hotel's longtime holiday tradition, ICE!, returns Nov. 18, 2022-Jan. 1, 2023, after a two-year hiatus.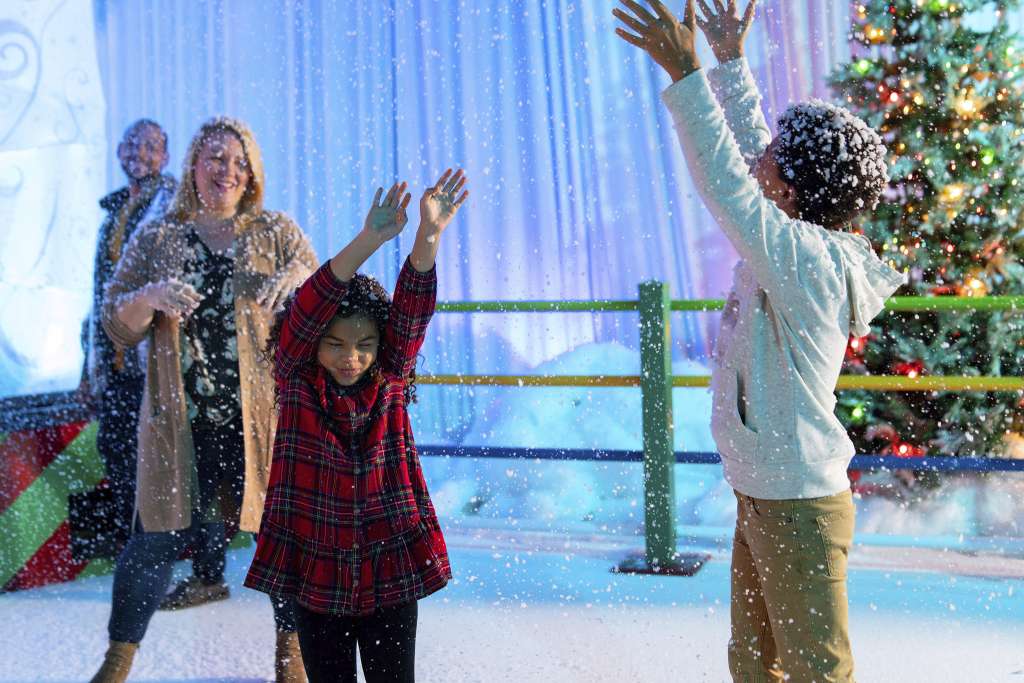 Using more than 1,000 tons of ice, the classic Dr. Seuss story and animated special, How the Grinch Stole Christmas, will be brought to life by a team of 40 ice artisans who work approximately six weeks to create the nearly 20,000-square-foot, frozen attraction.
Starting with more than 6,700 massive ice blocks – created by three different ice manufacturers because of the amount needed – carvers will tally more than 12,000 man-hours. The artisans, using skills passed down from generation to generation, follow a 300-page design book to create the display.
This year, ICE! will feature more than 10 scenes from the story featuring classic characters such as The Grinch, his canine sidekick Max, and Cindy-Lou Who. Ice carvings range in size from details as tiny as a coin, to soaring scenes measuring nearly 30 feet tall.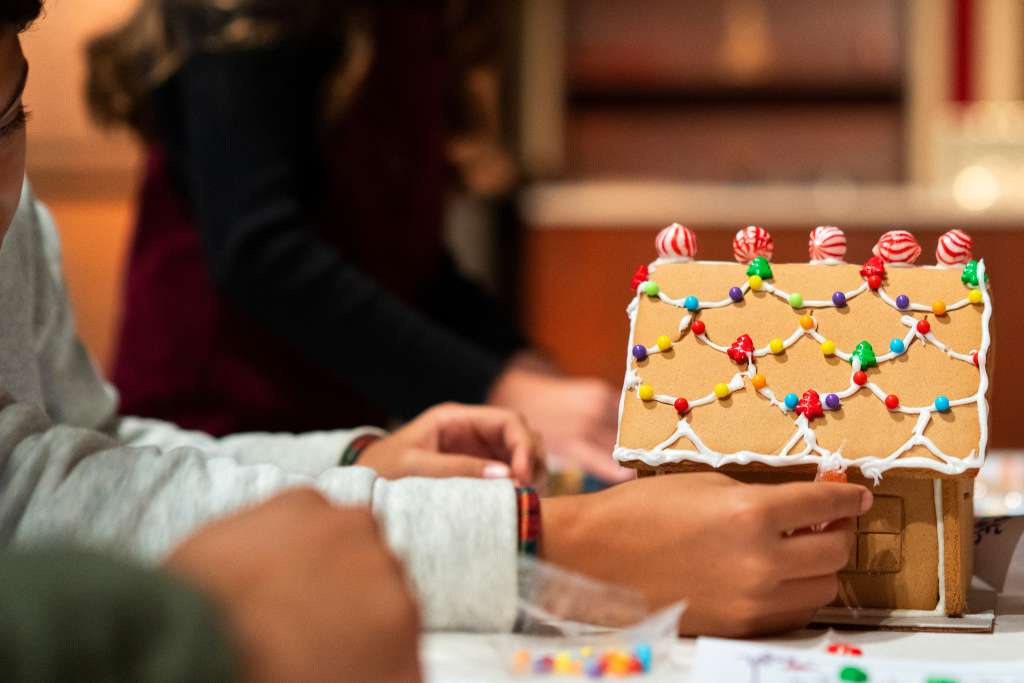 The environment will be kept frozen in the warm Florida climate by a state-of-the-art chilling system that maintains the temperature at a frosty 9 degrees Fahrenheit. Guests will be provided Gaylord Palms' signature blue parkas to keep them warm and toasty while in the attraction.
Colored ice, clear ice and LED lights are all used throughout the display, as the frozen fun follows The Grinch's journey from his mountaintop cave to Who-ville. It turns out that hauling ice is science and art. The Gaylord's supply was created by a chemist who mixes special food colorings to ensure sculptures maintain their bright colors the entire season.
This is the first time The Grinch has been featured during the Orlando resort's holiday celebration."We can't wait for our guests to once again experience the magic and wonder of ICE! during this year's Christmas at Gaylord Palms celebration," said Johann Krieger, general manager of Gaylord Palms Resort. "Since debuting here in 2003, ICE! has always been a one-of-a-kind attraction for our guests, and we're excited to welcome this Gaylord Hotels tradition back this year with 'How the Grinch Stole Christmas!' and all the beloved characters in the classic Dr. Seuss story."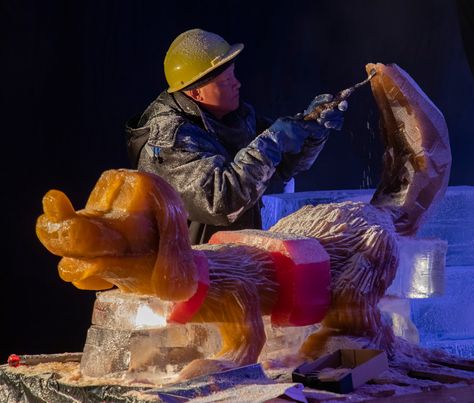 In addition to seeing characters from the Dr. Seuss tale, guests can also take rides down two-story-tall ice slides, explore ice tunnels and arches, and visit Carver's Showcase to see live sculpting demonstrations. The ICE! experience concludes in a separate area dedicated to a Nativity scene, meticulously carved and shaped in a dramatic display of crystal-clear ice.
Known as "Ice City," Harbin is no stranger to elaborate ice carvings – it's home to the world's largest annual ice and snow sculpting festival in the world. At Gaylord Palms, some of the same artisans who create the Harbin festival will carve 300-pound blocks of ice into the larger-than-life, whimsical scenes. Carvers will use chisels, chippers, tongs, handsaws, grinders and chainsaws to bring The Grinch and the residents of Who-ville to life. The artisans from Harbin have created ICE! for Gaylord Hotels for many years, but haven't been able to travel to the United States the past two holiday seasons because of international travel restrictions in place due to COVID-19.
And snow much more
While ICE! is the signature attraction for the 2022 Christmas at Gaylord Palms celebration, there are plenty more festive events, attractions and dazzling decorations throughout the 64-acre resort. The entire resort transforms into a holiday wonderland with more than three million lights, elaborately themed Christmas trees all throughout the garden atrium and convention center, more than 20,000 ornaments and miles of garland. Christmas shows and activities are presented in the atrium, while parts of the convention center transform into a bustling, holiday hamlet with Bavarian-style village storefronts, live shows, characters, a concession stand, and at Christmas shop.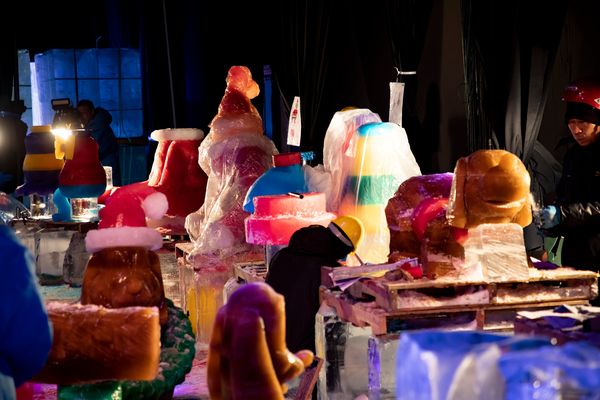 Here's a rundown of the events, live entertainment, hands-on activities, holiday meals, exciting attractions and notable news taking place this holiday season at Gaylord Palms:
Shows and Live Entertainment Highlight the Holidays
Yule Be Amazed
A Gaylord Hotels original production, "Cirque: Spirit of Christmas" features high-flying stunts, acrobatic feats, elaborate staging and a dramatic musical score. Returning after its successful debut in 2021, this Cirque-style show centers on Noel, a child dismayed by the hustle and bustle of the holidays. Throughout the 30-minute atrium show, Noel is visited in dreamlike chapters by trapeze artists, acrobats, aerial silk performers and others who help rekindle the Christmas spirit.
A Musical, Storytelling Celebration
The birth and life of Jesus Christ has been called "the greatest story ever told." Guests can experience it through the eyes of six international storytellers in "The Greatest Story," a musical stage show and multicultural celebration of everlasting faith, hope and love.
Ready, Set, Glow!
The skies above the Gaylord Palms atrium burst in a spectrum of animation in Shine. Vivid LED curtains suspended from the ceiling come to life in a light show that features an original musical score, dancing spotlights and a Christmas tree bathed in an ever-changing array of colors.
Winteractive Fun with the Adventure Kids
Adventure Kid Sophie joins her best friends Ava the Alligator and Seth the Sea Turtle for yuletide fun in Adventure Kids: Wonders of Winter. The trio stars in this interactive stage show that teaches young adventurers about the environment, wildlife and the world around them.
Journey of the Three Kings
Guests experience The Journey of Los Tres Magos, a live stage production that honors the Three Wise Men. Told through story and song, the show commemorates the Christian tradition celebrated in Latin America, Spain and around the world.
Tons of Fun at Interactive Attractions
A Holiday Escape
Guests test their winter weather wits inside the Naughty or Nice Escape Room. Yuletide trickster Jack Frost is back with his icy antics and has added new names to Santa's infamous Naughty List. But Jack has a deal to make – if guests can sneak into Santa's office and solve a series of puzzles, their names will disappear from the Naughty List. Guests need to put on their holiday thinking caps, solve the mystery, and then dash away, dash away, dash away all!
Best in Snow
A snowy play space awaits guests in the Snow Factory, along with ice tubing and snowball throwing. After climbing Snow Flow Mountain, guests hop in inner-tubes and speed down atop real ice. (Admission allows unlimited ice tubing rides on the date specified on the ticket.) After the need for speed is satisfied, guests can head over to Snowball Build & Blast. Conveyor belts deliver tubs of real snow to guests who race to make snowballs and toss them at targets. Also inside the Snow Factory is Snow Bar, a themed pop-up bar serving cocktails and mocktails.
Hands-On Fun This Holiday Season
Believe in Your Elf
Guests can learn the secrets of being a part of "Team Santa" in Elf Training Academy. One of Santa's top toy makers teaches the secrets of becoming one of St. Nick's helpers and leads new "students" as they create a special keepsake gift or craft to take home for someone special.
Make a Date to Decorate
In the Gingerbread Decorating Corner, guests let their Christmas creativity run wild while they adorn gingerbread treats. After they've reached confection perfection with their edible art, they can enjoy a sweet meet-and-greet and photograph with Nutmeg the Gingerbread Man.
A Very Beary Christmas!
Also in Alpine Village, guests can experience Build-A-Bear Workshop®. Guests make their own furry friend, take part in the iconic Heart Ceremony, and personalize them with seasonal outfits, accessories, sounds and scents.
More Décor Than Ever Before! Overnight Stays Sweeten the Holidays
A Tree-mendous Holiday
It's beginning to look a lot like Christmas! In all, there will be more than 3 million holiday lights sparkling at Gaylord Palms. More than 100 Christmas trees – with more than 20,000 ornaments -will be on display, including a centerpiece, 60-foot-tall tree in the main atrium. Beautiful trees will also be suspended from the ceiling in the Everglades atrium and placed on floating islands in the Key West Lagoon. Another guest favorite, the Christmas Tree Trail, will once again wind through the atrium and feature elaborately themed trees for picture-perfect, family photo moments.
Rooms with a Yuletide View
There's never a better time for guests to book a room with an upgraded atrium view. With balconies that overlook acres of Christmas décor, guests can immerse themselves in the festive surroundings. Select rooms even provide prime balcony viewing for atrium shows such as "Cirque: Spirit of Christmas," "Shine," "The Greatest Story" and "The Journey of Los Tres Magos."
Exclusive Access for Overnight Guests
This year, Gaylord Palms is offering benefits and special access to overnight resort guests so they can wait in line less and enjoy more. These benefits include:
"Chill Pass" privileges to ICE!, offering front-of-line access and shorter wait times for this year's signature attraction. "Chill Pass" is free for eligible overnight guests. Attraction tickets are required and sold separately, in advance.
An invitation to "Extra Cool Hour," which provides early entry into ICE! and Alpine Village one hour before it opens for day guests. "Extra Cool Hour" is free for eligible guests. Attraction tickets are required and sold separately, in advance.
Exclusive access to reserve seating at four popular holiday dining experiences -Thanksgiving Dinner, The Feast with The Grinch character breakfast, Christmas Dinner, and New Year's Eve Buffet. Overnight resort guests staying on the dates of these meals are the only guests eligible to book tables and make reservations.
There's More in Store with The Grinch!
In addition to taking center stage in ICE!, The Grinch will be featured in two more holiday events at Gaylord Palms: a character dining experience and a family scavenger hunt.
For overnight guests, The Feast with the Grinch character breakfast is a buffet with lots of Christmas flavor to savor, with special appearances by The Grinch and his canine friend, Max.
The Grinch has also hidden clues about his latest mischief. He challenges guests to find these clues in The Grinch's Wonderful Awful Idea Scavenger Hunt. Guests try to solve riddles and thwart his plans, with those completing the quest receiving a special stocking stuffer.
A Round of Applause for Santa & Mrs. Claus
St. Nick Takes 'Santa' Stage
Guests can chat with the jolly old elf himself, Santa Claus, to make sure they've secured a spot on his prestigious Nice List. Santa will meet guests inside Alpine Village from Nov. 18 through Dec. 24, before he heads back to the North Pole for his gift-giving journey. Presented by DEI.
Hostess with the Mostess
The jolliest hostess of all celebrates the season in Mrs. Claus' Christmas Traditions. Mrs. Claus entertains guests in Alpine Village with a sing-along and story time with the Christmas tale, "Twas the Night Before Christmas." She also shares Santa's favorite snack – milk and cookies.
Christmas Merchandise & Spa Visits are Nice
One-Stop Christmas Shop
In Alpine Village, one of the largest holiday shops in the Sunshine State opens just for the Christmas at Gaylord Palms celebration. Market Square features wall-to-wall holiday gifts, collectibles, toys, plush, home décor, apparel, ornaments, branded merchandise and more.
'Tis the Spa Season
From Nov. 1, 2022-Jan. 6, 2023, Relâche Spa at Gaylord Palms is featuring Winter Wonderland massage, facial and pedicure treatments, highlighting the benefits of eucalyptus. The aromatic plant has been known to be high in antioxidants, to promote relaxation and reduce pain.
Enjoy Resort Amenities, Book Packages That Are Sure to Please
Year-Round Fun
In addition to the more than 15 special events, attractions and activities during Christmas at Gaylord Palms, guests can enjoy many of the year-round amenities. The resort features a 4.5-acre atrium with more than 500,000 plants, Florida wildlife and a 161,000-gallon lagoon. Cypress Springs Water Park is a water wonderland open exclusively to overnight guests, with seven water slides, a multi-level water playground, surf simulator, two pools and an action river. In addition, guests can enjoy a world of cuisine and fine dining at a variety of taste-tempting restaurants.
Packages and Tickets
Also being unwrapped this year: new Christmas at Gaylord Palms packages that include special room rates and admission to select events. Guests are encouraged to book their experiences early, as advance online reservations are required for all ticketed events. Admission is limited to many of the holiday experiences and showtimes. For tickets, more information, or to book an overnight stay, guests may visit www.ChristmasatGaylordPalms.com.
Gaylord Palms Resort features 1,718 guest rooms and more than 500,000 square feet of meeting space. Guests can explore the resort's 4.5-acre garden atrium with its winding waterways, waterfalls, plants and Florida wildlife. Other resort features include gourmet dining, a full-service spa, the three-acre Cypress Springs Water Park and a host of special events during the year. The resort is located within minutes of the area's world-famous theme parks and attractions.
Video by Darrell Scattergood