The 9 Most Anticipated New Cruise Ships of 2021
Courtesy Gene Sloan
Cruise lines may have canceled most of their sailings this year due to the coronavirus pandemic. But, so far, they haven't canceled orders for new ships.
More than 20 new oceangoing vessels still are scheduled to debut in 2021, including at least a dozen from lines that market to North Americans.
In some cases, the ships will be arriving months behind schedule due to pandemic-related construction delays at the shipyards that are building them. Thanks to such delays, the arrival of a few ships that had been scheduled for delivery in 2021 will be pushed to 2022.
But it'll be a big year for new cruise ships nevertheless.
Among the most notable newcomers will be Mardi Gras, the biggest ship ever for Carnival Cruise Line. Originally due to debut this year, it's now scheduled to begin sailing in April.
There also will be major new ships coming from Royal Caribbean, Holland America, MSC Cruises and start-up line Virgin Voyages.
The precise dates when some of these ships will begin sailing still is up in the air. It'll depend, in part, on when the U.S. Centers for Disease Control and Prevention clears cruise ships to begin sailing again in U.S. waters. But, in all cases, these vessels already are available for booking.
Here is a list of the 9 most notable new cruise ships arriving in 2021.
Mardi Gras (Carnival Cruise Line)
Maiden voyage: April 24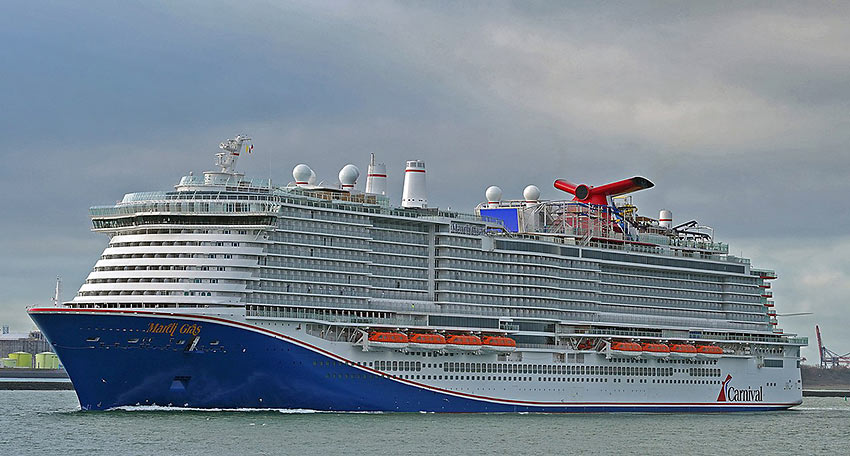 Cruise giant Carnival finally is hitting the supersize button. At 180,000 tons, Mardi Gras — the line's new flagship — will be nearly 35% bigger than the biggest ship currently in its fleet, the one-year-old Carnival Panorama. It will also be one of the 10 biggest cruise ships ever from any line.
That's a big deal, as Carnival until now has resisted the trend among major lines to build ever-bigger vessels (Carnival Panorama doesn't even crack the top 40 list of biggest ships).
Carnival will be entering the Big Ship Wars with a splash, adorning Mardi Gras with the first roller coaster at sea (no, this is not a joke), Carnival's largest waterpark ever, a far broader array of suites than earlier Carnival ships and new dining venues — including the first Emeril Lagasse restaurant at sea. It'll be able to hold up to 6,630 passengers per sailing with every berth filled.
The details: Mardi Gras will sail seven-night voyages to the Bahamas and Caribbean out of Port Canaveral, Florida. Fares start at $509 per person, not including taxes and fees. Get more information at 800-764-7419 or carnival.com.
MSC Virtuosa (MSC Cruises)
Maiden voyage: April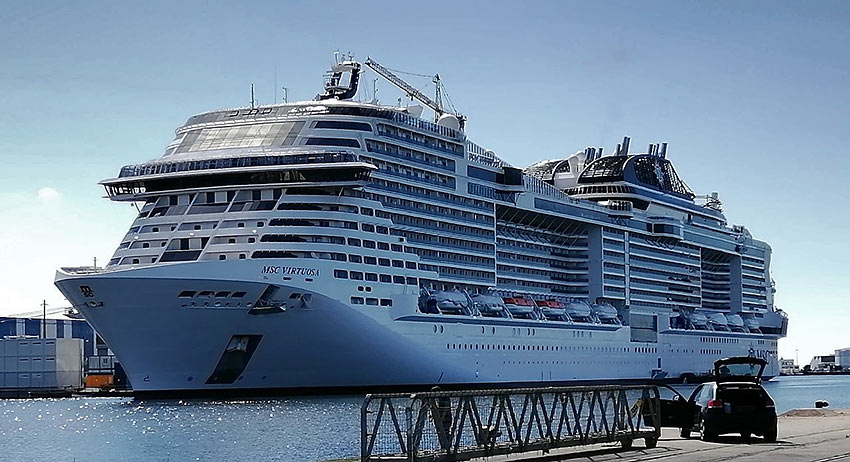 Like Mardi Gras, MSC Virtuosa will be one of the 10 biggest cruise ships in the world when it debuts in April — a new giant of the seas full of eateries, bars, lounges and deck-top attractions.
Nineteen decks high and 1,086 feet long, the ship will be a sister to the one-year-old MSC Grandiosa, the current MSC Cruises flagship, and it will have many of the same features. That includes a grand interior promenade that's home to restaurants, bars and shops. The promenade is covered in an innovative "digital sky" made with LED screens.
Like Grandiosa, Virtuosa also will have a giant pool deck, a water park and a sprawling amusement area with race car simulators, a flight simulator and an XD cinema.
Other major attractions will include shows created in partnership with Canada's famed Cirque du Soleil that will take place in purpose-built dining and entertainment venues.
Virtuosa will be the second of three ships in a series known as the Meraviglia Plus class. The third vessel in the series is due in 2023.
The details: Virtuosa initially will sail in Europe before repositioning to the Persian Gulf for the winter. Fares for Mediterranean sailings start at $239 per person, not including taxes and fees. Fares for Northern Europe sailings start at $459 per person, not including taxes and fees. For more information, call 877-665-4655 or visit msccruisesusa.com.
Viking Venus (Viking)
Like Viking's first six ocean ships, Venus will be a relatively small, elegant vessel designed to appeal to an older crowd looking to explore the world in style and comfort.
Notably, Venus will be less than a third the size of the giant ships operated by such well-known cruise brands as Royal Caribbean, MSC Cruises and Norwegian Cruise Line, and it'll sail itineraries that feature more time in ports than is common at many other lines. Like the earlier Viking ships, it'll also be adults-only, with no passengers under the age of 18 allowed.
Viking has been sticking to a single design for all its ocean ships, with little variation from vessel to vessel. Like Viking's six existing ocean vessels, Venus will boast a modern, Scandinavian-influenced decor that is soothing and upscale. Onboard activities will revolve around enrichment programs and classy entertainment, and there will be elegant meals in multiple eateries. Cabins will be relatively spacious, with the smallest of five cabin categories having 270 square feet of space. Every cabin will have a balcony.
As is typical for Viking, a shore excursion at every port that Venus visits will be included in the fare. Also included will be WiFi along with wine and beer with lunch and dinner — all part of Viking's "no-nickel-and-diming" philosophy.
The details: Venus will sail a range of seven- to 14-night sailings during its first year in Europe. Fares start at $2,599 for a seven-night sailing. For additional information, call 866-984-5464 or visit viking.com.
Odyssey of the Seas (Royal Caribbean)
Maiden voyage: April
Royal Caribbean fans in North America had reason to grumble in 2019 when the line sent its very first Quantum Ultra Class vessel to Shanghai to serve the growing Chinese market. But now they're finally getting one of the snazzy new megaships to call their own. The 4,198-passenger Odyssey of the Seas will spend its winters sailing to the Bahamas and Caribbean out of Fort Lauderdale. It'll spend summers in the Mediterranean, becoming the first Quantum Ultra Class vessel there, too.
While not quite as big as Royal Caribbean's record-breaking Symphony of the Seas (the world's largest cruise ship), Odyssey of the Seas will have all the trappings of a major megaresort, including multiple pool areas, a kiddie aqua park and such amusements as a sky-diving simulator, a surfing simulator and a bumper car pavilion. A something-for-everyone array of cabin classes will range from tiny, 166-square-foot "interior" cabins without a window to massive, two-deck-high Royal Loft Suites that are nearly 10 times that size.
The details: Odyssey of the Seas will sail six- to nine-night voyages out of Fort Lauderdale. Fares start at $712 per person for six nights, not including taxes and fees. Call 866-562-7625 or visit royalcaribbean.com for more information.
Valiant Lady (Virgin Voyages)
Maiden voyage: Nov. 14
The first ship from Richard Branson-backed Virgin Voyages, Scarlet Lady, hasn't even begun sailing yet, and already there's a second vessel from the line on the way.
Initially scheduled to debut in May but now due in November, the 2,770-passenger Valiant Lady will be a sister to Scarlet Lady, which was in the process of starting up service earlier this year when the coronavirus brought the cruise industry to a halt. Scarlet Lady now isn't scheduled to begin regular sailings until May.
Like Scarlet Lady, Valiant Lady will be designed to shake up the cruise industry with a new, hipper style of cruising. The ship will have everything from a tattoo parlor to drag-queen brunches and a colorful karaoke lounge where you can get your Lizzo on. To ensure a proper party vibe, it also will be a kid-free travel zone, with a minimum age to sail of 18.
Virgin is going after travelers who might think themselves too cool to cruise. To that end, Valiant  Lady will have no buffets, no dress codes and no big Broadway-style theater shows. For entertainment, expect interactive dance parties, DJ sets and "microplays" instead, plus late-night games of dodgeball. Suites will have a rock-star theme.
The details: Valiant Lady initially will sail out of Miami, offering a series of six- to eight-night Caribbean voyages. Fares start at $1,175 per person, not including taxes and fees. For additional information, call 954-488-2955 or visit virginvoyages.com.
MSC Seashore (MSC Cruises)
Maiden voyage: July
MSC Cruises is rolling out not one but two giant new vessels in 2021. In addition to MSC Virtuosa, mentioned above, the line is bringing out the first of a new Seaside EVO class of ship.
Dubbed MSC Seashore and scheduled for completion in the summer, the new vessel will be a stretched version of the line's recently unveiled MSC Seaside and MSC Seaview.
Like the two earlier ships, it'll feature a layout specifically designed to be open to the sea. It'll have an unusually broad, uncovered promenade on Deck 8 that offers close contact with the ocean, and a Miami Beach-like pool area at the back of the same deck that's surrounded by loungers. Another pool and lounge area at the top of the ship will be connected to the lower pool area by glass-enclosed elevators.
In addition, Seashore's extra size will being extended public spaces, more cabins and what the line says is the highest ratio of outdoor space per passenger of any MSC Cruises ship.
Seashore will offer a new double-decker show lounge below its aft pool; an extended indoor main pool allowing for more outdoor space; and new specialty dining restaurants, with an area connected to the ship's outdoor promenade for an al fresco dining option.
The details: MSC Seashore in initially will sail in Europe before moving to Miami in November to operate seven-night Caribbean sailings, including stops at the line's new private island in the Bahamas. Fares for the Caribbean voyages start at $449 per person, not including taxes and fees. For more information, call 877-665-4655 or visit msccruisesusa.com.
World Navigator (Atlas Ocean Voyages)
Maiden voyage: July
Ritz-Carlton Yacht Collection isn't the only new cruise company debuting in 2021. Also on the way is Atlas Ocean Voyages, a Fort Lauderdale, Florida-based brand that will begin operations in July with a single ship.
Like Ritz-Carlton Yacht Collection, Atlas Ocean Voyages will focus on small, upscale vessels. But Atlas Ocean Voyages is targeting a very specific type of traveler interested in "luxe-adventure."
Designed for just 196 passengers, World Navigator will be a high-end, expedition vessel with a polar-class rating that will allow it to go anywhere in the world from the Arctic to Antarctica. It'll carry Zodiac boats for landings in remote places, and other adventure toys.
But the company also is promising the ultimate in pampering and all-inclusiveness. Its base fares include round-trip airfare from select U.S. and Canadian gateways; drinks, including spirits and fine wines; shipboard WiFi; prepaid gratuities; and shore excursions in every port.
In addition, Atlas will offer one very unusual inclusion as part of what it is calling All Inclusive All the Way pricing: Emergency medical evacuation insurance for every passenger.
Atlas plans to add four more ships that are similar to World Navigator in 2022 and 2023.
The details:  World Navigator initially will sail in the Mediterranean and Black Sea before heading to Antarctica for the winter of 2021/2022. Fares start at $4,999 per person, not including taxes and fees. For additional information, call 844-442-8527 or visit atlasoceanvoyages.com.
Rotterdam (Holland America)
Maiden voyage: August
For Holland America fans, the excitement over this ship starts with the name.
Rotterdam will be the seventh vessel in Holland America's nearly 150-year history to sail under the historic moniker, which has a special place at the brand. It'll also be Holland America's new flagship.
Measuring 99,500 tons with room for 2,668 passengers at double occupancy, the new Rotterdam is replacing a smaller, 23-year-old vessel of the same name that left Holland America's fleet earlier this year as part of a significant downsizing of the brand in the wake of the coronavirus pandemic.
A sister to two earlier Holland America ships, Nieuw Statendam and Koningsdam, Rotterdam will feature many of the same venues that are found on those vessels including a "music walk" with a  B.B. King's Blues Club and two other music venues: Lincoln Center Stage and Billboard Onboard.
It'll also have a French brassiere created by Holland America executive chef Rudi Sodamin called Rudi's Sel de Mer and an innovative wine-mixing venue called Blend. The ship's main stage, called the World Stage, will feature a wraparound screen that help create a 360-degree experience. Its stage will protrude far into the audience.
The details: Rotterdam will spend its first months exploring Northern Europe and the Baltic on round-trip cruises from Amsterdam. It will reposition to Fort Lauderdale in the winter for Caribbean and Bahamas sailings of varying lengths. Fares start at $349 for a three-night Bahamas voyage. For additional information, call 855-932-1711 or visit hollandamerica.com.
Evrima (Ritz-Carlton Yacht Collection)
Maiden voyage: April
After more than a year of construction delays, the very first ship from start-up line Ritz-Carlton Yacht Collection, the new luxury cruise division of Ritz-Carlton, is finally coming in 2021.
Holding just 298 passengers, Evrima will be a small, yacht-like vessel with an elegant, residential look (as you might expect for Ritz-Carlton). Standout features will include spacious cabins, a stylish spa and lots of deck-top lounge space for sunning, plus five separate eateries. The dining venues, notably, will include an á la carte restaurant designed by Sven Elverfeld of the three Michelin-starred Aqua in the Ritz-Carlton Wolfsburg, Germany.
Initially scheduled to debut in February 2020, Evrima has been delayed multiple times due to problems at the shipyard in Spain where it's under construction. But the company is adamant that its new due date will hold. That is, unless ongoing cruise cancellations due to the coronavirus pandemic begin to affect Ritz-Carlton Yacht Collection, too.
Ritz-Carlton fans, for sure, are excited about the new vessel.
The details: Evrima is scheduled to spend its inaugural summer in Europe before repositioning to the Caribbean for the winter. Fares start at $4,900 per person, not including taxes and fees, for a seven-night voyage in the Caribbean. For more information, call 833-999-7292 or visit ritzcarltonyachtcollection.com.
The Complete List of All U.S. National Parks
Courtesy of Madeline Bilis
The United States just added a new national park to its roster of incredible public lands: New River Gorge National Park and Preserve. This West Virginia park runs along 53 miles of the New River and encompasses over 70,000 acres of the beautiful wooded gorge.  Plus, it offers plenty of opportunities for hiking, biking, climbing, and whitewater rafting.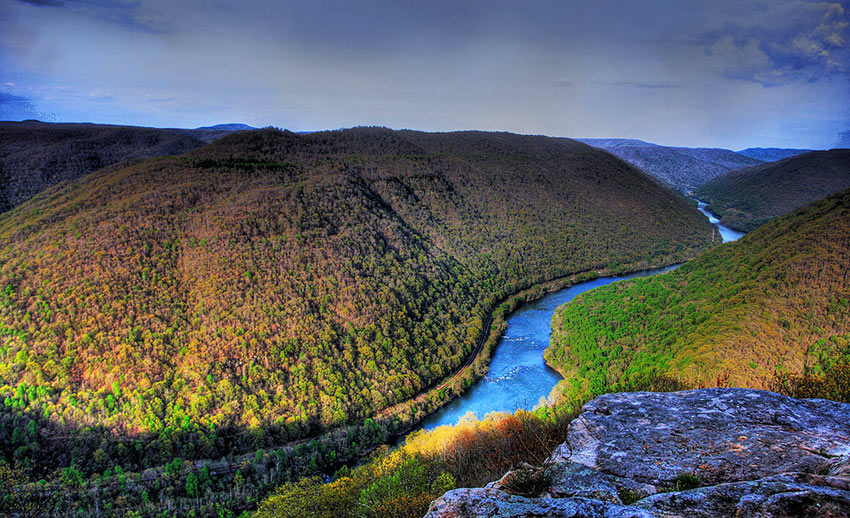 Its addition to the long list of U.S. national parks made us wonder — just how many national parks are there?
The U.S. National Park Service was founded in 1916, but the country's first national park predates it — Yellowstone National Park debuted in 1872 when President Ulysses S. Grant signed it into law. In the years since, America has amassed a total of 63 national parks, from the northern reaches of Alaska to the waters of the Florida Keys. (To see them all, you'd need to visit 30 states and two U.S. territories.)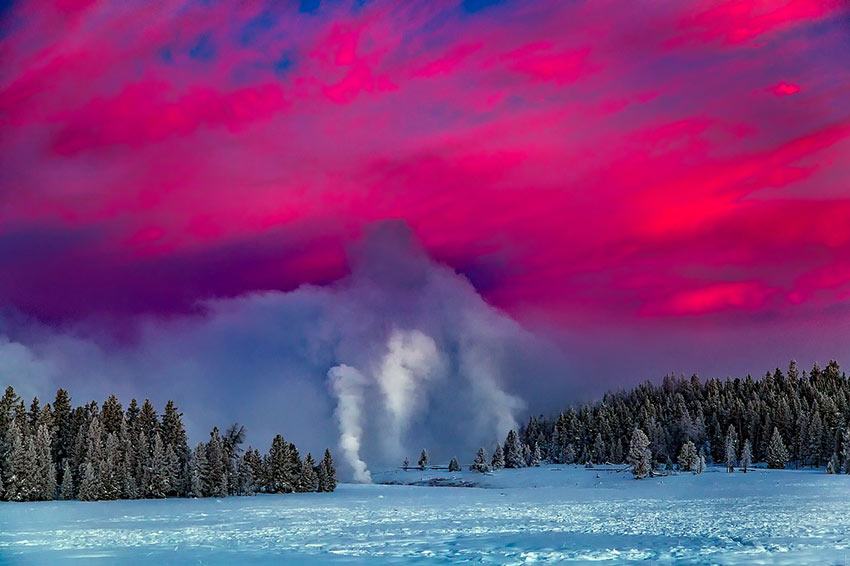 While the National Park System comprises 423 national park sites, only 63 of them have the "National Park" designation in their names. The other sites fall into different National Park System categories like National Historic Sites, National Monuments, National Seashores, National Recreation Areas, and others. The NPS's website has a handy U.S. National Parks map, as well as a U.S. National Parks list for reference.
Some of the most popular national parks in the country, like Glacier National Park and Yosemite National Park, bring in millions of visitors each year, while some underrated parks, like Capitol Reef and Great Basin, remain not-so-hidden gems.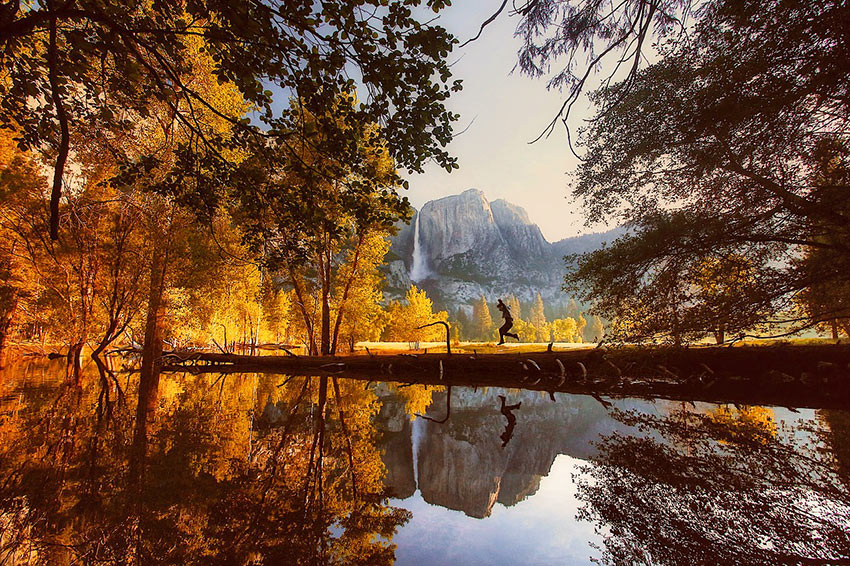 Ahead, see the full list of all 63 national parks in the U.S.
Acadia National Park: Maine
American Samoa National Park: American Samoa
Arches National Park: Utah
Badlands National Park: South Dakota
Big Bend National Park: Texas
Biscayne National Park: Florida
Black Canyon of the Gunnison National Park: Colorado
Bryce Canyon National Park: Utah
Canyonlands National Park: Utah
Capitol Reef National Park: Utah
Carlsbad Caverns National Park: New Mexico
Channel Islands National Park: California
Congaree National Park: South Carolina
Crater Lake National Park: Oregon
Cuyahoga Valley National Park: Ohio
Death Valley National Park: California, Nevada
Denali National Park: Alaska
Dry Tortugas National Park: Florida
Everglades National Park: Florida
Gates of the Arctic National Park: Alaska
Gateway Arch National Park: Missouri
Glacier Bay National Park: Alaska
Glacier National Park: Montana
Grand Canyon National Park: Arizona
Grand Teton National Park: Wyoming
Great Basin National Park: Nevada
Great Sand Dunes National Park: Colorado
Great Smoky Mountains National Park: Tennessee, North Carolina
Guadalupe Mountains National Park: Texas
Haleakalā National Park: Hawaii
Hawai'i Volcanoes National Park: Hawaii
Hot Springs National Park: Arkansas
Indiana Dunes National Park: Indiana
Isle Royale National Park: Michigan
Joshua Tree National Park: California
Katmai National Park: Alaska
Kenai Fjords National Park: Alaska
Kings Canyon National Park: California
Kobuk Valley National Park: Alaska
Lake Clark National Park: Alaska
Lassen Volcanic National Park: California
Mammoth Cave National Park: Kentucky
Mesa Verde National Park: Colorado
Mount Rainier National Park: Washington
New River Gorge National Park: West Virginia
North Cascades National Park: Washington
Olympic National Park: Washington
Petrified Forest National Park: Arizona
Pinnacles National Park: California
Redwood National Park: California
Rocky Mountain National Park: Colorado
Saguaro National Park: Arizona
Sequoia National Park: California
Shenandoah National Park: Virginia
Theodore Roosevelt National Park: North Dakota
Virgin Islands National Park: United States Virgin Islands
Voyageurs National Park: Minnesota
White Sands National Park:  New Mexico
Wind Cave National Park: South Dakota
Wrangell—St. Elias National Park: Alaska
Yellowstone National Park: Wyoming, Montana, Idaho
Yosemite National Park: California
Zion National Park: Utah