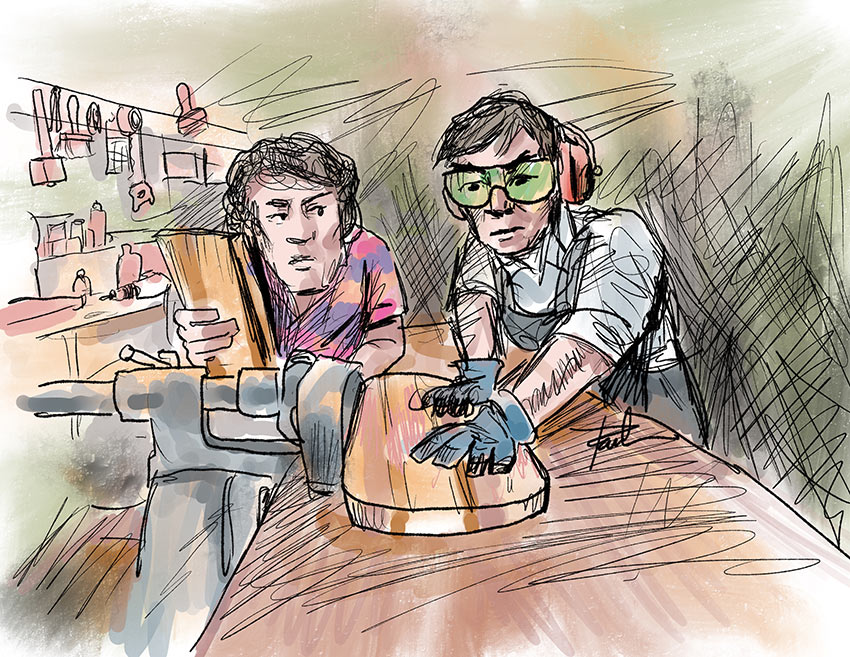 I imagine most of our lives are a series of awakenings.  One of my big ones came during my later college days.  By the time I entered my senior year at San Diego State I was a decent athlete and grades in school came easily. Actually, too easily. I spent much of my time at the beach when real students studied. My years in college were fun and I squeaked by doing almost no homework. But I did have a good tan, remember I am from California. When it comes to trendsetters we may be the undisputed world champions. We have the honor of being the home of the Christian Surfer Association. Yes, the only group in the world that addresses God as the Great Gnarly Dude. So, go light on me.
One problem with not applying myself was that even in the classes I liked I didn't learn much since I was goofing off most of the time. My major was Industrial Arts. That is the educational term. It was really "shop class."  Woodworking became my specialty.  I still remember my big assignment in Wood 101.  We could make any project we wanted with one square foot of lumber. I decided to make a cutting board, one-foot square, and one inch thick.  How is that for imagination?  But it gets better.  The undertaking stretched into nine weeks. As I hinted at I was not really strong in applying myself to anything except surfing.
My only creative moment was to get special permission to add an additional type of wood. The finished cutting board was laminated with alternating stripes of walnut and maple and had four tiny wooden feet on the bottom and two large clunky metal handles on the top. It looked like a zebra that had gone through a trash compactor. You are probably convinced at this time that I was into drugs. No, I just didn't know what I was doing. But I did like woodwork.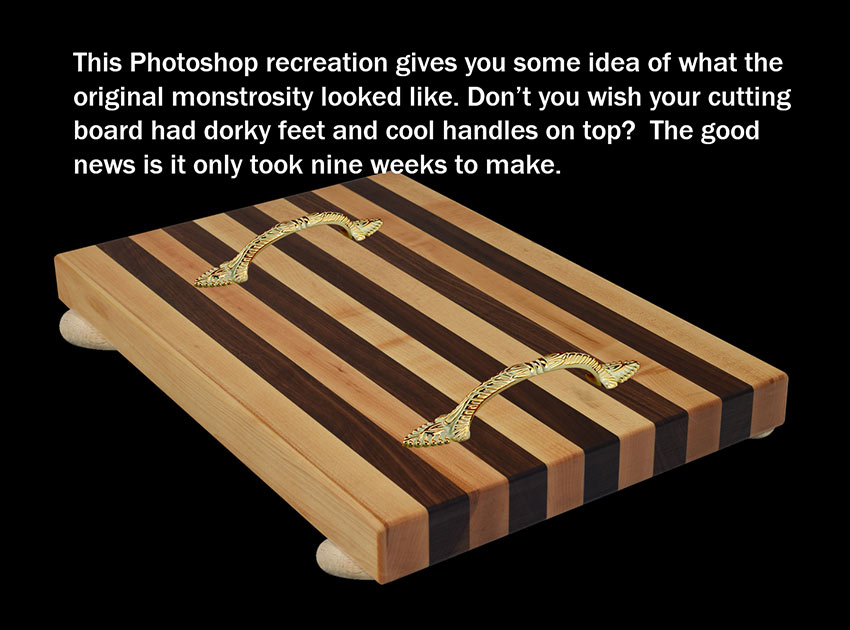 If anyone with a sense of design had seen that monstrosity I made I might have been burned at a stake in public. Today I don't know what finally happened to that awful thing. I gave it to my mother and I never saw it again after that. I think she made sure it was well buried in the trash can so the garbage truck would take it. Yes, the mother who still had my mosaic duck from ninth grade art class reached her tolerance level and my college masterpiece was no more. I am telling this story to give the background for what happened a few years later that changed my life and my self-confidence.
One of my neighborhood buddies got a job at a small custom furniture shop when I was in my last part of college. I can't really tell you if I was a junior or senior because I just meandered through school, like life, and I never knew what I was. One day I took my last class and I was done. Now, back to my friend who got that job.  I was jealous and begged him to ask if I could work at that same shop. I have no idea what kind of story he told the boss but he hired me. I was a total dweeb (California word meaning "mindless LOOSER"). I hadn't learned much in college except what the tide and surf tables meant and my woodworking major had left me mostly uneducated. But as I said, I liked woodworking. Surprisingly, the idea of working in a woodworking shop interested me and I actually started applying myself. I only hoped I would get a few skills before they discovered what they had hired and take me out behind the building and shoot me (sometimes known as acute lead poisoning). I tried my best and started to improve. They gave me simple jobs at first, which was very fortunate. Lee, the owner, was a very encouraging and tolerant person. He saw hope in the dweeb. His trust in me made me want to try harder. He was an exceptional man, but this particular story is really about a guy named Doug.
Turning Point
Doug was different from the crowd I ran with. He didn't have a tan so I was suspicious from the start. He was focused and always seemed to know what he was doing and what he would be doing next. My life was like driftwood. Doug's life was driven by vision and artistic balance. I envied him. Doug was a graduate from the same college I attended but he had paid attention. He was a few years older and many years more mature. He was one of the first Christians I ever met and he was a master craftsman. He was a man going somewhere and I hadn't even looked at the map.
Well, one day towards the close of a work day he asked if I wanted to join him after we shut down. He was going to stay for an extra hour to make a gift for his wife. I hadn't been married very long at that point and he was thoughtful enough to include me in his project. He told me I could make one for my wife.  I asked him what he was going to make in one hour. He said, "A cutting board."  I think I stopped breathing. I stared blankly. It was as Yogi Berra said, "Déjà vu all over again."  "Did you say one hour, Doug?"  "Are they going to have handles on the top, feet on the bottom and look like a squashed zebra?" Could a cutting board be made in less than nine weeks?  So, I agreed mostly out of curiosity. Anyway, if my wife didn't like it, she could give it to my mom. She needed a new lid for her trash can.
That evening between five and six PM my life changed. Doug had designed (a formerly unknown word to me) a simple Danish modern, teardrop-shape cutting board made from teak with a rosewood strip in it and a small rawhide hanging strap on the end.  It was elegant and beautiful. And the food wouldn't get wrapped around the handles. We made two in one hour. The shop had a special glue and a radio-wave drier which helped the job be completed in a short time. When the boards were finished we oiled them with vegetable oil and took them home to our wives.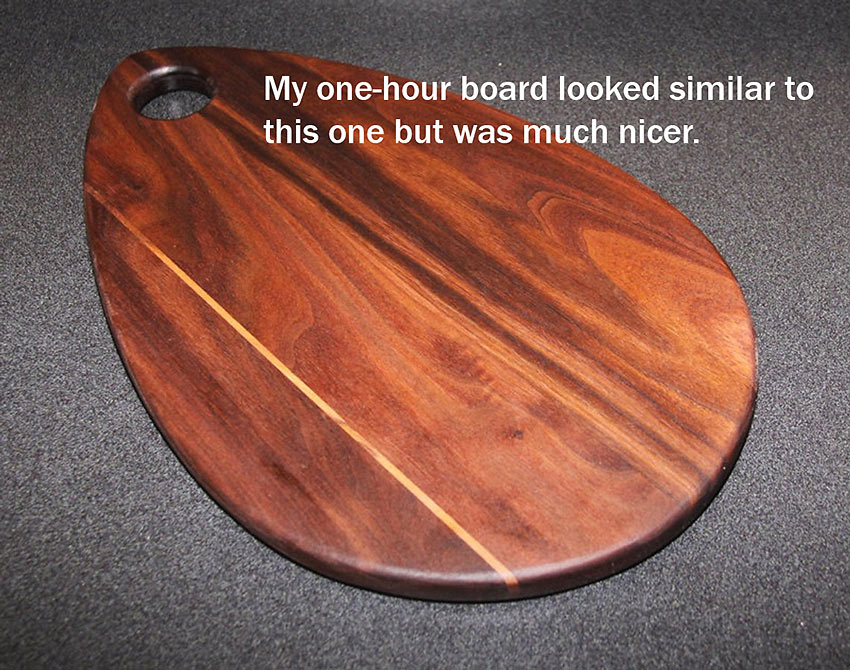 I imagine Doug calmly and confidently handed his to his wife without much of a thought. But I had a different experience. I trembled as I drove home and began to feel something strange happening. It was something I had never felt before. It was my brain waking up. It was my life waking up. I didn't even care if the surf was up.
Have you ever had a secret you carried that made you want to burst? That described me that night. When I walked into the house with a plain plastic bag holding the little masterpiece I must have been beet red and my eyes were bulging out of their sockets. My wife noticed my unusual blowfish countenance and said: "What's up." I said, "Oh, nothing much."  What's in the bag?" "Oh, it's just a little something I made at the shop tonight for you."  "Really, let me see it."  "Ohhh, OK, here." Silence. Lots of silence. Birth is a stunning moment.
I made that cutting board in one hour. It was beautiful. I did it.  What did my wife say?  I can't remember because I was staring at what I had done and was even more amazed than she was.  She probably said something like, "You incredible hunk of a man, this is your lucky night." But all I could see was what I was able to do in such a short time.  It was a metamorphosis, dweeb to achiever.  A mentor had dragged my sorry carcass into the light and I was never the same after that. Doug, you have no idea what that cutting board did to me that night.
Today I look back at an incredible journey. I became a building contractor, firefighter, cabinetmaker, Bible teacher, and author.  I have traveled to all continents except Antarctica teaching pastors and Christian workers around the world.  When we worked with impoverished churches we designed a church-based enterprise program to help them become self-supporting when formerly they had no hope of surviving. My wife and I developed a papermaking project from banana rope fragments and today we have designed and completed an amazing pulp mill we built from donated steam boiler equipment and discarded diesel engines from old buses. Churches were supported by the beautiful handmade paper products and herbal handmade soap that we marketed all over the USA. There were also community development and medical programs for the most impoverished.  Yep, this old dweeb got his life together and I can trace my current personality and skills to that cutting board and that night of awakening. I was a goof-off surfer and woodworker wannabe.  Today I have numerous skills and have directed several Christian agencies. My wife and I have raised five children that surprisingly have similar traits. Of course, my wife would add, "One hunk of a man" so I have to put that on the list at her insistence.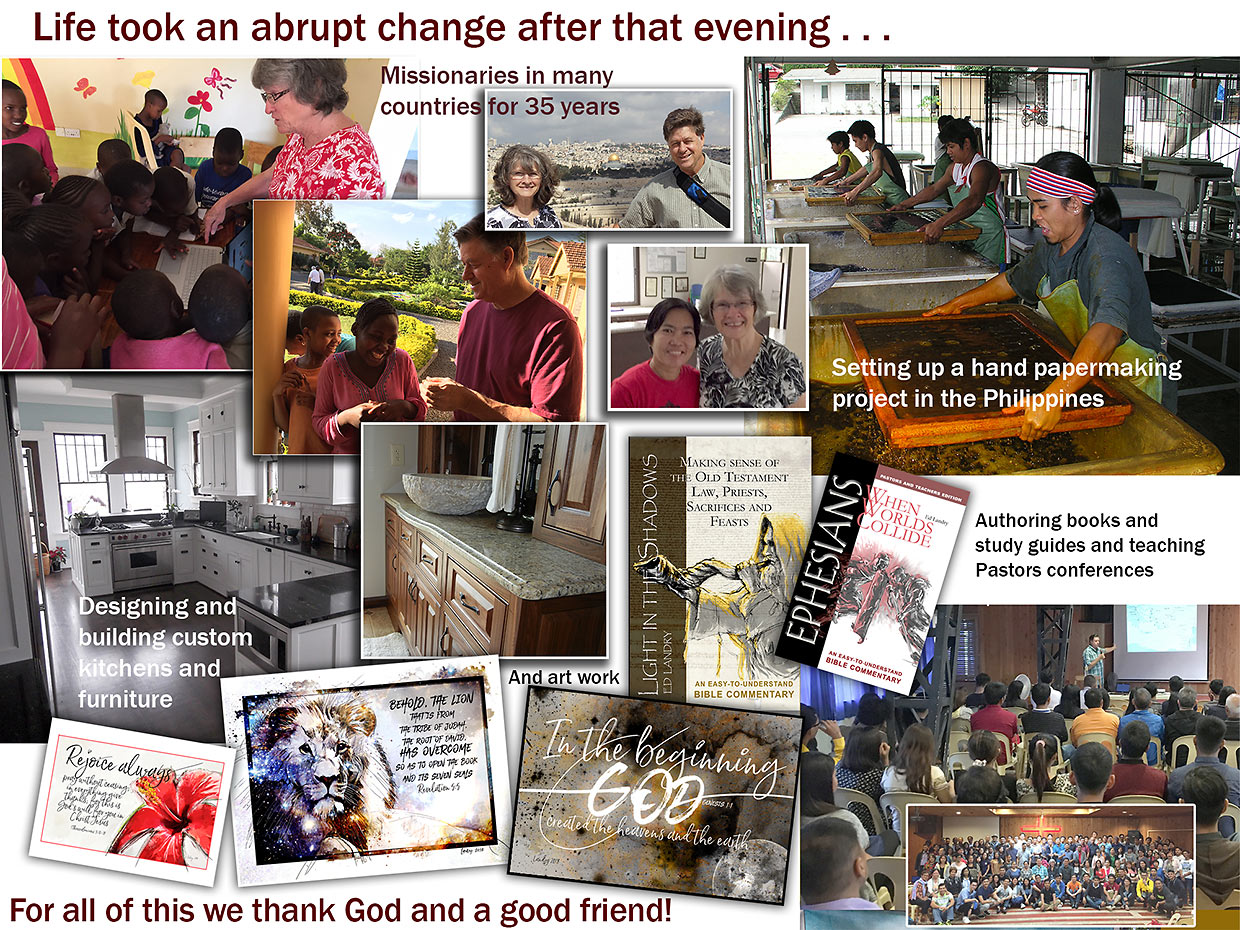 What happened to me? Doug showed me what I could be. Thanks, Doug.  Doug was a mentor. Mentors change people.  We all need mentors. We need to be mentors. My adventurous life journey is what it is today because of mentors. Mentors introduced me to my Savior. They made me an upper and not a downer. They made a can-do person. They helped me discover my spiritual gift of vision and to develop it. They showed me the joy of creativity, which helped me find solutions in the hard times. Other mentors modeled a life that was victorious in suffering. They were pathfinders. Others helped me lay a strong foundation that would stand against the onslaught of a terminal disease. My awakening happened when a guy took me aside one night for one hour and showed me I was worth something.
I have tried to imagine where I would be today if I had not spent that one hour in the cabinet shop that night with Doug. I would probably be trying to pay for cancer treatments by marketing cutting boards with handles on the top.
One post script is necessary.  A month ago a local church contacted me and asked if I could help them with a program that helps at-risk kids.  It is called Children Are People.  They had heard I had a cabinet shop and they wanted to have me help them do small project with wood. I asked how much time would I have for the lesson.  They apologized that I only had ONE HOUR.  I told them I just might have the perfect project we could do in that hour.