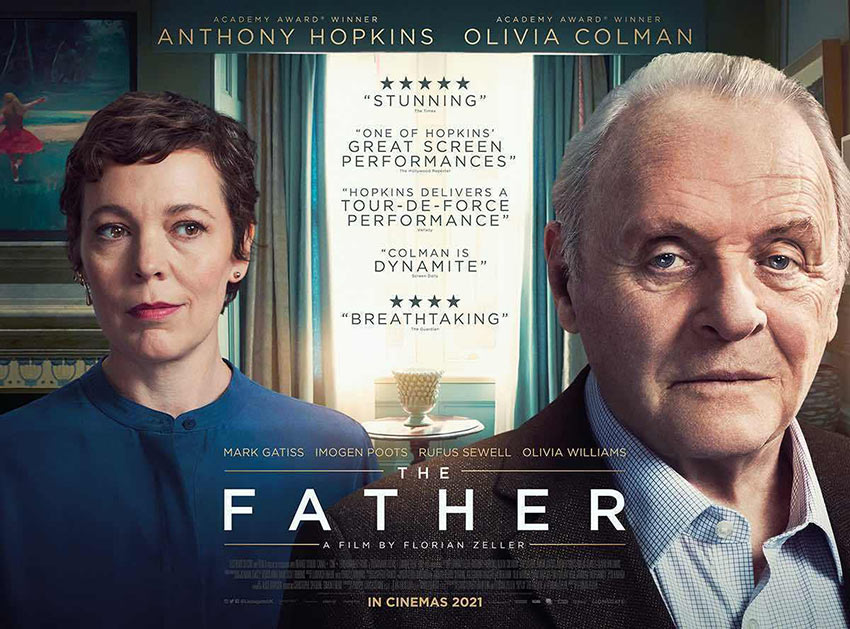 Searching for words or names is a familiar phenomenon affecting many people who struggle to find the descriptive noun for familiar everyday objects and experiences. What was the name of that actor? What is that restaurant that serves vegetable curry? What is that thing I use on my teeth every night?  Oh yes, it's dental floss. The sometimes slow-moving descent into memory loss is fascinatingly unveiled in writer/director Florian Zeller's film The Father, co-written with Christopher Hampton, based on the director's 2012 play Le Père, which premiered in Paris, subsequently winning the Molière Award for Best Play.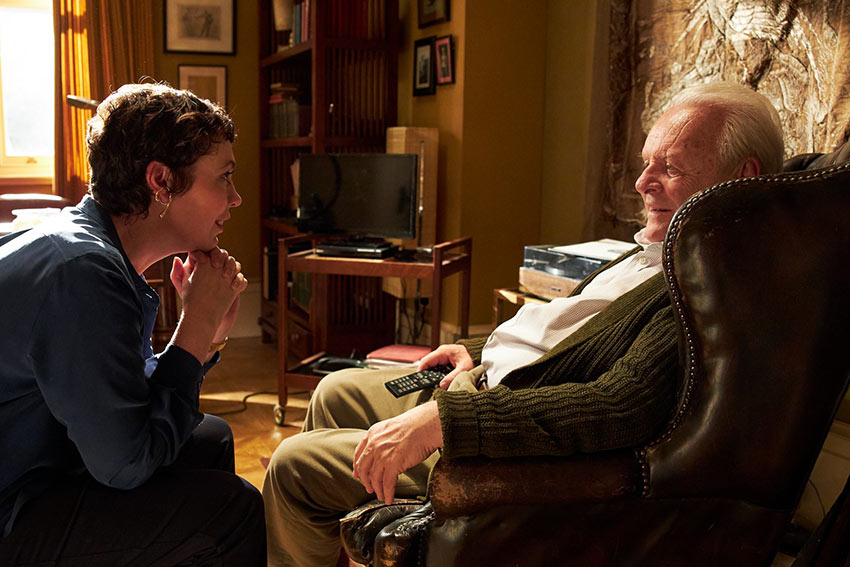 The film begins with opera music, which is part of Ludovico Einaudi's  soundtrack interspersed throughout the film and includes some of the most famous arias such as "Casta Diva" from Bellini's Norma. The camera moves slowly through a beautiful flat in London settling on Anthony (Sir Anthony Hopkins) seated in a chair wearing headphones listening to opera. His daughter Anne, sensitively played by Olivia Colman, enters with bags of groceries and at first we think she is visiting her dad in his flat. She is kind and solicitous and talks to him about the need for a carer.* Having fired three caretakers he is dug in and insists that he doesn't want any help and is positive the last one stole his watch. Anne is very patient and tells him she's going to look for the watch in his favorite hiding place in the bathroom and indeed that is where she finds it. He puts the watch on his wrist without saying a word.  His daughter asks him if he's taken his pills and it becomes clear that there's something on her mind. Sitting down next to him she takes his hand and tells him she's moving to Paris with her boyfriend to which he replies, "They don't speak English in Paris." This is one of many scenes where Anthony's reality is fractured into many pieces of a giant puzzle that he is trying to somehow unify. In the kitchen, he unpacks groceries and stops for a moment saying, "Is anybody there?" There is a man sitting in the living room and Anthony thinks it's Paul, (Mark Gatiss) Anne's husband.  He asks him if he and Anne are divorced and reveals to him that she is moving to Paris with her boyfriend and is worried about what will become of him.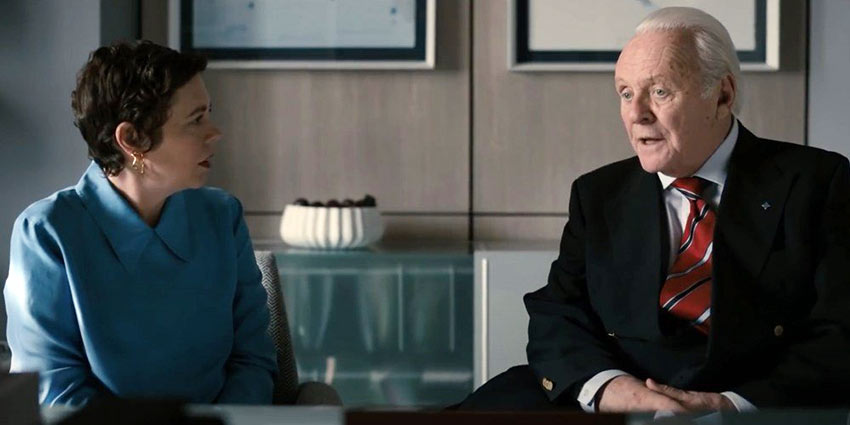 Despite his altered reality, Anthony senses that, "There's something funny going on" and trying to protect himself, emphasizes, "I am absolutely not going to a facility." A new caretaker by the name of Laura, played by Imogen Poots, is introduced and for just a few minutes we see Anthony as he must have been in his earlier life – happy, playful, funny, and joyful. He tells her that she's beautiful and that his daughter is trying to steal his flat.  Knowing his resistance to having a caretaker, Laura engages him in conversation asking what he did before he retired.  He does a few dance steps and says "I was a dancer." Anne quietly corrects him reminding him that he was an engineer. Having enough, he goes to his room leaving the two women alone. His daughter breaks down in tears at how this once vibrant, successful man is now traveling headlong into senility. Later that evening, she lovingly sits down on his bed but he doesn't immediately recognize her and once again says he can't find his watch. There are difficult conversations between Anne and her real husband Paul, well played by Rufus Sewell. He is losing patience with Anthony living in their flat and taking up so much of his wife's time and energy. He wants to travel and they had to cancel their last trip. Dad gets agitated as he overhears the conversation between Anne and Paul who wants to put him in a facility. There are two scenes that are particularly compelling where no dialogue is necessary: In one scene Anthony is wandering through the flat that is growing more and more unfamiliar as objects like pictures and furniture look differently than he remembers. The other heartbreaking scene is where Anne sees him trying to figure out how to put on his sweater. With the patience of a saint, she quietly helps him and then tenderly touches his cheek.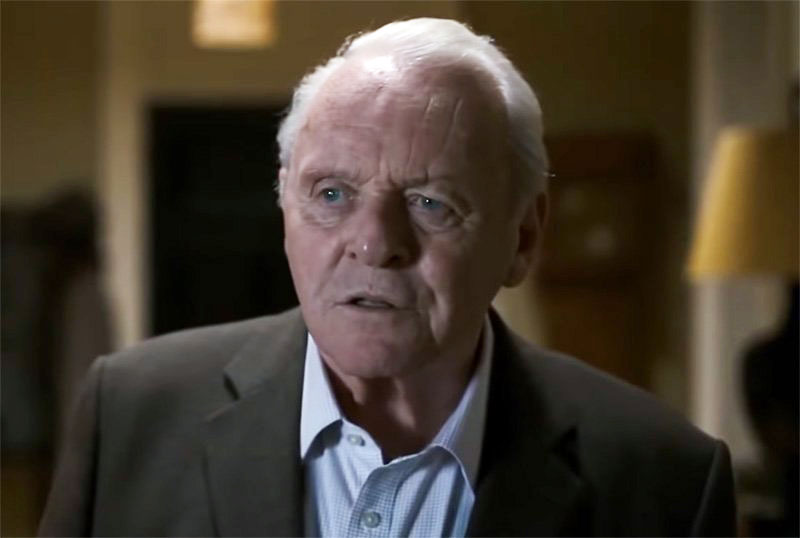 With the now rapid descent into a black hole, he asks his daughter "What about me?  Who exactly am I?"  And in his profound confusion, he breaks down crying, "I want my mommy."
In closing, I wish to reiterate that The Father is not an easy film and for some it might be too close for comfort.  However, despite the difficult subject matter, the performances delivered by Academy Award winners Sir Anthony Hopkins and Olivia Colman are absolutely riveting and they should probably make room on their mantles for another Oscar.
THE FATHER
A French-British Production
Director: Florian Zeller
Screenplay:  Christopher Hampton & Florian Zeller
Production Company:  F comme Film, Trademark Films Cine@
Cinematographer: Ben Smithard
Music:  Ludovico Einaudi
Editor: Yorgos Lamprinos
Distributors: Sony Pictures Classics (Domestic)
United Kingdom: (Lionsgate)
Language: English
Running Time:  97 minutes
Release Dates:
Domestic: December 18, 2020
United Kingdom: January 8, 2021
*British word for caretaker