The Last Vermeer marks the directorial debut of Dan Friedkin, a former stuntman in Christopher Nolan's Dunkirk (2017). Loosely inspired on the real life Dutch book "The Man Who Made Vermeers" by Jonathan Lopez, it was adapted to the screen by James McGee, Mark Fergus and Hawk Ostby. The film  features an international cast that includes Australian Guy Pierce (Memento, L.A. Confidential), Danish actor Claes Bang, and Luxembourgian actress, Vicky Krieps, best known for Phantom Thread (2017).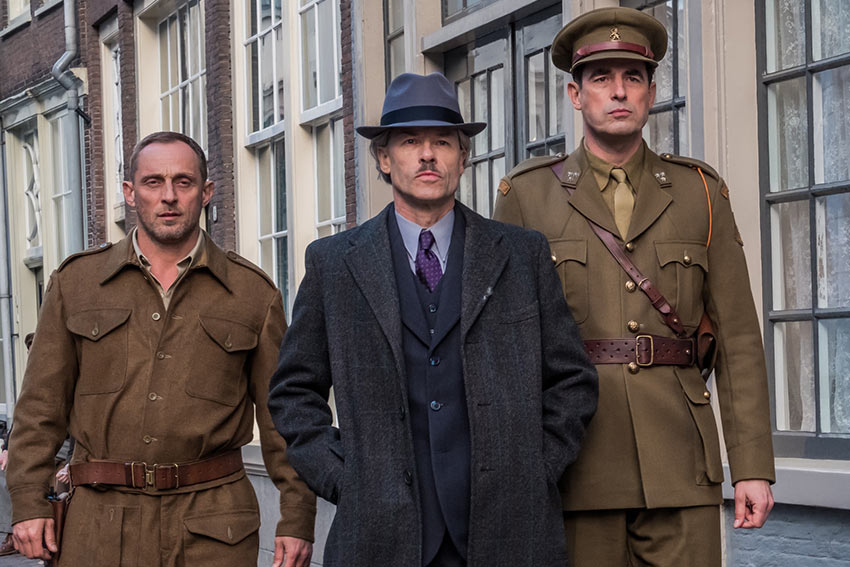 Plot Summary:
Pierce plays the Dutch art forger, Han Van Meegeren, an effete bon vivant artist, infamous for his decadent soirees with high ranking Nazis during World War II. The owner of over 500 Amsterdam properties, he had sold forged Dutch paintings to top Nazi officials, including Hermann Göring. While Van Meegeren lived life to the hilt, Bang's Captain Joseph (Joe) Piller, a Dutch Jew and former tailor, was fighting in the Resistance. His record was spotless and after the war was assigned to tracking down and identifying other stolen works of art, mostly from Jewish people, with the goal of returning them to survivors or families.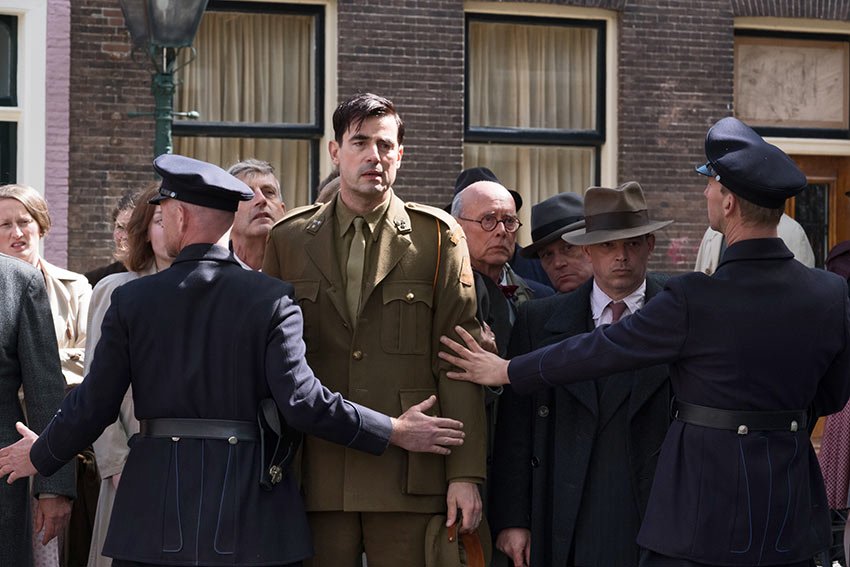 It is now May 29, 1945, three weeks after the fall of Hitler's Third Reich. While Joe searches for stolen treasures, streets crackle with public executions by firing squads for people guilty of collaboration with the enemy. Joe is particularly interested in how Göring came into possession of Vermeer's "Christ and the Adulteress," and traces the sale to Han Van Meegeren, with whom he arrests. In a stark jail cell, the arrogant artist requests paints, paintbrushes, and canvases.  He is to be tried and if convicted, will face the firing squad. The stories that Han tells Joe begin to plant doubts that he is guilty. He insists that he painted the Vermeers and sold the fake paintings to the Nazis for exorbitant prices. In the meantime, the Dutch government wants Han in their custody and attempts to snatch him from prison. On hearing this, Joe races back to the prison and takes Han to a loft where he can paint while he continues his investigation.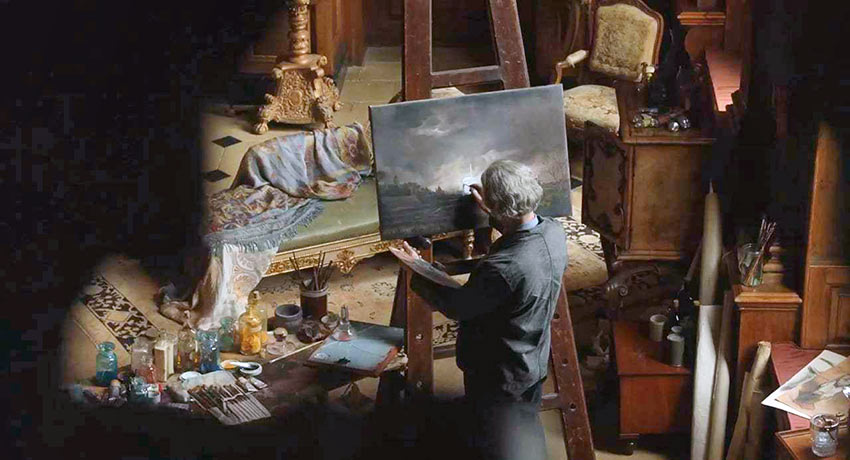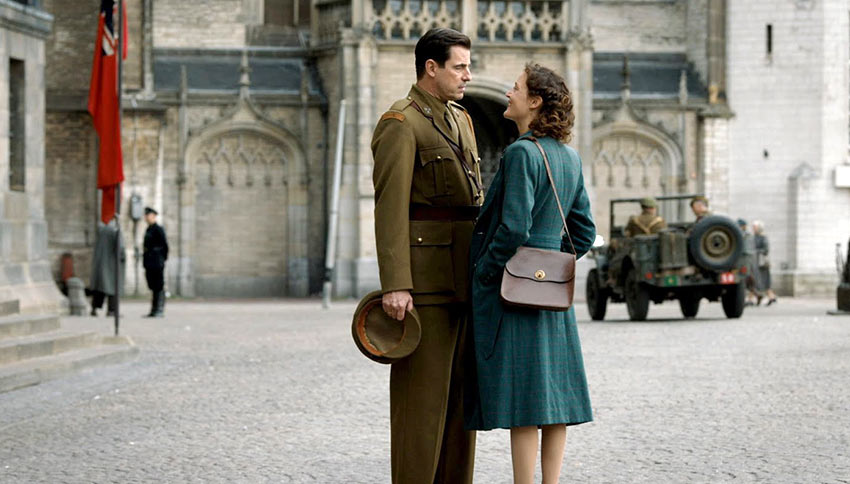 The artist reveals that despite having art critics spit on his work, he knew he was an excellent painter and decided he would pull off the hoax of the century by painting a number of pieces and then pawning them off as Vermeers. Those transactions made he and his wife incredibly affluent, owning multiple homes and enjoying a lush lifestyle. However, the government agents ultimately track him down and throw him into their prison. Despite being incarcerated, Van Meegeren maintains his elitist demeanor and still insists he painted those Vermeers. Joe enlists his former army buddy Esper, well played by Roland Møller who discovers a treasure trove of photos and cash hidden under the floorboards of Han's studio, which included pictures of Joe's wife attending parties where Nazis were in attendance. He confronts her and she insists that although she worked for a German officer, she was able to funnel information that saved the lives of many people. An attraction begins to heat up between Joe  and widowed Minna, played by Vicky Krieps, who has been assisting him in the investigation.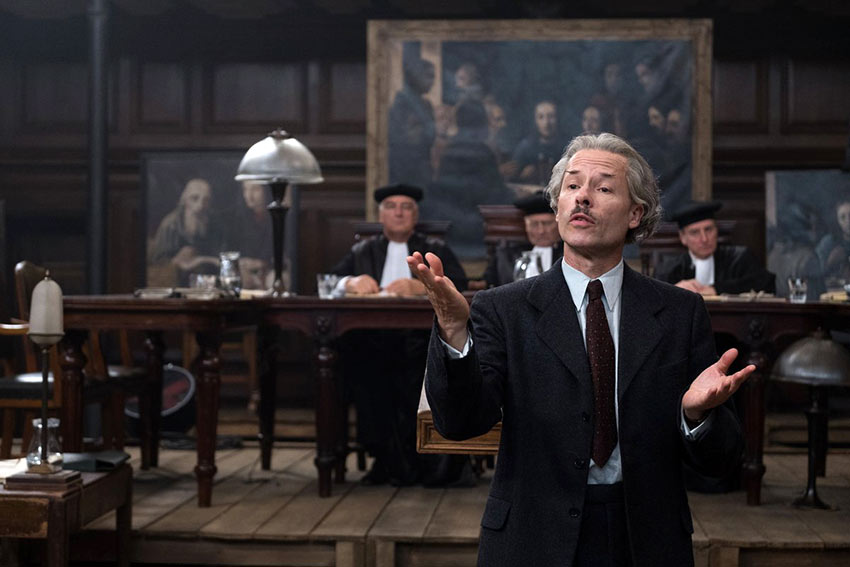 Han is now on trial and all the Vermeers that he claims he painted are displayed in the packed courtroom. Unfortunately for him, the one person who could back up his claim is deceased. With dramatic flair, he testifies that the art world treated him with distain and he deliberately painted the forgeries that fooled some of the best authenticators in the art world, bragging that one of his counterfeits hangs in Washington's National Gallery of Art.  Experts are called to testify, all of who had authenticated the paintings as being genuine. The accused explains in great detail how he painted the fakes – from the kind of brushes, paints, and canvases he used, as well as the chemicals applied for the aging process. Joe, who is acting as his co-attorney, begs the judges to let him perform an acid test to prove the paintings are fraudulent, but the judges refuse. They convene and in just minutes render a guilty verdict punishable by death. The courtroom explodes in shock and what happens in the closing minutes will have you on the edge of your seat. Yes. It's an intriguing but true cliffhanger.
Technically, the film is perfect from the settings to costumes to the music but I would be remiss if I didn't mention Remi Adefarasin cinematography, which beautifully captures the changing physical portrait of post-war Holland.
The Last Vermeer
Director: Jonathan Lopez
Screenplay: James McGee, a Mark Fergus and Hawk Ostby
Based on the book "The Man Who Made Vermeers" by Jonathan Lopez
Executive Producer:  Ridley Scott, Peter Heslop
Producers: Ryan Friedkin, Dan Friedkin, Bradley Thomas, Vijay Waghmare
Production Company:  Imperative Entertainment, Mehra Entertainment
Distributor:  TriStar Pictures
Cinematographer: Remi Adefarasin
Edited By: Victoria Boydell
Music: Johan Söderqvist
Language:  English
Running Time:  117 minutes
Release Date: December 4, 2020 (United States)
Principals: Claes Bang, Guy Pierce, Vicky Krieps, Roland Møller
117 minute
Rating:  R
Release date:  November 20, 2020
Opening On-Screen Via TriStar Pictures