Story and photos by Greg Aragon
The only thing better than a great hotel room, is a great hotel room on the beach. And this is why Zachari Dunes on Mandalay Beach is one of my new favorite Southern California destinations. Located steps from the beautiful sand and ocean in Oxnard, California, the resort has everything one could want for a waterfront vacation.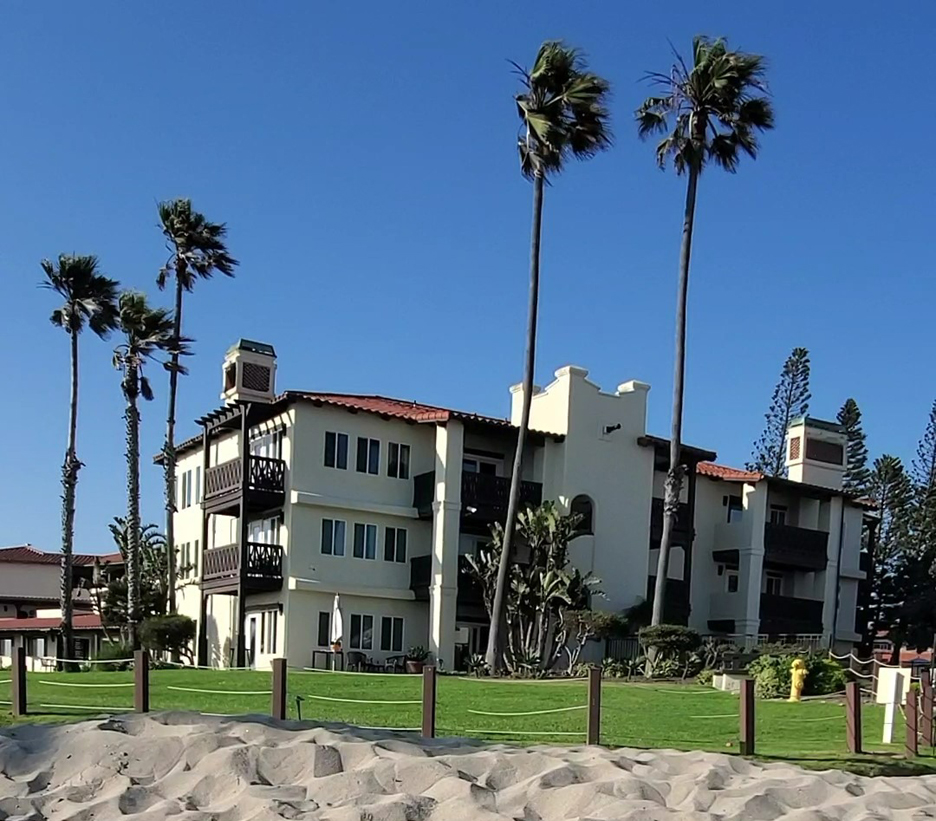 The family and I began a recent two-night stay at Zachari Dunes by experiencing two different rooms. The first night we stayed in a luxurious 2-queen suite, overlooking the water, and the second night we were in a palatial presidential suite.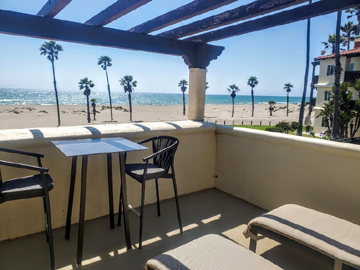 The 625-sq-ft, 2-queen suite overlooked the ocean and stunning Mandalay Beach. It came with a large entertaining room, featuring a sleeper sofa, comfy chairs, chest of drawers, huge TV, and balcony looking out to the water. This main room also had a wet bar, microwave, refrigerator, table and chairs, and a bathroom with a shower.
In the suite's separate bedroom, there were two queen beds, a private bathroom with a tub and shower, big closet, another TV, and access to the giant balcony overlooking the blue Pacific Ocean and the Channel Islands in the distance.
Outside the suite, we played on the beach or in the sparkling hotel pool. To get to the beach, we walked out the back gate of the resort, crossed a walking/biking path and stepped on the fluffy white sand of Mandalay Beach. I love this beach because it's rarely crowded and it is great for sunbathing, building sand castles, and playing in the water with kids.
Another favorite spot was the hotel pool, where we had our own private cabana for a day. Available for rent, the cabanas offer shade, a refrigerator and a couch and chairs. They are a great way to enjoy the pool and the extra large Jacuzzi. While relaxing in the cabana we enjoyed champagne and fresh, local Oxnard strawberries.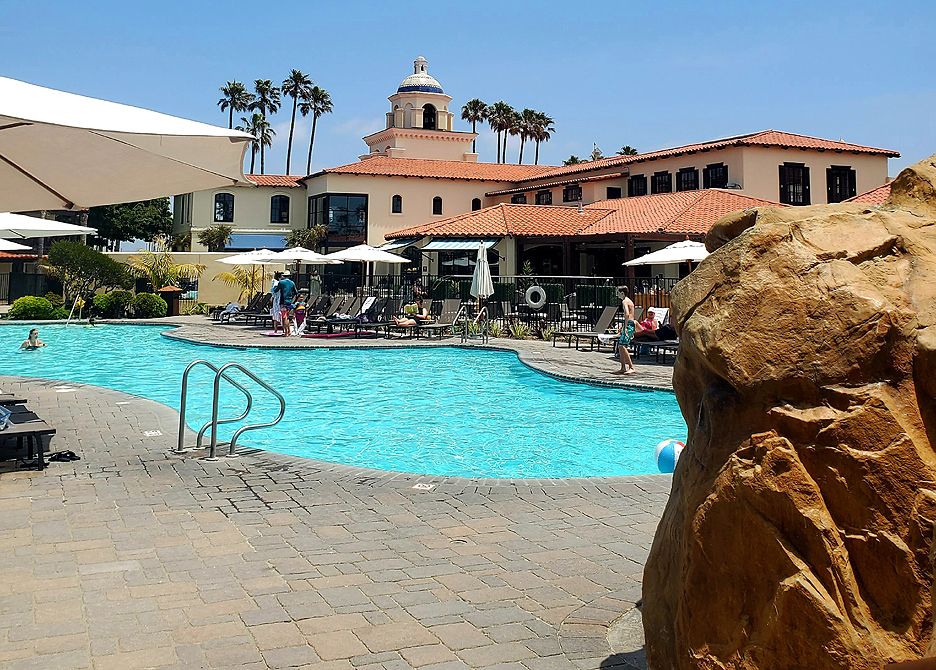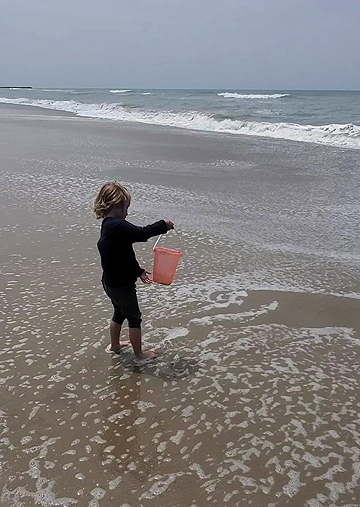 After a day at the beach and pool, we enjoyed dinner at Ox & Ocean, the hotel's signature, gourmet restaurant. Located beside the lobby, the restaurant offers an elegant and eclectic mix of surf and turf dinner options, as well as creative and tasty breakfast and lunch – all in a fun, indoor / outdoor setting.
"Tying into the unique makeup of California, Ox & Ocean serves locally sourced produce and seafood fresh from Oxnard's plains and sea, celebrating a diverse influence and distinct flavors in an elegant, yet approachable fashion," reads the hotel website.
Our dinner at Ox & Ocean began with a beet salad, with roasted poblano vinaigrette, avocado puree, goat cheese amaranth and local citrus. This heavenly salad was followed by delicious Oxtail Bao Buns, with hoisin, cilantro, kimchi and kewpie mayo.
Our savory adventure continued with a fresh and spicy Ahi Tuna Crudo, with aji amarillo, yuzu, apple pieces, avocado and radish. One of my favorite dishes on this incredible culinary journey was the Crab Croquettes, with lump crab meat, panko bread crumbs, and sesame chili-garlic dip.
These croquettes alone are worth a drive to Oxnard.
While dining, we sat outside, enjoying a cool ocean breeze and the beautiful Zachari Dunes resort. Featuring Spanish mission-type architecture, the white hotel buildings are highlighted by arches and red tile roofs. The grounds are covered with palm trees, lush vegetation, brooks and ponds, and winding pathways.

The hotel, which became part of the Hilton Curio Collection last year, is one of only two beachfront Hilton branded properties on the Pacific Coast. Besides 250 suites, Zachari Dunes boasts a fitness center, full-service spa, a bar with a game room, tennis and basketball courts, a small convenience store, and a beach gear rental shop with surf boards, paddle boards, hoverboards, skate boards, DSLR cameras, gopro cameras, binoculars, backpacks, wagons, a record player and more.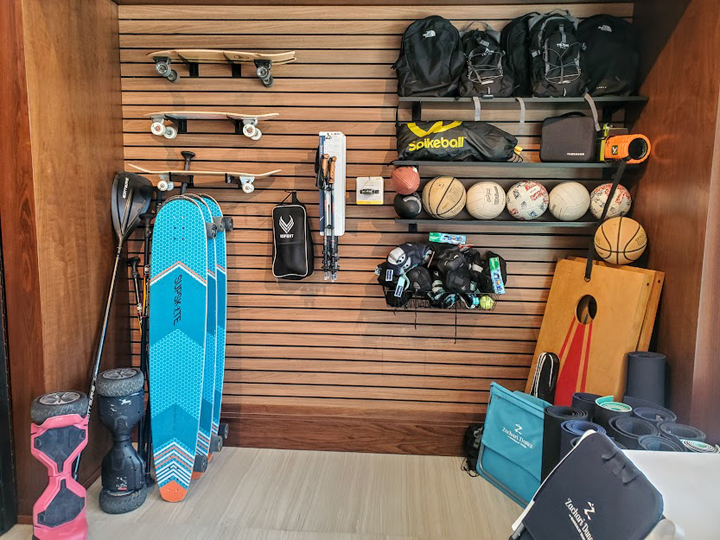 After dinner we strolled along the beach, as the sun fell behind the rugged outline of the Channel Islands about 20 miles offshore. We then joined other hotel guests for s'mores at the hotel's giant fire pit.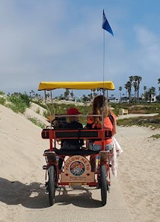 The next morning I worked out at the fitness center and then it was back to Ox & Ocean for breakfast. And it was another delicious affair, as I devoured Chilaquiles with roasted red pepper salsa, tortilla chips, sunny side egg, queso fresco, pico de gallo, and lime crema.
After breakfast we rented a four-person surrey bike and pedaled along the beach path. We pedaled by the ocean and next to large sand dunes and by a park, where we rested our legs and enjoyed lunch under a shade tree.
Back at the hotel we took advantage of a great perk at the hotel that allows all guests to check out anything in the gear shop for free for two hours. The first day we borrowed a large beach wagon with oversized plastic wheels, to pull the kids and all our stuff across the sand to the water.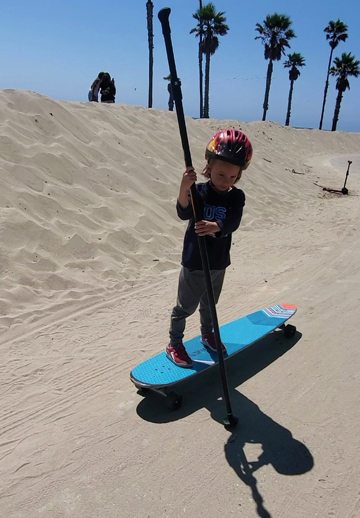 Our next adventure at Zachari Dunes was also quite memorable. We checked into a 1,600-sq-ft presidential suite that was fit for a king. The suite, which can easily sleep up to six people, came with two separate bedrooms, with a king bed in one and two queens in the other.
The suite also came with three bathrooms, two balconies overlooking the ocean and the pool, and a giant main living room with fireplace, office desk, wrap-around sofa, dining table, and kitchenette area with microwave, refrigerator, and wet bar. A highlight of the suite was the stand-alone bathtub in the main bedroom that was perfect for bubble baths.
The presidential suite was so great, we didn't want to go outside. But with a sparkling pool below us and the blue pacific ocean mere steps away, we had to venture out. So on my second day at the hotel, I headed to the gear shop and used my free two-hour rental on a longboard skateboard. Measuring about 48 inches long, the board came with a long paddle-like oar that I used to propel myself along the walking/bike path. Not only was this fun and thrilling, but it was also a great full body workout. I think I have a new sport!
Zachari Dunes on Mandalay Bay is located at 2101 Mandalay Beach Road, Oxnard, California, 93035. For more information and reservations, visit: www.zacharidunes.com or call (805) 984-2500