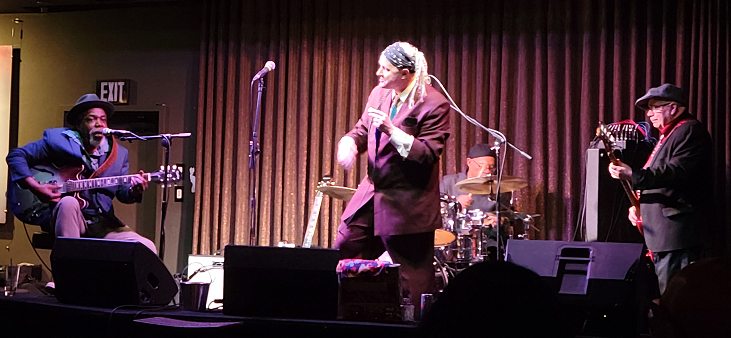 Earlier this year, I had the distinct pleasure of witnessing the West Coast swing of the Lurrie Bell and Jason Ricci tour. With the celebrated rhythm section of Rena Beavers on drums and Paul Loranger on bass, the bands cruise through the Southwest was both fast and furious. With stops in San Diego, Los Angeles and Arizona this All-Star lineup provided a blues experience unlike any other.
I don't use the term All-Star lightly; Lurrie grew up in a family of blues players and has played guitar with everybody from Billy Branch and Willie Dixon to Charlie Musselwhite and Koko Taylor. Jason Ricci has lived and worked with some of the legendary Mississippi hill country players including the Burnside and Kimbrough families and he now fronts his own band; the Bad Kind. Rena Beavers who is just as comfortable in the jazz realm as he is with the blues, has now drummed his way around the globe with Coco Montoya, Johnny Burgin and Debbie Davies. Bassist Paul Loranger has been laying down the bottom end for decades with players like Eric Sardinas, Popa Chubby and Southern California's own; Candye Kane.
When we sat down to talk, I was curious just how a young harp player (Ricci) from the Northeast ends up touring with a guitar player (Bell) from a legendary Chicago blues family. So we started by looking back. "I grew up in Maine and I got into harmonica at a young age, about four or something." Ricci says. "And around 13 or 14 I got serious so my mother took me to see Cotton and Musselwhite and that stuff had an effect on me. When I was about 15 or 16, 17 there was a lot of problems at home so I was on my own. I'm staying with friends, homeless shelters and all that kind of stuff. But my mother and father had a divorce agreement that he had to pay for college and he had the money, right? I ended up going off to Boise, Idaho to study wildlife management. I found a blues club out there and fell under the tutelage of Ken Harris, the Hammond B3 organ player from Boston from Paulie's (Loranger) neck o' the woods. He knew a lot of the people in Maine that I had been playing with; Per Hanson who was with Ronnie Earl and D.W. Gill and a lot of the players in Maine that had been around Boston. So I started playing in that club and that's how I got interested in playing blues for money."
Definitely advanced level musicianship classes, that had to create other opportunities? "I did get offered a job with Sam Lay." Jason recalls. "I didn't take the job and the reason being the harmonica player in Sam Lay's band was a tremendous influence on me and they were going to fire him and replace him with me. Even at 17 years old I knew that wasn't cool and plus, my mother would have been pissed if I had quit college, even though she knew who Sam Lay was. But that put the bug in my head that this could happen for me. So I moved to Memphis to be around another harmonica player named Pat Ramsey and I got a job at an Italian restaurant, not thinking I was going to be a big blues star or superstar, but thinking that might happen. From there I met David Kimbrough and Kenny Kimbrough and Dwayne Burnside. I was playing on the street in Memphis and already had a pretty bad drug problem which had me on the street. They took me down and brought me to the country where I was kind of safe from that. So I played with Junior Kimbrough, R.L. Burnside and their kids for a little over a year in Holly Springs, Mississippi. Senatobia, Potts Camp all these little juke joints out in the middle of nowhere. I was not only the only white boy in the band or in the club, but the only white boy for miles most of the time." (laughing) "They didn't even call me Jason; they just called me…white!" (laughing) "I was just white! Anyway, I found another gig in Jackson, and I started playing under my own name and playing with other bands, too. From there I found New Orleans and went on a tour down there, I ended up getting a job and then I went to jail for a year down in Florida, got out and played in Florida a little while and moved to Nashville, Tennessee to take a job with a New Orleans band that was living, touring and operating out of Nashville."
Lurrie, your father Carey Bell blew harmonica for a host of Chicago blues legends; Robert Nighthawk, Honeyboy Edwards, Muddy, Lovie Lee…looking back do you remember the first time you picked up a guitar? "I was at my dad's house," Lurrie says. "In the basement of his house and he'd have all these damn blues musicians from the South rehearsing and they was playing the blues, man. I was a little youngster, you know? And they had a guitar layin' down in the basement and I think it was my father's guitar. And while they was rehearsing, I picked the guitar up and I tried to play along with the band and I found that it came natural to me. I had an ear for it and I got it in my head that this is what I wanted to do. I wanted to learn how to play well enough that I can play with my dad. And I did."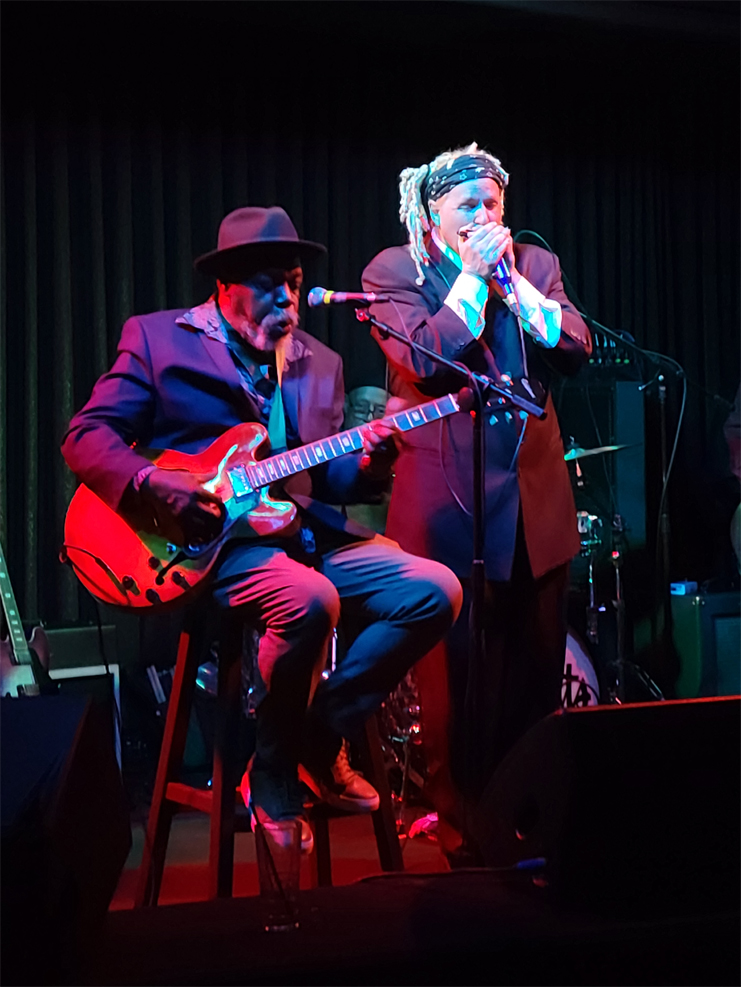 Jason, do you remember the first time you played with or heard Lurrie play?
"I spent 10 years in Nashville and started my own band in the early 2000s. It was during that time I did my first show with Lurrie, he won't remember this but it was in San Jose. We had a festival in San Jose, I was like skinny and 130-some pounds…I had been 12 years sober but was on the decline, a relapse. I was trying to keep it together, but I couldn't. But I met Lurrie and we had a great gig that day…he was one of the most emotional players I've ever played with and I fell in love with this man's guitar playing that day. I didn't think we'd ever do anything because I was sort of a modern cat and he was a traditional cat and I had my own thing going. But all these years later, I got a call from Amberley and she said would you be interested in doing a couple of gigs with Lurrie. So we did a duo thing at the Prairie Dog Blues Festival in Wisconsin, and I had two gigs at that festival. I had just finished a record with Altered Five which is a great band and then Lurrie and I did a duo thing and it felt good. I really relate to Lurrie as a person, not just as an artist but somebody that's overcome a lot, like we all are really. But just to play with him again was beautiful. That turned into a tour. Pauly called me up and suggested me to Amberley and she said, yeah we had him on a couple of dates…and here I am."
"I'll tell you one thing," Lurrie adds. "when I met you and we played, I was with my lady friend, Claudia Harris. I want you to check this dude out, she liked you. I said you ain't bullshittin' he can blow his ass off. I didn't know we were going to work together. I didn't know that at first, but I'm glad that happened."
Let's talk a little about this tour on the West Coast. You've got Rena Beavers on drums and bassist Paul Loranger which is a monster rhythm section.
"Like Jason" Paul says, "I've always had a deep respect for Lurrie. I've spent most of my life playing traditional blues or blues rock and I was actually out with Candye Kane at a festival and I saw him there…and Jason and I have been friends forever. We've known each other probably over 20 years."
Jason smiles and nods "He's been here for me through thick and thin. Pauly's always been a friend and this is actually, weirdly enough the first time we've worked together."
Paul adds. "I'm working with Anthony Geraci right now but I started with Eric Sardinas and I was with him a long time, I toured with Candye Kane and Popa Chubby and also worked with Paul Nelson, who helped get Johnny (Winter) back on his feet. But currently I'm working with Anthony Geraci. We were at a festival in Transylvania, believe it or not and it was Anthony and Lurrie together and afterwards, Amberley his manager, asked to join him on some tours and I'm really happy about it."
Rena, I saw you playing with Coco Montoya a year or so ago. "I've worked with Coco Montoya going on eleven years but as far as the blues realm, I started when I moved to Nashville in the mid-90s, I played double bass enough to be dangerous to myself and other people." (laughing) "Then I landed a gig playing with Little Milton the last two years he was alive."
Lurrie looks surprised. "…with Little Milton? I didn't know that. I went down South with Little Milton for awhile, played rhythm guitar with him. It was my job to open up the show and call Milton up. That was a long time ago."
Lurrie if you would, talk a little about playing with Koko Taylor… "Man, it was incredible because when it comes to female blues singers Koko got me! When she and her husband asked me would I want to work with her, they came down to Junior Wells' club in the basement (Theresa's) in Chicago, Illinois. I started working with Koko and we went to Europe and Africa together. I had some great times with Koko Taylor as her second rhythm guitar player. We played together about seven years."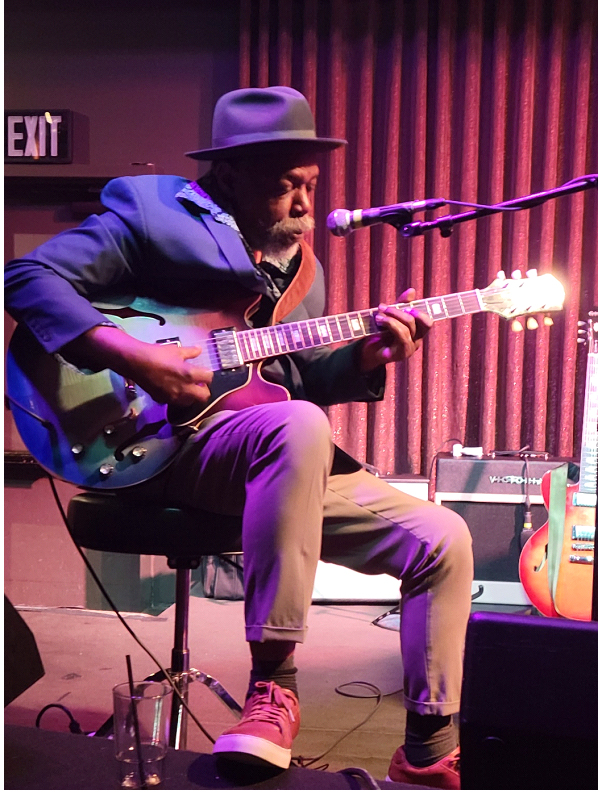 You also played with Willie Dixon. "Willie Dixon, you know Willie Dixon don't bring too many people to his gigs and call 'em up on stage unless they're blues entertainers from the same neck of the woods. My father was playing with Willie Dixon at the time blowing harmonica and I went to one of the shows and before I know it the old man called me up on stage. And I said oh shit, he wants me to play!" (laughing) "With Willie Dixon!!! Buster Benton was Willie Dixon's lead guitar player called me up and said you can use my guitar. I said I've got to play some blues now 'cause the old man is watching. It went alright, I played a couple of numbers and that was that. When they called me up to play guitar with Willie Dixon, I haven't quit playing since then!" (laughing)
On this limited tour with just the four of you, talk a little about your musical collaboration. It's not just straight blues; you all seem to contribute your own unique skills and talents during the set. "This was our first gig with Rena." Jason says. "We didn't even have a rehearsal!" Rena just smiles. "I told Pauly last night, basically I know enough of the vocabulary and I'm constantly learning but with these guys you sit back, call the tune, know what it's supposed to be…then hang on!" (laughing) "Just hang on and help propel them."
Lurrie says, "When it comes time to play my music when I'm playing lead guitar and singing, these guys know how to follow me, you know? This guy here" (he nods toward Rena) "he's got a solid rhythm on the kit back there and my main man here on the bass guitar." (grins at Paul) "We go way back!" (laughing) "And of course Mr. Jason Ricci, he's one of the baddest cats I've ever heard play harmonica. You know I was taught by ear, I didn't go to school to read chords and stuff like that."
Lurrie, if you had to name someone who had the most influence on your style of guitar playing? "B.B. King!" he says without hesitating. "When it comes down to the blues…that's right!" Did the church have any influence on your direction? "I used to live in Macon, Mississippi with some of my dad's people and also in Alabama; I had an older sister down there. We used to go to church all the time and listen to gospel music, quartets and choirs and before I knew it I had joined the church and started playing guitar and they used to pay me for that. They'd raise a collection for me, but eventually I moved back up North."
After this quicky tour, will you guys all go back to your regular bands and projects? Jason, what's the latest on the Bad Kind? "Well, we've got a new guitar player that we hired last year. Brent Johnson. I've been after Brent forever, for a long time I had two guitar players because I like that sound. I like when a guitar player can play and has chords behind him. Brent was behind Bryan Lee for 15 some odd years, the only person to never be fired from Bryan Lee's band. It made him very insecure because he's the only one who never got fired. It's like a badge of honor in New Orleans if you've been fired from Bryan Lee's band." (laughing) "He did 15 years and never got the badge, you know?" (laughing) "And like Lurrie, he's a very emotional player. He's in-the-moment with no pre-conceived notions about what should be and that reinvigorated me. I did a record with New Orleans pianist Joe Krown who was with Gatemouth Brown for 14 years and with Walter 'Wolfman' Washington. Walter loved Lurrie and Lurrie was one of the few people that Walter lent his guitar to during Jazz Fest. I played Jazz Fest with Walter just last year and just recently we christened the Walter 'Wolfman' Washington Memorial Park. There will never be another one like him. Joe Krown was the pianist for him and many other people too. One of the most famous pianists in New Orleans who can play all the Professor Longhair stuff plus, he's also a Hammond B-3 organ player. We put together an organ trio and we recorded the very first ever organ trio with harmonica as lead. We're doing all Grant Green numbers, Jimmy Smith, Crusaders…stuff like that. That's what I did throughout most of the pandemic. I just stuck around town playing soul jazz and jazz funk and a little bit of blues with Joe Krown and Walter. The Bad Kind was ready to go and Mike Zito called me up and asked if I would be interested in doing a record with him. We just finished it at Dockside Studios, Joe Krown is on it, Joanna Connor is on the record and we definitely want to get Lurrie on the next one."
Lurrie says, "I'll be around!" (laughing)
Jason, I can't let you go without asking you about playing with Big Bad Smitty. "Big Bad Smitty was a blues singer and guitar player originally from Mississippi but made his name in Saint Louis. I met him in Mississippi, I didn't know who he was and he wanted to sit in and I said no, and he came back with a Living Blues magazine cover from 1981with him on it! And I said okay." (laughing) "He got up and he sang Muddy Waters and Howlin' Wolf and he sounded just like both of them. I found out he had a HighTone release with Hubert Sumlin on it (Cold Blood) so we put together a band and backed him up. He lived with me for a little while and then decided to go back to Saint Louis and that was that. He passed just a short while later. When I met Smitty, he had no legs. He had lost his legs to diabetes. He was a gruff, abrasive, rough and vulgar person." (laughing)
Jason, you also teach music online. "I'm trying to educate cats, especially harmonica players…so they can play music, not just blues but music in general." Lurrie adds "without music there'd be nothing to look forward to everyday you get up in the morning, see the sunrise. What's you gonna' look forward to if you can't hear no music? Something's gonna' go wrong somewhere."
Paul, could you share a story or two about working with Popa Chubby. "Popa and I have known each other for a long time, almost like Jason who I've known for almost twenty years. We came up together, dating back to my time with Eric Sardinas; we played a lot of shows together and got to be friends. And working with Candye Kane, because they were dear friends and both Popa and Candye were on the peripheral of the mainstream blues players and they were both okay with that. I've been living out here in the Long Beach area for almost 30 years. But Popa Chubby, he's one of those guys that plays with a lot of heart, man. I mean he gets up there, he has his own style and he's a really good songwriter. He's got some very pertinent songs and I really enjoy my time with him. I learned from him."
Rena, tell me about working with Coco Montoya. "Oh, he can take that guitar from a gentle whisper to one of the biggest roars and even though he's blues-based he draws inspiration from all types of music."
It seems this band does the same thing. I've got to say Thank you to Amberley Stokes for making this interview happen. And a special thanks to my good friend, Rosalea Schiavone of Wicked Harem Booking & Productions for the opportunity. And a special Thank You to the band, you keep the music and especially blues music alive for all of us.