James 'Yank' Rachell isn't a name commonly mentioned or referred to in the blues community but he really should be. It might have been his instrument of choice; it wasn't a guitar but rather, the mandolin. Born Northeast of Memphis near Brownsville, Tennessee, on March 16th 1910, Rachell grew up as a farm laborer working alongside his family. The story goes he traded a pig for his first mandolin when just a child and lucky for us, he never put it down. Yank became an accomplished musician and also played guitar, banjo and the fiddle, but he always came back to his first love, the mandolin.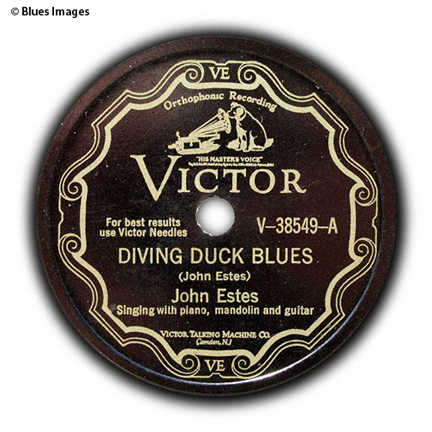 From his teenage years with Sleepy John Estes and Hambone Willie Newbern through his ramblin' days with John Lee 'Sonny Boy' Williamson and a man known as the 'Devils Son-in-Law' Peetie Wheatstraw, Rachell's musical road is paved with legends. With pianist, Jab Jones, his first recording sessions took place in Memphis with Sleepy John on September 24th, 1929 and were released on the Victor label. It would be the start of a musical career that would cover most of the 20th Century.

Sleepy John Estes and Yank Rachell – 'Diving Duck Blues'
At a blues festival in Southern California back in the early 90s I ran across the man they called 'Yank' while he was entertaining the crew backstage with a favorite memory about traveling with Sleepy John Estes. "So the next time I carried him with me…he played so good and sung good. We came to a man's house and the man's wife got stuck on him and he got stuck on a man's wife…" (laughing) "The man run all of us away! We all left!" (laughing) "We all ran away from there!
Then Sonny Boy and I started playing together. You see, Sleepy John didn't stay in one place; he'd go all the time. I wouldn't go because I had a family but he didn't have no family; he went everywhere. He'd pick up anybody to go with him. I was from Jackson, Tennessee just 25 miles from Brownsville and Sonny Boy would come stay with me weeks at a time and I go out and stay with him and Walter Davis, a man sent him down to Silver Springs to make a record for Bluebird. But I kept on working; I've always worked and never quit my job to play music."
Working outside music Yank says he held lots of jobs. "I worked in a factory all the time and I farmed. When I quit the farmin' I went to the city and worked in a factory. I retired 15 years ago."
Living and playing acoustic mandolin in those early years, did electrification impact how you played? "You know, I didn't think not much about it. I could play the blues on anything, electric or un-electric; it didn't make me no difference. I could play a barb-wire fence!" (laughing) "if you could play the blues on it, you can play it on it! They say, 'how you play the blues on a mandolin?' You can play it on anything, if it's got a string on it. I can play the blues on a banjo; I used to play it on a banjo and fiddle, too. Blues…that's the blues, you know? The blues is here to stay."

Tappin' That Thing
He remembers playing with all the greats…Memphis Minnie. "It was alright" Yank grins. "Me and her made a record together with Jab Jones and Memphis. There aren't many I haven't met and played with. She's a nice person and a nice personality. She's a nice girl and 'Kansas Joe' McCoy, all of them. I met many a musician and played with many of them."
How long will you continue to play? "How long?" Yank smiles. "As long as I can work these fingers." (laughing, he wiggles them in my face) "Cause you see, that's a job. People holler and come tell me one day, 'Why don't you quit playin' and go to church.' I go to church; yeah I go to church, too. But I'm playing music to make me some money." (laughing) "I'd be a fool if God gave me a talent and I don't use it. I go to church and the preacher gonna' ask for some money." (laughing) "If I don't give him some money, he's ready to turn me out of the church. If I got some money, I can give him some money!" (laughing) "The preacher he wants the money and he's gonna' ride in them Cadillac's and Lincoln's and all that. And you're comin' there in an old Model T…He don't care he's going to get up there and preach to ya'. I told them if you got a religion the blues don't bother you. You listen to it but if you got religion the blues don't take it from you. I don't go no where and play and tell them not to go to church. I go and play the blues, if they like it they yell, if they don't like it…they leave. But I'm going to play it. God gave me the talent to play it and I know how to play it. There's no harm in playing the blues, 'Oh! He's going to Hell! He's playing the blues.' But you go to church and you hear, 'oh, did you see what she had on, Sunday? I wouldn't wear that to a dog-fight!' That's the way people do, you know?" (laughing) 'I wouldn't wear that. Did you see her hair?' That ain't right, you know? I'll go and sit down and play. God Blessed Me and I thank the Lord for it.
Did you ever meet Bill Monroe the bluegrass player? "Never did, but I played with a guy named Burns, a white guy…Jethro Burns, (Homer and Jethro) that was his name and we played together in Alberta, Canada. He was a jazz player and he could play some jazz. He didn't play bluegrass and I never did play no bluegrass. I just played the blues on everything I played because I loved the blues, you know? I just love playing the blues, now I probably could play bluegrass, but I haven't tried."
As one of our blues elders, describe Yank Rachell's blues. "Well, I just will hear something and play it, you know? It comes in my mind and I'll sit down and play. I'll lay down at night and play. I never write a song when I go in the studio, it comes to me. I ain't never got no paper or writing or reading and I made many a record, but they come to me and I match them up, that's the way I do it."
You worked with Taj Mahal. "Yeah, I played with all of them. Taj Mahal, me and him made a record. 'She Caught the Katy' that was my song. And he made the record, I went to Los Angeles and Sleepy John went there and we stayed with him instead of going to the hotel to help him out. So he would carry us to the place and he recorded 'She Caught the Katy' but it ain't exactly the way I made it, but he made it and put my name on it so it would sell, 'cause he had never made a record. So I've been getting money from it, too! I got $15,000 dollars from it; I got a check from him last month. $10,000 and it's in the bank now."

Taj Mahal 'She Caught the Katy'
I asked a friend and blues historian Al Blake (Hollywood Fats Band, Hollywood Blue Flames) if there are recordings he felt typifies the best of Yank Rachell? "Sonny Boy played his best behind Yank…The Yank Rachell/Sonny Boy/Washboard Sam recordings should be where every blues harmonica player starts but they don't. For me these recordings are pretty much the Holy Grail! Yank is playing guitar, not mandolin. Sonny Boy plays wonderful harmonica in support. Far more harmonica from him on these as opposed to the recordings he sings on. I believe Little Walter paid close attention to these recordings as a very young man. Later and unlike other harmonica players Little Walter's support work was ALWAYS exemplary!! Sonny Boy w/ Yank inspired? I'd say yes. Here's a list of Yank, Sonny Boy and Washboard Sam classics that I personally love in no special order… '38 Pistol' 'Worried Blues' 'Biscuit Baking Woman' 'Peach Tree' 'Hobo Blues' 'Up North Blues' 'Army Man' and 'It Seems Like a Dream.'

Peach Tree Blues (1941)
Do you feel blues players are getting more recognition today? "Oh yeah, it's comin' to 'em now! They're just now learning how to get it; 'cause I got a lot of money out there and didn't know how to get it. I had millions of dollars out there and didn't know how to get it. If I did I'd be a retired millionaire."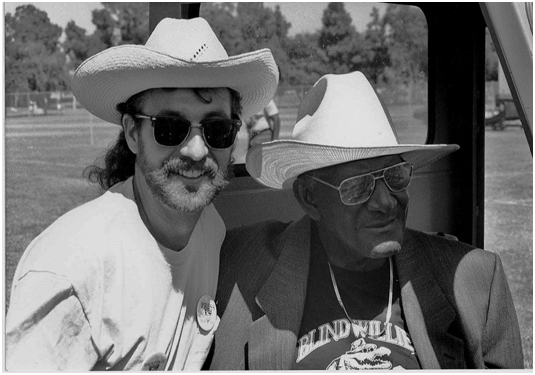 Did you ever dream back in the 20s and 30s that you'd be playing in front of huge festival crowds like this one? "I sure didn't. Not then…those old country suppers and they'd be shootin' guns in there and you'd have to jump out the windows and run." (laughing) "I run into the stable with a mule one night, some guy was shootin'!" (laughing)
Who was shooting? "I don't know who he was!" (laughing)
Was he shooting at you? "No, he wasn't shootin' at me. He got to fightin' in the house, you know? And he shot…BOOM! When he shot I went out the back door and the man's barn was out there."