Treasures of Ireland:
Food, Fun and Falconry
At Ashford Castle
(Dispatch #18)
Story and photos by Tom Weber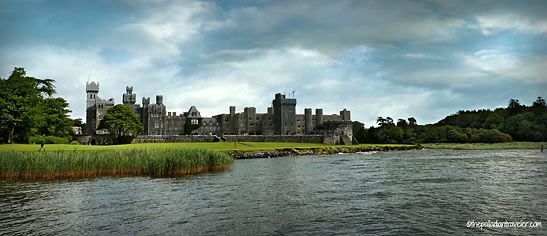 hen it's not raining on your parade, and that's a real possibility when visiting the Emerald Isle, there are plenty of outdoor activities to keep you busy around Ireland's iconic country estate: Ashford Castle.

Guests can tee it up at the parkland golf course; play singles or doubles on two all-weather tennis courts; go fishing; grab a kayak and paddle around the lake; mount a horse and hit the woodland trails, or take a carriage ride with the entire family; hire a bike and cycle the castle's vast estate; take aim with skeet and archery; play billiards; screen The Quiet Man and other box-office hits in the velvet-seated cinema; relax in the spa; or, do what we're about to do: experience the ancient sport of falconry.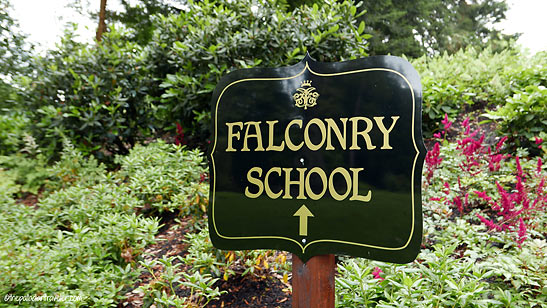 Ireland's School of Falconry is the oldest established falconry school in the country. Here, castle guests can book a once-in-a-lifetime "hawk walk" and fly their very own Harris's hawk in the nearby woodlands.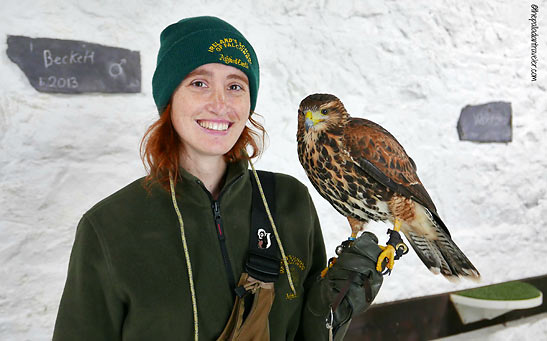 Meet Jamie and Lima. Jamie's the smiling redhead from California in the watchman's cap and a bona fide falconry instructor; Lima's the female Peruvian Harris's hawk. Together, they're schooling us in this 4,000 year-old hunting sport.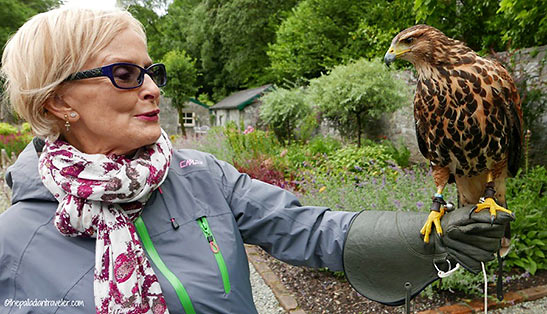 Following its "handler" from tree to tree, Lima periodically swoops down into a gloved fist, grabs a "snack" and then flies off again. You know she's somewhere nearby from the sound of the tiny bells attached to her talons.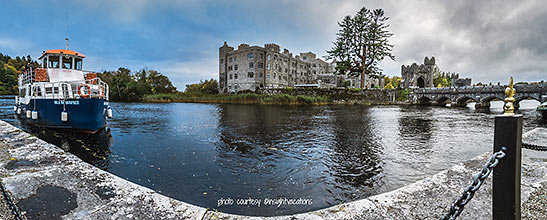 I've been told that a "history" cruise around Lough Corrib, sailing daily from Ashford Castle's private pier, is a terrific way to explore the camera-ready surroundings of some of the lake's 365 isles, one for each day of the year, and take in the panoramic views of the Connemara Mountains in the distance.
Together with my mates – 18 travel writers and photographers invited by Insight Vacations (Insight) to sample a portion of its Treasures of Ireland itinerary – I board the M.V. Isle of Innisfree, an original tender (lifeboat) from the Cunard Line, and shove off.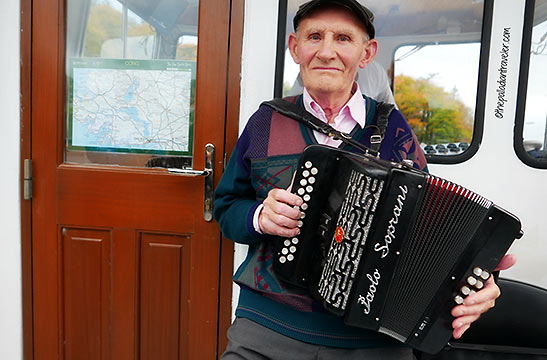 Captain/historian/owner Patrick steers the boat and narrates the scene both at the same time as we cruise across the lake. Meanwhile, Martin, an 80-year-old musician, entertains us topside on the "squeezebox" with a selection of Irish tunes, like Danny Boy and Rakes of Mallow.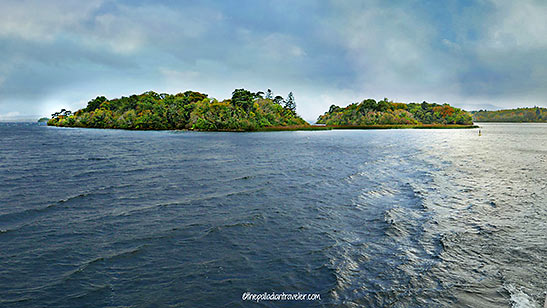 In between the history lesson and the ditties, a member of the crew ensures that our glasses are kept full with wine or Jameson, or both, to ward off the cold wind hitting us straight on. Brrrr.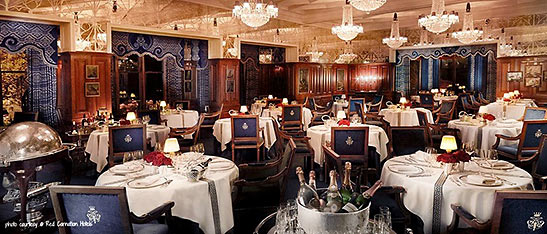 In 1906, the Prince of Wales was a guest of the Guinness family, owners of Ashford Castle at the time. The prince went on to become England's King George V. In honor of the king's visit, the Guinness family built a special dining room that still bears his name.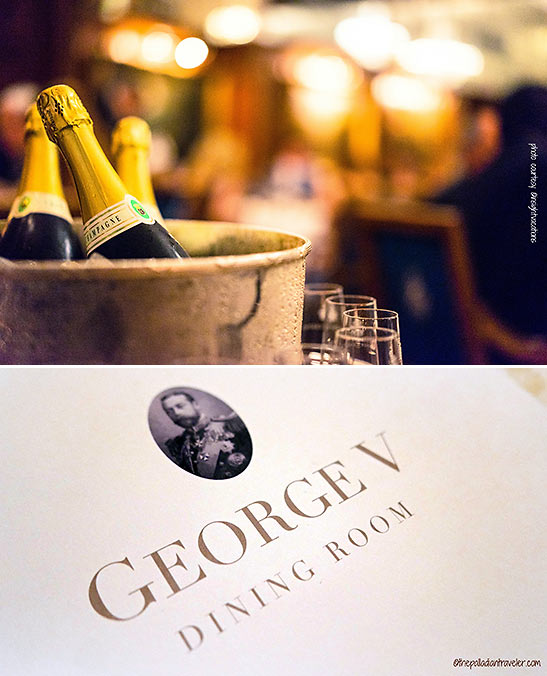 Dressed to the nines – coat and tie for the gents and the LBD (little black dress) for the ladies – we're ushered into the graceful setting that is the George V Dining Room, handed a glass of bubbly and prepare to dine like royalty.

From acclaimed Chef Philippe Farineau's kitchen, a bounty of food magazine-worthy dishes is plated before us from Ireland's lands, seas and farms. And, paired with our delectable selections are several stellar wines from Bouchard Finlayson Winery of South Africa.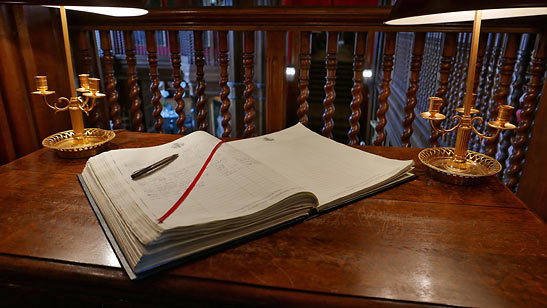 With our 48-hour, fairy tale-like stay coming to an end, members of the intrepid "band of merry media" add their names to the guest book to ensure that they're part of the Ashford lore.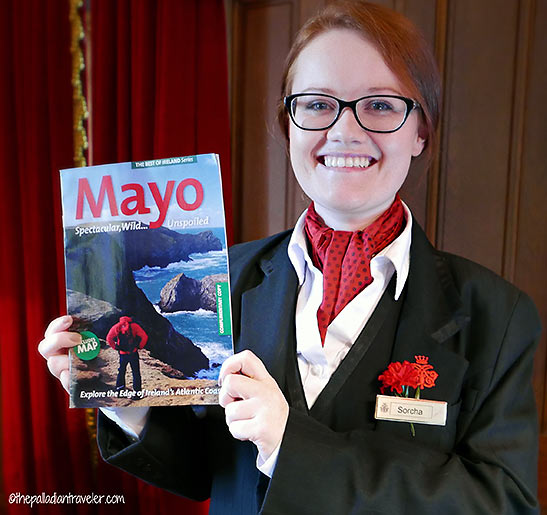 Red Carnation Hotels has done a masterful job of meticulously restoring this iconic country estate in Co. Mayo to its former glory, breathing new life into her to carry her forward, hopefully, for another 800 years. But, it is the staff, those warm and friendly individuals sporting the emblematic flower in their lapels, who have made our visit so unforgettable.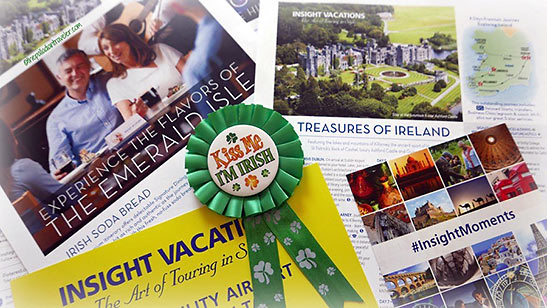 For complete information on Insight's 100+ premium and luxury-escorted journeys around Europe, including a five-star luxury stay at Ashford Castle, just click HERE, or call toll free 1-888-680-1241, or contact your travel agent.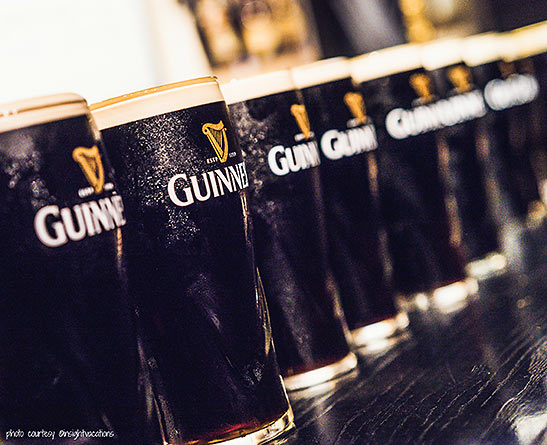 Join me in just about three hours in downtown Dublin when we'll pass through the "pearly gates" to see how Irish barley, hops, yeast and water ferment in perfect harmony to form the world-renowned "black stuff."
Related Articles:
The Quiet Man; Piped Inside Ashford Castle; Galway Bay; The Burren; The Cliffs of Moher; Remembering the Great Famine