There is a phrase in old Victorian slang, nantynarking, which denotes great fun. The beaches of a Florida island are blooming with the sounds of nantynarking on this warm December afternoon as I make my way around the Dickens on Centre theme festival that's rocking beneath the palm trees.
Amelia Island, located on the northeast coast near the Georgia state line, is the setting for this charming annual event. I'm intrigued with their 2021 festival's focus on their culinary diversity, lighthearted entertainment, and historic home parlor tours. Visitors can reserve luxury picnics inside life-size snow globes at Dickens Enchanted Village. The British bliss is crowned with a Dickens-soaked beach race.
Primarily taking place in downtown Fernandina Beach, the event transforms historic Centre Street into Charles Dickens' early Victorian-era England. The event is the largest of the island's plethora of seasonal celebrations, and displays costumed characters, themed live entertainment, and a variety of art vendors.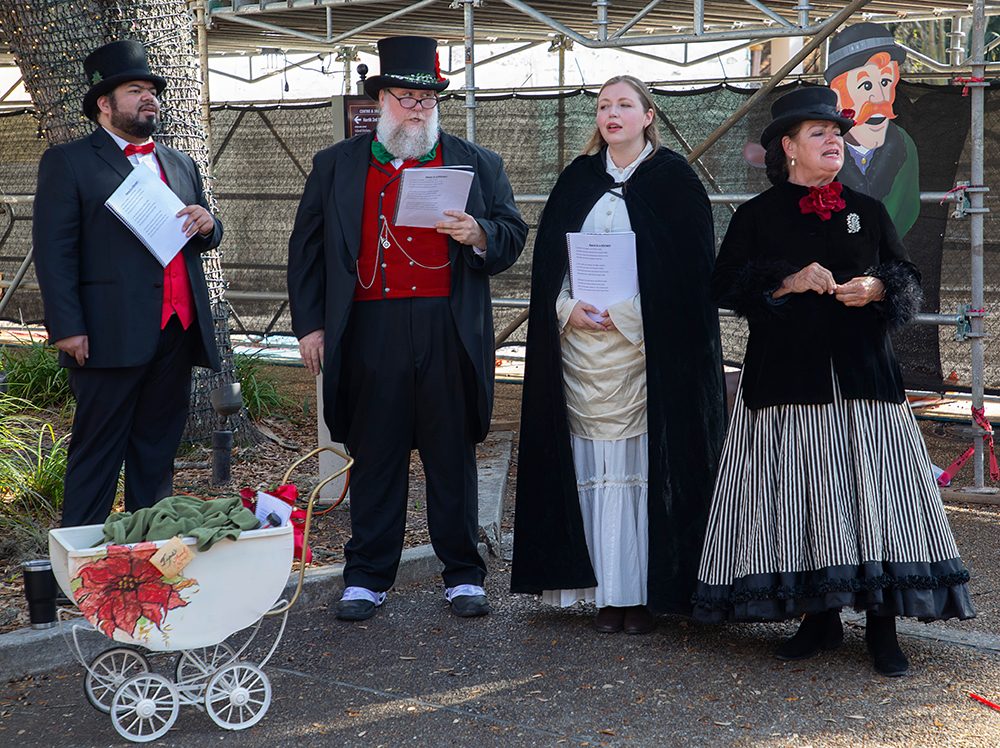 The three-day event utilizes two stages to host 75 events associated with the 30 entertainment acts and their crews. Attending this Dickens-venture in downtown Fernandina Beach is a culturally and generationally diverse audience of more than 18,000 hailing from throughout Florida and neighboring states.
The streets are alive with Victorian-costumed actors, dancers, and carolers. Nearby in the Kid Zone, there are readings of 'Twas the Night Before Christmas, as well as photo opportunities with St. Nick himself. Costumes are abundant on vendors and guests.
The weekend festival is augmented by Dickens Dining Week. This culinary showcase features the island's most popular dining spots, offering pre-fixe Dickens-themed and Victorian-inspired menus. It leads diners' taste buds to the top spots to eat on the island.
Arriving on Friday afternoon, I'm curious whether this neighbor of Jacksonville — home of Lynyrd Skynyrd– can pull all of this off. Will Florida Man's mullet look dapper beneath a British top hat? Will he be converted to a Dickens-head before the weekend is over?
On Friday evening, I chat with Joe's 2nd Street Bistro owner Chef Ricky Pigg. A native to the island, he is among the ranks of culinary professionals who count themselves among the enthusiasts of the local scene.
"Amelia Island is an example of how a small coastal community should be built," Pigg boasts.
Situated in the heart of downtown, this bistro offers diverse fare. He's proud that his eatery's relaxed setting, which is in a restored historic home, merges chic and Southern.
Pigg notes that the isle, with its native-born residents and international visitors, has a varied take on food. This becomes apparent when I read his menu. Fusion is the name of the game at Joe's Bistro, especially with the local seafood selections.
"My New England seafood bouillabaisse merges a traditional and understated recipe of shrimp, scallops, lobster, and local fish, presented in a saffron tomato broth packed with aromatic vegetables," Pigg excitedly tells me. "For my Creole gumbo, I use a dark roux. I put an Irish twist on it by using Guinness beer. It gives it a chocolate flavor."
So many choices, so little stomach space.
On the menu is a brisket bacon burger that is topped with Pigg's own barbecue sauce. Also humorously layered on the burger is pimento cheese. If you don't know what that is, you probably grew up north of the Mason-Dixon line. Lovingly referred to as "Southern pate," it's technically a spread. Most recipes call for cheddar cheese, mayonnaise, pimento peppers, onion, and random seasonings. Pigg's eagerness to add this unpretentious mixture to his sophisticated menu evidences his gastronomic virtuosity.
Traipse Around the Tree
On a clear December morning, the beach is easily viewable from the balconies at the new SpringHill Suites Amelia Island. The Saturday sunrise beckons me, but I take comfort in the knowledge that serenity can wait-tomorrow afternoon will be more leisurely. Instead, I'm taking part in the one-mile beach race, Run Like the Dickens. Sassy puns such as this punctuate the weekend.
After registering for the race, I chat with event planner Nate Aron. We laugh at an arriving quartet of costumed participants. They're ringers for the costume challenge.
"There's a contest to run around the Christmas tree the most times at the halfway point," Aron informs me. After the event, runners gather at the amply decorated Courtyard by Marriott Amelia Island lobby for cocoa and awards. My "sweet sixteen" laps around the tree earn the prize of three workout sessions at the funnily named Eat The Frog Fitness gym, but more exertion isn't on today's agenda. Food is.
Fudge, Food and Flashes on Fernandina
On my way to lunch, I peruse the local merchants. The year-round merchants sell enchanting local artwork and chic clothes. Outside, vendors are selling seasonal gifts, handmade Victorian ornaments and clothing, sterling silver jewelry, leather and cowhide accessories, roasted chestnuts, homemade fudge, and homemade soaps.
Amy Boek, who is chief marketing officer of Visit Amelia Island, makes a compelling case to me for the festival's historic British theme. She explains that Amelia Island is also known as The Isle of Eight Flags, a testament to its international connections and intriguing past. Her quaint 14-mile island is bursting with fascinating historic sites adeptly waltzing with natural beauty.
"Our island was named in honor of Princess Amelia, King George the second's daughter," Boek explained. "One of our eight flags is Britain's Union Jack."
It's noticeable how seamlessly the British flair meets Southern fare at Leddy's Porch. Located at the historic Florida House Inn, it boasts a "little porch sittin', good food and Southern hospitality. They offer lunch during the week and brunch options on the weekend. Locals rave about the biscuits and bottomless mimosas.
I nosh on their comfort food, indulging on the special ingredient of my grilled cheese sandwich.Pimento again! This isn't your routine cheddar cheese melt. The slightly crispy texture of the bread gives way to powerful punch of the pimento.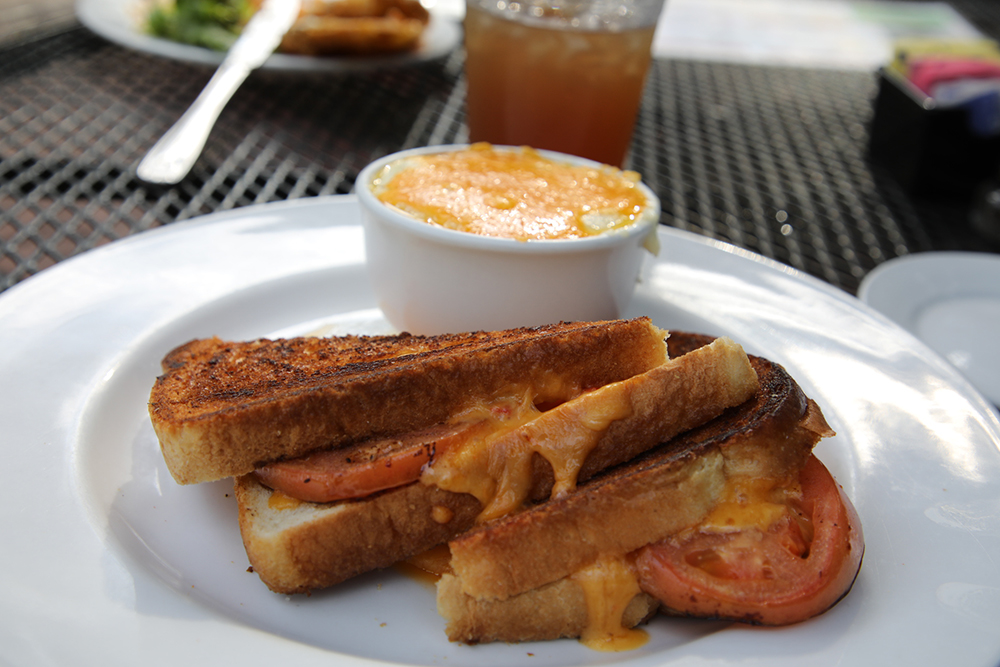 After lunch, I return to the downtown entertainment and revelry. The Amelia Island Dance Festival has orchestrated a Victorian flash mob. It is every bit as comical as it sounds. Susan Dodge, who choreographs the exhilaration, is enthusiastic about the local art scene.
"Amelia Island has more arts and culture than someone would expect," Dodge said. "Music, art, and dance are thriving here."
Marilou Welling, who works for the local tourism bureau, enjoyed the flash mob.
"Amelia Island Dance Festival did a fabulous job collaborating with many dance entities on the island but especially incorporating ballroom dancing in Victorian costumes to open the dance," Welling said. "More than thirty dancers that were camouflaged as festival goers pulled out holiday hats and joined in the fun. Truly a heartwarming moment throughout the festival and the commotion on the street drew hundreds of festival attendees to watch from all four streetways."
Any initial fears about the festival not being 'British enough' were unfounded. It's this writer who needed to cleanse herself of her stereotypes. It is surreal to enjoy the beautiful dances against the backdrop of Fernandina Beach historic architecture together with a horde of fans dressed in Victorian garb. I remind myself of the charmingly eclectic nature of the Sunshine State, and conclude Floridians are as British as the Dickens in Fernandina Beach.
"The Dickens Festival was amazing this year and I was impressed with its overall execution. I had a blast at Dickens and enjoyed doing the flash mob more than expected," Dodge adds.
Costume It, and They Will Come
On Saturday evening, the downtown Fernandina Beach area is bustling with the sounds of Dickens. I'm attending the swanky Dickens After Dark. gathering. I come dressed for the occasion in a Victorian dress and bonnet, having been wisely advised I wouldn't regret springing for the rental. Indeed, I didn't feel out of place, as most of the other guests turned out in theme. Approximately 200 visitors are dressed dashingly. To coin a Southern phrase, Florida Mansure cleans up nice.
Upon arrival, I'm welcomed by roaming cabaret performers, hors d'oeuvres, and an open bar. The entertainment atmosphere consisted of jugglers, stilt walkers, aerial artists, and historic tours of the estate. The cheeky humor in their acts was sublime. Guests relished in the exclusivity of the historic Lesesne House, which only recently opened to the public.
Performed on the front lawn was Alice in a Christmas Wonderland, a comedic production by Jason Woods Productions. Woods was among the locals who enjoyed the Lesesne House for the first time.
"I had not seen the house before I brought my cast and crew over for the Alice in a Christmas Wonderland show," Woods said. "It was a splendid location, and festive in the most immersive way."
Woods believes that Florida is a logical fit for a Victorian celebration. His zeal for this state is palpable.
"Amelia Island has the best Dickens Festival that I've ever seen anywhere," Woods says. "I think that can be attributed to good leadership, with a vision for what a simply magical December weekend looks like."
Amy Boek encourages Florida men who aren't devotees of holiday pageantry or British literature yet to try the festival. If you are dating or married to an anglophile but you are not one yet, she reasons, you will learn about your partner's passion, and it might start making more sense to you.
"To anyone thinking that our event is too formal or unusual, I say bah-humbug," Boek says. "We try to think of everyone. You'll find yourself more at home than you'd expect. If you want to take a break from the pageantry downtown, our local boat tours and charters are fantastic. Winter is a wonderful time for fishing in the intercoastal waterways in this area."
A Waltz in the Woods
It all begs the question: What's the secret ingredient to Amelia Island's innovative yet refined spirit? Chef Ricky Pigg believes the nautical location, joined by year-round sunny weather, Southern hospitality, and historic pride, provide an exceptional platform for a tranquil yet inspired vacation. Contemporary beach-view hotels such as the Courtyard by Marriott Amelia Island are placidly paired with the smaller inns in the historic district. Rather than battling with each other for market share, these contentedly coexisting options speak to the genteel nature of this destination. "We're proud of our beautiful B&Bs here," Pigg says. "The restaurant, gallery, and lodging owners know each other and all work together. If someone else is thriving, we're all prospering."
Perhaps the world could learn a lesson in peacekeeping from Amelia Island's gracious and relaxed residents. Chef Ricky Pigg could function as the chief justice for any global village, smoothing over quarrels with a stroke of his signature barbecue sauce.
"We are so blessed with the talented people in our culinary scene," Ricky Pigg says. "On this island majority of restaurants are owned locally. There's a lot of mutual respect. We try not to copy each other's signature entrees, so we have lots of creativity and diversity."
Amy Boek concurs, "When people are on Amelia Island, they are given the chance to unwind in a way that makes them feel like they belong here."
Pimento on the Ritz
The weekend winds down on Sunday morning with brunch at Coast at The Ritz-Carlton Amelia Island. The café is offering lunch, for only fifteen dollars per person, as their contribution to Dickens Dining Week.
Coast offers a seasonal menu that includes local seafood, succulent steaks, fresh pasta, salads packed local heirloom tomatoes, and creative small plates. The recently renovated casual restaurant offers indoor and terrace dining and serves breakfast, lunch and dinner.
While the Sunday breakfast buffet and Dickens selections look grand, I opt to order from their standard lunch menu, which sealed the deal on Amelia's culinary superiority. More pimento! This time playfully spread on toasted baguette fingers, topped with smoked peaches. Fresh honeycomb is added as an accent. This Southern symphony on a plate, rivals anything those pretentious Yankees concoct.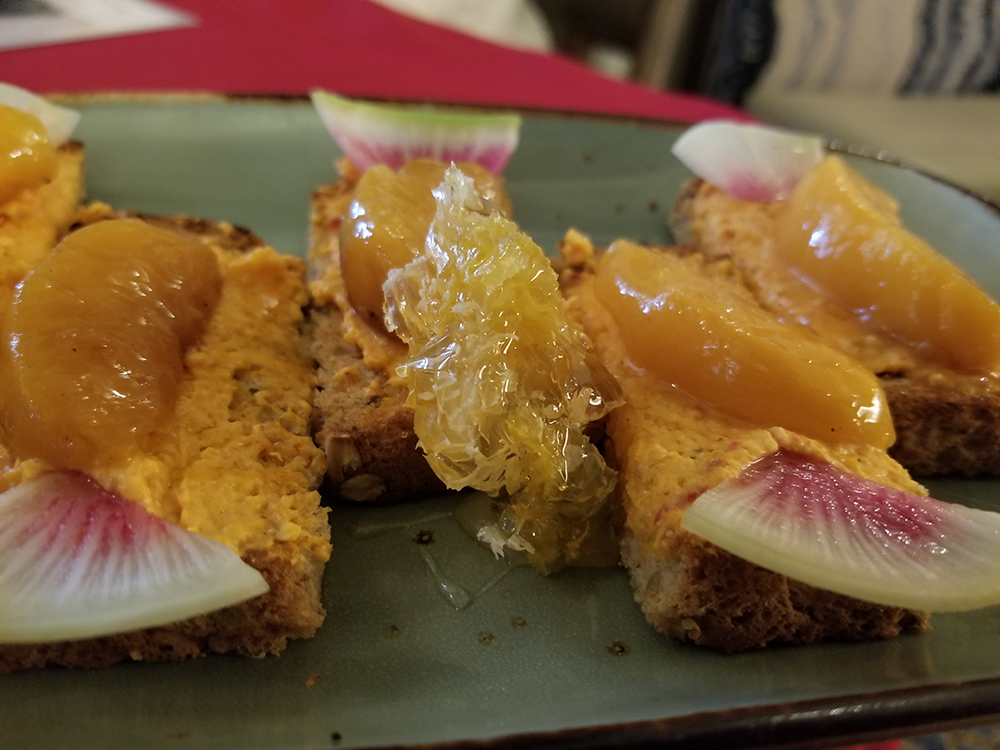 I could wax lyrical about The Ritz's largest gingerbread pirate ship in the lobby, opulent golf course, or their magnificent view of the water. I probably should mention their delightful Santa Tea at the Ritz, but it's that lunch that reigns in my heart.
I leave in a jovial mood, having found what I believe is Florida's best island. Jason Woods is similarly enthused. He says that the revelry in the island reminds him of a certain playwright's holiday viewpoint.
"'Amelia Island, in the words of Charles Dickens himself, "knows how to keep Christmas well, if anyone alive possesses the knowledge."' "It's an honor to bring my show here," Woods says.
Deep thoughts from Mr. Woods, but a different lesson was gleaned by this Simple Woman on this nautical neighbor of Lynyrd Skynyrd.
Amelia Island taught me that what this world needs is more pimento.
The 2022 festival, marking the event's eighth year, will run December 9-11. The roster of performers at the festival changes annually. To time your chain watch to this Dickens-venture, visit AmeliaIsland.com/Holiday.