10 Cheap Foods That Last a Long Time
These foods with long shelf lives can improve your diet while saving you money
Courtesy Erin Huffstetler
If you're filling your pantry, especially if you are on a tight budget, focus on cheap and nutritious foods that have a long shelf life, like rice, apples and peanut butter. You'll spend less at checkout, and you'll waste considerably less food at the end of the week. All price estimates mentioned were good as of March 2020.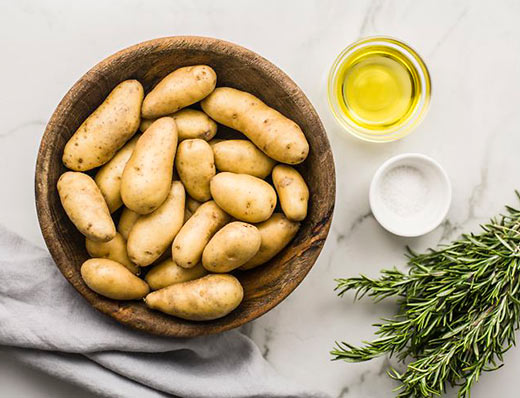 Potatoes
A five-pound bag of potatoes is without question one of the biggest bargains in the produce department. For about $4, you'll get enough potatoes to make a many meals. Bake them, toss them into soups, add them to casseroles, or make potato salad or a big batch of oven fries. Potatoes are incredibly versatile, and if you store them properly, they'll easily keep for four to six months. Some potato varieties are particularly good for storing. These include Yukon gold, russet, Kennebec, Katahdin, and red Pontiac.
Beans and Other Legumes
Beans cost much less than meat and are a source of protein, fiber, and minerals. Load up on canned beans, or save even more by purchasing dried beans and cooking them yourself. One pound of dried beans costs about $1.50 and is enough to make 6 cups of cooked beans. That's the equivalent of four cans of beans.
If you don't want to fuss with soaking dried beans, use lentils. They don't have to be soaked first and they cook quickly.
Dried beans are best used within a year but can be stored longer. Be sure to add extra cooking time when using older beans.
Rice
A half-cup serving of rice costs just five cents and is the perfect base for a filling meal. Rice is an important staple throughout most of the world, so you won't have any trouble finding a large variety of recipes for it.
White rice has an incredible shelf life. It'll keep for four to five years in the pantry. Brown rice has is more nutritious but has a shorter shelf life, lasting six to eight months in the pantry and eight to 12 months in the refrigerator. Since brown rice is more nutrient-dense, consider keeping it in the freezer, where it'll stay usable forever.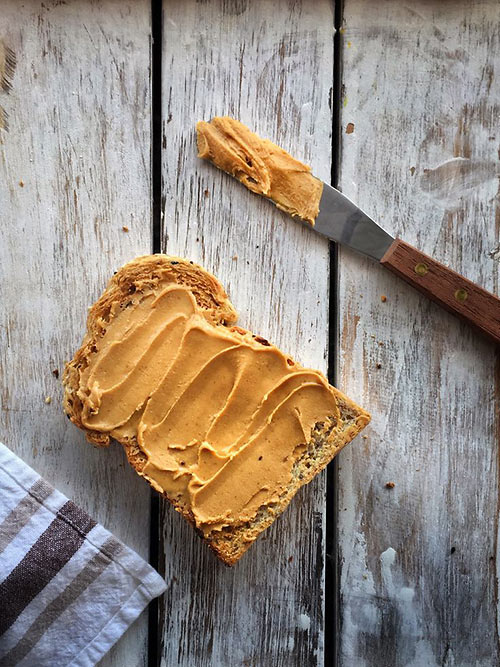 Peanut Butter
Peanut butter is a cheap and versatile source of protein. A 16-ounce jar costs about three dollars. Beyond using it as a spread for sandwiches and bagels, you can add it to shakes, or whip up delectable desserts like peanut butter bars, cookies and fudge. Peanut butter also appears in savory dishes, like Thai peanut chicken.
Unopened peanut butter is good for a year past the best-by date printed on the jar, so stock up when you find it on sale. Once you open the jar, it will last about three months. Natural peanut butter is an exception to this rule. It's good for two to three months past the printed best-buy date when stored in the pantry. It stretches to three to six months when stored in the refrigerator.
Apples
Most fruits have a high water content, so they go bad quickly. If you're tired of finding science experiments in your fruit bowl, make apples your go-to fruit. Under the right storage conditions, they'll keep for up to five months, which means you can safely stock up when you find a deal on your favorite variety. When your apples start to go soft, all is not lost. They can still be used to make applesauce or apple butter.
Carrots
Baby carrots don't have a very long shelf life, but whole carrots do. Tuck a bag in the veggie bin in your refrigerator, and it'll be good for at least four to five weeks past the best-buy date printed on the bag. As long as they don't feel soft or slimy, carrots are perfectly fine to eat. Enjoy this versatile vegetable as a snack, roast them for a side dish, or chop them up and add them to soups. You can even use them to make a carrot cake if you're craving something sweet.
Tip: If your carrots still have their long, leafy tops when you buy them, be sure to cut them off. They'll pull moisture from the carrots and cause them to dry out faster.
Pasta
A box of pasta is a great meal starter on a busy day. Just whip up a quick sauce or pour one out of a jar (no judgment here), and you have a complete meal.
Dried pasta is always a good deal, but it's an even better deal if you catch it on sale. Aim to pay $1 a box or less. Pasta is good for one to two years past the date printed on the box, so you have plenty of time to use it up.
Oatmeal
Oatmeal is a steal at just 21 cents per half-cup serving, and it has an equally impressive shelf life. Quick oats (also known as one-minute oats) can be kept for two to three years past the best-buy date. Instant oats and steel-cut oats have a shorter lifespan of one to two years past the best-buy date, but that's still plenty of time to use them.
Enjoy oats for breakfast, but don't overlook all of their other uses. Oats are an excellent addition to cookies and bread, and can even be used to stretch ground beef. Add up to a cup per pound of beef to make your meat purchases go further.
Flour
Flour costs 50 cents a pound or less, and there's no end to the things that you can make, sweet and savory. When stored properly, all-purpose flour is good for six to eight months past the date that's printed on the bag. Whole-wheat flour and specialty flours like self-rising flour have a shorter lifespan of four to six months past the printed date.
To stretch the shelf life even further, keep your flour in the freezer. There's no need to bring it back to room temperature before you use it.
Frozen Veggies
Frozen vegetables are an amazing storage food. You can get more veggies into your diet and avoid having them go bad before you're able to use them by loading up on the frozen varieties at the store. Prices range widely depending on the vegetable. They usually cost considerably less than fresh produce, and since they're frozen soon after being picked, they tend to pack a bigger nutritional punch.
Readers' Ideas for Finding Community and Cheer at Home
Courtesy The New York Times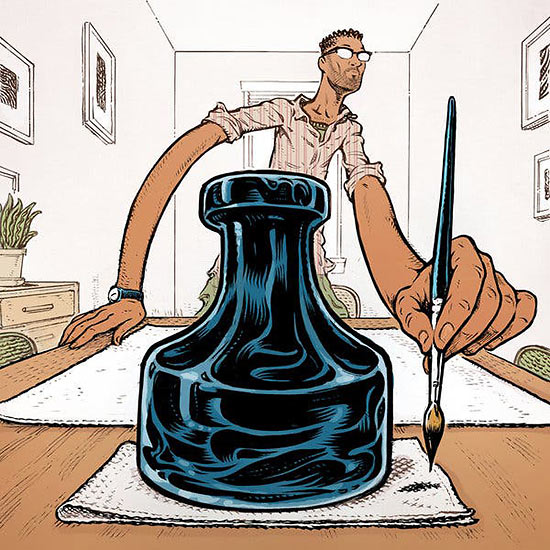 As much of the world adjusts to a new normal of restricted living, our readers share tips for finding everyday joys.
Many of us are now entering the second, third or fourth week of restrictions on our movements, and it is becoming ever clearer that overcoming this crisis will be a marathon, not a sprint. As we all collectively adjust to our unique situations, we asked New York Times readers to share their ideas for pursuing the traveler's spirit of discovery, curiosity and delight within their new limitations at home. Following are their responses, which have been edited for clarity and length.
An artistic exercise in patience
As a child, I was taught ink drawing and I rediscovered my love for it. It requires a lot of concentration and patience. It helped me through a difficult time in life where I felt very anxious about not understanding what's happening around me. This resonates so strongly today.
— Andre Williams, Montreal, Canada
Painting landscapes of where I want to go once the virus is no longer a threat.
— @ameliekurlander, via Instagram
Journey through French music
My Spotify playlist can take me around the world and my personal favorite is definitely French music. The music opens a whole new feeling with a country, which is the perfect "vacation" while studying or being stuck in quarantine.
Some of my favorite French songs are:
These are all kind of basic, but they all remind me of great holidays and the language is, in my opinion, very beautiful.
— Hanneke Bezemer, Brummen, the Netherlands
Support small businesses where you can
Please remember that there are so many people for whom this isn't a staycation, but unemployment. My husband and I own a small craft chocolate company and we don't have work or wages for the seven people we've had to tell to file for unemployment. We have no sense right now of whether our small business will make it through or not. For those of you who are able to be on staycation, please consider doing some online shopping at independent stores and ordering take out from independent restaurants.
— Elaine, Atlanta
Watching live-streamed operas and virtual museums. The arts have been brought to us!
—@ce.l.l.in.e, via Instagram
Beethoven, via Berlin
Concert halls may have been closed to the public, but that doesn't stop me from "attending" one. The Berlin Philharmonic, for instance, kindly offers concerts on their Digital Concert Hall website free of charge. This year is Beethoven's 250th birthday, and listening to the composer's struggle hidden within his music really rejuvenates my mind and drives me forward. Music makes us happier and more optimistic, and staying at home with some music, especially by Beethoven, puts us in another world.
— Neo Hung, Hong Kong
Explore rail trails, nature preserves, parks. Geocaching is also active fun for families!
—@laurenmati, via Instagram
Look to the stars
Download the SkyView app to your phone to view distant constellations, nearby planetary objects and more! I love gazing at Jupiter, which is 513 million miles from Earth, in the sky we all share. It reminds me of Earth's extraordinary beauty and the unity of life.
— Caroline Pedro, Seattle
Zoom karaoke with friends
— @marissa_friedman, via Instagram
Take stock. Breathe.
What is worse right now? Being alone or getting cabin fever (and irritable) with your partner? Since I have no choice — my darling husband died a year and a half ago, after 54 years (not nearly enough!) of marriage — I am thinking hard about the coming weeks and months.
Finally edit the zillions of photos on my computer. Consider actually making photo albums for myself or my loved ones.
Do some creative writing, especially some short "memoir" pieces my grandchildren would enjoy.
Attack my files. Get rid of unnecessary paper and create a better filing system.
Take a daily walk and notice the beauty.
Deep breathing before getting up and before going to bed.
This will last a long time, but not forever.
— Robin Weintraub, Rochester, New York