This installment of THREE THINGS is courtesy of Madeleine Vogelsang – Product Manager, Airberlin Group.
Question 1: What's new with airberlin this year out of the U.S.?
Answer:
airberlin, Germany's second largest airline strives to provide an extensive global route network for its flight guests in addition to convenience and flexibility by increasing efficiency in all areas of its operations. Berlin and Dusseldorf serve as the focal point of this route expansion and this year it strengthens its presence in the U.S. by offering additional service to Berlin from Chicago and New York. As of May 2014 airberlin operates ten weekly flights from John F. Kennedy airport to each of its main German hubs in Berlin and Dusseldorf. It has also increased service from Chicago's O'Hare International Airport from five weekly flights to a daily connection to Berlin.
The airline operates from a total of five U.S. gateways that include: Chicago, Fort Myers, Los Angeles, Miami and New York (JFK). Through its code share agreement with its oneworld® alliance partner American Airlines, airberlin also offers numerous connections from about 60 cities throughout North America to its five U.S. gateways. This provides additional convenience and seamless connectivity for all airberlin flight guests.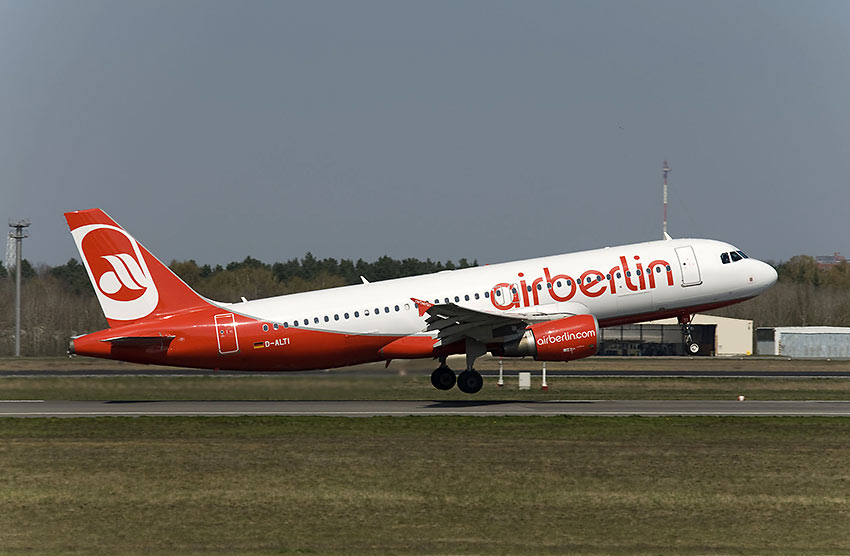 Question 2: Has airberlin made any changes in its flight service?
Answer:
New this year airberlin will equip the first aircraft with on-board Wi-Fi. This service will then be rolled out gradually over almost the whole airberlin fleet. In addition airberlin has completed a full refurbishment of its long-haul fleet offering guests optimum comfort in both economy and business class alike. The new airberlin business class configuration offers even more privacy providing direct aisle access from every seat. Each seat completely reclines into lie-flat beds and feature a power plug, a USB port, a 15-inch personal monitor and a massage function. Guests will enjoy state of the art on demand entertainment systems and comfortable seating in both economy and business class. In-flight service includes free beverage service throughout the entire flight and a selection of hot and cold meals.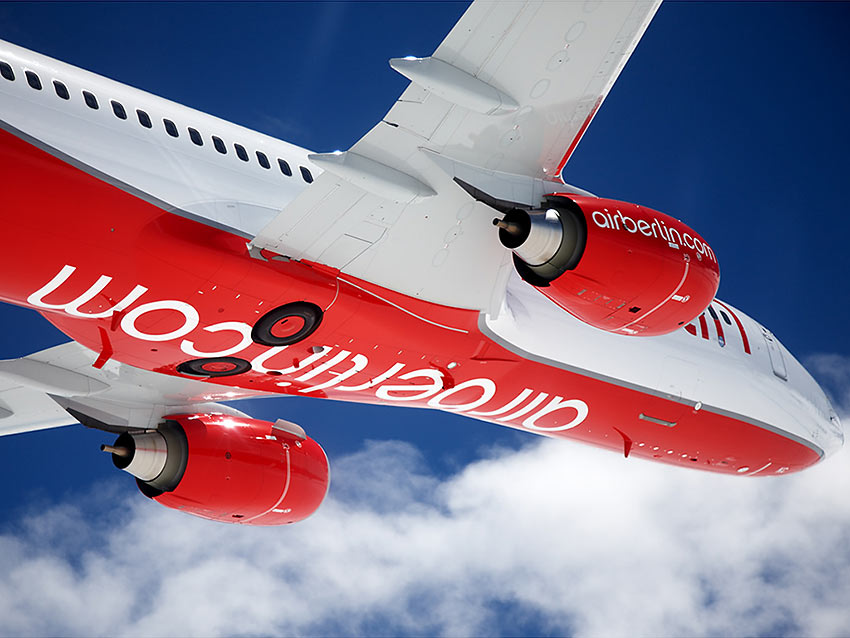 Question 3: What does airberlin do differently from other airlines?
Answer: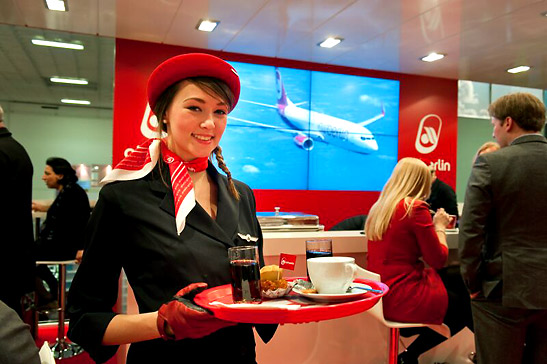 One of the most important aspects of airberlin's company philosophy has been the contributions made towards fuel effiency and developing measures that truly impact the aviation industry in the area of eco-efficiency. airberlin is working tirelessly to reduce its fuel consumption for the sake of the environment. airberlin has developed a comprehensive fuel efficiency program put together by airberlin experts, the airline is continually improving all the processes involved in flying and developing potential new areas of savings. airberlin's team of experts has now come up with about 60 measures which offer potential savings. These concern areas such as flight planning, weight reduction, modernization of aircraft and flight operations. Through all the measures implemented last year, airberlin reduced its CO2 emissions by a total of more than 70,000 tons. That corresponds to around 4,700 flights from Munich to Palma de Mallorca. In the interim, airberlin aims to reduce its fuel consumption to 3 litres per 100 passenger kilometres. With its commitment to environmental efficiency, airberlin has received numerous awards over the past few years. In 2013 airberlin won the award, "Silver Eco-Airline of the Year" presented by the US industry magazine Air Transport World.
For more information on airberlin or to book a flight visit www.airberlin.com, or contact the call center at 1-866-266-5588 or your travel agent.