It's been two years since my last visit to Legoland and I couldn't wait to get back to that magical world of toy building blocks. So when me and the family finally got our chance to revisit the theme park after its 13-month-long closure, we knew we were in for a memorable day of fun and adventure.
With more than 60 rides, shows and attractions celebrating the iconic Lego toys, the park is an interactive, hands-on experience for families with children ages 2 – 12. The Resort is also home to SEA LIFE Aquarium, the world's first LEGOLAND Water Park, and the brand new The Lego Movie World, an immersive new land based on the hit movies.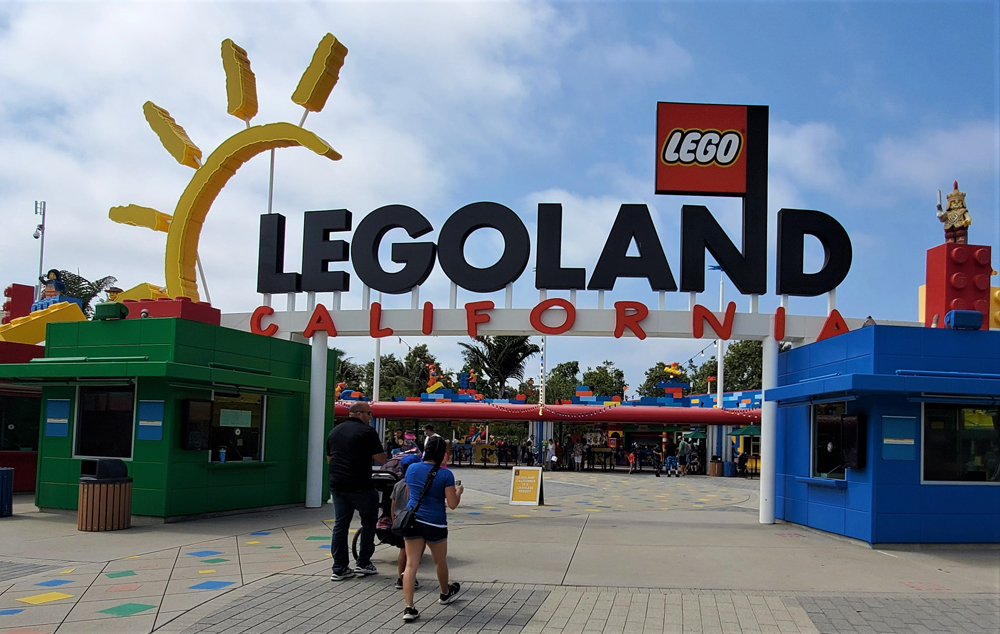 The two-acre Lego Movie World was designed after the two blockbuster movies The LEGO Movie and The LEGO MOVIE 2 The Second Part. The new attraction takes the movies to another dimension with an elaborate recreation of Bricksburg, complete with the flagship ride Emmet's Flying Adventure, which is staged on a triple decker flying couch. Kids of all ages can tap into this thrill-seeking virtual escape ride featuring cutting edge technology, 180-degree turns and flights above Middle Zealand, Cloud Cuckoo Land and Pirates Cove.
The expansive new world also includes Benny's Play Ship, Unikitty's Disco Drop, Queen Watevra's Carouse, Build Watevra You Wa'Na Build zone and a meet-and-greet with the films' favorite characters at Emmet's Super Suite. Additionally, the land boasts plenty of new restaurants such as a place called Everything is Ramen, where we devoured a delicious homemade ramen bowl. For dessert, we then tried a tasty crepe filled with Nutella at Cloud Cuckoo Crepes.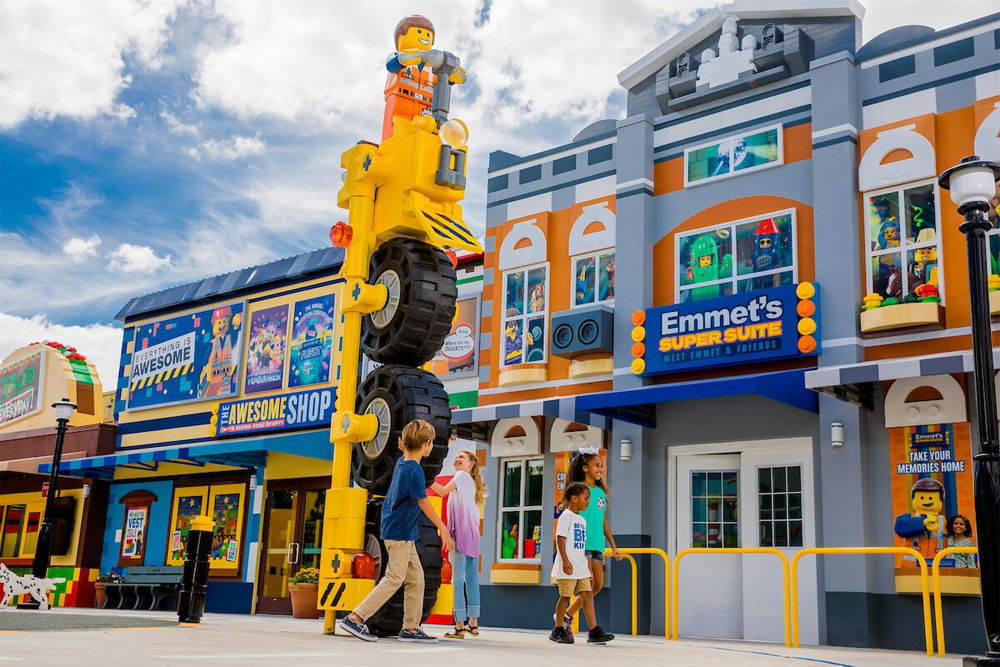 After experiencing The Lego Movie World, we entered MINILAND USA, where roughly 32.5 million Lego bricks have been turned into incredible mini-recreations of some of America's most beloved locations. Highlights include the Golden Gate Bridge in San Francisco, the capital building in Washington D.C., Mardi Gras in New Orleans, Grand Central Station in New York, the Las Vegas strip, and Griffith Park in Southern California.
MINILAND also includes a Star Wars section, featuring a floating Death Star and seven different LEGO Star War scenes, made of more than 1.5 million LEGO bricks, featuring one scene from each of the movies.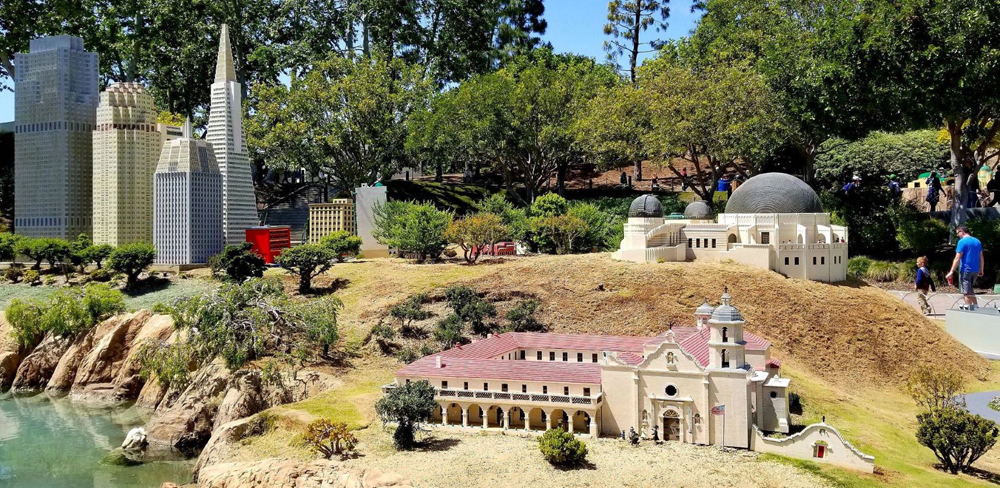 From MINILAND, we hopped on a helicopter ride called Sky Patrol that is perfect for toddlers. The ride has a control that allows you to fly up and down about 15 feet in the air, giving kids and their parents a great view of the park. Near here, we signed up our little one for his own driver's license and he rode his tiny car by himself around a race track with other toddlers at Drivers School. This is a fun attraction for kids 3 – 5 years old.
Another fairly new adventure at the park is DUPLO Playtown, a colorful LEGO town geared towards children five and under. The area features more than ten whimsical playhouses with hands-on activities, slides and interactive elements that encourage kids to use their imagination and creativity while playing. Children can explore a barn, fire station, grocery store, hospital and maze complete with an interactive scarecrow.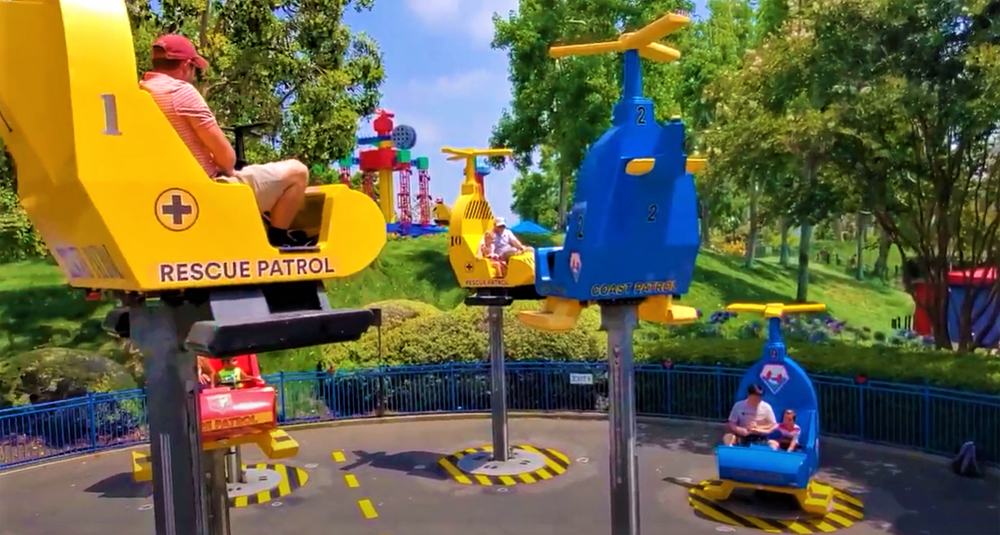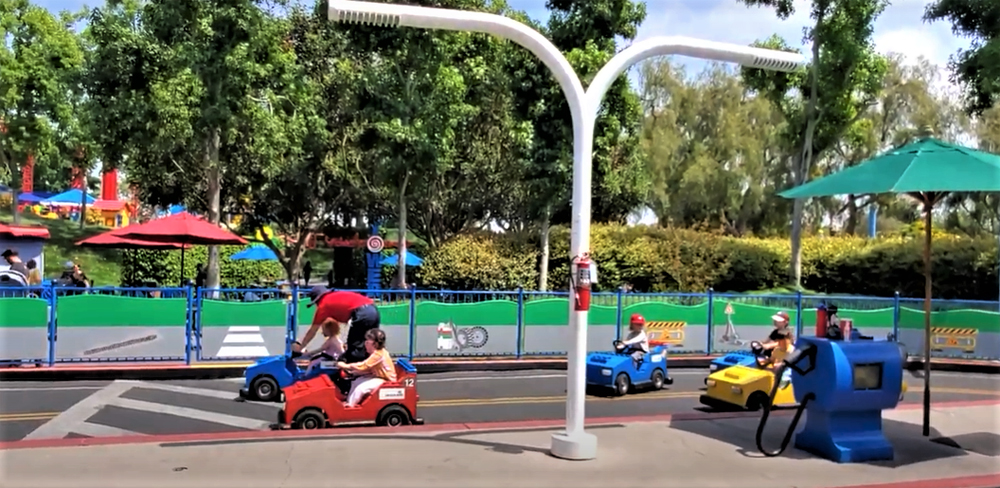 One of the most colorful attractions at Legoland is the SEA LIFE aquarium, a multi-level aquarium with over 350 different species and more than 6,000 real creatures swimming around in 16 different interactive zones. There are jellyfish, octopi, seahorses, sharks, rays, a hand-on touching pool, and lots more. SEA LIFE Aquarium admission is an extra $25 with a LEGOLAND ticket.
Another fun attraction is Coastersaurus, a roller coaster that takes guests through a prehistoric jungle of LEGO brick dinosaurs. Riders circle around a 1,100-pound Brachiosaurus and whiz by a ten-foot tall Parasaurolophus scavenging for food.
Other fun things to do include taking a tiny train ride, building your own lego creations in an interactive Imagination Zone, and Dig Those Dino, where kids can practice their paleontologist skills and dig for fossils in a large sand pit.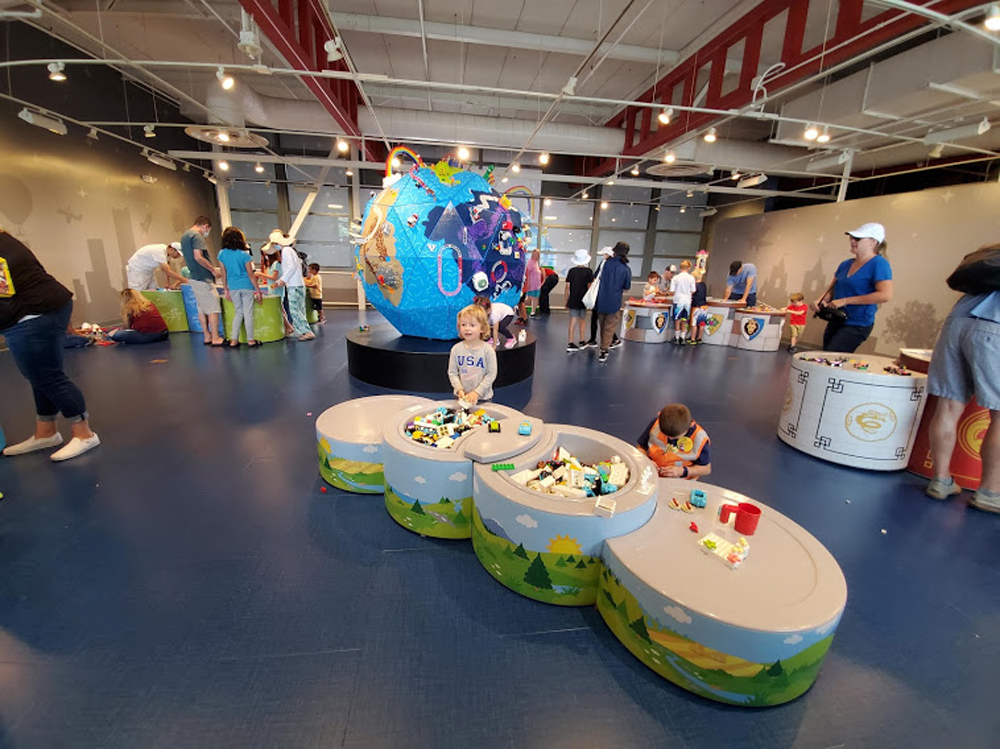 The last time we visited the park we stayed at the park's mystical Castle Hotel. The hotel features 250 LEGO Castle themed rooms with your choice of Knights & Dragons, Royal Princess, or Magic Wizard.
The entire hotel is decorated just like a medieval castle and offers many surprises for kids. There are talking portraits and musical seats located throughout, the lobby has a giant "Lego pond," and there is a new themed restaurant called Dragon's Den Restaurant & Bar, where the hotel serves free breakfast for registered guests each morning.
All rooms come with a separate kids' area with bunk beds and LEGO building tables, a treasure chest and scavenger hunt. They also boast a big TV, comfortable bed, coffee maker, refrigerator, free WiFi, and a large bathroom with shower and tub. Just outside the hotel is an Entertainment Courtyard with play zones for kids of all ages, and a pool area. But the hotel's best feature is its location next to LEGOLAND's main entrance. This was a great feature, as we were able to have breakfast and then stroll into the park within five minutes.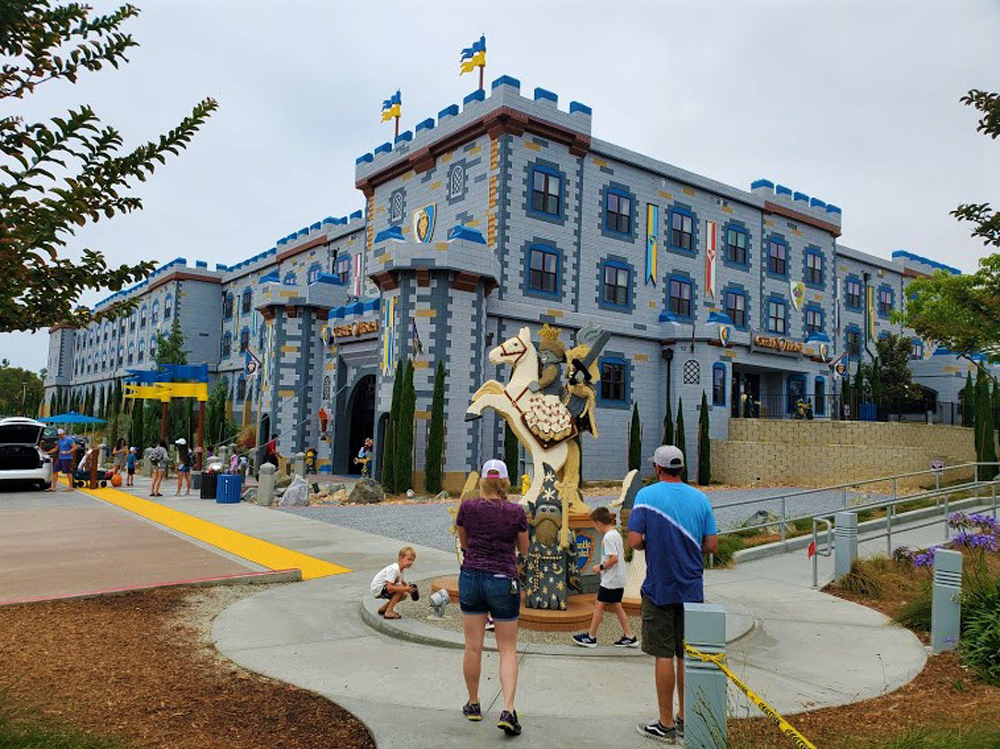 LEGOLAND California is located in Carlsbad, CA. For more information and current ticket prices, visit www.LEGOLAND.com or call 760.918.LEGO.