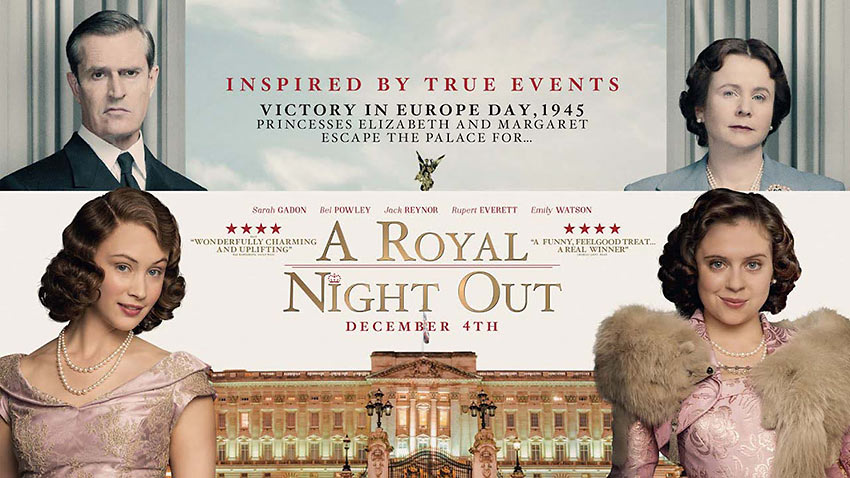 Photo: Courtesy of Lionsgate & Ecosse Films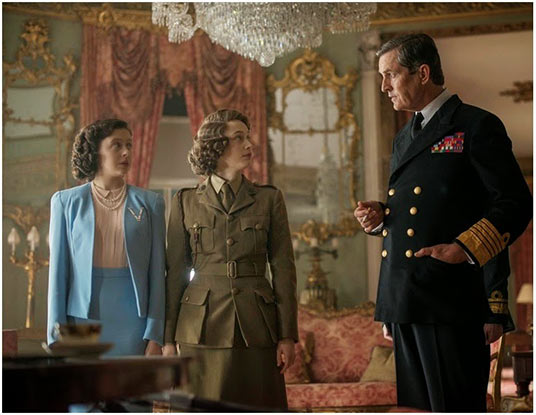 With the recently celebrated 75th Anniversary of VE Day, commemorating the end of World War II in Europe, A Royal Night Out, currently streaming on Netflix,  couldn't have been re-released at a more appropriate time.  This delightful film, written by Trevor De Silva and Kevin Hood, and exquisitely directed by UK director Julian Jarroid (Brideshead Revisited,) was originally released by Lionsgate on May 8, 2015.  This glorious film tells the story of how Princesses Elizabeth (Sarah Gadon) and Margaret Rose (Bel Powley) supposedly celebrated that historical moment.
Raucous celebrations are breaking out all over London and future queen Elizabeth, whose nickname is "Lilibeth," and her younger sister by four years Margaret, who refers to herself as "P2," (princess 2) desperately want to join in the historic celebrations.  They beg and plead with their parents – George VI (Rupert Everett) and their mother Queen Elizabeth (Emily Watson) – to allow them to participate in the festivities.  They want to see first hand how everyone is celebrating.  The sisters have lived a very sheltered life and have never even been abroad, which is worrisome to their parents.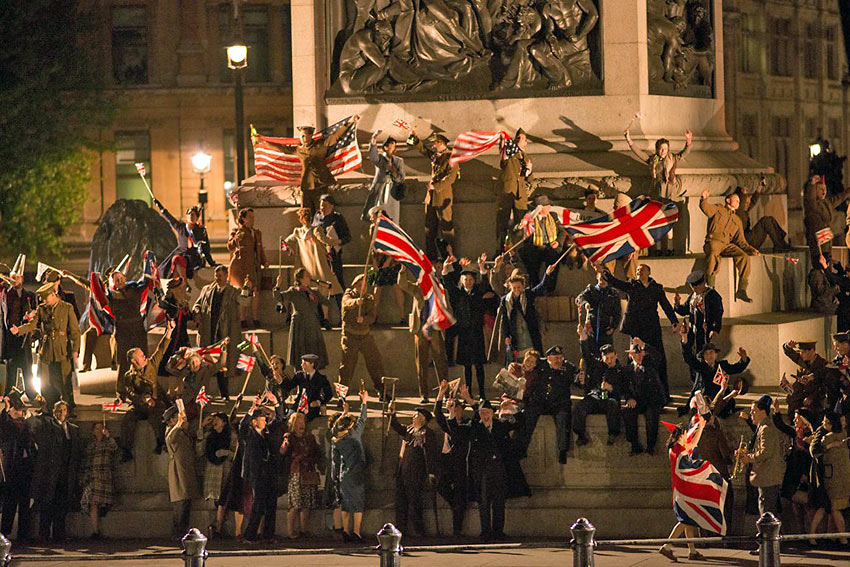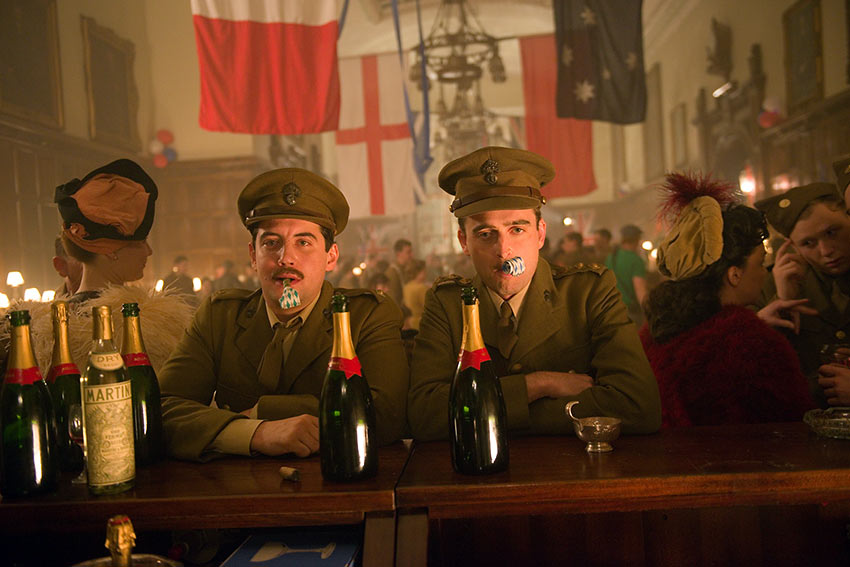 At first their parents are unbending, as they are fearful for their daughter's safety, but finally relent with specific rules.  They must be incognito and be chaperoned by two soldiers, Lieutenants Pryce and Burridge, delightfully played by Jack Lasky and Jack Gordon. Caught up in the excitement, in short order they are literally seduced by two young ladies of the night and lose track of their charges.  There is a delightful scene of them drinking what they believe will be their last drink before being court-martialed.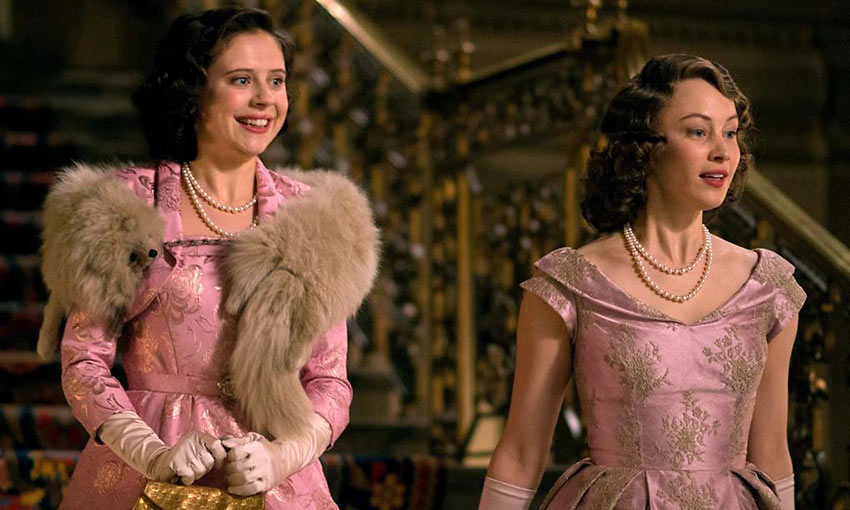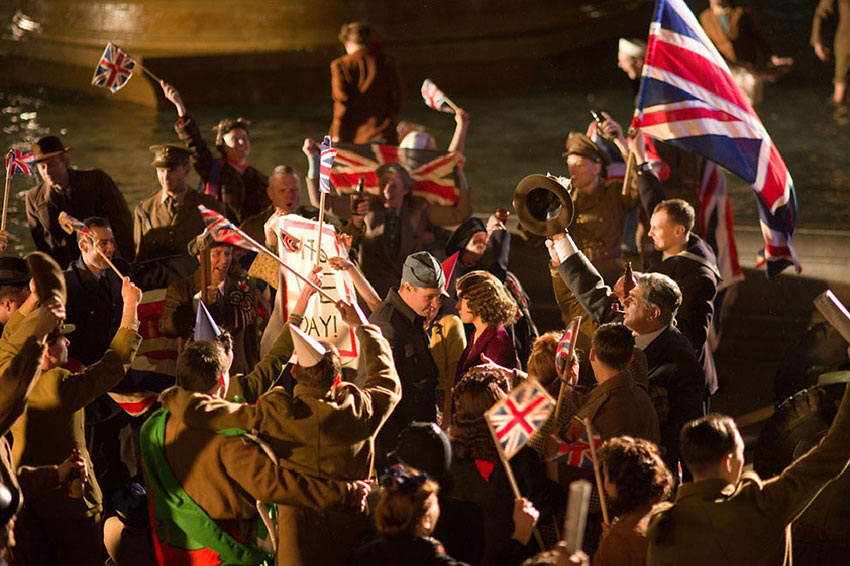 Margaret, the wilder of the two sisters, gets separated from Lilibeth in the hundreds of people milling about in the streets and fearlessly sets off on her own to have the time of her life.  Aware that they are to make an appearance at several parties, the future queen hops on a bus but when the conductor asks her for money, she looks at him and says, "Oh dear, I don't have any money."  The conductor, not recognizing her, insists that she either "Pay or get off the bus." Sitting next to her is handsome Jack, a seemingly disgruntled member of the RAF, who reaches into his pocket and pays her fare.  Well played by Jack Reynor, whose character has gone AWOL, resumes leaning against the window with his eyes closed but Elizabeth, absolutely perfectly played by Sarah Gadon, insists in engaging him in conversation.  She tells him about her search for her sister and eventually, fixing her broken heel, agrees to help her.  In the meantime, pandemonium continues to break out as midnight approaches, the official end of the war in Europe.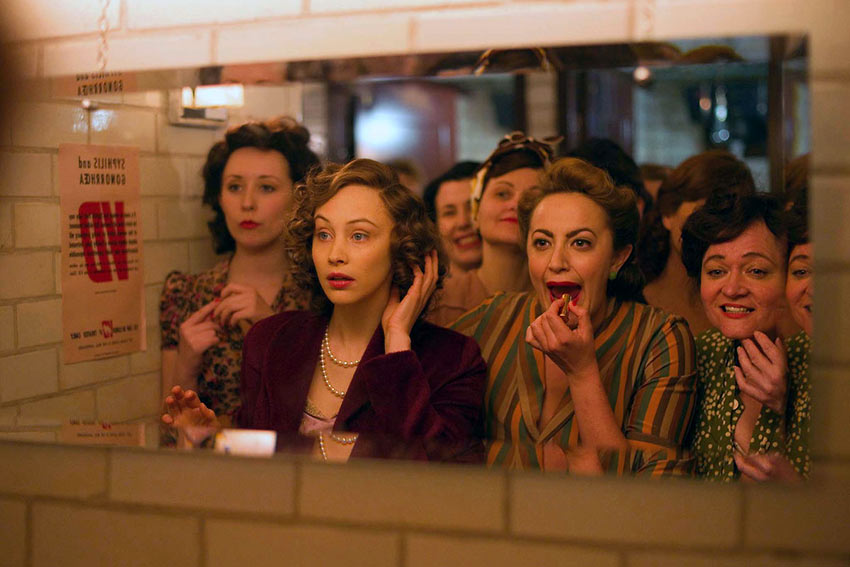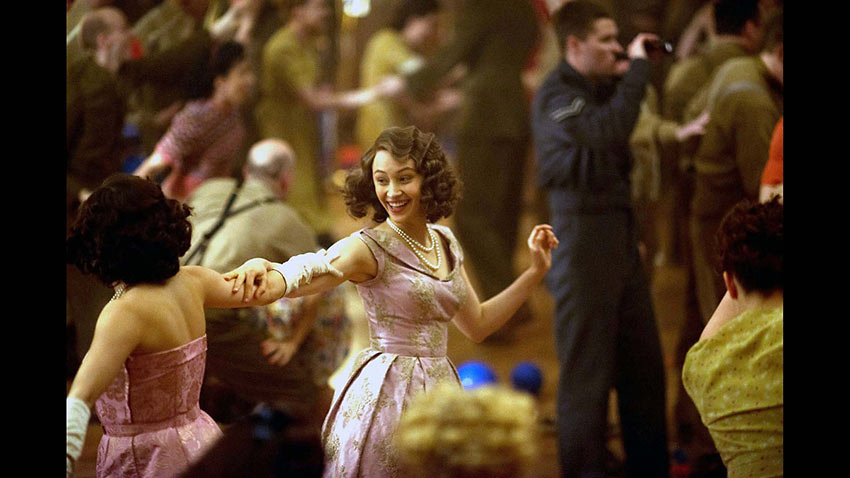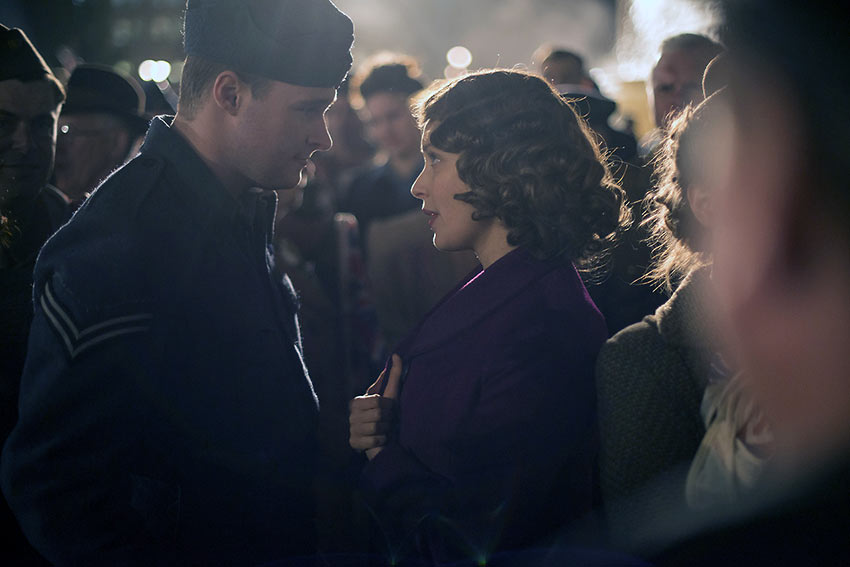 People are dancing in the streets, kissing each other, drinking champagne right out of the bottle, waving flags, singing, and dancing. After suffering through the Blitz, Londoners are truly ready to celebrate this momentous occasion. P2 somehow winds up at a "knocking shop" in Soho where a naughty Lord Stan spikes her drink with thoughts of seducing her. Experiencing dizziness, she wanders around until she comes to an office with a couch and is rescued by the proprietor of this "house of pleasure" who recognizes who she is.  Bel Powley captures the absolute joy and innocence of Margaret's zest for life.
To continue this evening of extraordinary fun, she and some of the "working girls"  travel together to a party near Trafalgar Square, which is precisely where  Elizabeth and Jack are headed. As you might have deduced by now, the girls find with each other and jitterbug the rest of the night away.  At one point, a scrap breaks out between Jack and another soldier.  Seeing him getting the worst of it, Elizabeth assumes command of the situation by announcing who she is and for a few delicious moments, quiet fills the room as everyone curtsies and the fighting ceases.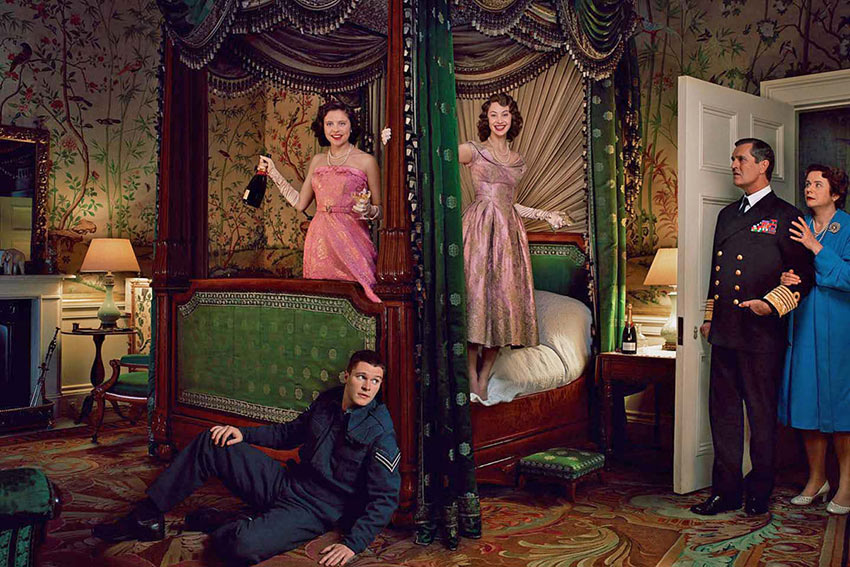 Past the curfew, Margaret goes back to Buckingham Palace by taxi but Elizabeth says she will meet her back at the palace later on.  She, already somewhat smitten with Jack, as he is with her, decides to walk back with him and much to the chagrin of her parents, invites him to breakfast with them the next morning.  They question him about his service where he reveals that he flew 50 missions over Germany, shooting down five planes and witnessing the slow death of one of his friends who was mortally wounded. Spoiler alert:  The final scene is beyond precious.
Technically, this film is sheer perfection from Claire Anderson's exquisite period costumes and Christophe Beaucarne's beguiling cinematography, to Luke Dunkley's Film Editing and Paul Englishby's Musical Score, which includes some of the wartime hits such as "Don't Sit Under The Appletree" and "In The Mood."
Whether this story is totally true or cobbled together from heresay, this is one spirited, joyful film depicting how two famous princesses joined with the people for the first time in what was probably one of the most memorable moments of their lives.  In this difficult time, anything that is uplifting and makes us smile, is a temporary antidote to the isolation many of us are facing.  So, for a few hours of fun, I heartily recommend "A Royal Night Out."