Americans Are Willing to Give Up Love and Chocolate for Travel
We're catching flights, not feelings in 2021
Courtesy of Patrice J. Williams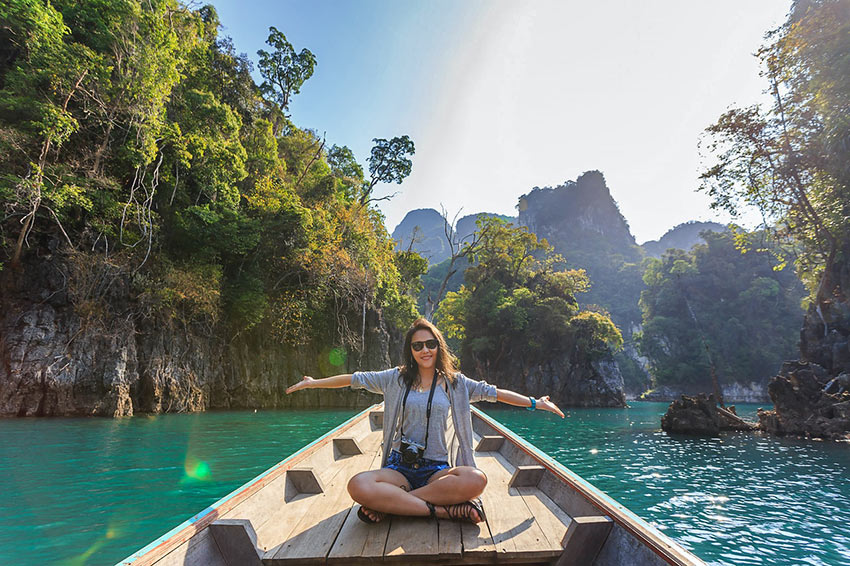 Would you do anything for love? According to a recent study, travel-starved Americans are willing to give up L-O-V-E if it means they can hear those beautiful words: "This is your captain speaking."
A recent survey conducted by Booking.com found that Americans are ready to hit the road and are finally seeing some light at the end of this year-long tunnel. More than 70 percent said the success of COVID-19 vaccines have them feeling hopeful and "optimistic," while just over 60 percent have realized travel is crucial to their emotional well-being. It's clear they're ready; we're ready. But how ready?
So ready that almost 70 percent said they'd rather have the opportunity to travel in 2021 than find true love. Basically, catch flights over feelings.
Not only are Americans ready to avoid cupid, but they're also willing to give up some other comforts. Watching "Bridgerton" or "Tiger King" for the 10th time? No, thanks — 70 percent of those surveyed also said they would choose traveling instead of watching the shows they binged while bored in the house. Also, 70 percent are okay with saying buh-bye to alcohol, caffeine, or even chocolate.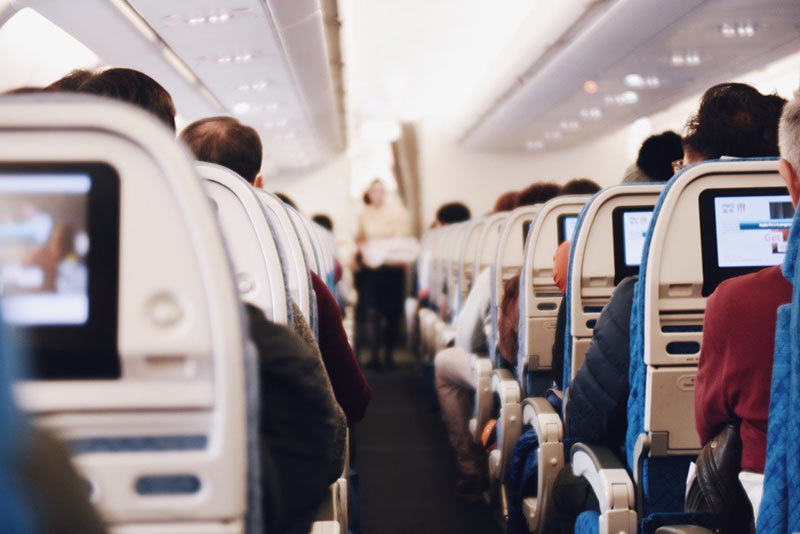 And though we all need cash to fund those travel dreams, two-thirds of people surveyed would rather take a vacay than a promotion at work.
While it might be understandable that some people are willing to hold off on the thought of love or even advancing in their careers, those surveyed also miss some aspects associated with travel that may have previously been considered annoying.
That includes roaming the airport while waiting for their flight to board, getting sunburned, and even returning from the beach with a bag full of sand. A small percentage of people — 16, to be exact — even claim to miss trying a meal for the first time and hating it.
Though that sense of hopefulness seems strong, travel hasn't fully returned just yet, but Americans are still gearing up. More than half of those surveyed, 58 percent, list getting in shape as top priority and just as many are buying new vacay outfits.
To capture the enthusiasm for a bright year of travel ahead, Booking.com is offering travelers a $50 credit for stays before Dec. 31, 2021.
4 Things to Consider as You Start Traveling Again, According to Rick Steves
The legendary travel writer and TV personality shares tips for ethically returning to travel.
Courtesy Stacey Leasca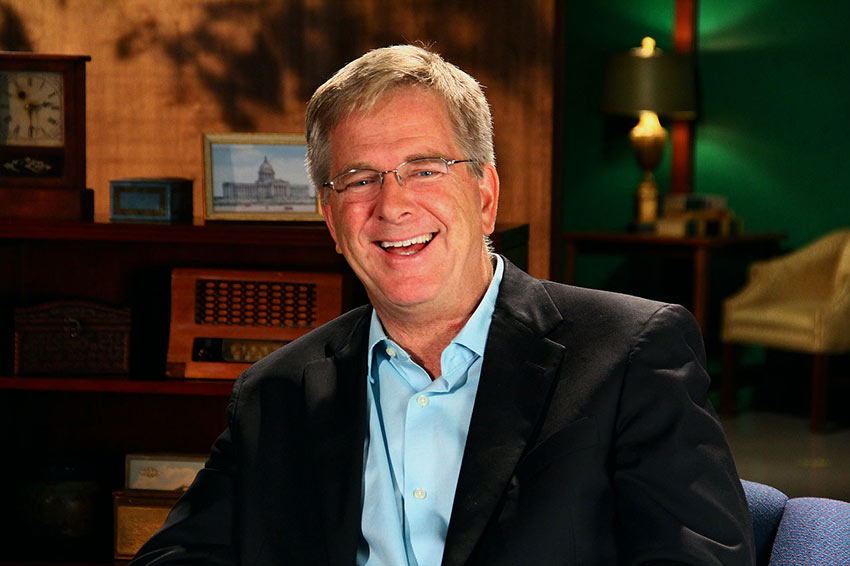 Rick Steves wants you to know that travel will make a comeback, it just might look a little different than you remember.
In April, Steves sat down for a wide-ranging interview about the future of travel with Fund for Education Abroad, an organization that provides scholarships and ongoing support to students who are underrepresented among the U.S. study abroad population. And, as you may suspect, Steves is just as ready as the rest of us to get back out there and explore the world again.
"It's been quite an adjustment," Steves said of his time off from travel. But still, he's made the most of it. Calling it a "forced layover," Steves said he used this year to keep his "traveler mindset" and try new things, which for Steves included walking his dog and getting to know his neighbors.
With one vaccine down and one more to go, Steves is gearing up for his own return to travel but noted he has plenty of work ahead of him. Here's what he had to say about his future travels and yours.
You may not be able to rely on old guide books.
According to Steves, his first order of business when he returns to work is to sit down with his research team and comb through his current guidebooks to see what's out of date.
"I don't know what the damage is going to be from a year and a half of no business," he said, referring to the many shops and vendors he suggests and how they fared over the pandemic.
"A friend of mine runs a museum in Arkansas. He figures a good percentage of museums who have had to close will not reopen," Steves said. "That's my biggest worry…all the little mom-and-pops. These are the charming entrepreneurial ventures that make traveling fun. It's my hope that they'll still be here once this is over."
If you do plan to travel soon, double-check all your points of interest are indeed still open or exist at all.
Your favorite small shops need your help.
If your favorite places or smaller businesses you'd like to visit did make it through the past year, now's the time to not only visit but to spend where you can as well. "It matters where we spend our money," Steves says, and he suggests investing as much as possible into independently owned shops.
Airports may look a little bit different.
When asked about how travel may look different in a post-pandemic world, Steves said he believes it really won't change all that dramatically, considering how many changes came about after 9/11.
"In this new reality, an airport is still an airport," Steves said, noting the only potential changes may be an increase in sanitization and continued social distancing.
And, when asked about the potential of vaccine passports, Steves shared he sees it as nothing but a good thing, and a simple expansion of "The Yellow Card," or Carte Jaune medical passport already issued by the World Health Organization for entry into many countries.
"The requirements of one country are not there to protect us," Steves added. "Those requirements are there to protect their people from us."
It's more important to travel now than ever before, just make sure to keep it ethical.
According to Steves, "travel gives you more colors on your palette when you paint the story of your life." If that insight doesn't make you want to book a ticket right now, nothing will. However, when they do get back out there, Steves also wants travelers to think more critically about how their travels affect the world and pay their dues through carbon offsets.
"I made too much money, because nobody made me pay for the carbon. So, I gave myself a carbon tax of $30 per person. We invested $1 million in 10 different organizations in the developing world helping farmers employ climate-smart agricultural practices and organizations that are helping with reforestation and protecting forests," Steves said in his chat. "By investing in those organizations, we offset all the carbon it took to take 30,000 travelers to Europe and back. And the consumer gets the good feeling of knowing they went to Europe, at least as far as the flights are concerned, carbon-neutral. There's nothing heroic on my part for doing this, it's just ethical.
Best Places to Go
Courtesy of Frommer's
Frommer's invited some of the most celebrated authors in the United States to tell us about their America, as part of their Best Places to Go series. These top-tier writers had free rein to select the destinations that they think define the United States and that shaped the nation they love. This year's Best Places names the spots Americans should get to know — one day, once the pandemic is just a bad memory — to better understand their own heritage and legacy and, perhaps, to start the process of healing.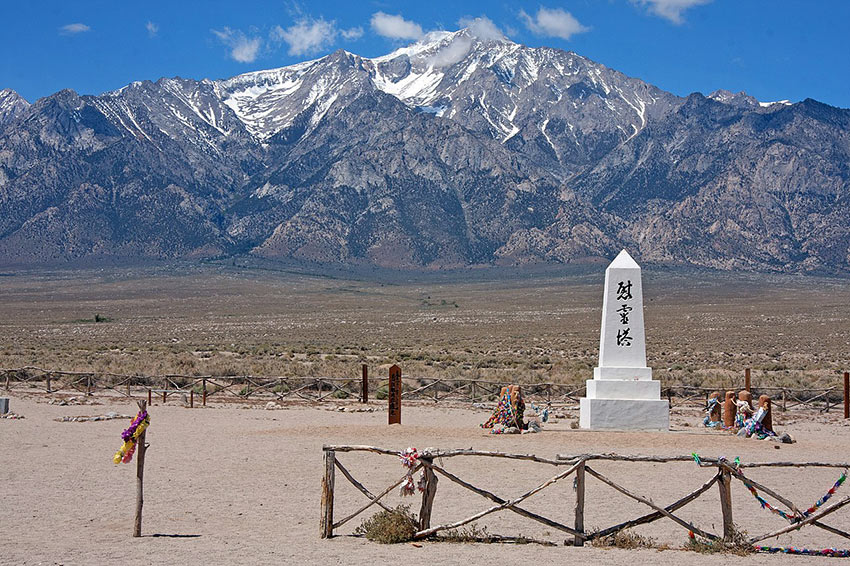 Susan Choi: Manzanar National Historic Site, California
I was working on my second novel [2003's American Woman], and I discovered there were all of these — I think the best word is yearbooks of life at Manzanar [one of 10 sites where Japanese-Americans were interned during World War II, and a pivotal location in the novel]. The interned Japanese Americans had formed clubs and there were activities and dances and people had gardens. I couldn't believe it. There were these photos of the Manzanar Baking Club or the Manzanar Garden Club or, like, the sock hop. They had responded in this affirmative way, as if to say, We're gonna try to make this as much of a chosen experience as we can, even though our lives have been destroyed and we've been imprisoned by our own government. It's a place that's about the idea of justice and about how to make justice for your community.
To this day, I've never been there physically, but I've always wanted to go, not just for myself but because it stands for this idea that we have to do better.
Right now, we're at such a dangerous moment and it feels like we keep getting into greater and greater danger. We're separating families at the border. There are children who will never see their parents again because of the actions of our government. And we're paying taxes to support this devastation. I wish that every American could be taken to Manzanar or a place like it so that you could look at what a serious mistake that really damages your nation and your people — what that looks like. And then think, Are we making other mistakes like that right now? You can't go back and not have Japanese-Americans interned, but there are a lot of mistakes we could be fixing right now.
— as told to Zac Thompson
Susan Choi's recent books include Camp Tiger (with illustrations by John Rocco) and Trust Exercise, winner of the 2019 National Book Award for fiction.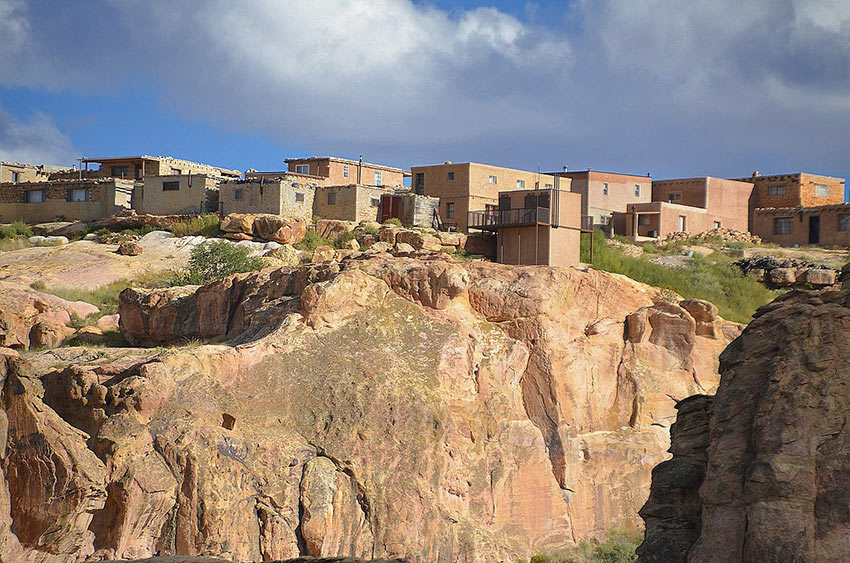 Timothy Egan: Acoma Sky City, New Mexico
It rises out of the New Mexico sky, a visage of beige mud and wind-lacerated stone, nearly 400 feet above the desert floor 60 miles west of Albuquerque. The adobe homes, the clay ovens that look like beehives, the kivas, the plazas, and ladders to the rooftops, are a marvel. For here, on the summit of this big rock, appears something rare in the United States — the continuity of life over centuries.
The immutable evidence of that pulse of life is what gives Acoma its singular place in our history: It is the oldest continuously inhabited place in the United States. The natives of Sky City, one of four communities that make up the village of the Acoma Pueblo, call their home the Place That Always Was. People have lived atop the rock of Acoma for at least 800 years, in the consensus archaeological view. This makes Acoma nearly twice as old as St. Augustine, Florida, which is too often cited as the oldest. Acoma is Plymouth Rock West, where cultures clashed — Spanish and Native — and one is more alive than ever.
Timothy Egan, a New York Times columnist, is the author of nine books. His most recent is A Pilgrimage to Eternity: From Canterbury to Rome in Search of a Faith.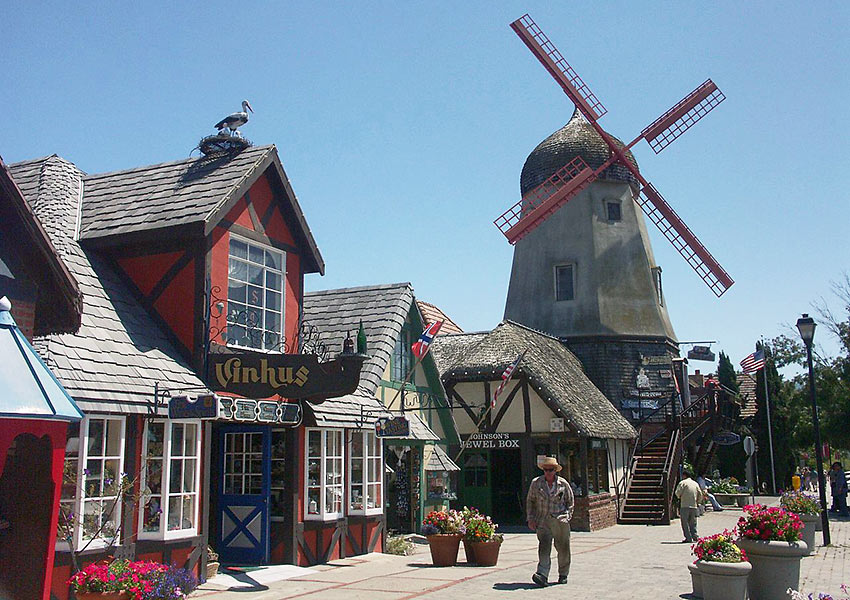 Fannie Flagg: Solvang, California
I live in Santa Barbara, and I was looking for a place to go to be quiet and to write [2002's Standing in the Rainbow]. So I took a little cottage 55 minutes away, and I fell in love with the town of Solvang. Everything is Danish. It has little windmills, whole Danish-style streets lit up with lights, and then they have Danish days when everyone dresses up in their official Danish folk clothes and they do dancing on the streets. They put up Danish Christmas decorations all over, so it's almost like Christmas all year round. I thought, Why do I love it here? What makes me like it so much? And it dawned on me that everybody was happy. They all had ice cream, they had aebleskiver pancakes, they had all these waffles to eat, and they love to dress up and decorate. Oh, it is so fantastic!
And you know, Solvang also talks about our heritage. In America, people came from someplace else. They wanted to bring a little bit of someplace they came from. It's so cute the way that the Danes have done that and at the same time turned Solvang into a real American commercial town, but they still maintain their Danish identity. And this is hilarious — I actually kept a little apartment up there. When I drive in, I always start to smile. It makes me happy! Somebody — a friend of mine, you know, a jaded New Yorker — said, "Oh my God, it's just like Disneyland." And I thought to myself, Well, what's the matter with that? I brought my mother and dad up and I have a photograph of her sitting on a bench in the bright colors of downtown, having an aebleskiver and looking very happy. So, yeah. It's a place that I would recommend if anybody is bored or blue, which we all are sometimes.
— as told to Jason Cochran
Fannie Flagg is the bestselling author of novels including Daisy Fay and the Miracle Man and Fried Green Tomatoes at the Whistle Stop Cafe, and her screenplay of Fried Green Tomatoes was nominated for an Academy Award. Her latest book, The Wonder Boy of Whistle Stop, was partly written in Solvang.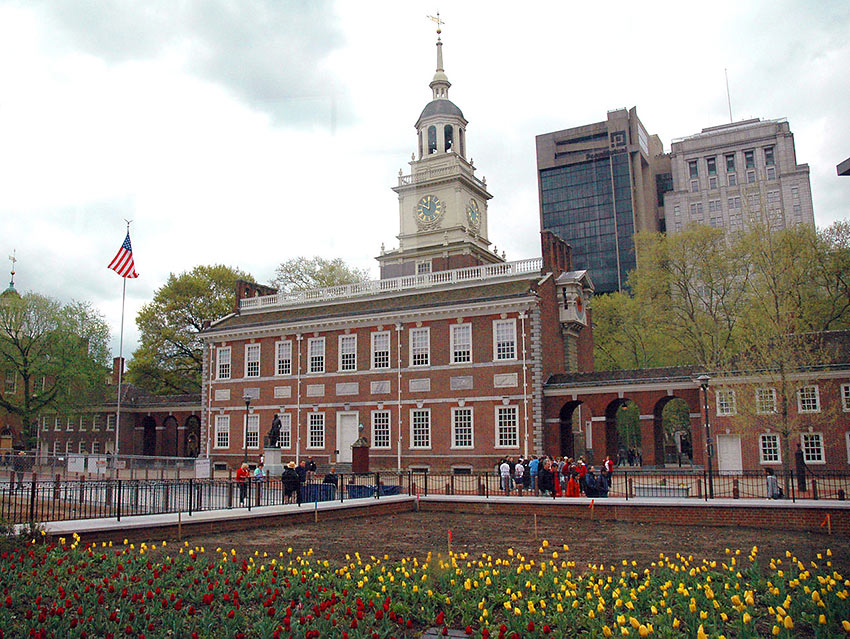 Arthur and Pauline Frommer: Independence Hall, Philadelphia
Most visitors know what they'll see when they visit Independence Hall. What comes as a surprise is what they hear: a layered, often surprising portrait of the rebels and thinkers who signed the Declaration of Independence and created the Constitution that still governs our nation today. These tales are spun by some of the most gifted storytellers in the United States, an elite group of national park rangers who don't pull their punches when discussing the mistakes the founders made (the acceptance of slavery foremost among them) or the tumultuous nature of the debates that rang off these walls.
The human, messy, sometimes maddening nature of democracy comes alive, as does the power of compromise. We learn that the Framers had very different goals coming into what turned out to be a frenzied four-month-long Constitutional Convention. But they were united in wanting to create a United States, a country where the ideal was balance—a system with so many different actors that no one person or party could amass unfettered power. That balance, that focus on governing together rather than obsessing over who is winning or fixating on the personality of specific leaders, is something Americans need to aspire to once again. Without it we are betraying our founders—and ourselves.
Arthur Frommer is the author of the all-time travel best seller Europe on 5 Dollars a Day and the founder of the Frommer's guidebooks. Today, he runs the company with daughter Pauline Frommer, an award-winning author in her own right.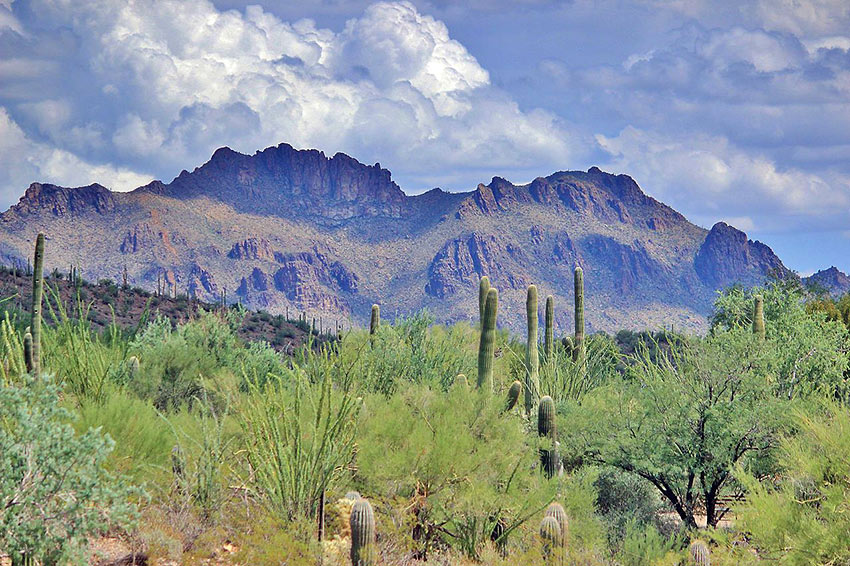 Lydia Millet: Avra Valley, Arizona
Outside Tucson, between two lines of mountain ranges, is a sage-green desert where people have lived for thousands of years. On either side of the valley, which is dotted with ancient petroglyph art, lie national parks and monuments. There's a famous Desert Museum that draws visitors from around the world. To the south and west are the lands of the Pascua Yaqui and Tohono O'odham.
I live in the Avra Valley, in a house surrounded by giant saguaros, the iconic cacti that stand like people with their arms raised in welcome. Groves of prickly pear and cholla cactus whose spines are turned gold by the setting sun, thorny palo verde trees with green bark that bloom in dense clouds of yellow. Bobcats pad silently through my yard, along with skittish mule deer and herds of snuffling, boar-like animals called javelinas. Elusive ringtails and pink-and-black Gila monsters hide in the scrub and sand. Hawks and woodpeckers and glittering hummingbirds.
But the state plans to build a freeway called I-11 through the middle of the valley. The pavement and footprint and noise and pollution would mean the end of the wildlife, but also of the life people know. None of us want it, yet the slow scheme marches on. So we're uncertain of how long our valley will persist—whether the day will come when we'll have to leave, following the coyotes and foxes and owls.
Lydia Millet is the author of more than a dozen novels and short story collections. Her most recent book, A Children's Bible, was a finalist for the National Book Award and a New York Times Top 10 book of 2020.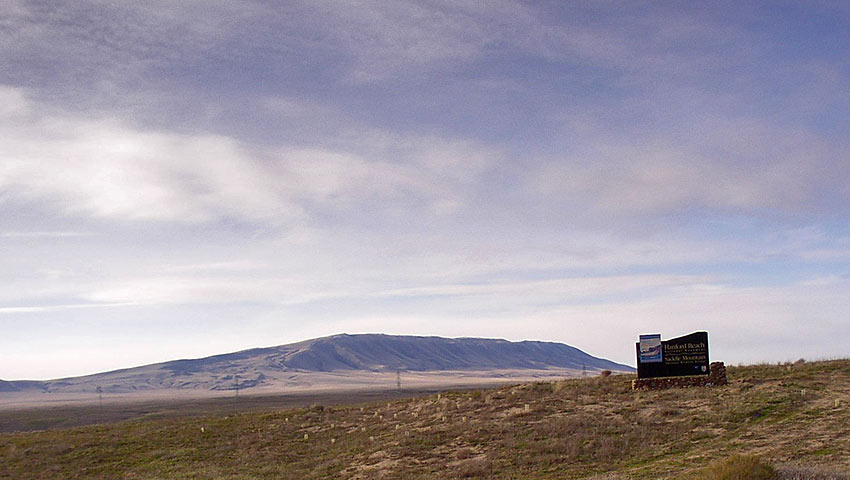 TaraShea Nesbit: Hanford Reach National Monument, Washington State
The Northwest isn't known for its secret desert installations, but in southeastern Washington State is one of the most visible of the Manhattan Project sites. Strategically placed along the Columbia River for its cooling waters, the B Reactor was the first of a handful of very large and dangerous machines that worked nonstop to build the U.S. nuclear arsenal, leaving behind millions of gallons of nuclear waste. This first cathedral to the atom is now open to the public.
Hanford tells an American story: land used for thousands of years by Columbia River Basin tribes for foraging, hunting, and fishing, encroached upon by white settlers, privatized by investors/farmers, then seized by the U.S. government for war endeavors, and now a place with a quarter trillion dollars in cleanup costs. Low-income earners were hired to do the precarious work that put them most at risk—dumping buckets of radioactive waste, monitoring the nuclear facilities illuminated by the reactors' brilliant blue (radioactive) glow.
Today, the overall site, half the size of Rhode Island, has become a wildlife refuge. Elk, mule, bobcat, coyote, and beaver call this arid landscape home. Waterfowl, songbirds, and the unique sage grouse fly the often-cloudless skies. The land is sagebrush steppe, but in spring, pink phlox makes a cheery rug on the desert ground.
TaraShea Nesbit is the author of The Wives of Los Alamos, a finalist for the PEN/Robert W. Bingham Prize, and Beheld, a Publishers Weekly Best Fiction Book of the Year and a New York Times Notable Book of 2020.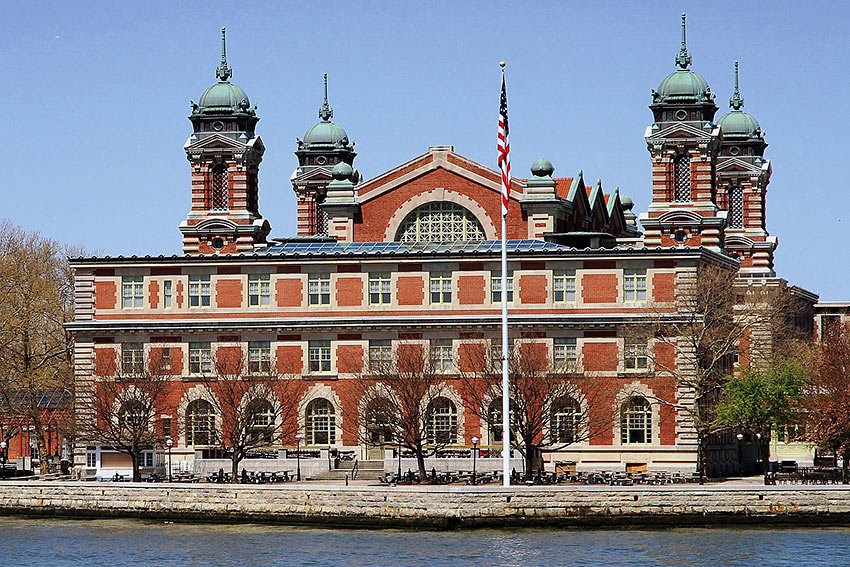 Daniel Okrent: Ellis Island, New York City
There's something ironic about Ellis Island. I can think of no other place that is so deeply American, but not one of the souls who passed through it between 1892 and 1954 was in fact an American. This gateway to our nation, poised on the edge of New York Harbor, marked the beginning of some 12 million journeys that helped make our country what it is today.
The historic preservation and renovation of the island and its buildings, completed in 1990, is a model of the form. As you stand in the soaring Registry Room, where (as Emma Lazarus's poem had it) "your tired, your poor, your huddled masses yearning to breathe free" first gathered on American shores, you can't help but marvel at its restored beauty. But if your ancestors once stood in long lines in this magnificent space (now the central element of the island's National Immigration Museum), you might also conjure up mental images of strangers in a new land, probably in somewhat ragged clothing, carrying everything they owned in battered suitcases. They, however, could not have possibly imagined you, their descendant, now as fully American as anyone whose family has been here since the Mayflower.
On nearby Liberty Island, that glorious statue reminds us of a welcoming America. But Ellis Island is evidence that the welcome was, in fact, the barest beginning of millions of American stories.
Daniel Okrent was a finalist for the 2004 Pulitzer Prize in history. His most recent book is The Guarded Gate: Bigotry, Eugenics, and the Law That Kept Two Generations of Jews, Italians, and Other European Immigrants Out of America.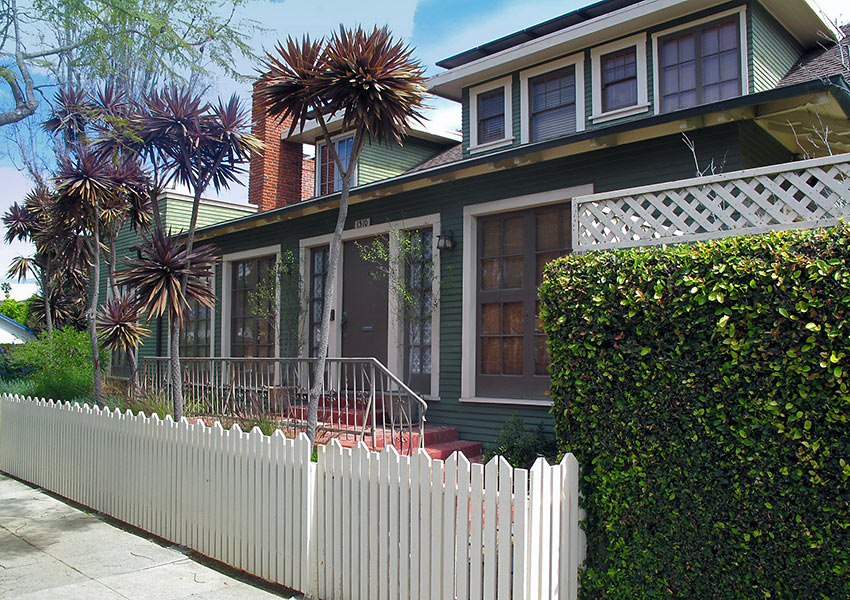 Cathleen Schine: The Kinney-Tabor House in Venice, California
I live in Venice, California, famous for its 1950s Beat culture, its artists, its roller skaters and skateboarders, for Muscle Beach, for murals, for its grungy boardwalk counterculture, avant-garde architecture, homeless encampments, and, most recently, for its metamorphosis into a tech haven called Silicon Beach. But there is one house that has been here from the very beginning, when a wealthy easterner named Abbot Kinney decided to build something he called Venice of America modeled after Italy's Venice—an oceanside recreational retreat for harried Los Angelenos of the early 20th century. There were (and still are) canals in SoCal's Venice. And on one of them stood Kinney's house. That house, with its brave and eccentric past, is my favorite spot in Venice.
Kinney had a driver and close friend named Irving Tabor who drove Kinney everywhere. When a hotel would not allow Tabor in because he was Black, both men slept in the car. When Abbot Kinney died, he left his house at Number One Grand Canal to Tabor. But in 1925, the canals of Venice were strictly segregated. Irving Tabor could not live in his own house. So he cut the house into thirds, loaded it onto a barge pulled by mules, and delivered it to Oakwood, the section of Venice where Black workers lived. The Kinney-Tabor House is still there, a charming forest green behind a white picket fence at the corner of 6th and Santa Cruz, all in one piece.
Cathleen Schine is the author of several international bestsellers including The Love Letter and Rameau's Niece. Her most recent novel is The Grammarians.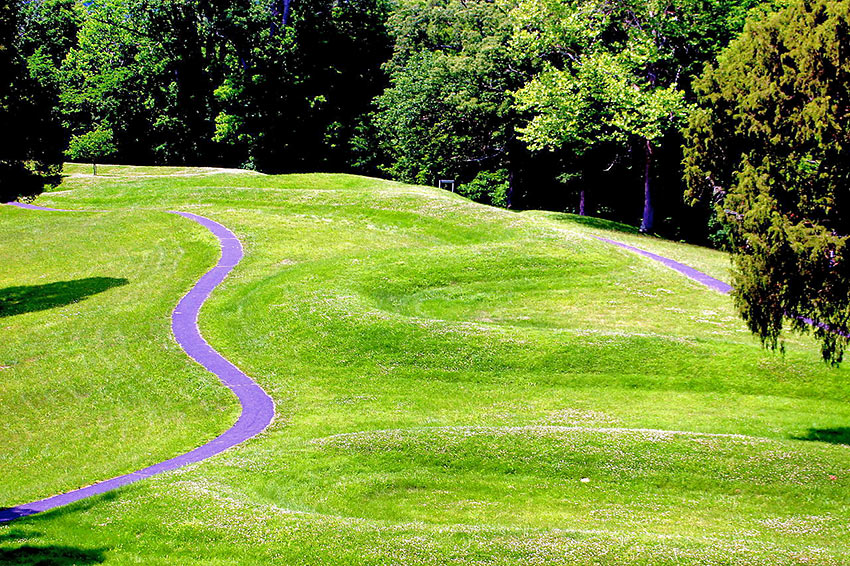 Gloria Steinem: Serpent Mound Historical Site, Ohio
Because we may still have in the back of our minds a grade school teaching that Columbus "discovered" America or that our own relatives left Old Europe for the New World, we often still think of North America as a young continent, as if it had been somehow innocent of inhabitants until our own relatives showed up.
In fact, current theories and discoveries push this living history back at least 30,000 years. There are still some remaining human-made features of the earth — for instance, the Serpent Mound in Ohio and earthworks in the Southwest — that speak to generations of devoted labor and the constructing of both burial sites and astrological markings that were feats of engineering and labor on par with, and often earlier than, the Pyramids of Egypt.
Yet even though I grew up in southern Ohio, I heard nothing about the famous Serpent Mound that is about a quarter of a mile long. Like most of the earthworks in North and South America, this was probably either an astrological sign, a burial site, or both. Others were leveled or looted before they were understood and protected, and some have been obscured by residences and parks, but more are being preserved and valued as testimony to a living history that predated writing and are now being written about. The New World is also the Old World.
Many Native Americans have grown up knowing this from stories passed down orally, and more arriving Americans are beginning to discover an ancient and new home.
Gloria Steinem is a writer, political activist, and feminist organizer. She was a founder of New York and Ms. magazines, and is the author of The Truth Will Set You Free, But First It Will Piss You Off, My Life on the Road, Moving Beyond Words, Revolution from Within, and Outrageous Acts and Everyday Rebellions, all published in the United States, and in India, As If Women Matter.
Amtrak's Summer Sale Lets You Book a Private Room, and Bring a Friend for Free
Courtesy of Patrice J. Williams
Train travel is gaining in popularity — stress-free, eco-friendly travel that lets you sit back and enjoy scenic views? We're on board. What's even better is scoring a great deal on a train trip, and Amtrak is offering just that. The company just announced its private room sale. From now until April 16, if you book a Roomette for a summer trip, your guest travels for free.
The private Roomettes fit up to two adults and measure just under seven feet long and almost four feet wide. In addition to the privacy, the large window makes it easy to take in the beautiful landscape and hopefully snapping some Instagram-worthy pics. (Plus, they're great for social distancing from other passengers as you ease back into travel this summer.)
"We want to offer our customers a truly unique way to see the country this summer," said Roger Harris, Amtrak Executive Vice President and Chief Marketing and Revenue Officer, in a statement. "With our nationwide Roomette sale, customers can share the experience with a travel companion while taking advantage of some of the best sightseeing opportunities this country has to offer."
The privacy alone is great, but the Roomettes also come with some comfortable perks. The two seats convert to berths or upper and lower bunk beds, which is a breeze to convert thanks to turn down service from the dedicated attendant. There's also priority boarding and lounge access at major stations. And the complimentary meals and private restroom and shower in your car adds to the comfort.
The companion sale applies to 15 routes across the U.S. including Coastal Starlight, Northeast Regional, and Southwest Chief. Some of the fares are as low as $319 for Chicago to New Orleans or $297 for L.A. to Albuquerque. Great rates, and even more affordable when split between two people.
The sale is valid through April 16 for travel between June and September, with July 5 as a blackout date. Travelers can lock in the deal through the website or use code C645 when booking on the Amtrak app.
Also, if you book now but modify your trip as you get closer to the date, Amtrak is waiving change fees for reservations made by September 6.