New Billion Dollar Cruise Ship to Dubai in Anti-Pirate 'Safe Haven' Lockdown
Courtesy Logistics Middle East Staff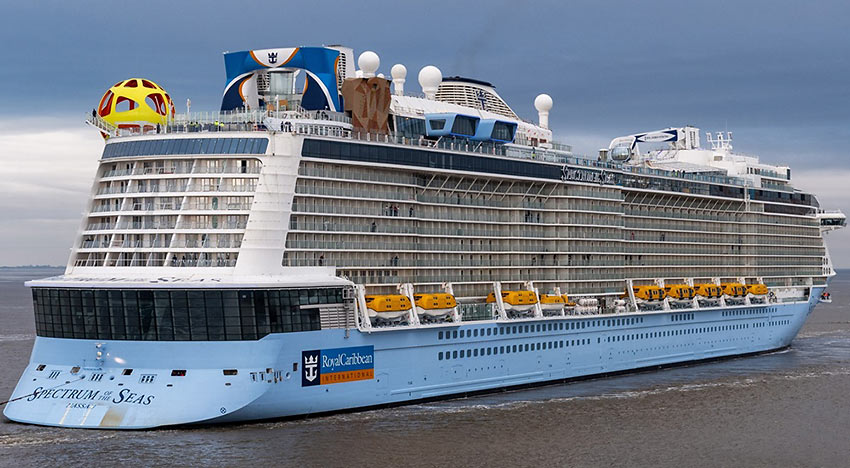 Lights out after dark, curtains and shutters closed, exterior decks restricted and armed security guards patrolling the ship — how brand new $960-million Spectrum of the Seas mega cruise ship is protecting itself against pirates on the way from Europe to the Middle East.
A brand new US $960-million cruise ship on its way to Dubai has ordered passengers to avoid exterior decks, turn off lights at night and has boarded an elite UK security team as she approaches the pirate-infested waters of the Gulf of Aden.
Spectrum of the Seas, launched last week, is on a repositioning delivery cruise from Germany, where she was built, to China, where she will be deployed year-round.
The first leg of the voyage is a two week cruise from Europe to Dubai, but it requires transiting the most dangerous waters in the world for piracy, the Gulf of Aden.
"Today we held a Safe Haven drill, the code word for a pirate attack, during which all passengers have to assemble within the ship, away from windows and external doors," she added.
Spectrum of the Seas also took on-board additional security, in the form of three armed security officers who have just safely ensured Explorer of the Seas got through the Gulf of Aden safely.
Both ships are owned by Royal Caribbean International, the second-biggest cruise line in the world.
Explorer of the Seas departed Dubai in April bound for Europe. Now, it's Spectrum of the Seas' turn to run through the pirate-prone waters.
One other security officer was already on board — we've been told all are top security officials from Britain," said the passenger.
Spectrum of the Seas is the newest cruise ship in the Royal Caribbean fleet, having been launched just a few weeks ago. She will be one of the largest and most advanced ever to cruise from Dubai.
At 169,379-gross tons and carrying 4,905 passengers at maximum occupancy, with a bionic bar staffed by robots, a virtual reality bungee experience, sky dive simulator and North Star viewing pod, she would be a tempting target for any pirates off the coast of Somalia.
Fortunately, however, the threat of an attack on a cruise ship in the Gulf of Aden is now much reduced thanks to an international naval coalition.
Beast From the East: Indian Soldiers Reckon They've Found Yeti Footprints
Courtesy Devjyot Ghoshal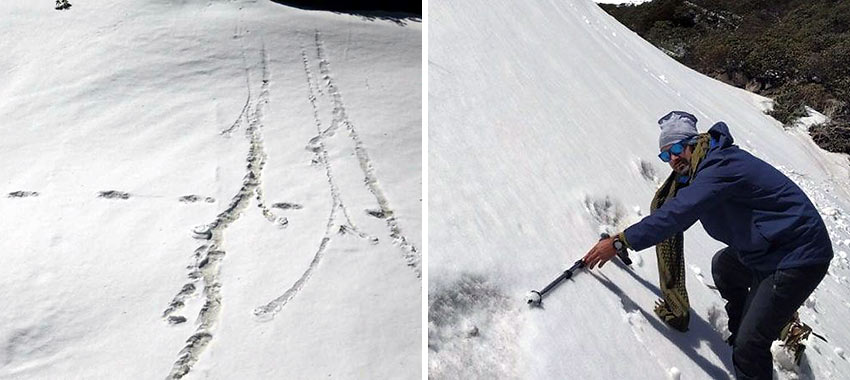 Mountaineers from the Indian army on a expedition in Nepal have found mysterious large footprints in the snow that they think belong to the Yeti, or the abominable snowman, the military said on Tuesday. Largely regarded by the scientific community as a myth, the Yeti is part of Nepali folklore and is said to live high in the snow-capped Himalayas.
Largely regarded by the scientific community as a myth, the Yeti is part of Nepali folklore and is said to live high in the snow-capped Himalayas. In a tweet accompanied by pictures, the Indian army said it had sighted footprints measuring 32 by 15 inches (81 by 38 cm) close to a camp near Mount Makalu in April.
"For the first time, an #IndianArmy Mountaineering Expedition Team has sited Mysterious Footprints of mythical beast 'Yeti'" it said in a tweet, not explaining how a mythical beast could leave footprints. Located on the border between Nepal and China, Makalu is among the highest mountains in the world and stands near the Makalu-Barun valley, a remote wilderness that has also been surveyed by researchers hunting for the Yeti. Daniel C. Taylor, who has extensively explored the Makalu-Barun area and written a book on the mystery of the Yeti, said the footprints were likely those of bears. "If that is the footprint of an animal or a single animal, it's the size of a dinosaur," he told Reuters, adding that repeated measurements of the footprints were required to ascertain their origin. "One needs to really confirm those measurements of the footprint size because we know for sure that there are no dinosaurs living in the Barun valley." Tales of a wild hairy beast roaming the Himalayas have captured the imagination of climbers in Nepal since the 1920s, prompting many, including Sir Edmund Hillary, to go looking for the creature. In 2008, Japanese climbers returning from a mountain in western Nepal told Reuters they had seen footprints, which they thought belonged to the Yeti.
And although they carried long-lens cameras, video cameras and telescopes, they hadn't seen or taken any photographs of the creature. But scientists have found little evidence of the Yeti's existence so far. In 2017, a group of international researchers studied multiple purported Yeti samples collected from across the Himalayan region and concluded they belonged to bears. In 2008, two men in the United States said they had found the remains of a half-man, half-ape, which was eventually revealed to be a rubber gorilla suit.
How to Travel the World for Free
How to Become a World Traveler for Next to Nothing
Courtesy Stacy Fisher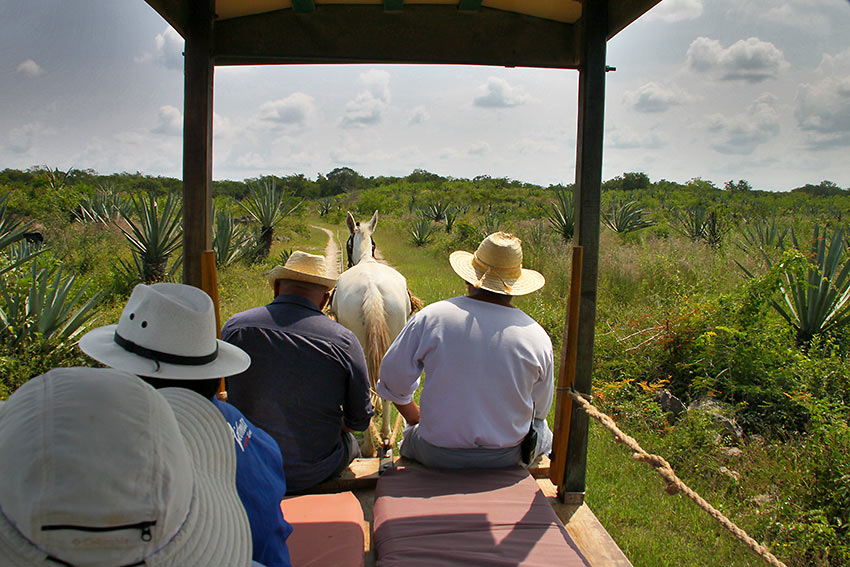 Being able to travel the world for free might sound like an unreachable dream, but you can make it a reality if you know where to look. These are practical ways on how to travel the world for free, or at least next to nothing. They include getting a job overseas, volunteering, and spending some time with the locals. Some require some education or experience but most opportunities are open to anyone who's looking for an adventure.
Some of these adventures will pay for travel, some for accommodations, and some that will pay for all your expenses. You may even find something that will pay you to make your way around the globe.
These opportunities exist all over the globe. Pick a country or several countries and you can usually find a way to get there for free. Flexibility does pay off though, you will get the best deals sometimes in interesting places that aren't on everyone's travel list yet. ​
Once you're ready to go, you can learn a new language to help you out on your travels with these free language learning websites and apps. You can even start getting to know the locals with a free language exchange program.
1. House-Sit or Pet-Sit to Stay for Free
You can get free accommodations for just about anywhere around the globe by house-sitting.
While the homeowner is away, you'll stay for an agreed amount of time during which you'll keep an eye on the house and take care of some light general maintenance around the house.
A lot of times the homeowner will also have a pet or two that they'll want for you to feed, walk, and just keep company while their owner is away.
Sometimes house-sitters will get paid on top of the free accommodations. This can help pay for your living expenses and possibly travel.
Here are some great house-sitting and pet-sitting websites to help you find a place to stay:
2. Sail Away While Working on a Cruise Ship
Get a job on a cruise ship and you'll get free accommodations, food, and travel all over the world. If you're hired as a full-time employee,  you'll get paid on top of it.
Cruise ships have lots of positions they hire for and you could find yourself working as an entertainer, fitness instructor, bartender, babysitter, waiter, cleaning crew, and more.
Here are some cruise lines that let you apply online:
3. Teach English
Go overseas to teach English as a second language and you can get free housing, a travel stipend, and even a salary on top of it.
You often don't need a teaching degree, or even a college degree to teach overseas. Sometimes a certification is helpful but it depends on each country's requirements.
Some of the most lucrative countries to teach in include South Korea, China, Japan, Taiwan, Gulf Arab States, and Vietnam. There are thousands of opportunities in almost every country.
Here's where you can apply for a teaching job:
4. Volunteer on a Farm
Live and work on farms around the world through WWOOF, which links farmers and growers with volunteers who are eager to work on their farm for free room and board.
You can travel just about anywhere doing this job including South America, Europe, and Asia.
5. Work as an Au Pair
If you love kids, you can get a job overseas as an Au Pair, or international nanny. This will get you free room and board, a paycheck, and on some occasions, extra money for travel.
You'll be placed with a host family, so you'll get to fit in with the locals right away. Some of the most popular countries to work as an Au Pair include Switzerland, Sweden, France, Australia, New Zealand, Italy, China, and Spain.
The most active website where you can view jobs and apply as an Au Pair is at GoOverseas.
6. Find a Couch to Sleep On
Meet new people and stay at a local's home through the website Couchsurfing. All around the world fellow travelers open up their homes and offer for you to sleep on their couch for free.
There are also Couchsurfing events around the world if you'd rather meet your host in person.
7. Use Miles and Points
Rack up those miles and points with frequent flyer miles and credit cards and you can get highly discounted and even free air travel.
Sign up for the frequent flyer program with the airline you travel with most and try to stick with that airline to let your miles stack up. You can then redeem these miles for your free flights.
There are some credit cards that will give you points for using their card that you can redeem for travel and dining. Choose a credit card with great travel perks that have a huge sign-up bonus. Use it regularly to keep reeling in those points.
It also pays to stay loyal to one chain of hotels. Make sure you sign up for their rewards programs to earn free nights.
Here are some great tips on how to get free travel with your credit card.
8. Become a Flight Attendant
Flight Attendants get to travel the world while getting paid for it. Besides the salary they get, they also get money to cover meals and expenses. Also as a bonus, they get great discounts on leisure travel.
No higher education is required, but you at least need to have a GED.
9. House Swap
You can get your accommodations for free if you agree to a house swap. With a house swap, you agree with someone who lives overseas that they can stay in your home if they can stay in yours.
If it's both parties primary home the swap will probably be done at the same time. If it's a secondary home or vacation rental there may be more flexibility.
HomeExchange is the most popular website for house swapping. It costs to use their service but you can browse for free.
Alabama Voted As The State Americans Would Least Like To Fly To
Courtesy 10 Yetis Digital
New research has found that Alabama is the state Americans would like to fly to the least, with 35% of Americans saying they wouldn't fly there, with Nevada and New York making up the rest of the top three. California, Hawaii and Vermont were voted most desirable.
The top reasons for not wanting to fly to Alabama were found to be the high rate of crime, lack of things to do and unfriendly locals. What's more, 61% of Americans were found to prefer going on vacation in the USA than abroad. The study was undertaken by the team at flight-comparison site www.us.jetcost.com, who polled in more than 4,000 Americans over the age of 18, split evenly across the country, on their opinions on domestic travel.
Of those polled, 79% revealed that they had been on a vacation elsewhere in the USA in the past two years, compared to just 18% who had been on vacation outside of the US.
As part of the study, respondents were given a list of American states and asked to say which – if any – they would not like to fly to, and then asked to give their reasons why. It was found that the state Americans wanted to fly to the least was Alabama, receiving just over a third of the votes (35%). The most common reasons given for this were 'high rates of crime' (30%), 'lack of things to do' (21%) and 'unfriendly locals' (16%).
The second least desirable state for Americans to fly to was found to be Nevada, with 31% of the votes. The top reasons given for this were 'too many tourists' (27%), 'high rates of crime' (23%) and 'lack of culture' (19%).
The state of New York completed the top three least desirable states for Americans to travel to, with just over a quarter (26%) saying they would not like to travel there. The reasons given for this were 'everything is too expensive' (20%), 'too many tourists' (19%) and 'unfriendly locals' (17%).
However, the study also found that three in five Americans (61%) actually prefer to vacation in the USA rather than going abroad. When asked why, the most common responses were 'it's cheaper than going abroad' (37%) and 'there's enough to do in America' (35%).
Commenting on the findings of the study, a spokesperson for www.us.jetcost.com said:
"Around half of all Americans do not have a passport, which explains the difference in those that have travelled abroad compared to domestically. It was interesting to see that Americans actually prefer going on vacation in their own country, and to see where they would prefer not to travel to, with unfriendly locals a common reason to not travel somewhere."
| | | |
| --- | --- | --- |
| 1 | Alabama | 35% |
| 2 | Nevada | 31% |
| 3 | New York | 26% |
| 4 | Missouri | 25% |
| 5 | Delaware | 23% |
| 6 | Connecticut | 22% |
| 7 | New Jersey | 21% |
| 8 | Kansas | 20% |
| 9 | Rhode Island | 19% |
| 10 | Mississippi | 18% |
| 11 | Florida | 18% |
| 12 | Nebraska | 17% |
| 13 | Alaska | 16% |
| 14 | Oklahoma | 16% |
| 15 | Idaho | 15% |
| 16 | Ohio | 14% |
| 17 | New Hampshire | 13% |
| 18 | Arkansas | 13% |
| 19 | Maine | 12% |
| 20 | Minnesota | 12% |
| 21 | New Mexico | 11% |
| 22 | Georgia | 10% |
| 23 | West Virginia | 10% |
| 24 | South Dakota | 10% |
| 25 | Indiana | 9% |
| 26 | Virginia | 9% |
| 27 | Wyoming | 8% |
| 28 | Iowa | 8% |
| 29 | Michigan | 7% |
| 30 | North Carolina | 6% |
| 31 | Illinois | 6% |
| 32 | Tennessee | 6% |
| 33 | Louisiana | 6% |
| 34 | Arizona | 5% |
| 35 | Maryland | 5% |
| 36 | Texas | 4% |
| 37 | Oregon | 4% |
| 38 | Utah | 4% |
| 39 | Washington | 3% |
| 40 | Massachusetts | 3% |
| 41 | Montana | 3% |
| 42 | Pennsylvania | 3% |
| 43 | Wisconsin | 3% |
| 44 | South Carolina | 2% |
| 45 | Colorado | 1% |
| 46 | Kentucky | 1% |
| 47 | North Dakota | 1% |
| 48 | Vermont | 0% |
| 49 | Hawaii | 0% |
| 50 | California | 0% |
The NOAA Marine Debris Program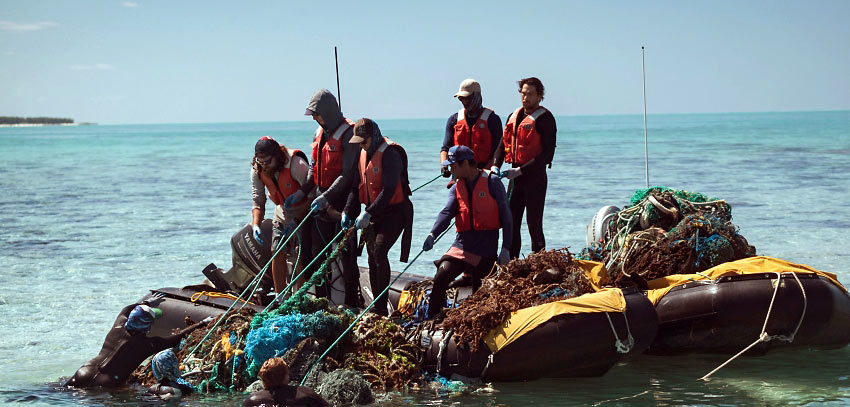 Earth Day has come and gone, but that doesn't mean good habits have to go away too! You can keep up the momentum, reduce your waste footprint, and do good for our planet, no matter where you are.
How to Help
Tons of our trash flows into our ocean, waterways, and Great Lakes every year. It is a complex and ever growing problem, and it's up to everyone to play a role in the solution. In many places, plastic is the main type of debris that you will see as you walk along a beach. In other locations, construction debris or fishing gear may be a common sight.
Single-use and disposable items are deeply ingrained in our everyday lives. If you look around right now, you will see many objects that you are eventually going to throw away. As a society, we have moved increasingly towards on-the-go lifestyles where we value the convenience of these disposable items. If we want to stop the flow of trash into our ocean and Great Lakes, everyone, including government, businesses, and people like you, will have to make some meaningful changes.
Take Action in Your Community
There is no "one-size-fits-all" solution to marine debris, and communities around the country are affected by marine debris in different ways. Beach-side Floridian communities may be concerned with abandoned vessels, while in coastal communities throughout the Northeast, lost fishing gear may be more prevalent. If you live inland, trash in the ocean and Great Lakes may not be directly visible, but your community may still have a role in creating the waste that becomes marine debris. Finding solutions that work for your community makes the fight against marine debris more effective. By working together as a community, we can have a larger impact.
Ideas for What Your Community Can Do
Lead or participate in a community cleanup. By picking up the trash we find on our local streets, in our rivers and streams, and on our beaches, we can prevent that waste from becoming marine debris. Starting a cleanup is easy, but if you would rather just participate, sign up for our monthly newsletter to learn about cleanups that may be happening near you. During a cleanup, collect data on the debris you find using the Marine Debris Tracker App.This tool is a great way to get involved in local data collection.
Model the behavior you want to see. Food packaging is one of the most common types of debris found during cleanups. You can reduce the amount of food packaging waste you produce and inspire others to do the same by bringing reusables wherever you go. Bring your own cup to your local coffee shop, your own takeout containers to restaurants, or your own utensils to community events. You will be reducing your own waste as well as setting an example of what your community can do every day about marine debris.
Create a sharing economy. As the old saying goes, one person's trash is another person's treasure. Instead of throwing away unwanted items, find ways to share with your community. Hosting clothing swaps, organizing community yard sales, or setting up a borrowing center can all help keep waste out of the landfill. The less waste we dispose of, the less material there is to potentially become marine debris.
Contact your Marine Debris Program Regional Coordinator to learn more about how marine debris is affecting your region and for more ideas on how you can get involved.
The NOAA Marine Debris Program is the U.S. Federal government's lead for addressing marine debris.
Spain May Officially Say Goodbye to Siesta Hour
For travelers, the implications are varied — but significant.
By Nikki Ekstein, Travel+Leisure
Just as nap pods are becoming a thing in the American workplace, Spain is calling a quits to its famous siesta hour. According to a flurry of news reporting coming out of Europe, the country's Prime Minister has proposed legislation that will nix the daytime break for once and for all. What does it mean for travelers? A few things, actually.
No more itinerary interruptions
If you've ever traveled to a country with siesta-like practices, you've probably found yourself walking down oddly quiet streets in the mid-afternoon — shops closed, locals at home, and little to do. I remember feeling incredibly frustrated in Bologna, Italy, where I was forced to window shop down ghostly streets for two hours when what I really wanted to do was chat with local artisans and buy some of their beautiful wares. Thanks to some bad timing during siesta hour, my search for an authentic shopping experience left me feeling out of place and out of sorts. It was a rookie move — I should have been at my hotel, kicking up my feet like a local — but we've all been there, whether in Barcelona or Bologna or Tel Aviv.
Restaurant reservations may be trickier to score
Spaniards eat famously late. The reason: they work until 8 p.m., so getting to a restaurant before 8:30 is a near-impossibility. The very purpose of eliminating siesta hour is to give locals more regular working hours — from 9 a.m. to 5 p.m. rather than 9 a.m. to 2 p.m. and 4 a.m. to 8 p.m. The new hours mean you'll likely be competing with locals — not just other travelers — for a 7:30 or 8:00 two-top. Bear that in mind before your next trip, and make plans ahead of time.
Cafés will be less crowded by day
The upside to tougher restaurant reservations is that you'll be able to take your café con leche without elbowing for seating space. Since many Spaniards have too long a commute to go home during siesta hour, the cafés and department stores that remain open by day get flooded with not-napping working folk. Now you'll have them all to yourselves.
The One Country Where Anthony Bourdain Refused to Film an Episode
Courtesy, Marissa Laliberte, Reader's Digest


The late Anthony Bourdain was world-famous for breaking down barriers to other countries' cuisines, showing the world why you shouldn't fear the unfamiliar. He rarely shied away from any crazy food choices (he once ate a still-beating cobra heart in Vietnam), but he did refuse to visit one surprising country. You'll be surprised by the answer.
No, Bourdain wasn't afraid of political turmoil or unsanitary conditions. He was scared of Switzerland.
That's right, Bourdain had a 'morbid fear' of a country famous for peace, chocolate, and cheese. 'I must have had some terrible childhood experience while watching Sound of Music that I blocked out,' he told Conan O'Brien on Conan. 'Even alpine vistas, like snow-capped peaks or Lake Geneva, or cuckoo clocks or those hats with the feathers—even the cheese; it's scary to me.' (Learn 13 more ways Anthony Bourdain changed the way the world eats.)
Like with any irrational fear, Bourdain couldn't put his finger on what it was that freaked him out about the Swiss, but yodeling did spike his anxiety even more. 'You just feel that in your marrow,' he said. 'I mean, it's horrifying.'
And the fear was real: Over years of shooting culinary adventures on TV, Switzerland remained conspicuously missing from his travel checklist, even though he gladly shot in Lebanon, Senegal, and Trinidad. Find out the city he liked best.
Switzerland wasn't the only thing Anthony Bourdain was scared of though. He revealed on the app List that he had a few other, more common fears: clowns, mimes, karaoke, and rats. He also had a handful of foods he wouldn't touch: cat, dog, potentially contaminated salad, and airplane food. Of course, most of us stay away from those too. Don't miss these other 15 times Anthony Bourdain kept it real.
Spring into Summer with Dignity Travel
Dignity Travel is committed to providing easy and accessible international tours for people who have difficulties walking or use a wheelchair. Our tours and services are designed to provide unique experiences while also delivering accessible accommodations, transportation and sightseeing opportunities. Our intimate group tours make sure that you have a worry-free travel experience, presented in a dignified, fun and adventurous manner. Our groups are hosted by one or more of our staff members and individual travel companions. There is always a host to assure your travel arrangements go as planned, provide a push of your wheelchair or assist you with any other needs you might have.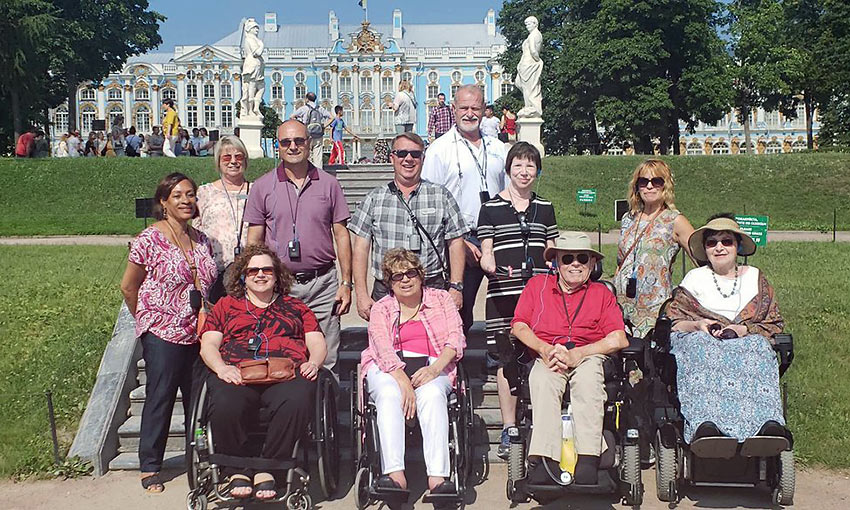 Exciting destinations are waiting for you in Scandinavia, the Baltics, central Europe, and the Italian Alps. We are delighted to be returning to the Baltic countries with our tour to Estonia, Latvia, and Lithuania. These scenic countries offer both amazing natural beauties along with fairy-tale-like cities filled with culture and history.
We are also thrilled to offer a tour to the jewels of central Europe – Vienna and Budapest. Both "must see" cities offer historical beauty and we will also discover some of the picturesque countryside both Austria and Hungry have to offer.
The quote – "Don't Listen to what they say. Go see it." – Apply relates to the wonderous northern Italy region and the spectacular Italian Alps and Dolomites. One of the most beautiful places on earth, this tour encompasses unique discoveries in Italy and the pearl of the sea – Venice. Join Dignity Travel on this easy and wheelchair accessible luxury tour of Northern Italy as we also encounter the great Italian cities of Verona, Parma, Bergamo and the Austrian gem of Innsbruck. We will also experience some the most beautiful countryside as we discover Lake Garda, the Alps, the hills of Bergamo and the Gardena Valley. Enjoy all this and more while staying at 5-star hotels and experiencing some of the finest cuisine Italy has to offer. This tour is perfect for people who walk slowly or cannot walk a long distance and for people who use a walker, wheelchair or other mobility device.
We look forward to hosting you on one of our exciting summer tours. And as always, please contact us with any questions or details about any of our breathtaking tour offerings.
Leadership Lessons from Wild Rice
Dr. Kathleen Allen
In my last blog What if Leadership Exists in Abundance, I invited people to imagine an abundance instead of scarcity of leadership. If we believed leadership could occur throughout our organizations and communities, would we have higher expectations of our leaders? If there were plenty of good leaders to choose from, would we stop following leaders if they didn't live up to the expectations of serving the organization and communities above their own interest?
This caused me to wonder how we can tap the leadership in people who aren't currently demonstrating leadership. Are there natural ways leadership can be developed outside of classrooms and training sessions?
What can wild rice teach us about leadership?
Wild rice is a nutrient rich food that is grown in Minnesota in the United States. The Ojibwa tribe calls wild rice Mahnomen and consider it to be a sacred component of their culture. It grows along lakes and streams in the cold climate we have here. I think wild rice can teach us something about how to recognize and nourish leadership.
Wild rice grows in the wild. It is something that survives the harsh climate of Minnesota and grows strong with rich nutrient content. Mahnomen is deeply entwined with the native community that come together to harvest the rice. They canoe along the rice beds and one person bends the rice over the boat and gently gathers the seeds while the other person paddles the boat. The act of harvesting wild rice is a community event because the food is a staple nutrient of the tribe. It is said that the fortunes of the community rise and fall on the quality of the harvest. A good harvest strengthens the community and without it there is no community.
Wild rice and the community driven harvesting process nourish the body, spirit, and culture.
Provocative leadership questions derived from the role wild rice plays within a tribe
The story of wild rice invites us to ask these questions about leadership:
What if we had this expectation of our leaders? That their legacy would not be the trading price of their stock, but whether their leadership nourished the body, spirit, and culture of our communities, organizations, nation, and world?
What if developing leaders was a community and organization wide activity?
What if leadership was not seen as something we can only cultivate in a classroom but is grown in natural environments, like teams, neighborhoods, schools, and workplaces?
What if organizations and communities respected and protected the natural environments that nurture the development of leadership?
What if we saw leadership as a gift and a staple that is abundant and if we recognized it in people, we would have healthier and more resilient organizations, communities, and countries?
Wild rice and its role within a tribe contains these components and implications. It strengthens the community as it nourishes it. It is grown in the wild and doesn't thrive in cultivated places. This is the essence of the lesson that wild rice can teach us about leadership development. Our everyday workplaces can be a rich source for developing and enhancing leadership in our organizations. To accomplish this, we would need to expand the expectations we have of team leaders. Instead of focusing solely on productivity, team leaders would also be measured on how distributed and strong the leadership capacity was for each team member.